This is a sponsored post.  My opinions are my own.
I'm of the opinion that sometimes you just need an epic burger to watch the game with and these French Onion Burgers with Gruyere Cheese Sauce are the ultimate "must make" tailgate recipe for the next game.
Here's the problem I have when making burgers for a crowd – personally, I tend to like my burger medium rare as do some of my friends.  Others like it medium to well done and a couple like it "charred like a hockey puck" and, when you are using an indoor grill pan, I've found that sometimes you need a little help when to tell the burger is "just right."  I tend to over think cooking sometimes and I'm always worried if it is cooked to the right temp.  Don't even get me started on my confusion on how to tell if meat is okay – I get a bit paranoid about that.
Recently, I received some  Cook'd Right™ Sensors that helped me with my Goldilocks-eque burger temp situation.  Check out these lovelies: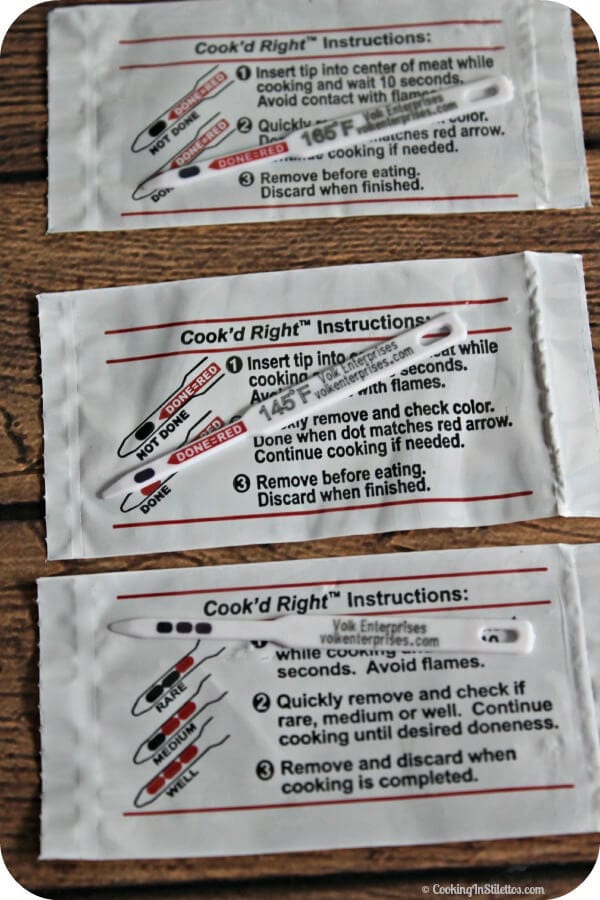 Essentially, it takes 10 seconds and you know exactly if the burger, chicken, meat or poultry is just right.  For my recipe, I used the "Rare, Medium, Well" Cook'd Right™ Sensor and while I was able to have my burger at the perfect medium rare temp, my guests could have theirs done "Well" or "Medium" – I drew the line at "charred like hockey puck" – they'd have to deal with "Well" only.  What's that – you haven't seen the Cook'd Right Sensors before? You can ask for the Cook'd Right™ Sensors from your local butcher, grocery store and favorite brands.
Now that it's fall, I LOVE making French Onion Soup – but I wanted those flavors in the burger without having to use a premixed dip packet.  So – after doing a lot of thinking, I decided to improvise.  I seasoned the ground beef with a bit of onion and roasted garlic powder from the spice rack and made the onions "French Onion Soup Style", simmering them down for a bit with some beef broth and thyme.  The kicker to this – the brioche buns which are the perfect accent to the Gruyere cheese sauce.  Yes  – you heard me right – GRUYERE CHEESE SAUCE.  Hey – what can I say – I decided if I was going to go "all out" for this burger, why not go all. the. way!
This, my friends, is the ultimate tailgate burger.  You can even make it into sliders for entertaining, make extra of those divine caramelized onions for swirling into some scrambled eggs, on pizza, etc. and that Gruyere cheese sauce – I'm speechless.  Seriously – this isn't a quick burger and there are a few components to this recipe but the flavor at the end is well worth it.  Added bonus – I was able to tell which burger was whose by the temps and for those that wanted a bit more onion love, they got it and for those that were all about the cheese sauce, I could get a bit heavy handed.  I aim to please.
So – for your next tailgate or game night, make these French Onion Burgers with Gruyere Cheese Sauce – and don't forget the Cook'd Right™ Sensors – the burgers will come out perfect every time!
On to the recipe:
Gather your ingredients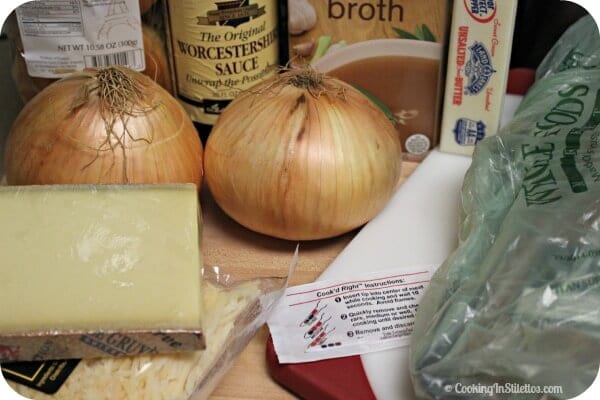 Let's make the French Onion Soup Style Onions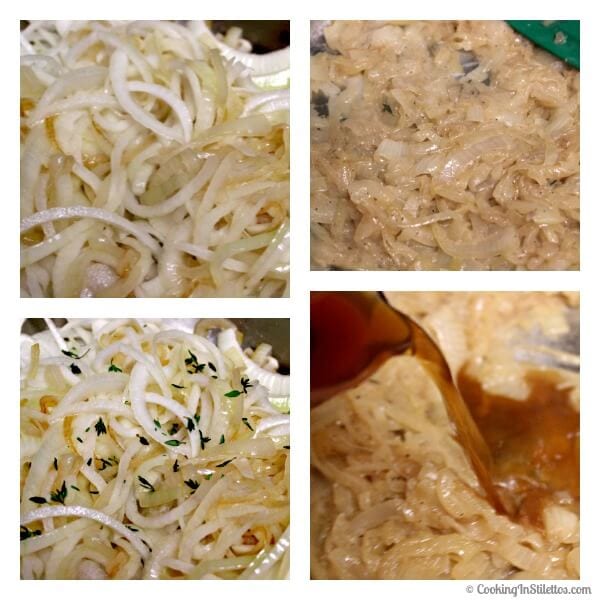 And we can't forget the cheese – if you add a little extra Gruyere, I'll never tell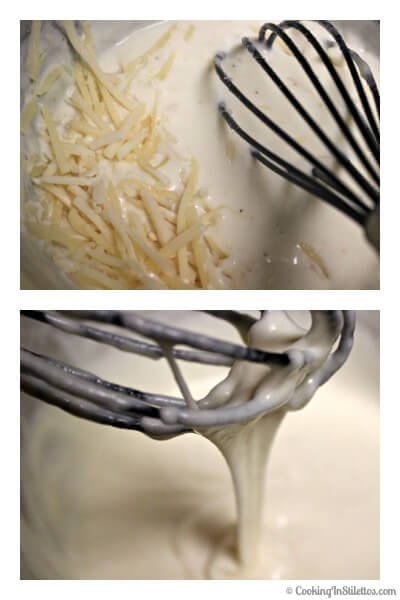 Testing the burger with the Cook'd Right Sensor – Perfectly Medium Rare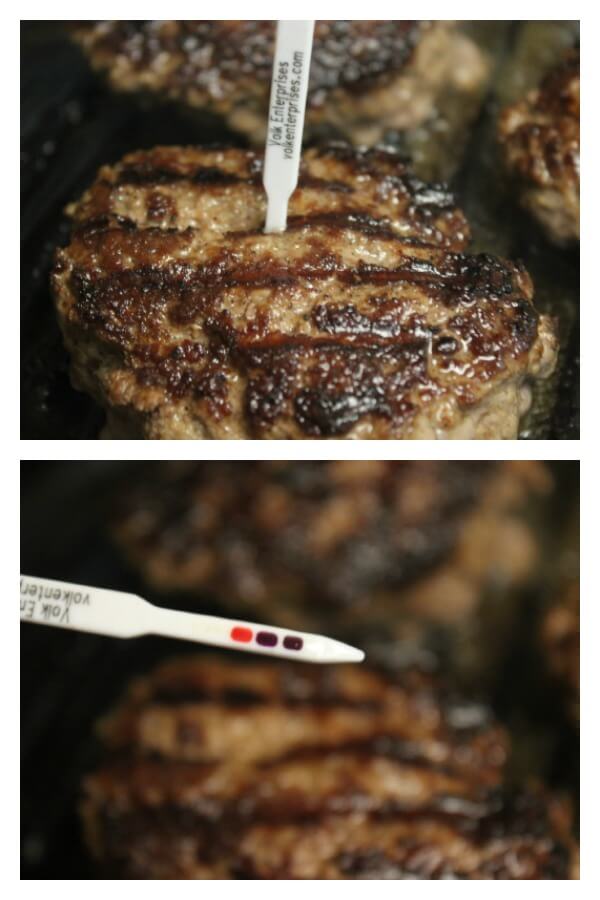 Don't you want one of these French Onion Burgers?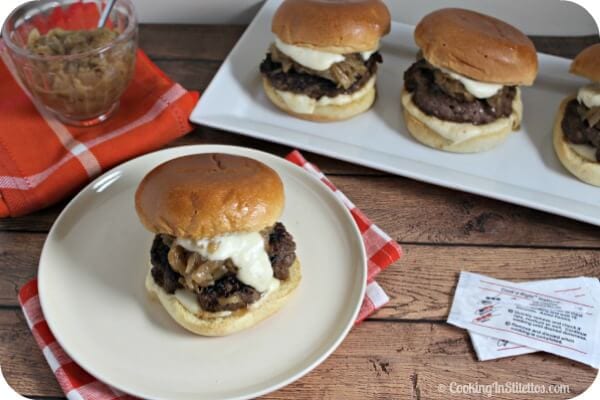 Aly M. Cleary
Yields 4
French Onion Burgers with Gruyere Cheese Sauce
The flavors of French Onion Soup in burger form - French onion soup style onions top a meaty burger and it is drizzled with a divine Gruyere cheese sauce and nestled in a brioche bun. Hungry yet?
20 minPrep Time
45 minCook Time
1 hr, 5 Total Time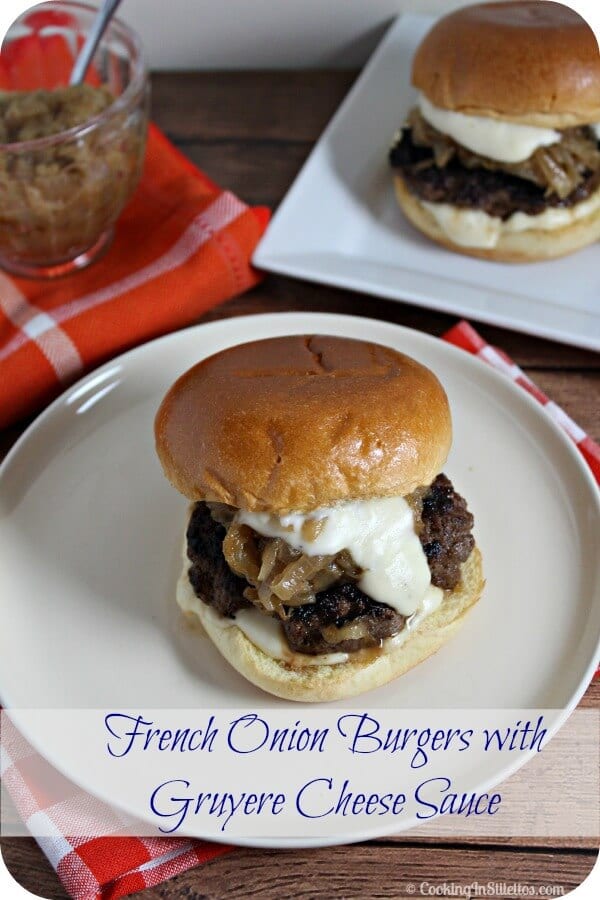 Ingredients
For the French Onion Soup Style Onions:

1 tablespoon of butter
2 large onions, sliced thin
1 teaspoon of chopped fresh thyme
1/2 teaspoon of kosher salt
1/4 teaspoon of freshly cracked black pepper
1 teaspoon of brown sugar
1/3 cup of beef broth
1 teaspoon of Worcestershire sauce

For the Gruyere Cheese Sauce:

2 tablespoons of butter
2 tablespoons of all purpose flour
1 cup of milk, warmed
Pinch of freshly grated nutmeg
1/4 teaspoon of kosher salt
1/8 teaspoon of freshly cracked black pepper
1 1/2 cups of shredded Gruyere cheese

For the Burger

2 pounds of ground beef (I used 85/15)
2 tablespoons of Worcestershire sauce
1/2 teaspoon of onion powder
1/4 teaspoon of garlic powder
1 teaspoon of kosher salt
1/2 teaspoon of freshly cracked black pepper
1 teaspoon of canola oil
6 brioche buns
Instructions
To make the French Onion Soup Style Onions

In a large saute pan, over medium high heat, melt the butter.
Add the thinly sliced onions to the melted butter and cook for about 3 – 4 minutes. You will be starting with a lot of onions so they will cook down.
When they start to take on some color, add the thyme, salt, pepper and sugar and cook for about 15 – 20 minutes, stirring occasionally until the color starts to deepen.
After 15 – 20 minutes, stir in the beef broth and Worcestershire sauce and cook for another 10 minutes or so, until most of the liquid has cooked off and you are left with these deeply browned onions. Set aside.

To make the Gruyere Cheese Sauce:

In a heavy bottomed saucepan, melt the butter. Whisk in the flour and cook for a couple minutes.
Slowly whisk in the warmed milk, making sure to whisk out any lumps.
Let bubble for a few minutes until it starts to thicken and coat the back of a spoon.
Add the freshly grated nutmeg, salt and pepper and whisk.
Add the shredded Gruyere cheese to the thick béchamel sauce and whisk until it's melted.
Keep warm.

To make the Burgers:

Preheat the oven to 350 degrees F.
In a large bowl, add the ground beef, Worcestershire sauce, onion powder, garlic powder, salt, and pepper.
Using your hands, mix the ingredients and form into 6 patties. When you form the patties, indent the center slightly with your thumb and let rest for 15 minutes or so.
Preheat a grill pan over medium high heat and add the canola oil, using a brush so everything is coated lightly.
Add the patties and let them cook for a bit – do not mess with them. I cooked them for a few minutes on the first side.
While the burgers are sizzling, toast your brioche buns in the oven. Place them on a baking sheet and let them toast for 10 minutes or so. Keep an eye on them – the last thing you want is a "too toasty" bun.
Flip the burgers and let cook for another few minutes. Using a Cook'd Right sensor – test the burgers to the degree of desired doneness. Insert, wait about 10 seconds and poof there you go - you know what temp it is. How easy is that? If it's not to your preferred doneness, let it cook a bit more until it is.

To assemble the French Onion Burgers:

Smother the Gruyere sauce on the bottom brioche bun.
Nestle the burger in the Gruyere cheese sauce and smother the burger with some of the French Soup Style onions.
Drizzle some of the Gruyere cheese sauce over the onions and top with the remaining bun.
Enjoy!
7.8.1.2
209
https://cookinginstilettos.com/french-onion-burgers-gruyere-cheese-sauce/