The kitchen is the heart of every home. As it gets a lot of daily traffic, it can be one of the most challenging rooms to design. The floor, in particular, is central to the entire design and functionality of the space. Therefore, a lot of consideration is placed on determining the ideal kitchen flooring options.
Most popular options for kitchen are wood, tiles, concrete, epoxy flooring in San Jose and natural stone. Check the San Jose Concrete Resurfacing website and the different flooring options available.
Here we outline some of the materials available and their pros and cons.
1. Ceramic and porcelain tiles
Most people use ceramic and porcelain interchangeably, but the two tiles are more like cousins than twins. They are both made from clay, but porcelain is fired at a higher temperature and has a harder and denser structure. As a result, it's more durable. Nonetheless, the two types of tiles have similar pros. They are easy to clean, resistant to stains and come in various colours and styles. Furthermore, the tiles are durable and moisture-resistant.
Unfortunately, ceramic and porcelain tiles have a few drawbacks that deter homeowners and interior designers. These kitchen installations can leave the room cold, and the tiles feel hard under the feet. Furthermore, grout lines between the tiles trap a lot of dirt and are difficult to clean. Although the tiles are hardy, they are prone to cracking and chipping, especially if heavy objects are dropped.
2. Vinyl tiles
Vinyl is a popular choice for kitchen flooring. It's among the cheapest options on the market but has some unique advantages. The tiles are easy to install and have low maintenance requirements. Furthermore, they are moisture and stain resistant. Unlike ceramic tiles, vinyl feels softer and more comfortable on the underfoot.
Some of the drawbacks that come with using vinyl tiles in your kitchen include poor durability and little property value addition. Furthermore, vinyl is prone to tears and scratches and fades over time.
3. Hardwood
Hardwood is a premium choice for kitchen floors. It can be relatively expensive, but installation drives up your property value. Unlike other flooring options, you can refinish and rework scratched or damaged hardwood floors. Furthermore, hardwood floors are easy to clean, durable and warm to the underfoot. Moreover, it's hard to match the aesthetic appeal of hardwood.
Hardwood kitchen floors have several challenges. The material is prone to water damage if not sealed properly. It is also vulnerable to scratches and dents. Therefore, it may not be the ideal flooring option for your home if you have pets. Lastly, wood flooring needs regular maintenance, including waxing and polishing. Although cost is considered a setback, the floor has great value for money.
4. Laminate floor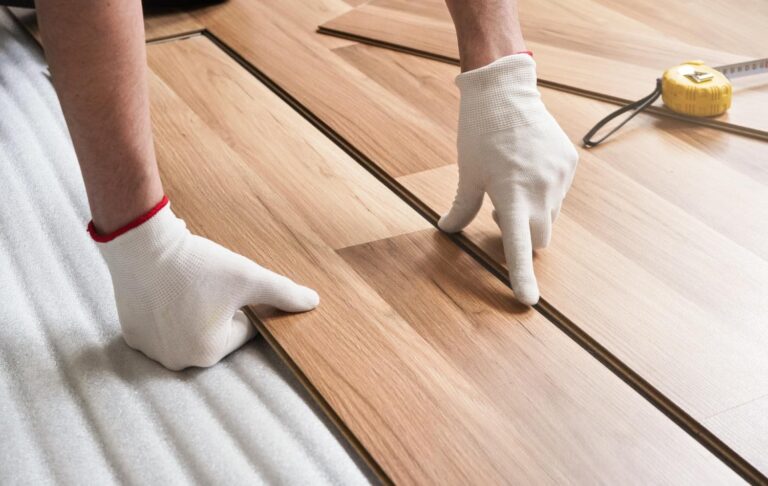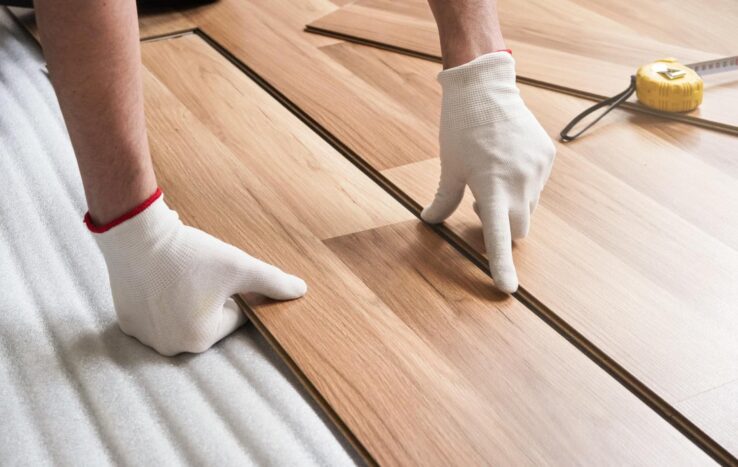 Laminate flooring is ideal for anyone looking for a budget-friendly design that can mimic wood or tiles. Laminate is quite simple to install and has minimal maintenance requirements, with several colours and styles to select from. Its application is versatile despite the cheap pricing.
Unfortunately, laminate floors are prone to scratches and chips. Unlike hardwood, you cannot refinish laminate floors when the damage is done. Furthermore, since the floor is cheap, laminate adds little to no value to your property.
5. Cork flooring
This is a fairly new flooring option. It's popularly used in libraries and living room spaces, but it's qualities match the characteristics of a good kitchen floor. Similar to hardwood floors, cork flooring is comfortable underfoot and provides excellent insulation. Furthermore, it's hypoallergenic, eco-friendly and comes in a wide range of colours.
Unfortunately, cork flooring is prone to scratching and loses its original sheen over time. It's also less durable than other flooring options. Nonetheless, it's a viable choice for your kitchen floor.
Before settling on a flooring option for your kitchen, it's imperative to consider your budget, lifestyle and all the pros and cons of each option. There is an alternative for everyone.