I have a confession – back in the day, my friend M. got me hooked on these divine spicy veggie burgers. However, I haven't had them in a while and, after a recent trip to the doc, I need to make some changes. I need to incorporate more lean protein into meals, make smarter choices and break out of my recipe "rut" with some new flavors and ideas. Plus, with this being Lent, I think veggie burgers would be something than the Pope would approve of, right? My recipes for fish are a bit uninspired for "Fish Fridays" and was recently told that my reasoning of "Chicken is not red meat and Vatican II said no red meat on Friday" was beyond wrong. *sigh* (So – essentially – I've been doing Lent wrong for way too many years – don't tell Sister Michael at my grade school please. Apparently I'm a bit rusty with my catechism.) Anywhoo – I digress.
I came across these Boca Essentials veggie burgers and they have some fabulous flavors besides the ones I remember from back in the day. Check out these new flavors – Chile Relleno, Roasted Vegetables & Red Quinoa and Breakfast Scramble. They are the perfect meat alternative and pack some serious protein power!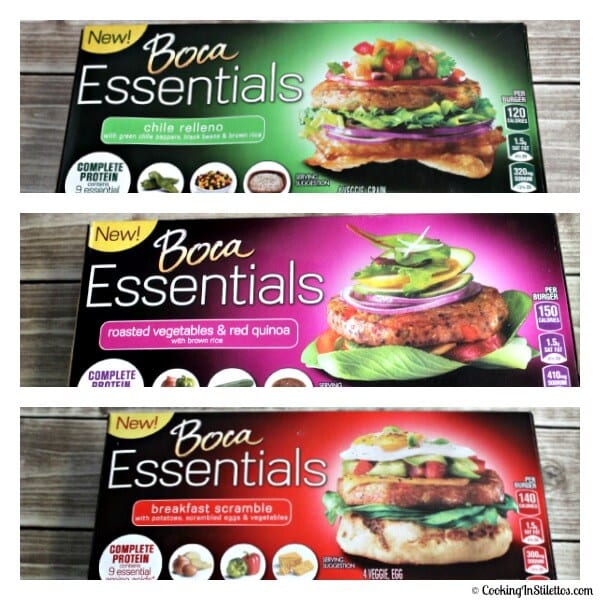 When Boca Essentials challenged me to come up with a fabulous recipe incorporating their new veggie burgers, I saw the Chile Relleno flavor and knew I had to make some Southwestern Stuffed Peppers. I love the spice that the Chile Relleno Veggie Burgers had and mixed with the sweet red peppers, red onion and the warm spices like cumin and smoked paprika, these stuffed peppers were a huge hit! I was originally going to stuff them with quinoa for an added protein punch but when I went to the pantry, there was no quinoa to be found. However, I came across some Israeli couscous and those large tender beads of pasta were the perfect compliment to the filling. I also was going to add a bit of additional jalapeno action but after tasting the Chile Relleno veggie burgers, I thought that the spice level was perfect without. Feel free to add a bit of jalapeno to kick up the spice factor. These Veggie Southwestern Stuffed Peppers were flavorful, filling and will be a staple in my recipe file.
Added bonus – these Boca Essentials are a fab freezer essential, perfect for whipping up a quick dinner or a breakfast on the go. A bit of ingenuity and you can transform these delicious veggie burgers into an amazing dish.
Pick up a package of these Boca Essentials and make this recipe. You don't even have to tell the fam that it's vegetarian – even the most diehard meat lover will ask for seconds!
On to the recipe:
Gather your ingredients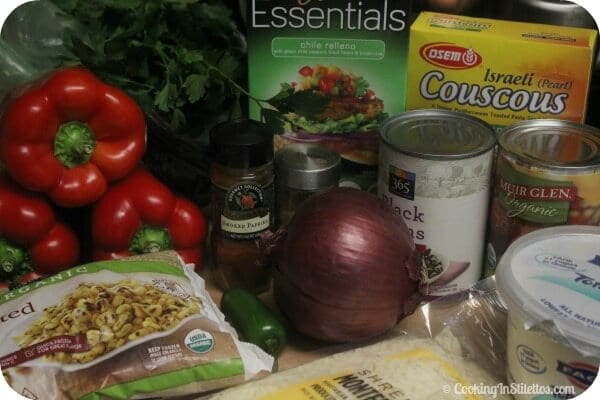 Let's get a bit of char on these Chile Rellenoburgers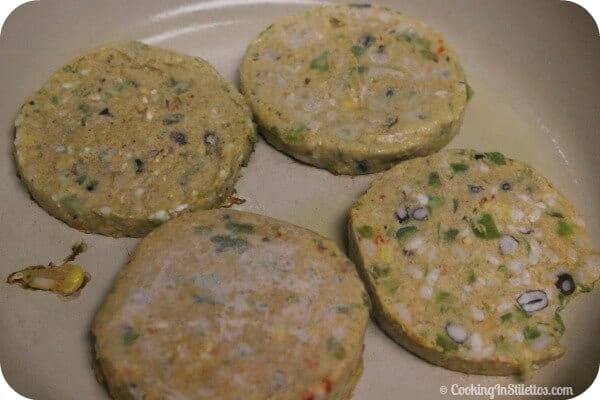 Let's mix everything together and add a bit of cheese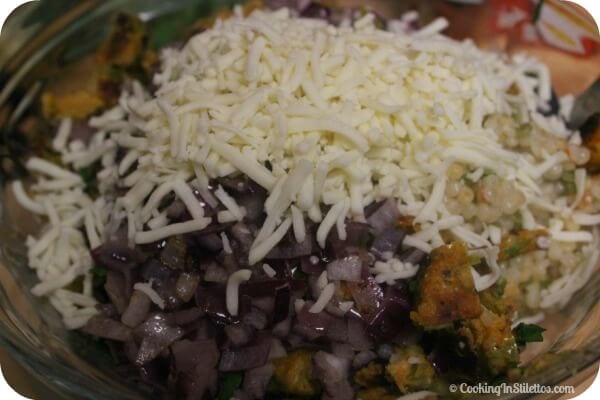 After baking for a bit – let's top with a bit more Monterey Jack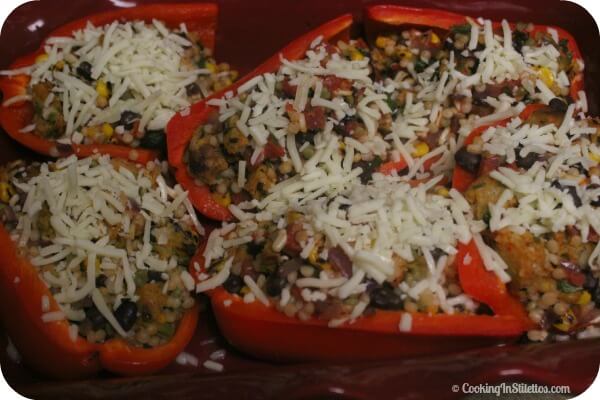 Now – doesn't this look scrumptious?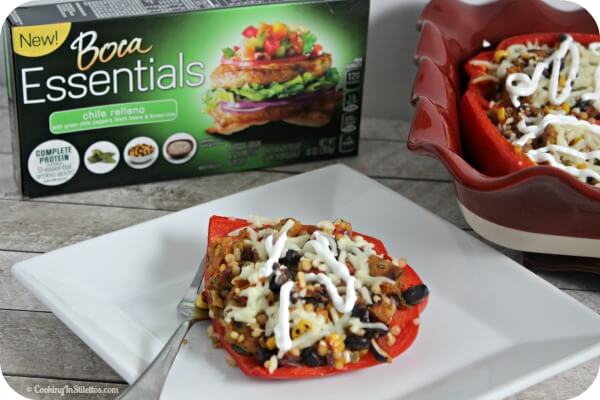 Seriously – the flavor in these Veggie Southwestern Stuffed Peppers will have you asking for seconds!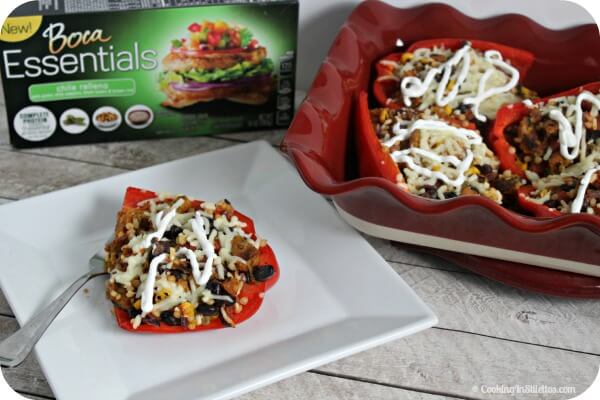 Aly M. Cleary
Yields 4-6
Veggie Southwestern Stuffed Peppers #bocaessentials #CleverGirls
These stuffed peppers are filled with familiar southwestern flavors and have a bit of spice thanks to the Chile Relleno Boca Essentials.
30 minPrep Time
55 minCook Time
1 hr, 25 Total Time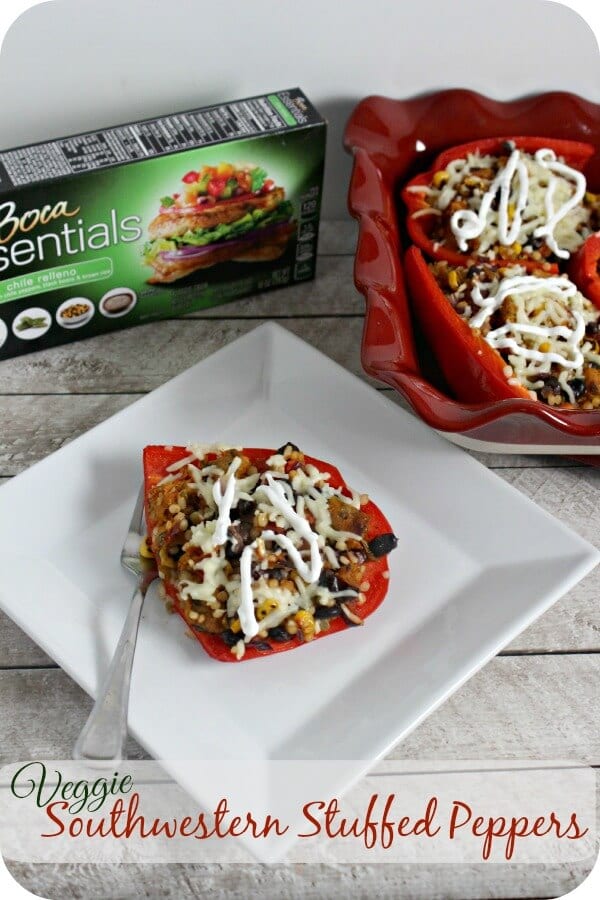 Ingredients
1 package of Boca Essentials Chile Relleno Veggie Burgers
2 tablespoons of olive oil, divided
4 large red peppers, cored, halved lengthwise, seeds and ribs removed
½ a red onion, finely diced
¾ cup of Israeli couscous, cooked
1 cup of fire roasted corn
¾ cup of diced fire roasted tomatoes
¾ cup of black beans, drained and rinsed
½ teaspoon of cumin
½ teaspoon of smoked paprika
¼ cup of flat leaf parsley, finely chopped
½ teaspoon of black pepper
¼ teaspoon of kosher salt
¾ cup of Monterey Jack cheese, divided
Greek Yogurt for serving
Instructions
Preheat your oven to 375 degrees F.
In a non-stick saute pan, add one tablespoon of olive oil and heat over medium heat.
Add the Boca Essentials Chile Relleno Veggie Burgers to the pan and brown on both sides.
When the veggie burgers are cooked through, remove from the pan and let cool on a cutting board.
Add the remaining tablespoon of olive oil to the saute pan and add the finely diced red onion. Saute until translucent, about 5 minutes or so.
In a large bowl, add the cooked Israeli couscous, fire roasted corn, fire roasted tomatos, black beans, cumin, smoked paprika, parsley, black pepper, and salt.
Add the cooked onion to the mixture.
Chop the veggie burgers into small pieces and add to the couscous mixture as well as ½ cup of the Monterey Jack cheese.
Toss everything together until the stuffing mixture is thoroughly combined.
Using a spoon, stuff each of the peppers and place in a 9x13 pan that has been sprayed with a bit of non-stick cooking spray.
When the peppers are filled, cover with aluminum foil and bake in the oven for 35 - 45 minutes until the peppers are soft.
Remove from the oven, uncover and top each pepper with the remaining cheese.
Bake for another 7 - 10 minutes until the cheese is melted.
Serve topped with a bit of Greek yogurt and enjoy.
7.8.1.2
49
https://cookinginstilettos.com/veggie-southwestern-stuffed-peppers/