This Foolproof Lemon Curd is made from scratch with just 4 ingredients. This silky luscious lemon curd is delicious spread on scones, swirled into yogurt, added to cupcakes or even by the spoonful straight from the jar.  You will never buy store-bought again after making this easy recipe!
Making lemon curd from scratch has been on my culinary bucket list for quite some time.  I love love LOVE lemon curd – especially to whisk into my yogurt in the morning (like in these fave Lemon Berry Yogurt Crunch Parfaits), in the center of my favorite Lemon Meringue Muffins or for a quick dessert when guests come over.  There's nothing like some pound cake with a touch of lemon curd and dolloped with a bit of limoncello kissed whipped cream.  Seriously – it's all about the lemon in my house.
My mother used to love lemon meringue pie and when I was younger, it was all about the lemony filling more than it was about the sky high meringue.  Lemons are always an essential ingredient on my grocery list since I love using lemon in sweet and savory recipes.  There's something about a dash of citrus that will perk up a recipe.  I have always wanted to make lemon curd but my silly irrational culinary fears would take over.  What if I burn it?  What if I make scrambled eggs instead of a silky lemon curd?  What if it takes too long?   See how my mind works – totally stupid and irrational questions that have me doubting my culinary skills and have me spending a fortune on the store bought version.
With all of the horror stories of "What's in that jar/can/box", I've been taking on more made from scratch challenges and for the cost of a bag of lemons and ingredients I already have on hand, I can make my own curd and save that money for the stiletto fund.  That alone makes my wallet very happy.  Plus – I find that sometimes the made from scratch version tastes way better than the one from the jar.
This recipe for lemon curd is foolproof and couldn't be easier to make.  I relied on one of my favorite pastry chef's easy technique and already I'm starting to think of other curds I can make – berry curd, orange curd, passion fruit curd – the options are endless.  If you can find Meyer lemons still in the stores, make a batch of Meyer Lemon Curd. Once you have the technique down, it couldn't be easier and it comes together in under 30 minutes.  I strained my curd into a large measuring cup which made pouring into the jars so much easier. Granted this is more of a refrigerator curd but if you can process for canning (which I haven't mastered just yet), you can make a large batch and keep it ready for whenever that lemon pucker craving hits.
This Foolproof Lemon Curd will be your new dessert secret weapon – and when your guests ask if you picked up that lemon curd from that pricey kitchen store – you can go "Oh no – I make my own Lemon Curd – it tastes so much better!"
On to the recipe:
Slightly adapted from Julia Baker
Yields 3
Foolproof Lemon Curd
This Foolproof Lemon Curd is made from scratch with just 4 ingredients. This silky lemon curd is delicious on scones, swirled into yogurt or even by the spoonful straight from jar.
15 minPrep Time
10 minCook Time
25 minTotal Time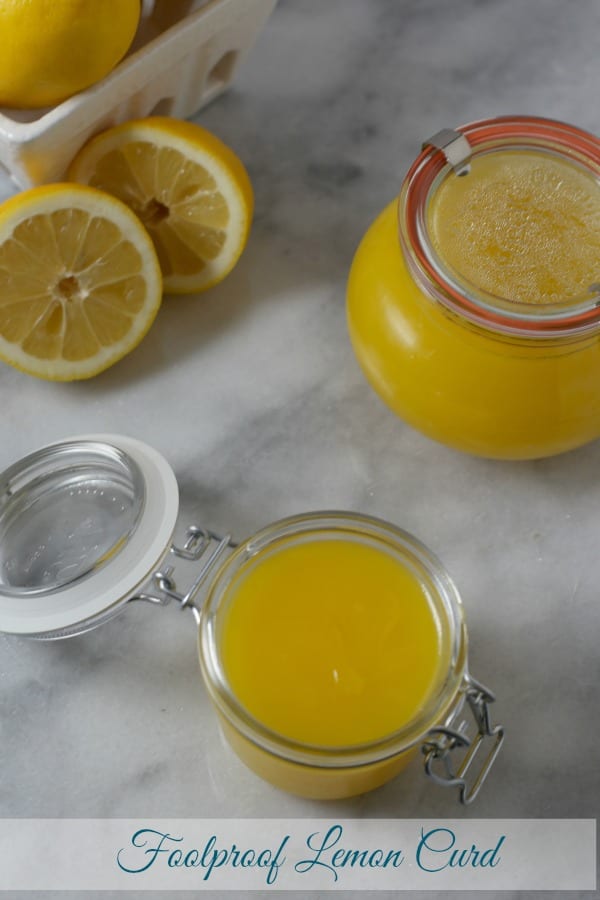 Ingredients
4 large eggs
1 2/3 cups of sugar
Zest of 3 large lemons
3/4 cup of lemon juice
1 1/2 sticks of unsalted butter, melted
Pinch of salt
Instructions
In a heavy bottomed saucepann, whisk together the eggs and sugar until the mixture becomes a light foamy yellow.
Add the lemon zest and fresh lemon juice to the egg mixture and whisk in until everything is mixed.
Whisk in the cooled melted butter and then turn on the heat.
Keep whisking the mixture and bring it to a boil.
When it comes to a boil, turn off the heat and strain the mixture through a fine mesh sieve into a large measuring cup.
Pour into jars and store in the refrigerator.
Enjoy!
7.8.1.2
120
https://cookinginstilettos.com/foolproof-lemon-curd-recipe/