This Sparkling Black Widow Cocktail has a lethal bite. Fresh blackberries and basil are muddled with Hornitos® Black Barrel Tequila and a touch of sweetness and sparkle. This libation is the perfect witch's brew!


This post has been sponsored by Hornitos­® Tequila.
Halloween is just around the corner – have you started your party prep yet? Don't fret – I have a Halloween sip for you that will get any party started – a Sparkling Black Widow Cocktail!
Halloween is one of my favorite times of the year – the ghosts, the ghouls and the goblins come out to play and this year I am ready for them! For a gathering I am having with friends, I wanted to whisk up a haunting libation that had the mood of the holiday. This Sparkling Black Widow Cocktail is fruity with a touch of sweetness and effervescence but with a deep, dark secret. Lurking in the depths of this drink is one of my favorite tequilas, Hornitos­® Black Barrel.
Hornitos® Black Barrel tequila is aged Anejo tequila that has been taken to the next level. This tequila is aged two more times in special barrels, much like whiskey, so Hornitos® Black Barrel has a more complex robust flavor. While I often use this tequila as a sipping tequila, I was inspired to play with some flavors in preparation for this year's Halloween celebration.
This drink is a fabulous complement to Hornitos­® Black Barrel's rich amber hue. A few fresh ingredients, a drizzle of sweetness and a bit of sparkle and this cocktail came to life. It is almost as if the Good Witch or, perhaps, the Wicked Queen came up with this divine potion. However, I must caution you – while it is sweet and refreshing, you might want to impose a two cocktail limit. Much like the lethal black widow spider, this cocktail will sneak up on you!
For Halloween this year, tequila will be the highlight of my menu with my Tequila Braised Short Rib Sliders, smoky Butternut Squash Dip and, of course, this Sparkling Black Widow Cocktail. Ghosts and goblins beware!
On to the recipe:
Gather your ingredients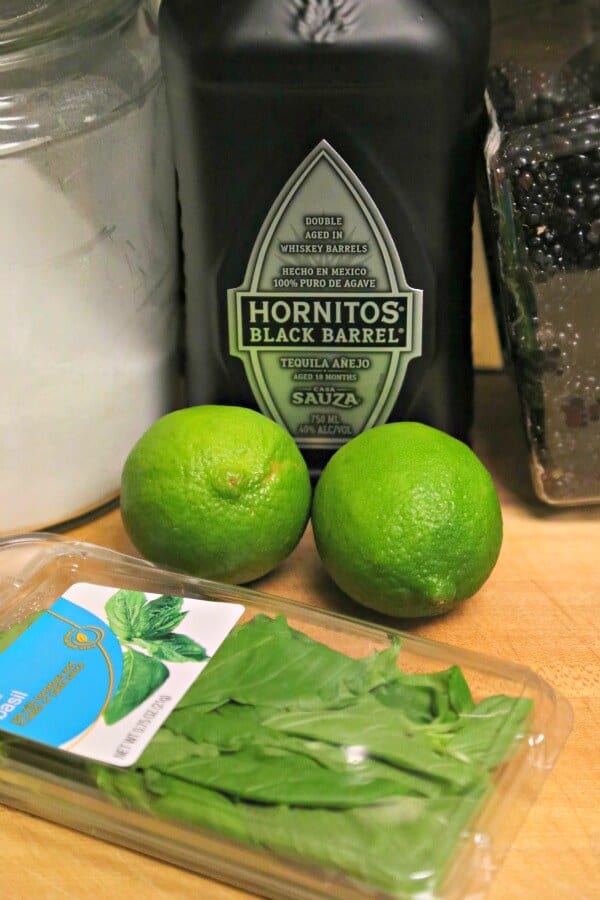 Look at the deep amber of this rich Hornitos® Black Barrel Tequila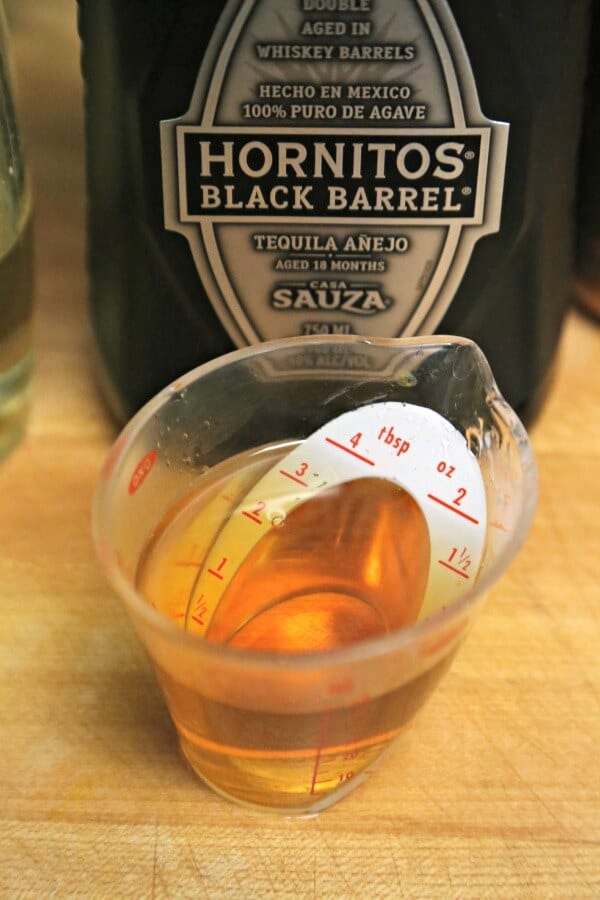 Let's muddle some blackberries and basil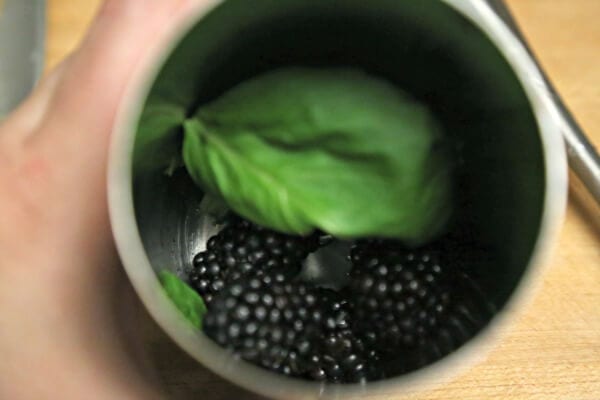 Now – this is a witch's brew indeed!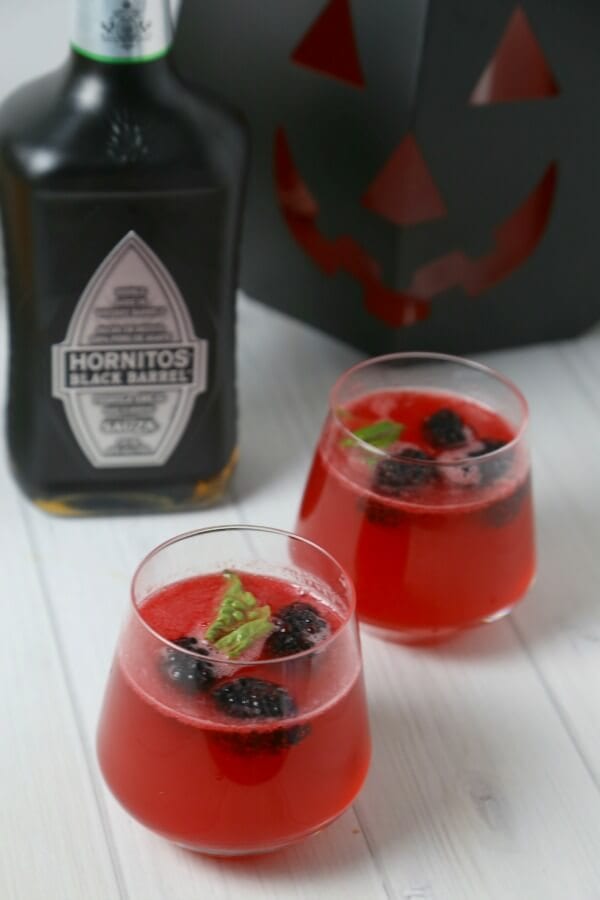 This Tequila Braised Short Rib Slider and Sparking Black Widow pairs perfectly!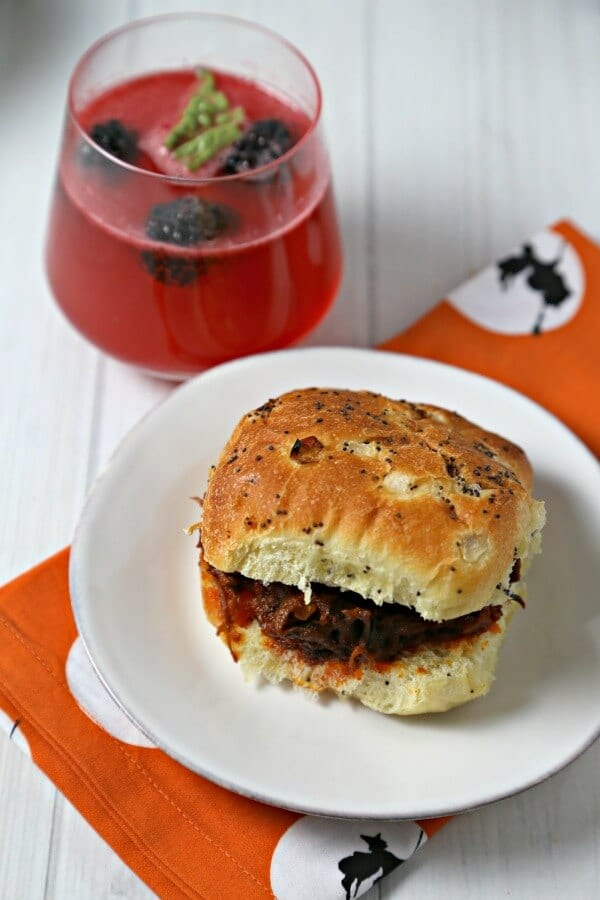 I must caution you – this Sparkling Black Widow bites!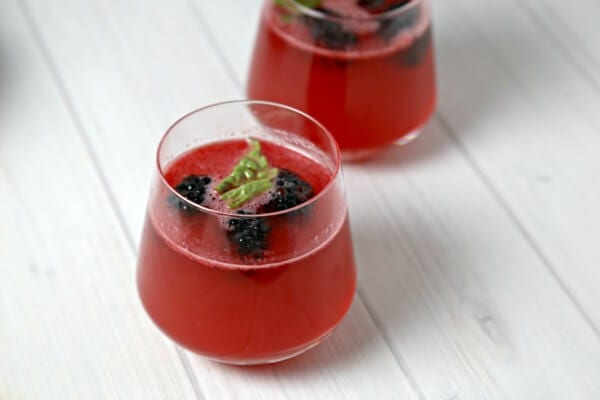 Ingredients
4 ounces of Hornitos® Black Barrel Tequila
10 blackberries
5 basil leaves
2 ounces of simple syrup
2 fresh limes
Sparkling water
Fresh blackberries and basil leaves for garnish
Directions
In a cocktail shaker, muddle together the blackberries and fresh basil leaves.
Add some ice and pour in the Hornitos® Black Barrel Tequila, simple syrup and juice from the two limes.
Shake vigorously and pour into a glass (whether or not you want to serve over ice is up to you.)
Top the cocktail with a splash or two of sparkling water.
Garnish each glass with a couple fresh blackberries and a basil leaf.
Enjoy!
Notes
Note: To create the Simple Syrup – dissolve 1/2 a cup of sugar in 1/3 cup of water in a small saucepan. Bring to a boil over medium high heat and then simmer for 5 – 7 minutes until it thickens slightly. Let cool and then use in the cocktail. Store any leftovers in the refrigerator.
7.6.8
1046
https://cookinginstilettos.com/sparkling-black-widow-cocktail/
All images and content are © Cooking In Stilettos. Please do not republish without contacting us first. Thank you.

Hornitos® Tequila doesn't settle for the status quo but believes in taking experiences to the next level with 100% agave tequila. Learn more about what makes us Not Just Any Tequila at www.hornitostequila.com and follow us on Twitter at www.twitter.com/hornitos.
Disclosure: Compensation was provided by Hornitos® Tequila via Mode Media. The opinions expressed herein are those of the author and are not indicative of the opinions or positions of Hornitos® Tequila.
Did you enjoy this post?
| | |
| --- | --- |
| Share the love | Get free updates |