Welcome to the last day of Cookie Week, hosted by Kim of Cravings of a Lunatic and Susan of The Girl In the Little Red Kitchen! We've teamed together with 10 other talented bloggers to bring you 5 fantastic days of cookie recipes to get you in to the holiday spirits.  We hope you've enjoyed this week as much as we did! Don't forget to check out and enter our fantastic giveaway and our #CookieWeek Pinterest board full of all the cookie recipes you've see here this week!
It seems like we were JUST starting Cookie Week and here we are, wrapping up the final day of what has been a week of cookie inspiration.  This group of bloggers that I have been thrilled to share cookie recipes with are amazing and I really have to commend them for some seriously awesome cookie luv they have shown this week and the ideas that they brought to the table (or cookie jar) have been nothing short of awesome.  I have so many ideas for the holidays thanks to them.  And major major kudos to Kim and Susan for an amazing job that they did keeping us all on track.
OK – enough chatter from me, let's get to the cookies I brought to the party – these Double Chocolate Espresso Cookies.  Whenever I make chocolate treats, I always have a little jar of instant espresso nearby.  There's something about melding the flavors of coffee and chocolate that just makes the treats taste so rich and chocolatey.  I can't explain it but, in my opinion, it's a must have ingredient.  When I went to gather the ingredients, I realized that I was out of my favorite chocolate bars that I love to use in treats and would have to punt.  I grabbed some bittersweet chocolate chips and decided to see what magic I could rustle up.  I played with a recipe from Martha Stewart and this cookie is perfect for your next coffee break, a mid-day pick me up or on the go.  Would I recommend having one late at night, ummmmm.. nope.  I'm all about the espresso but I do think this made me a bit more "aware" and if I had these late night, I fear that insomnia would strike.  Make these for the holidays and gift them to the chocolate and coffee lover in your life.  But make a double batch and hide some away for yourself for those days you need a bit of a boost.
On to the recipe:
Gather your ingredients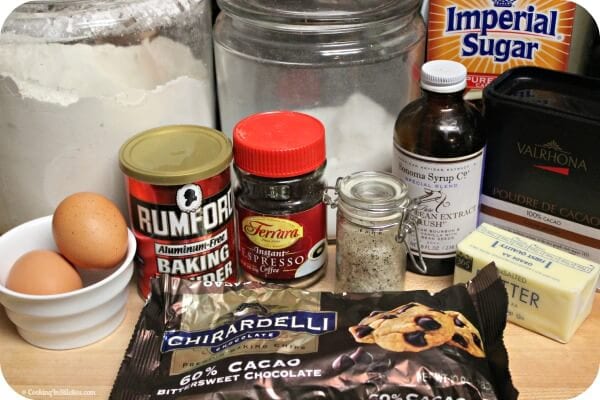 Look at that river of espresso and melted chocolate, ready to be whipped into the butter sugar mixture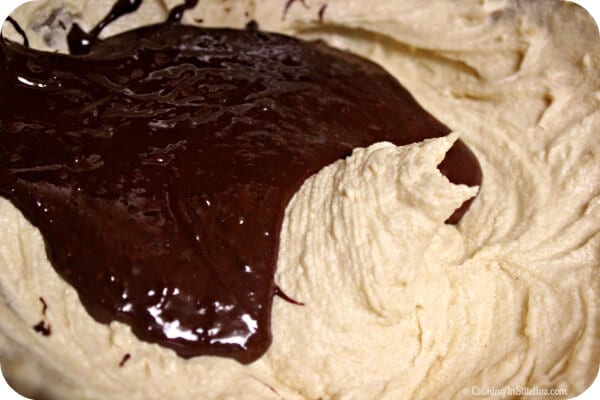 Let's fold in the chocolate chips into the thick batter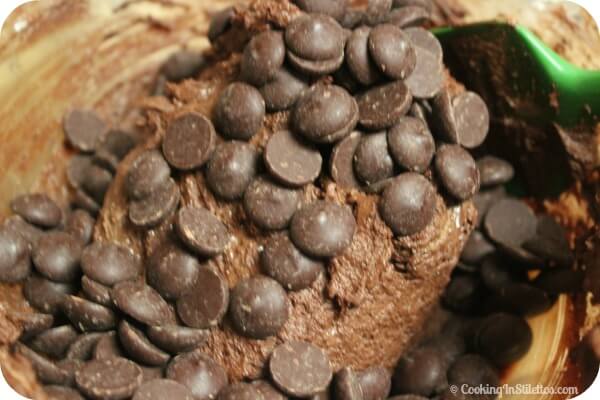 Time to cool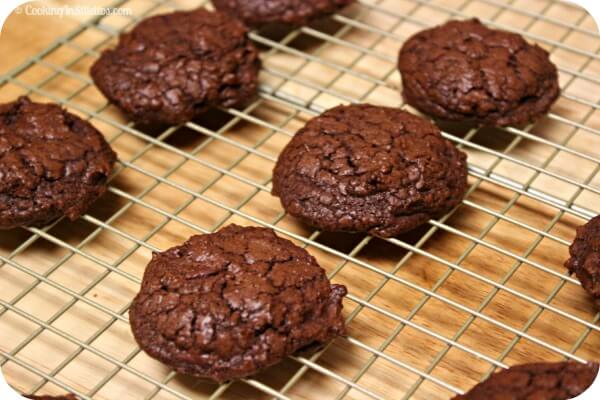 Grab your latte and a Double Chocolate Espresso Cookie and let's catch up shall we?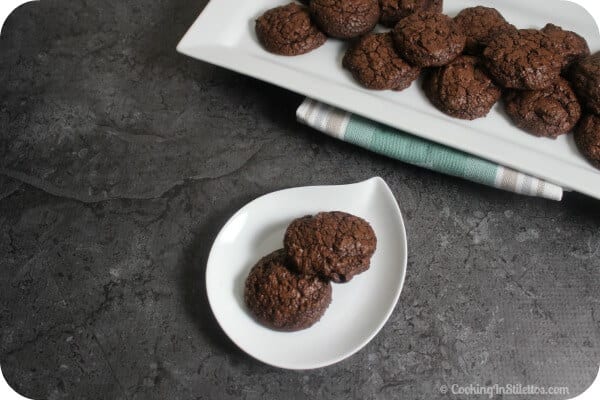 Adapted from Martha Stewart Everyday Food
Yields 36
Double Chocolate Espresso Cookies
This dark rich chocolatey cookies are punched up with a touch of espresso woven throughout. These cookies will be a perfect mid-day pick-me-up.
30 minPrep Time
16 minCook Time
46 minTotal Time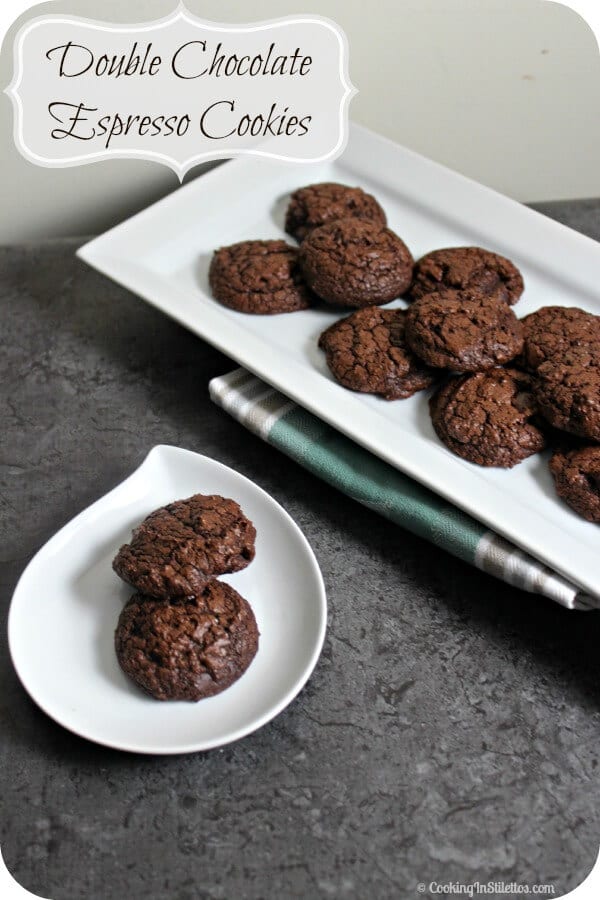 Ingredients
1 10 ounce bag of bittersweet chocolate chips, divided
1 tablespoon plus 1/2 teaspoon of instant espresso powder
1 cup of all purpose flour
1/2 cup of dutch process cocoa powder
1/2 teaspoon of baking powder
1/2 teaspoon of salt (I used my favorite Vanilla Salt)
1/2 cup of butter, room temperature
3/4 cup of granulated sugar
3/4 cup of light brown sugar, packed
2 eggs, room temperature
1 1/2 teaspoons of vanilla extract
Instructions
Heat the oven to 350 degrees F,
In a small bowl, melt 5 ounces of chocolate chips. You can do this either by double boiler method or in the microwave. Be careful not to scorch the chocolate.
Whisk in the espresso powder until everything is dissolved. Set aside.
In a medium bowl, whisk together the flour, cocoa powder, baking powder and salt. Set aside.
In a large bowl, beat together the butter and sugars with an electric mixer until everything is light and fluffy.
Using low speed, add each egg individually to the butter/sugar mixture and make sure it's fully incorporated before mixing in the next.
Add the melted chocolate and espresso mixture and the vanilla extract and, on low speed, beat into the butter mixture.
Continue on low speed and slowly add the flour mixture, making sure to not overbeat.
Mix until combined and then, using a spatula, add the remaining 5 ounces of chocolate chips and fold so it's thoroughly mixed.
Using a small cookie scoop, drop little balls of the dough mixture onto cookie sheets lined with a silpat or parchment paper, making sure that they are 3 inches apart.
Bake for 14 - 16 minutes and remove to a cooling rack.
Let cool and enjoy!
7.8.1.2
204
https://cookinginstilettos.com/double-chocolate-espresso-cookies/