This wonderful Asian low carb recipe lets you satisfy your craving for fried rice while remaining low on calories. Isn't it amazing to get to switch the starchy white rice with homemade cauliflower rice?
Serving suggestion:
You can serve it as a healthy side dish or a nutritious, light option for the main course. It might even be a good low carb breakfast option.
Description:
If you like the taste of cauliflower, then this recipe is bang on. It's a great low-calorie and low carb meal option that gets prepared in a jiffy. You can revamp it and use any other veggie instead of cauliflower. You may also use Quinoa.
Keto cauliflower rice is simple to make. It is prepared in less than 30 minutes. Can you believe that?
You can even cook it in advance as meal prepping.
This recipe is proof that going on a healthy diet doesn't necessarily have to be complicated. No need to search endlessly for the calorie count of certain foods. Recipes like this are always the best option when you want to make specific lifestyle changes through diet.
Difference Between Regular and Cauliflower Fried Rice:
Technically, cauliflower rice isn't rice but a substitute for brown and white rice. It's low carb and low-calorie replacement for regular rice.
Do you know….
One cup of cauliflower contains 25 calories while a cup of cooked brown rice contains 218. Now, you do the math that which one is better?
If you are also watching carbs like me, a cup of cauliflower has 5gms while brown rice has 45gms.
And for your information, one pound of cauliflower yields around four cups of cauliflower rice.
Making Cauliflower Fried Rice:
Cauliflower rice is made in three different ways. It is up to you to select the one you like most. I prefer the one that involves least effort.
Let's check out the three methods of making cauliflower rice.
Through a food processor – Set the food processor with the chopper attachment. Place the uncooked cauliflower florets and pulse a few times until it takes the form of small crumbs.
Through a Knife- You can entirely omit the food processing process and use a knife to finely chop the cauliflower.
Using a bow grater- You need to be very careful about this one. A bow grater can ruin your nails. That's why I don't prefer this method often. But, it works if you don't have a food processor or a sharp knife.
The easiest method would be to purchase packed cauliflower rice from a grocery store.
Cooking Cauliflower Rice:
Cauliflower rice isn't cooked like regular rice; you just need to sauté them for a few minutes. You can also pan fry them. Don't forget to stir frequently.
If you want to innovate, add some vegetables, herbs or meat, everything works just fine with cauliflower. Don't worry about the cooking time; cauliflower doesn't release a lot of water, so it cooks quickly.
Uses of Keto Cauliflower Rice:
If you are looking for a grain free and low carb bowl of grain that doesn't even have grains at all, this is your recipe.
You can easily lighten up rice, chicken and similar other dishes with cauliflower rice.
This keto cauliflower rice is ideal to add in salads and burrito bowls.
Ingredients you need:
To make Keto Cauliflower Rice you will need the following ingredients:
Sesame oil
Carrots
Peas
Garlic
Onion
You can also add scrambled eggs and green onion with soy sauce to give it the traditional fried rice look. If you want to add protein, freely add chicken, beef or seafood.
Amazing Low Calorie & Low Carb Keto Cauliflower Fried Rice Recipe
This wonderful Asian low carb recipe lets you satisfy your craving for fried rice while remaining low on calories. Isn't it amazing to get to switch the starchy white rice with homemade cauliflower rice?
10 minPrep Time
15 minCook Time
25 minTotal Time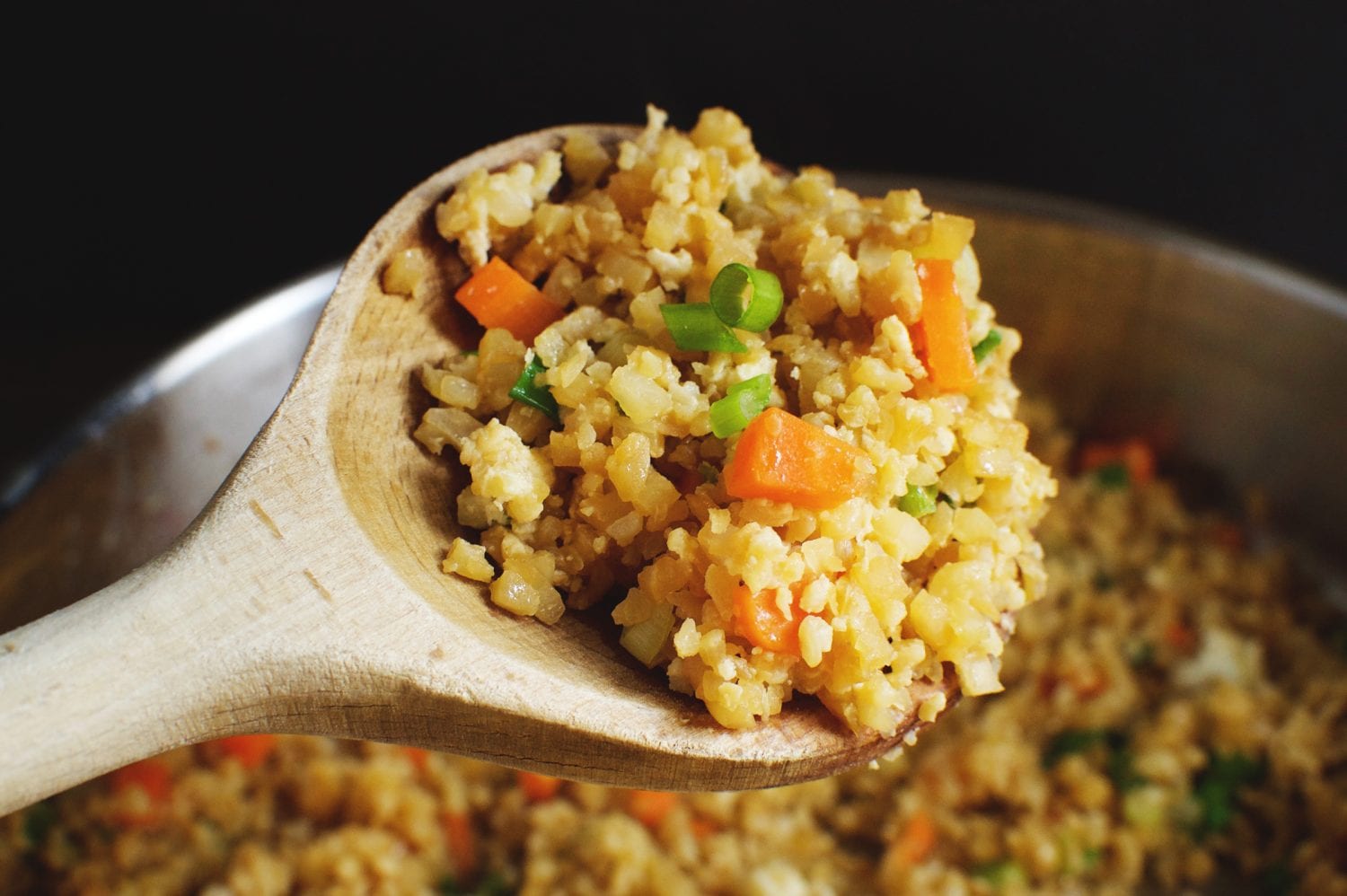 Ingredients
Sesame oil or olive oil – 2 tablespoons (divided)
Large size Eggs- 2 (beaten)
Onion- 1/4 cup (diced)
Garlic- 2 cloves
Peas (fresh or frozen) – 1/2 cup
Carrots – 1/2 cup (or more if you like)
Cauliflower- 1 medium head
Scallions (only green part) – 3
Tamari or soy sauce – -3 tablespoons
Sesame seeds- 1 teaspoon
Instructions
Cut the cauliflower into florets and wash them thoroughly. Pat them dry, so that excess water is absorbed.
In a food processor, place the florets (you may want to work in batches) and pulse them 6 to 7 times.
Keep chopping them until the florets resemble the texture of couscous.
Be aware not to leave out big chunks of cauliflower and also not to over process.
In a large size skillet, heat one tablespoon of oil over medium heat. Add the beaten eggs and cook them for one minute.
Scramble the eggs immediately and keep cooking for another two minutes.
Remove the eggs from the skillet and transfer to a plate.
Add the remaining oil to the skillet and heat is slightly before adding the onion and garlic. Cook for two minutes. Keep frequently stirring to prevent them from turning brown.
Now add the peas and carrots and cook for three minutes.
When the vegetables are slightly cooked, turn the heat to medium-high, add the cauliflower and saute them until water dries.
Add the tamari or soy sauce and eggs. Cook for one minute and immediately transfer the contents of the skillet to a bowl.
Sprinkle sesame seeds and scallions on top.
7.8.1.2
200
https://cookinginstilettos.com/amazing-low-calorie-low-carb-keto-cauliflower-fried-rice-recipe/