This is a sponsored post. My opinions are my own.
Have you seen all of the commercials advertising that the holidays are JUST around the corner? Have you started your holiday shopping yet?
Growing up, a majority of my shopping was done on Christmas Eve.  My dad and I had a tradition of doing family shopping on Christmas Eve, followed by a major present wrap session, wrapping everything in oodles of paper, tape and bows. As I got older, I still would shop closer to Christmas but, with the crowds and chaos at the stores, I started to do a majority of my shopping online (much to my UPS and FedEx driver's chagrin). This year, I did some thinking about holiday gifts and decided that I'd do something different.  Some of my gifts are going to be straight from my Stiletto Kitchen – made with lots of love and laughter and given to family and friends.
With homemade treats on the mind and knowing how I test a recipe a few times before I pronounce it "perfect", I needed to get to research mode and start planning! After all, the holidays are only weeks away and some of these gifts need to be sent with a bit of planning and packing care.  After perusing one of my favorite sites, Yahoo! Food, I came across an idea that essentially gave this gal a light-bulb moment – How To Make Chocolate Bark Without a Recipe.
I loved the technique articles that I found on Yahoo! Food that had me ready to get into the kitchen and channel my inner mad candy scientist.  Now, y'all know that if you head to the stores to buy Chocolate Bark, your wallet might have a slight heart attack because that stuff can be a bit pricey.  When you realize how easy it is to make it yourself and the flavor combos you can infuse, the candy game just got serious. Think about it- what about a Mexican Chocolate Bark infused with vanilla, cinnamon and a touch of cayenne, studded with pepitas and nuts. Perhaps a Dark Chocolate Almond Bark with a bit of sea salt might be on the menu or this must make Hawaiian Crunch White Chocolate Bark might make it under someone's tree.
I thought about one of my favorite trail mixes which contain some island flavors – macadamia nuts, dried pineapple and cashews. I wanted to add another level of fruity flavor with tart cherries and cranberries and, of course, I added a touch of Vanilla Salt that I have been adding to everything I bake lately for that sweet and salty bite.  This Hawaiian Crunch White Chocolate Bark is the perfect gift for the holidays – you just have to be strong and resist the urge to keep it all to yourself.  However, if you do, I'll never tell!
On to the recipe:
Gather your ingredients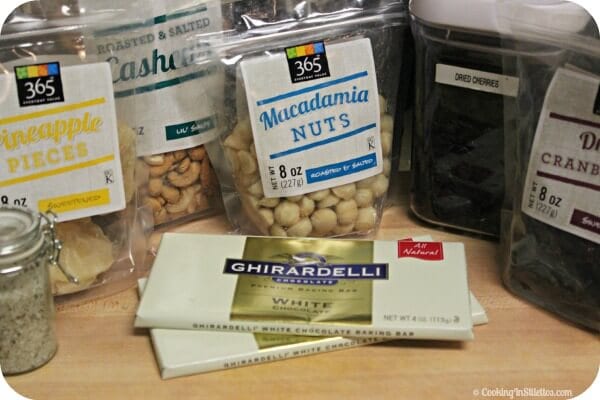 Look at this glorious white chocolate. Resist the urge to nibble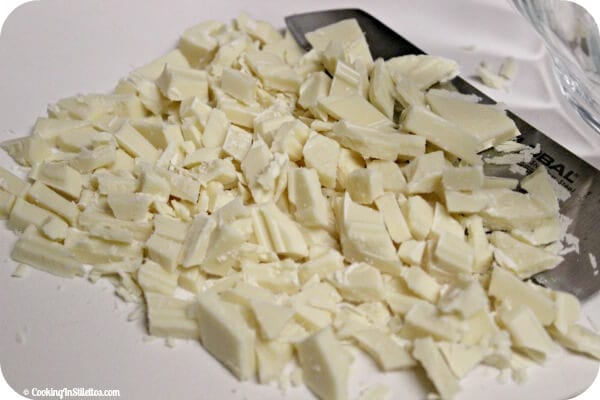 Let's get this chocolate all melted and glossy.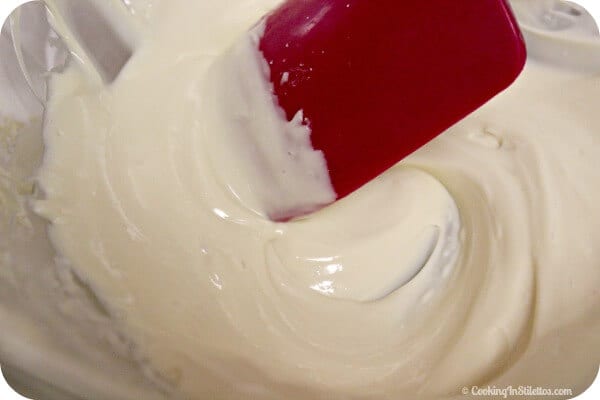 Time to put this lovely sweet treat together.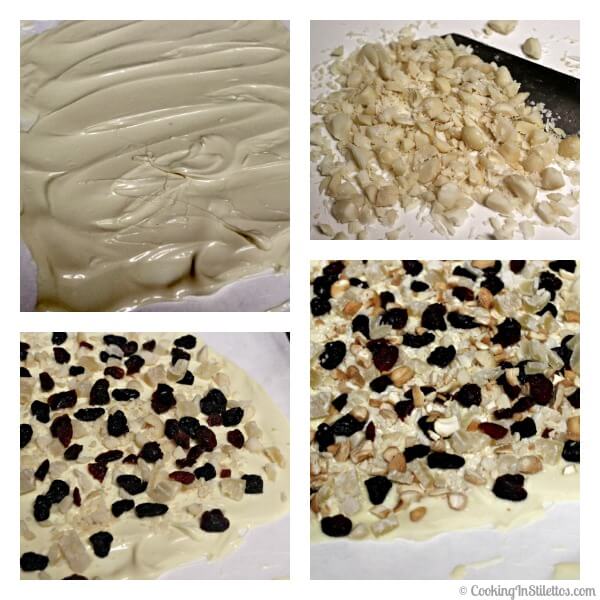 Some of my favorite flavors nestled in a bed of white chocolate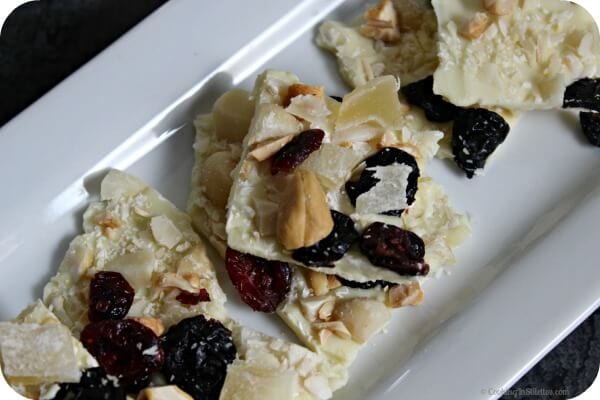 The Perfect Gift To Give and To Receive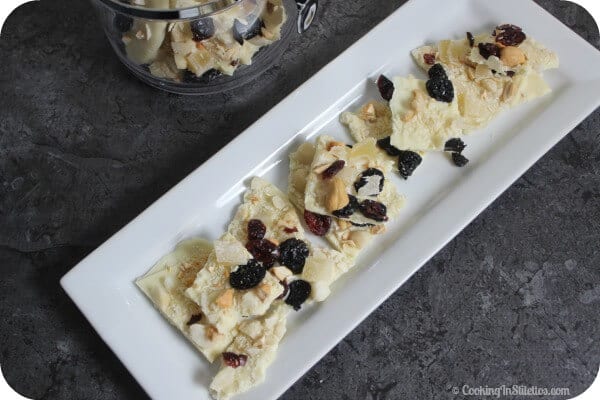 Aly M. Cleary
Hawaiian Crunch White Chocolate Bark
This deliciously sweet and salty treat is the perfect treat to give and to receive
10 minPrep Time
2 minCook Time
12 minTotal Time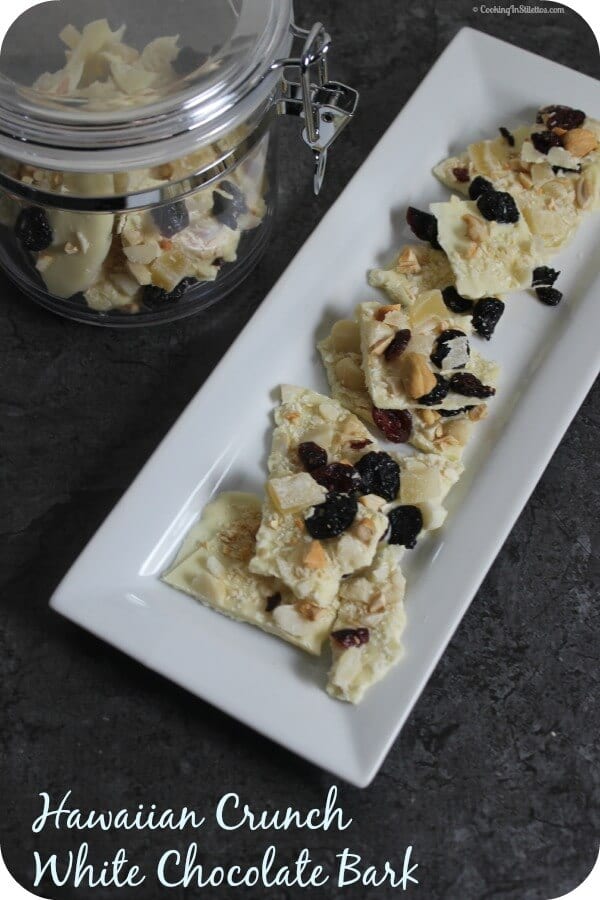 Ingredients
12 ounces of white chocolate, chopped
1/4 cup of macadamia nuts, chopped
1/4 cup of cashews, chopped
1/4 cup of dried pineapple, chopped (about 2 slices)
1/4 cup of dried cherries
1/4 cup of dried cranberries
Pinch of Salt (optional) (I used Vanilla Salt from Girl In The Little Red Kitchen )
Instructions
Add 3/4 of the chopped white chocolate to a glass bowl.
Microwave at 50 percent power for 30 second. Stir with a spatula and continue the process in 30 second intervals until the white chocolate is almost melted.
Remove from the microwave oven and stir in the remaining white chocolate until melted and everything is smooth.
To a large baking sheet lined with aluminum foil and a sheet of parchment paper, pour the chocolate onto the center of the sheet.
Using an offset spatula, spread the chocolate so it's about a quarter-inch thick and in the shape of a rectangle.
Sprinkle the macadamia nuts over the melted chocolate and follow with the chopped cashews, pineapple, cherries and cranberries.
Lightly sprinkle with a bit of salt (or vanilla salt) if you want that salted sweet/savory effect.
Place in the refrigerator to cool for a few hours.
Break into shards and package in plastic cellophane bags or pretty jars for gifting or, if so inclined, keep some for yourself and enjoy!
Notes
This will have to cool for a few hours in the refrigerator.
7.8.1.2
203
https://cookinginstilettos.com/hawaiian-crunch-white-chocolate-bark/