The memories I have of creamed corn are not good, I hate to say. 99.9% of the time, it was out of a can and, in my opinion, was horrible. When I started to cook, I made a point to NEVER buy creamed corn and, if we were in some sort of survival mode and there was a can of creamed corn near me, I can pretty much guarantee it would remain unopened (at least by me). Much like pancakes, creamed corn was another dish I just could not stand.
Now – I was getting ready to turn up my nose but, when I got to thinking about it and how I finally can appreciate pancakes now, I figured that I was doing creamed corn a disservice and should at least try it one more time.  One requirement – it had to be made from scratch.
This dish does take a bit of effort but I'm happy to say that it is well worth it. So I could possibly avoid the spoonbread disaster of 2010, I decided to blitz the corn in the Vitamix. Of course, you could use a blender or a food processor. One side note if you are using a Vitamix – use a small spatula to get the corn puree out of the container because those little corn kernels can be rather difficult. With a bit of parm added, you have yourself one tasty side dish. I have a feeling this might be added to the holiday menu line-up.
Gather the Ingredients
Saute the Corn
Time to add the cream.
I love how the Vitamix didn't make it like baby food. I was able to control the puree texture.
Everything is better with cheese.
Tried and True: Parmesan Creamed Corn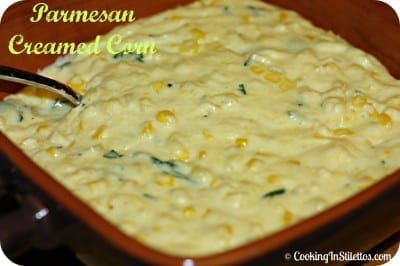 Ingredients
4 ears corn, husks and silks removed
2 tablespoons unsalted butter
Kosher salt and freshly ground black pepper
1 tablespoon flour
1/2 cup heavy cream
2/3 cup lowfat milk
1/4 cup grated Parmesan
1-2 tablespoons chopped fresh flat-leaf parsley
Instructions
Cut the kernels off the ears of corn and set aside.
Over medium-high heat, melt the butter in a medium skillet.
Add the corn and season with salt and pepper.
Saute for about 3-4 minute until softened.
Add the flour, stir and cook for about a minute.
Reduce the heat to medium and add the cream.
Simmer for 2-3 minutes until the corn mixture thickens.
Take half of the mixture and add that to a food processor or blender.
Blend until it's a smooth corn puree.
Pour the pureed mixture back into the skillet, add the milk, cheese and parsley and stir to combine.
Cook over low heat until warmed through.
Season with salt and pepper to taste.
Enjoy!
7.8.1.2
369
https://cookinginstilettos.com/parmesan-creamed-corn/