I love granola but I refuse to buy it – probably because it's so much easier to make it and, as an added plus – it's better for you because you control the ingredients. See, ever since I really started reading the ingredients on packages, I've been scared senseless and wondering what really is in those ingredients we can't pronounce and need a PhD to understand what they are. Now, granted, there are still some processed foods that I do indulge in (like my Cool Ranch Doritos but I refuse to read the ingredient list on that bag), but I'll continue to channel my inner ostrich until I can find a sufficient "cleaner" alternative.
Nigella Lawson's Chocolate Peanut Granola is one of those treats that is perfect over some Greek yogurt, a bit of Rocky Road ice cream or even on its own when you have that craving which drives you to make some bad decisions, all in the name of chocolate.  This version is a bit better for you and, added bonus, you already know everything that is in it. I added some dried cherries to her original recipe, used pumpkin seeds (pepitas) instead of sunflower seeds and amp'd up the cocoa.  I mean, what's a better marriage than chocolate, cherries and peanuts, right?  Nigella was right when she said that it never really lasts long in the house and, once you have it, you will find yourself making it often.
Have you ever made your own granola? Are there some foods you just don't want to know the ingredients and refuse to give up?
Gather the ingredients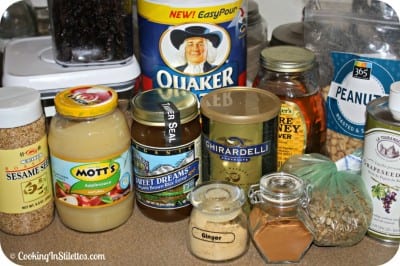 Adding the syrup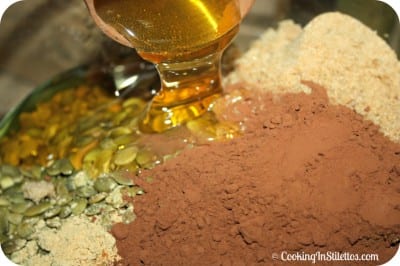 Time to Bake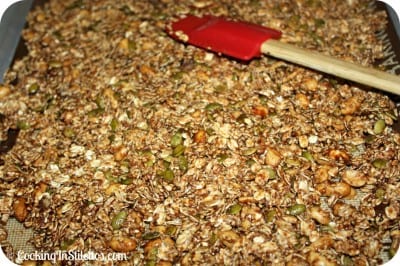 Ingredients
1/2 cup best quality cocoa
4 1/2 cups rolled oats
1 cup raw hulled pumpkin seeds (or pepitas)
3/4 cup white sesame seeds
3/4 cup unsweetened applesauce
2 teaspoons ground cinnamon
1 teaspoon ground ginger
1/3 cup brown rice syrup (or maple syrup)
1/3 cup honey
1/2 cup light brown sugar
2 cups raw peanuts
1 teaspoon kosher salt
2 tablespoons canola oil
1 cup of dried cherries
Directions
Preheat oven to 310 degrees F.
In a large bowl, mix everything but the dried cherries.
Spread the chocolatel mixture onto two baking sheets lined with a silpat.
Bake for 45 minutes, taking care to stir every 15-20 minutes or so.
Allow to cool, mix in the dried cherries and store in an airtight container.
Enjoy!
Notes
Adapted from Nigella Lawson
7.6.7
736
https://cookinginstilettos.com/chocolate-peanut-granola/
All images and content are © Cooking In Stilettos. Please do not republish without contacting us first. Thank you.
Did you enjoy this post?
| | |
| --- | --- |
| Share the love | Get free updates |