For this month's Pass the Cookbook Club, we had three fab recipes to play with – Loaded Puff Pastry Sticky Buns, Honey BBQ Short Ribs or a slap yourself silly Spicy Mac 'n Cheese. How can one pick just one, right? I was at a loss.
This has been quite the month so I decided to challenge myself in the kitchen, work outside of my comfort zone, and go with the Loaded Sticky Buns. Easy peasy right? Remember my last dough drama– you already know that working with dough terrifies me. Whenever I break out the marble pastry board, I tend to overthink, over panic and am a hot mess. So, to be safe, I bought a couple boxes of puff pastry – "just in case". My only attempt at a sticky bun of any kind has been out of refrigerated tube so this was going to be interesting.
I took one box out, left it in the fridge to thaw and then life kicked me in the behind and that attempt was thwarted. The second attempt – I forgot to thaw the puff pastry. A quick Google search essentially said "No worries Aly – just leave it on the counter for 30 minutes to thaw and you're good to go". I left it out for a bit while I prepped the filling (and snuck a couple bites of crunchy apple to a snorty sullen Sous Pug) and as I'm throwing a bit of flour on the marble to roll out the dough so it doesn't stick to high heavens, I unfold it and guess what – IT'S STILL FROZEN! To top it off, as I unfolded the quasi-frozen sheets, one of the sheets starts to break off.  Oh heavens -this is not pretty!
Finally, I actually did what I should have done from the get and read the daggone box – their instructions – leave the sheets SEPARATED out of the package on the counter for 40 minutes and everything should thaw fine. Fine then, I laid the sheets out on the marble, set the timer for 20 min. and walked away. What was I thinking – I had already left it on the counter for 30 minutes so you see where I'm going – at the end of the 20, it was over-thawed. I was a miffy little puppy but I knew what Sunny would say – fix it and forget it. So I did. I repaired the seams as best I could and went to town. I decided to make these "Rustic" because I have already done the damage, who cares how pretty they are as long as they taste divine. And divine they were – fully of sweetly spiced apples, raisins and dried cherries with a caramel crunch on the outside. I used my favorite glass bottom springform cake panand that worked out much better to remove them to a plate. Drizzle with a bit of the glaze and they were a hit!
Will I be making these again – most definitely. I just will be sure to thaw the puff the night before and tell life to not get in the way – Loaded Sticky Buns are on the menu.
On to the recipe:
Gather the ingredients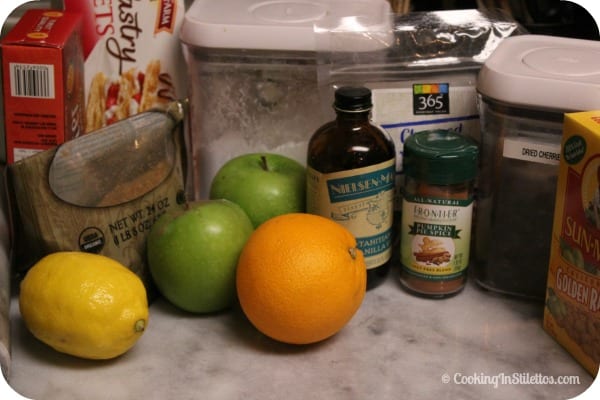 Resist the urge to nibble at the filling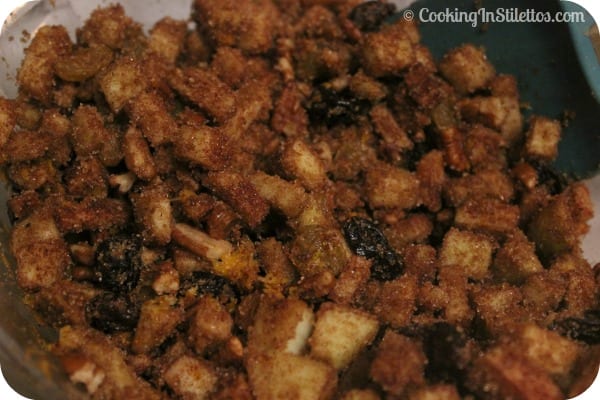 Let's Get Rolling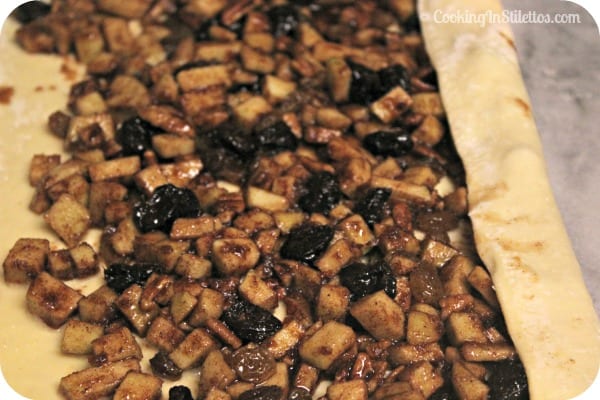 Rolled and ready to slice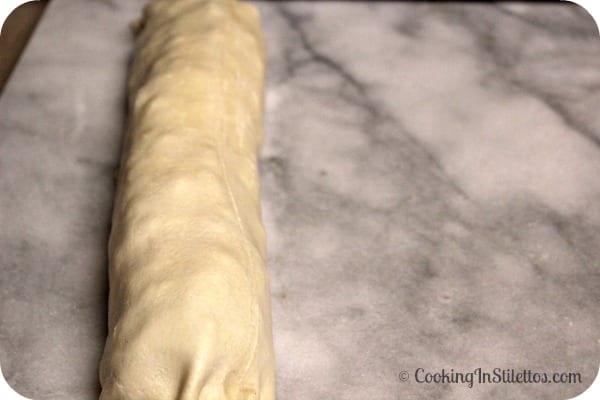 Rolled and Rustic and Ready to Bake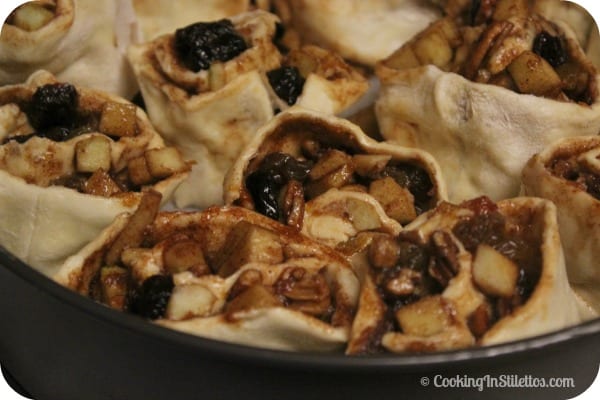 MMMMM…. Glaze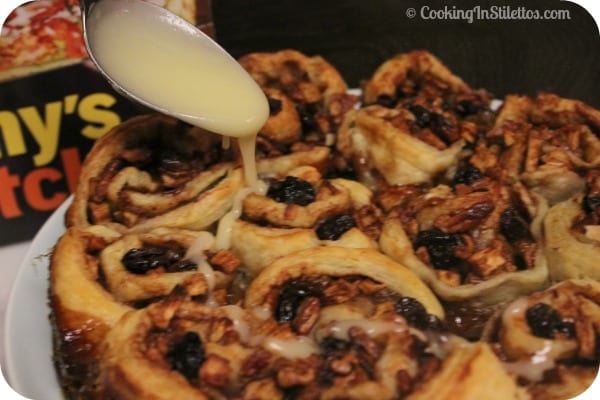 Now – don't you want one?
Rustic Loaded Sticky Buns from #SunnysKitchen for #PassTheCookbook Club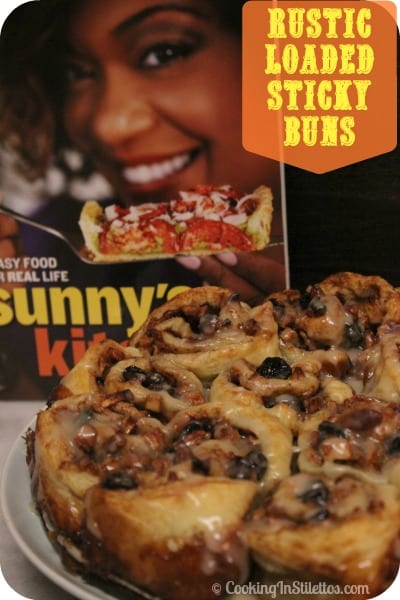 Ingredients
For the Pan & Pastry:

5 tablespoons of unsalted butter
Kosher Salt
2 frozen puff pastry sheets, thawed
A bit of flour for the board

For the Filling:

3/4 cup packed light brown sugar
1/2 cup chopped pecans
1 1/2 Granny Smith apples, peeled, cored and finely diced
1/4 cup of dried cherries
1/4 cup of golden raisins
Grated zest of 1 lemon
Grated zest of 1 orange
1 tablespoon of pumpkin pie spice
Kosher Salt

For the Glaze:

3 tablespoons of unsalted butter
1/2 teaspoon of vanilla extract
3 tablespoons of fresh lemon juice
3 tablespoons of orange juice
1 1/2 cups to 2 1/4 cups confectioners' sugar (I used 1 1/2 cups – not too sweet)
Kosher salt
Instructions
Preheat the oven to 400°F.
Grease the sides and bottom of a round 9-inch cake pan with 1 tablespoon of butter. Line the bottom with parchment paper and set aside.
In a large bowl, add the brown sugar, pecans, diced apples, dried cherries, golden raisins, lemon zest, orange zest, pumpkin pie spice and a pinch of salt. Mix well. Set aside and get ready to prepare the pastry.
Melt the remaining 4 tablespoons of butter with a pinch of salt.
Add a bit of flour to your board, lay out your puff pastry and roll the puff pastry with a rolling pin.
Brush with the remaining melted butter on all but a 1-inch border along one long edge. Repeat with the next puff pastry sheet.
Sprinkle the filling evenly over the pastry sheets, making sure to leave the unbuttered edge of each sheet free of any filling.
Starting from the long buttered edge, begin rolling the pastry tightly. Tuck and press as you go – but make sure to keep everything as even as possible.
When you reach the unbuttered edge, roll the pastry onto itself and pinch to seal.
Repeat the process with the second puff pastry sheet.
Trim the edges and cut 6 equal slices from each log with a long serrated knife.
Place the spiral side up of each slice in the prepared cake pan. It's okay if the edges touch but it's better to work from outside in and do the center at the end.
Bake until the pastry is golden brown, about 35 to 40 minutes.
While the pastry is baking, make the glaze. In a small pot over low heat, melt the butter.
Add the vanilla, lemon juice and orange juice and stir to combine.
Whisk in the confectioners' sugar using 1/4 cup measurements until the glaze thickens. (I used 1 1/2 cups as I prefer it not too sweet). Season with a tiny pinch of salt and remove from the heat.
When the sticky buns are golden, remove them from the oven and drizzle this glaze over the top.
Enjoy!
7.8.1.2
304
https://cookinginstilettos.com/rustic-loaded-sticky-buns/