This month I was visiting an old friend – Lisa from Sweet as Sugar Cookies.  Last time her and I crossed recipe paths, I discovered one of my new favorite quick breads – Meyer Lemon Cranberry Bread so when I received my assignment, I decided to dive into the pumpkin archives and finally play with her recipe for Pumpkin Chai Donut Muffins.  I decided to play with it and do my own spin on it and, when I went to pull out the ingredients for her top secret chai blend, I learned that my spice cabinet was fresh out of white pepper AND ground ginger.  Can I say how miffed I was? Well, after thinking for a hot minute, I knew Lisa would not mind if I pinky swore to try it again with the chai blend next time I make these.  However, for this go-round, it was going to have to be my tried and true pumpkin pie spice to the rescue.  Also – one other oops – I accidentally added an extra egg so to counter, I added an additional 1/3 cup of flour but it still turned out moist and delicious.  However, I made sure that the recipe reflected the true ratio – no need to follow in my clumsy footsteps.
I baked these lovelies in my not used enough donut pans (and, for any extra batter, they were regulated to muffin pans) and decided to do a pumpkin spice glaze to finish. Forget the big chain doughnuts – these quick and easy Pumpkin Spice Donuts are so much better.
On to the recipe:
Gather the ingredients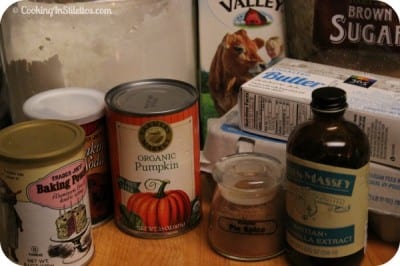 I love these donut pans – we'll just call these rustic, okay?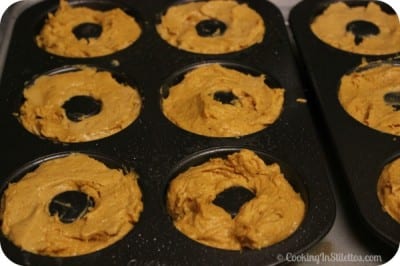 Making the glaze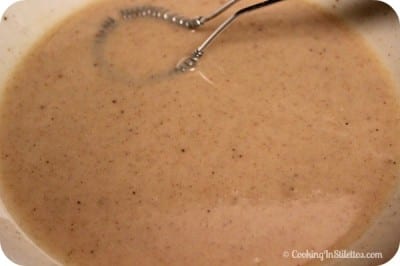 Letting them cool for a spell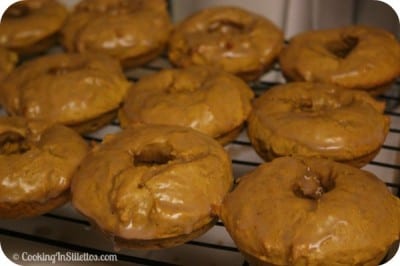 Now – all I need is a steaming hot coffee to go with
Secret Recipe Club: Pumpkin Spice Donuts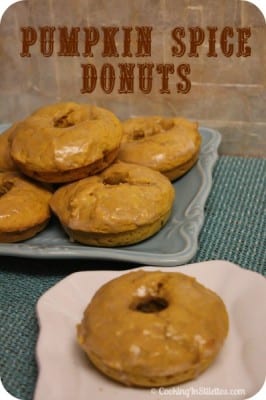 Ingredients
For the Donuts:

10 tablespoons of unsalted butter, softened
3/4 cup of brown sugar
2 large eggs
3 cups of all-purpose flour
1 teaspoon of pumpkin pie spice
1/4 teaspoon of baking soda
2 1/4 teaspoon of baking powder
1 teaspoon of salt
1/3 cup of milk
1 1/4 cup of pumpkin puree
1 teaspoon of vanilla extract

For the Glaze:

3/4 cup of confectioners' sugar
1 teaspoon of pumpkin pie spice
2 tablespoons of hot water
1 teaspoon of vanilla extract
Instructions
For the Donuts:

Preheat the oven to 500 degrees F.
Spray either donut pans or muffin tins with non-stick baking spray.
In the bowl of an electric mixer, cream together the butter and brown sugar.
Slowly add the eggs one by one to the mixture until everything is incorporated.
In a large bowl, whisk together the flour, pumpkin pie spice, baking soda, baking powder, and salt.
In another bowl, combine the milk, pumpkin puree and vanilla.
Alternate adding the flour mixture with the pumpkin mixture to the mixing bowl.
When everything is combined fully, spoon the mixture into the prepared pans 3/4 of the way full.
Place in the hot oven for 5 minutes at 500 degrees. After 5 minutes, reduce the heat to 350 degrees F. and bake for about 12 – 15 minutes, until a toothpick inserted in the center comes out clean.
Cool the donuts in the pans for about 10 minutes on wire racks.

For the Glaze:

In a bowl, mix the confectioners' sugar with the pumpkin spice. Whisk in the hot water and vanilla until everything is combined
Dip the cooled donuts into the glaze and place on a wire rack.
Let cool for 10 – 15 minutes and enjoy!
7.8.1.2
307
https://cookinginstilettos.com/pumpkin-spice-donuts/