Remember that Short Rib Chili I yammered on about earlier this week – well, the one side that you must try – at least once in your lifetime – is this Creamy Cheesy Corn Polenta. In my house, short ribs are often served with polenta. It's quick, easy and with the right additions, is so much better than potatoes. Don't get me wrong, I adore a good mashed potato but polenta just has that chic unexpected vibe.
I wanted to add flavors of asiago and ricotta to it.  Granted it was a bit rich but coupled with the sweet corn puree and additional texture from the fresh corn – love! When you want to deviate from the typical sides, try this one for a bit of a change.
Gather the ingredients


A tale of two corn styles

Time to add the cheese
The end result – Creamy Cheesy Corn Polenta

Tried and True: Creamy Cheesy Corn Polenta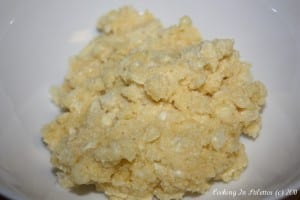 Ingredients
3 cups chicken broth, low sodium
2 tablespoons unsalted butter
1 teaspoon of kosher salt
1 cup quick cooking polenta
2 ears of corn, shucked.
1/2 cup of ricotta cheese
1/4 cup of asiago cheese, shredded
Additional kosher salt to taste
Instructions
Cut the corn kernels off of the corn and set aside.
Go over the corn cobs with the back of the knife, scraping the "milk" into the bowl with the corn.
Reserve half of the corn kernels and set those aside.
Take the remaining half of the corn kernels and add them to a food processor.
Puree them until they are a thick puree. Set the corn puree aside.
In a large heavy saucepan, bring the broth, butter and 1 teaspoon of salt to a boil.
Gradually whisk in the polenta. Continue to whisk until the polenta thickens, about 2 to 3 minutes.
Reduce heat to low, stirring often until the polenta is thick and tender.
Add the ricotta cheese and corn puree to the polenta and stir to combine.
Add the asiago cheese to the polenta mixture and stir.
Season to taste with a bit of salt and serve warm.
7.8.1.2
377
https://cookinginstilettos.com/tried-and-true-creamy-cheesy-corn-polenta/