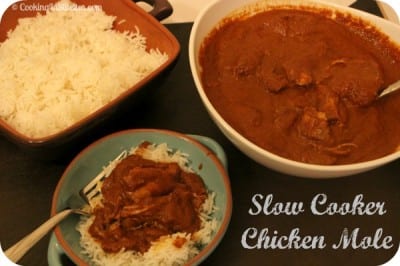 Chocolate is not only great for sweet dishes but also brings out the flavor in certain savory recipes. For example, my favorite chili is accented by cocoa powder and I have used chocolate with short ribs. It just lends a certain something that can't be described.
I have wanted to make Chicken Mole for a while and when I had to host a chocolate themed dinner for friends, I broke out my trusty slow cooker and knew that Chicken Mole would be on the menu. Inspired by two recipes – one from Martha Stewart, the other from Ingrid Hoffmann, I decided to play in the kitchen. The result was a tried and true recipe that will be my go-to recipe for Chicken Mole from now on.
The chocolate with the peanuts, chili peppers and tomatoes formed a divine sauce that was one of the culinary highlights of the evening. The preparation could not be easier – brown a few chicken thighs, blitz the sauce together in the blender or food processor and let the slow cooker do all the work.
For your next soiree, whip this recipe up. Your guests will think you cooked for hours to make this delicious dish!
On to the recipe:
Gather your ingredients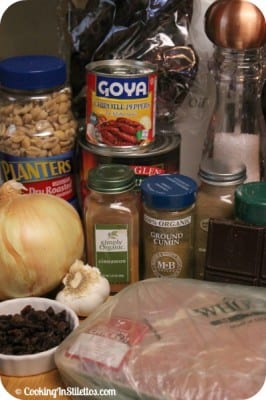 The secret ingredient – bittersweet chocolate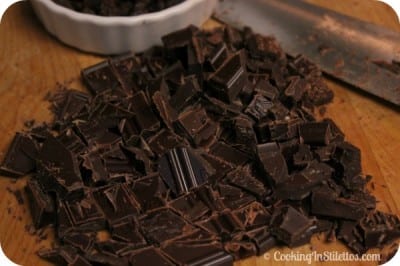 Time to blitz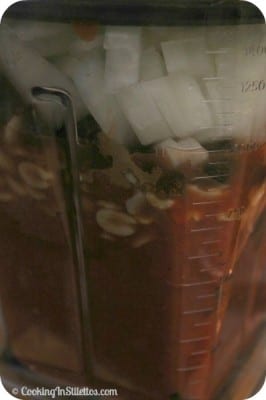 Look at that sauce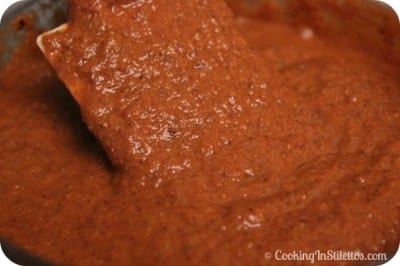 Serve over rice and enjoy!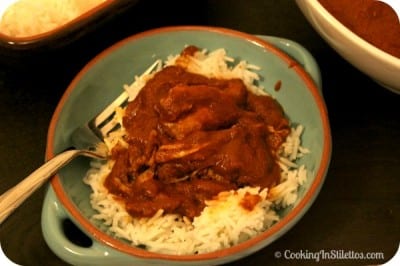 Ingredients
12 boneless, skinless chicken thighs
Kosher Salt and Freshly Ground Pepper
1 tablespoon of canola oil
1 can (28 ounces) of fire roasted tomatoes, diced
1 medium yellow onion, chopped
2 dried ancho chiles, stemmed
1 large chipotle chile in adobo sauce
1 teaspoon of adobo sauce
1/2 cup of peanuts, toasted
1/4 cup of raisins
3 ounces bittersweet chocolate, finely chopped
1 tablespoon of cocoa powder (not dutch process)
3 garlic cloves, chopped
3 tablespoons extra-virgin olive oil
1 teaspoon of ground cumin
1 teaspoon of chili powder
1 teaspoon of ground cinnamon
1/2 teaspoon of smoked paprika
1/2 teaspoon of ground coriander
Cilantro for garnish (optional)
Directions
Season the chicken thighs with a bit of kosher salt and pepper.
In a large sauté pan (or if your slow cooker insert can also be used on the stove), drizzle a bit of canola oil and, over medium-high heat, brown the chicken thighs. Remove to the slow cooker.
In either a high powered blender or food processor, add the fire roasted tomatoes, onions, ancho chilies, chipotle chili, adobo sauce, peanuts, raisins, chocolate, cocoa powder, garlic, olive oil, cumin, chili powder, cinnamon, smoked paprika, and ground coriander.
Puree until smooth.
Pour the tomato puree over the browned chicken thighs.
Set the slow cooker to high for 4 hours or 8 hours on low.
Serve the chicken mole over rice and garnish with a bit of cilantro (if desired).
Enjoy!
Notes
Recipe inspired by Martha Stewart and Ingrid Hoffmann
7.6.7
834
https://cookinginstilettos.com/slow-cooker-chicken-mole/
All images and content are © Cooking In Stilettos. Please do not republish without contacting us first. Thank you.
Did you enjoy this post?
| | |
| --- | --- |
| Share the love | Get free updates |