When I'm looking for comfort food, one of the first things that comes to mind is short ribs.  As I joked this weekend, when people are prepping for hurricanes and blizzards and stocking up on eggs, milk and bread, I'm looking for shortribs and other fab ingredients for the slow cooker.
Recently, after a fabulous Philly Food & Drink Writers meetup at Daniel Stern's R2L with Philly Homegrown and La Phemme Phoodie, I ventured down to the Philadelphia's 9th Street Italian Market for a little "culinary retail therapy." I was browsing in Espositos and saw these gorgeous short ribs that were just begging to be made and I knew the perfect recipe – Giada de Laurentiis' Short Rib Chili.
I'm still mastering the "perfect" chili recipe but I figured that a short rib chili might be a nice variation from the norm. This recipe does not disappoint – the complex flavors hit all the right notes. I did not have New Mexico chilis on hand but since I wasn't a fan of super spicy foods I figured I would play with the fruitier Ancho chili which I have come to love and add a bit of chipotle puree that I keep in the freezer. The short ribs were meaty and I don't think I could ever go the way of a supermarket short rib again after what I got from Espositos.   The distinct hit of espresso in the background just added to the flavor and coupled with some shavings of bittersweet chocolate on top and my own take on a creamy asiago corn polenta, it was comfort food at its finest. Add a nice glass of merlot and this was perfect for cozying up on the couch to watch the premiere of ABC's new drama "Once Upon A Time." (Did anyone watch or was it just me?)
Ingredients
3 pounds short ribs, with bone
Kosher salt and freshly ground black pepper
3 or 4 large dried ancho chiles, stemmed, seeded and cut or torn into pieces
1/4 cup extra-virgin olive oil
3 large cloves garlic, minced
1 large red onion, chopped
1 tablespoon ground cumin
1 tablespoon dried Mexican oregano
1 cup beef broth
2 tablespoons agave
1 teaspoon instant espresso coffee
One 15 to 16-ounce can black beans, rinsed and drained
Adobo sauce, from can of chipotle chiles, optional (I used a teaspoon or so)
Coarsely grated bittersweet chocolate
Directions
Preheat the oven to 325 degrees F.
Season the short ribs with the kosher salt and freshly ground black pepper. Set aside.
In a small saucepan over medium heat, bring the ancho chiles and 1 1/2 cups water to a simmer. Cover, reduce the heat to medium-low and simmer until the chiles are just tender, 5 to 6 minutes.
Transfer the mixture to a blender and blend until the chile puree is smooth. Set aside
In a large dutch oven, heat the olive oil over medium high heat.
Add the short ribs in batches and brown on all sides. Set aside.
Add the red onions to the drippings in the pot. Saute until the onions soften, about 5 minutes. Add the garlic, being careful not to burn it.
Mix in the cumin and oregano and allow the spices to bloom a bit.
Add the chile puree, the broth, agave, and espresso and stir to blend.
Return the short ribs and any juices to the pot and stir to coat.
Bring to a simmer.
Cover and place the pot in the oven.
Braise until the ribs are very tender, about 2 hours 30 minutes.
Discard any fat that rises to the surface.
Transfer the ribs and any loose bones to a rimmed baking sheet. Remove the bones and membrane and discard.
Shred the meat into small bite size pieces and return the meat to the sauce in the pot.
Mix in the black beans and add a teaspoon or more of adobo sauce.
Season the chili with a 1/4 teaspoon of salt and peper.
Serve over creamy corn polenta and garnish generously with chocolate. You can also garnish with cheese, sliced green onions or whatever else you desire.
Notes
Adapted from Giada de Laurentiis
7.6.8
758
https://cookinginstilettos.com/tried-and-true-short-rib-chili/
All images and content are © Cooking In Stilettos. Please do not republish without contacting us first. Thank you.
Gather Your Ingredients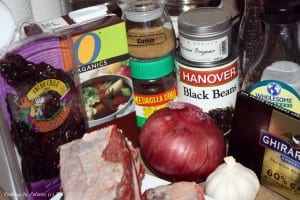 Aren't These Short Ribs Gorgeous?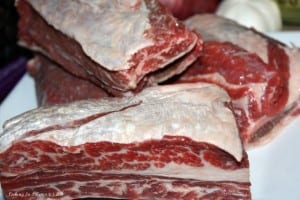 Ahhhh – the Ancho Chili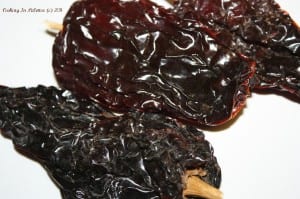 Time To Add The Chili Puree To The Onion Mixture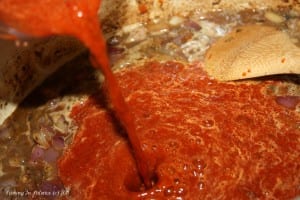 Braising At Its Finest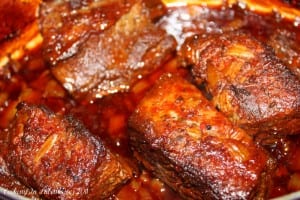 The End Result – who knew chocolate, espresso and chili could make a fine marriage of flavors?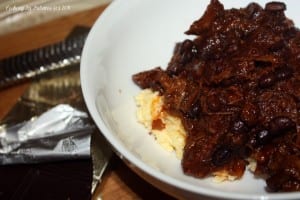 Did you enjoy this post?
| | |
| --- | --- |
| Share the love | Get free updates |