Ever have a recipe that calls for one chipotle but you are stuck with a leftover can of chipotle peppers in adobo that you have no idea what to do with?  They can only keep in the fridge for so long before they start looking like a science experiment.  When I saw this tip some time ago on the Rachael Ray show, the only thing I could exclaim is "BRILLIANT" and, let me tell you, my pantry (and wallet) are forever thankful.
Next time you have a can of chipotles that need a home, here's what you can do:
Break out the cutting board, a sharp knife, some food storage bags and a mini food chopper and get ready to make chipotle puree.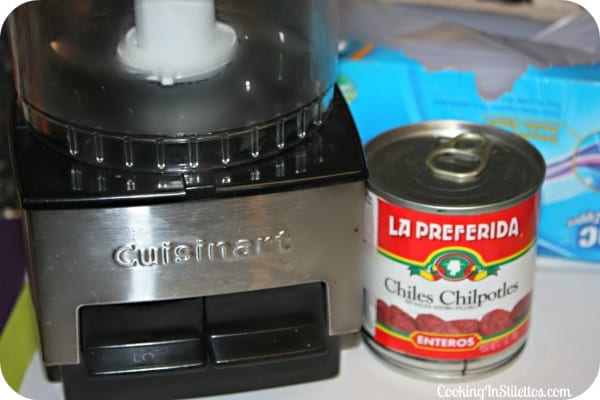 I'm a gal that likes things a bit heated but not super spicy so I often de-seed my chipotle peppers.  You can leave the seeds in if you want.  Add the peppers and adobo sauce into your mini-food processorand pulse away til it becomes a thick puree.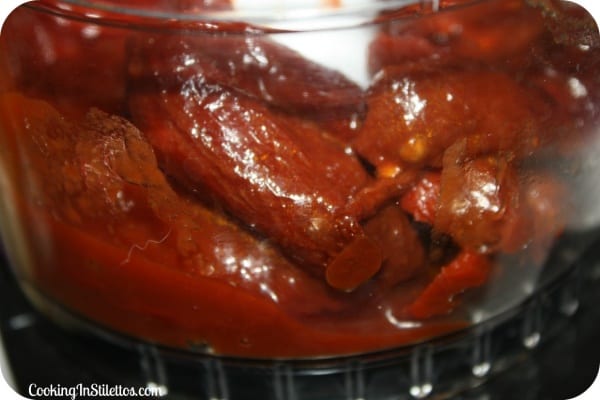 Finally, add the puree to a food storage bag.  Squeeze the air out, seal the bag, make sure to add a description so you aren't thinking it's raspberry puree or something, and add the folded bag to another bag (I detest freezer burn).  Fold up everything and put in the freezer.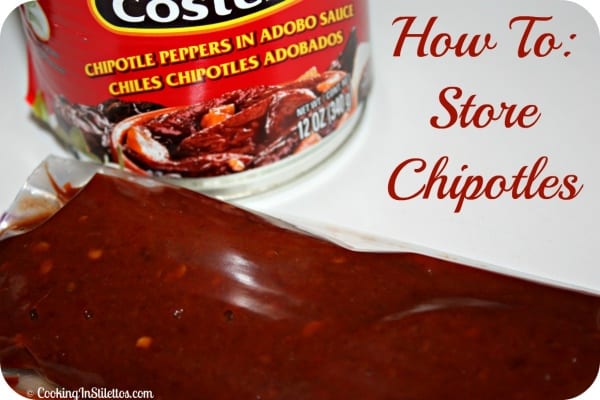 Next time you have a recipe that calls for some chipotle, cut a little bit off and add it to the recipe.  I tend to use 1/2 teaspoon whenever it calls for 1 chipotle but, remember, I'm still getting used to spice.  You can add as much or as little as you wish.
The money you save – well that goes to the Stiletto Fund of course.  Happy Cooking!
Aly M. Cleary
Yields 10
What To Do With Leftover Chipotle Peppers
Ever have leftover chipotle peppers languishing in the fridge - here's a quick tip to have you save the chipotle!
5 minPrep Time
5 minTotal Time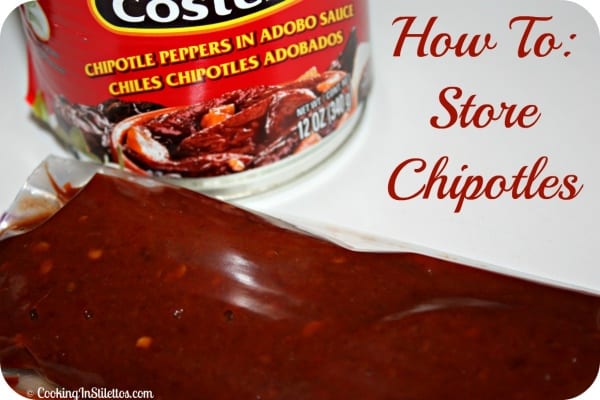 Ingredients
1 can of chipotle peppers
1 mini food processor/chopper
2 plastic storage bags
Instructions
If you prefer the peppers to be less spicy, you can deseed the peppers to remove the seeds and ribs.
Add the chipotle peppers in adobo to the bowl of the mini food processor/chopper.
Puree for about 5 minutes, until everything is smooth.
Add the puree to a plastic zip locking bag, roll the bag so that it makes a tube and seal the bag making sure that all the air is removed.
Mark the bag with the date and title.
For additional freezer burn protection, add the sealed bag contents to another plastic bag and seal.
Contents should be fresh for about 3 month or so. 3/4 teaspoon should equal one chipotle pepper in adobo.
7.8.1.2
302
https://cookinginstilettos.com/what-to-do-with-leftover-chipotle-peppers/