This easy Spiced Pumpkin Mousse is a chic sophisticated dessert that takes only minutes to make.
Disclosure: I was sent the OXO On Illuminating Digital Hand Mixer pictured to assist with the post.  No compensation was received. My opinions and adoration for OXO are my own.
I have a delicious dessert idea for you this holiday that will require no baking at all and will take minutes to make.  The most effort comes from a hand-held electric mixer and your refrigerator who will do the majority of the work and it is a chic bite that will have your friends and family swooning – a rich and creamy Spiced Pumpkin Mousse.
Recently, OXO reached out to see if I wanted to try their new OXO On Illuminating Digital Hand Mixer this holiday season and I couldn't wait to see what I could mix up with it.  I have an old hand mixer that I got at Costco eons ago and, quite frankly, it is on its last legs.  Sure, it mixes but the power leaves a bit to be desired, it's bulky, makes a mess and I can't tell you how many times that I've had panic attacks from it almost knocking over ingredients or a bowl.  This digital hand mixer runs circles around anything I have worked with before.  Not only is intuitive, able to blend smoothly from one speed to the next, it rests easily on its base when you have to stop midway through and, one of the features I really adore – has an LED headlight so I can see everything that I'm mixing.  While I love my apartment, it is lacking in natural light and sometimes the overhead ceiling light doesn't give as much light as I would like.  I'm able to make sure everything is evenly combined and when it comes to certain recipes, it's so helpful.  The tools easily store with the base and the cord flips from side to side – no worries about knocking ingredients or bowls off the counter.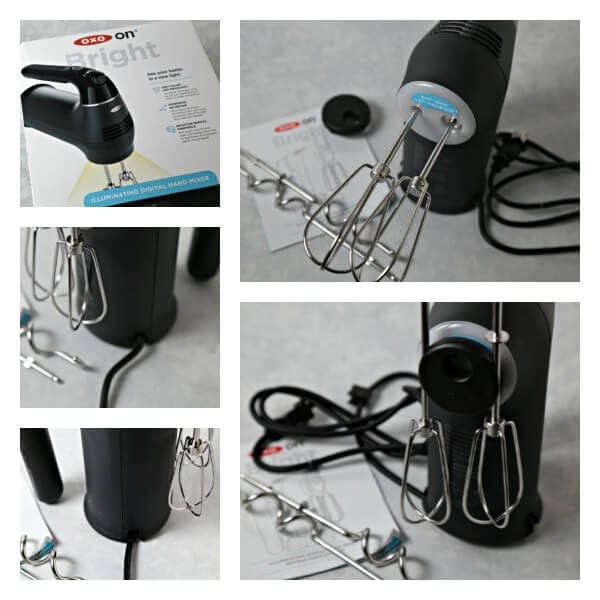 The OXO On Illuminatind Digital Hand Mixer was a dream to work with.  Not only did it have the power to whip up some seriously delicious recipes,including a light as air fluffy whipped cream, but it saved my counter from potential messy chaos.  My stand mixer was thrilled that it now has some time off because I would often use that instead of using my antiquated hand mixer.  This lovely will get some serious use in my kitchen.
For this post, I could have whipped up an easy batch of cookies but I wanted to give it a whirl on a recipe that I've had on my must try list for ages – an easy Pumpkin Mousse that takes barely any cooking and is essentially pumpkin, sugar, spices and cream with a touch of gelatin.  No eggs, no double boiler – nada.  It can come together in a flash and the mixer and the refrigerator do all of the work.  This is one of those desserts that you can whip up easily the night before and let it chill in the fridge before the party the next day.  Top with some spiced ginger cookies that are always in the pantry during the holiday and I promise your guests will be licking every last morsel off of the spoon because it's that good.
This holiday season, whip up this deliciously easy Spiced Pumpkin Mouse – your guests will adore every bite!
On to the recipe:
Gather your ingredients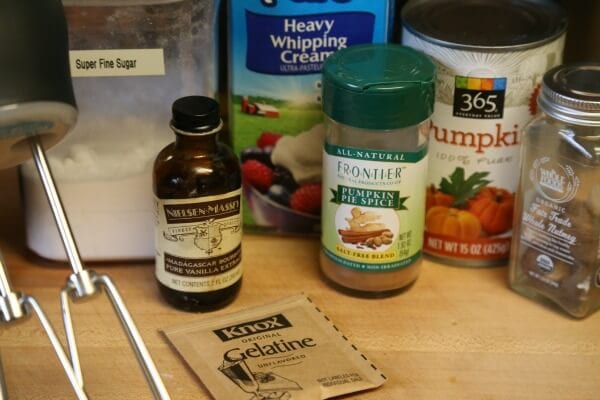 Let's bloom the gelatin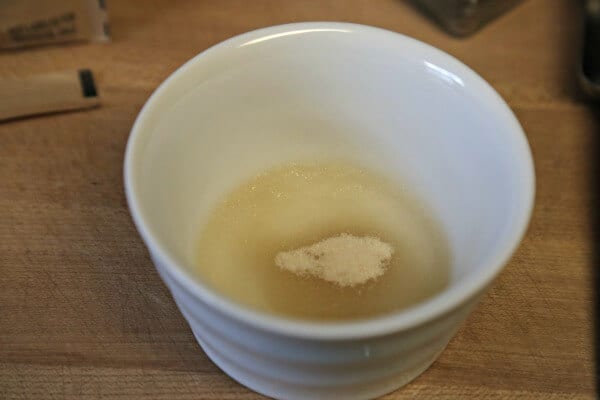 Adding a bit of spice to the pumpkin cream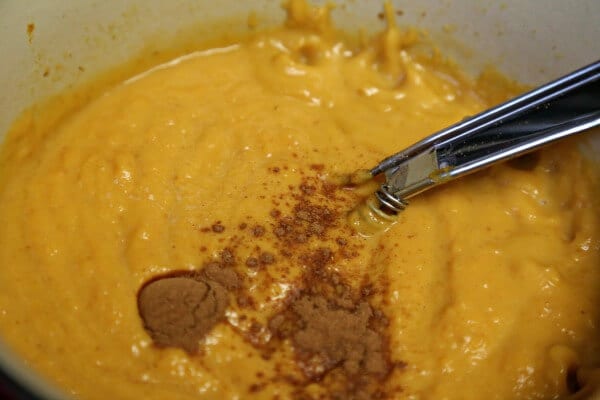 Let's get to mixing and folding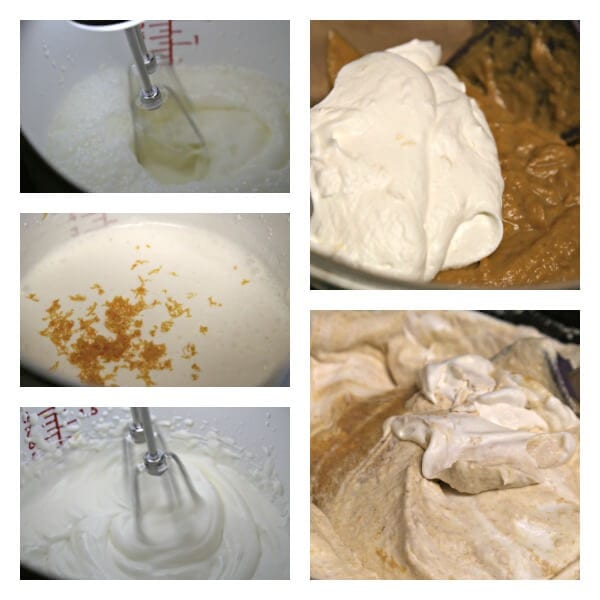 Now – tell me you don't want one of these lovelies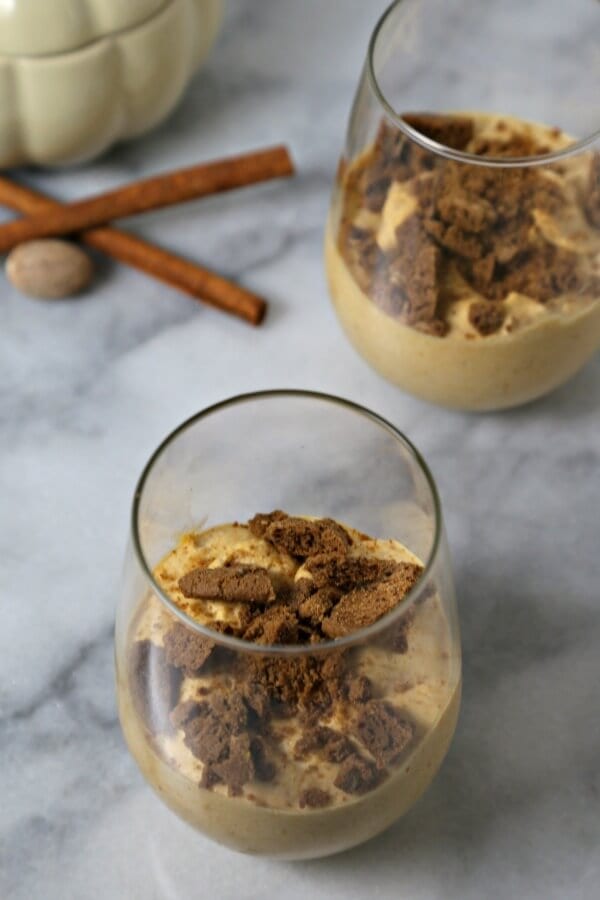 Shall I pass you a spoon?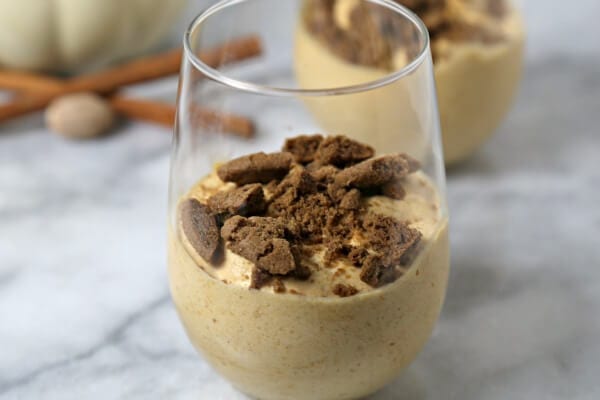 Adapted from [Laura Calder|http://www.cookingchanneltv.com/recipes/laura-calder/pumpkin-mousse.html" target="_blank]
Yields 4
Spiced Pumpkin Mousse – An Easy Holiday Dessert
This Spiced Pumpkin Mousse is a sophisticated dessert filled with the flavors of fall and comes together in minutes.
4 hrPrep Time
15 minCook Time
4 hr, 15 Total Time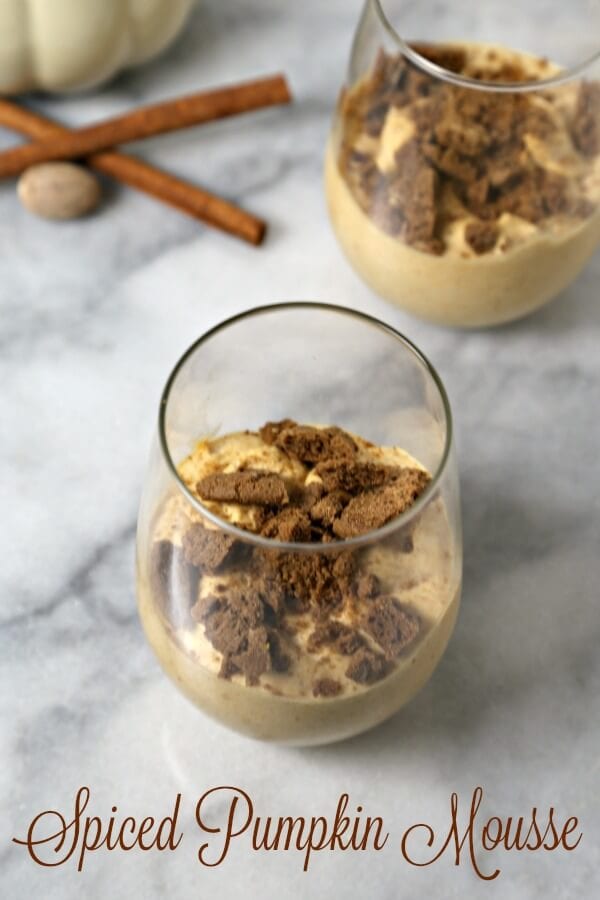 Ingredients
1 tablespoon of warm water
1 teaspoon of gelatin
1 1/2 cups of heavy cream, divided
1/2 cup of superfine aka caster sugar
1 1/2 teaspoons of vanilla extract
1 teaspoon of pumpkin spice
1 1/3 cups of pumpkin puree
1/2 teaspoon of orange zest
Crushed spiced gingersnap cookies for serving
Instructions
In a small bowl, add the water and gelatin. Let the gelatin bloom for about 5 minutes.
In a heavy bottomed saucepan, add 1//2 cup of the heavy cream. Heat the cream over medium heat and add the softened gelatin, taking care to whisk everything to dissolve.
Add the sugar, vanilla extract, pumpkin spice and pumpkin to the saucepan, whisking everything together and ensuring that the sugar has fully dissolved.
Pour into a bowl and chill for about half an hour.
In a bowl, add the remaining cup of heavy cream. Using your electric hand mixer, slowly whip the cream into soft peaks.
Add the orange zest and whip until the cream has doubled in volume.
Remove the chilled pumpkin puree base and fold the pumpkin base into the fluffy whipped cream, taking care to not lose the volume.
Spoon the pumpkin mousse into individual serving dishes and chill for at least 3 hours.
When serving, garnish with crushed spiced ginger cookies and enjoy!
7.8.1.2
39
https://cookinginstilettos.com/spiced-pumpkin-mousse-an-easy-holiday-dessert/