Apple Oatmeal Muffins are a delicious bite for crisp fall mornings. Tart apples are baked in a spiced oatmeal muffin & drizzled with a sweet applesauce glaze.
Disclosure:  This post may contain affiliate links to products I trust and adore in my kitchen.  Thank you for supporting Cooking In Stilettos.
I hope everyone had a fabulous Labor Day Weekend full of fun, relaxation and summer delights!  Now that we're in the unofficial start of fall, today's recipe is one that you might find yourself making again and again – Apple Oatmeal Muffins.

The start of September also means that it's time for another Blogger C.L.U.E. recipe and this month's blogger that I got to stalk is my gal Christiane from Taking on Magazines.  She's a stellar cook and baker and her recipes are always delicious.  What I love is that she's a straight shooter when it comes to recipes – she tells you what she likes, what she doesn't and how she'd switch it up on the next time she'd make a recipe.  I knew that whatever recipe I chose to feature would be fabulous.
This month's assignment was to focus on recipes featuring apples and pears, but the minute I spotted these Apple Oatmeal Muffins I was sold.  Some other fabulous apple recipes on her site include this sweet Dutch Apple, Pear and Raisin Pie, her Roast Chicken with Sweet Potatoes and Apples, and this intriguing Cheddar, Apple and Pastrami Grilled Cheese.
Apple Oatmeal Muffins and I go wayyyyyy back – back to one of my first jobs at McD's – yes, you heard that right – Apple Oatmeal Muffins at McD's.  I don't know if they are still on the menu but when I worked there a bizillion years ago,  they were spotlighted as a healthier option – instead of a sausage muffin with bbq sauce – not that I'd know anything about that (or my friend John's covert fajita scramble that he'd whip up and drive our manager Bonnie nuts with his food experiments – especially at changeover).   We would microwave them for about 15 seconds and they would not be rock hard and actually quite tasty.  However, I never attempted to really recreate myself.
When I hear oatmeal muffins, I tend to think that if done wrong, they can be dense and heavy but these muffins were moist and delicious.  I used applesauce in the batter along with plain Greek yogurt and slightly varied up the sugars (mostly because I didn't have dark brown sugar on hand and decided to play).  Also, for the glaze, while her recipe called for apple cider or lemon juice, I thought I'd carry on the applesauce flavor and that glaze rocked my world.  All in all, this was the absolute perfect recipe for #BloggerClue and perfect to welcome fall with!
These Apple Oatmeal Muffins are a great option for breakfast on the go, a weekend brunch or just because.  Just don't tell the little ones that they are a healthier option – that's our little secret!
On to the recipe:
Gather your ingredients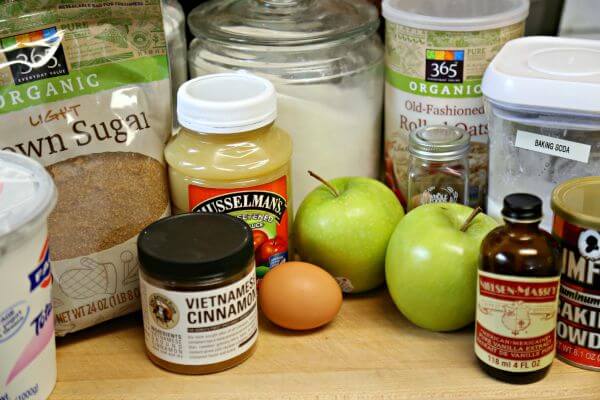 Time to sift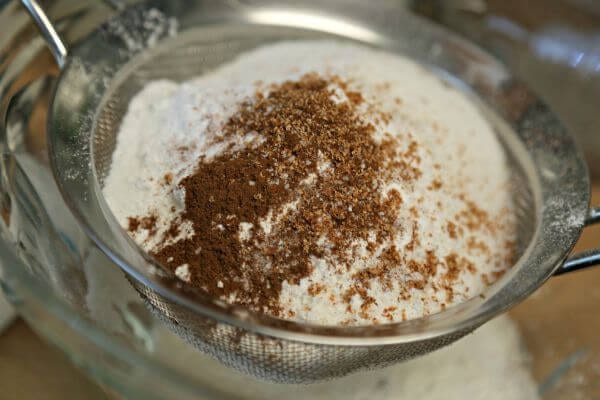 Combining the wet to dry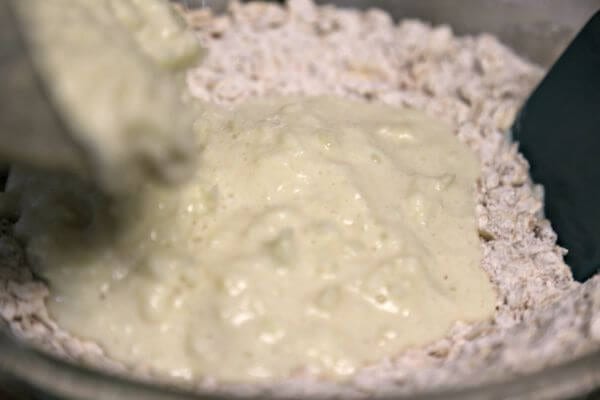 Fresh out of the oven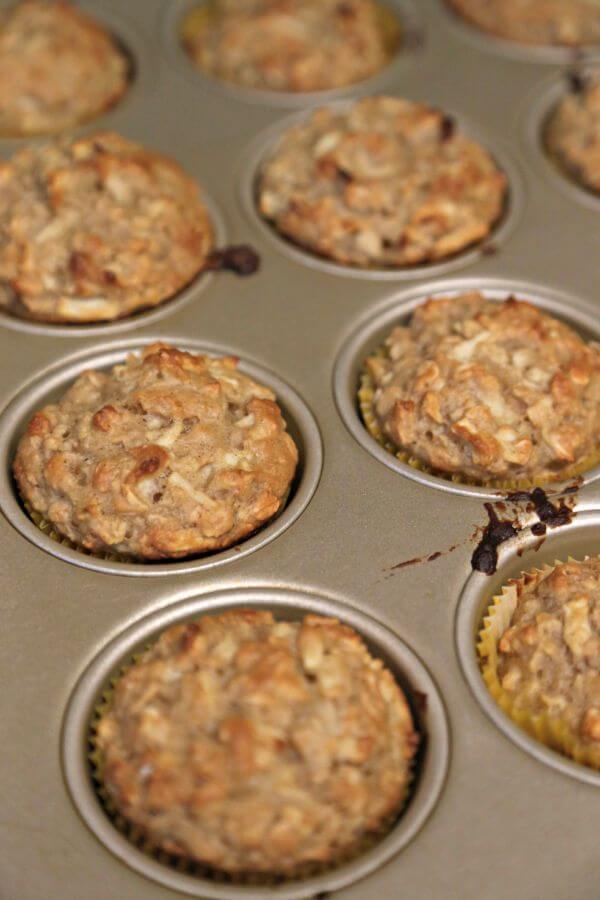 Whisking up the glaze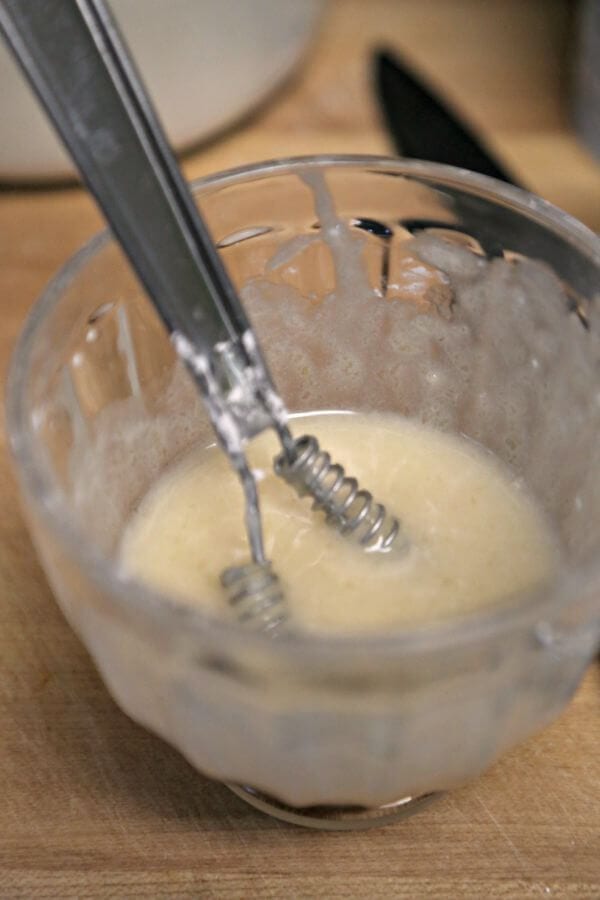 Now these, my friends, are the perfect way to to start the day!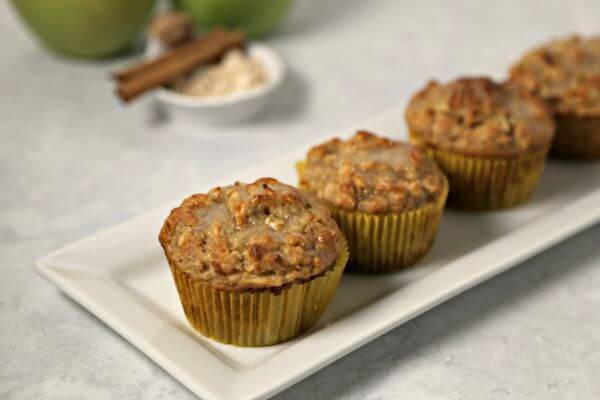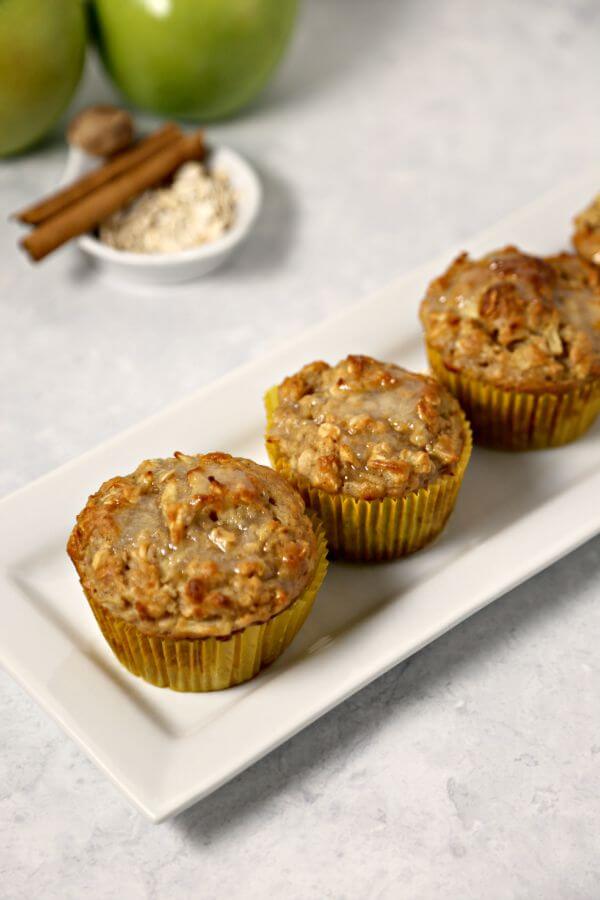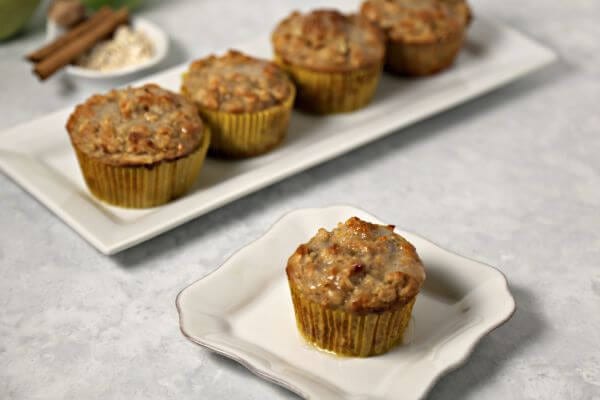 Aly M. Cleary | Adapted from All You Magazine & Taking On Magazines
Yields 12
Apple Oatmeal Muffins
Apple Oatmeal Muffins are the perfect way to start the day – tart fresh apples and spices in a moist oatmeal muffin and drizzled with a sweet applesauce glaze
40 minPrep Time
24 minCook Time
1 hr, 4 Total Time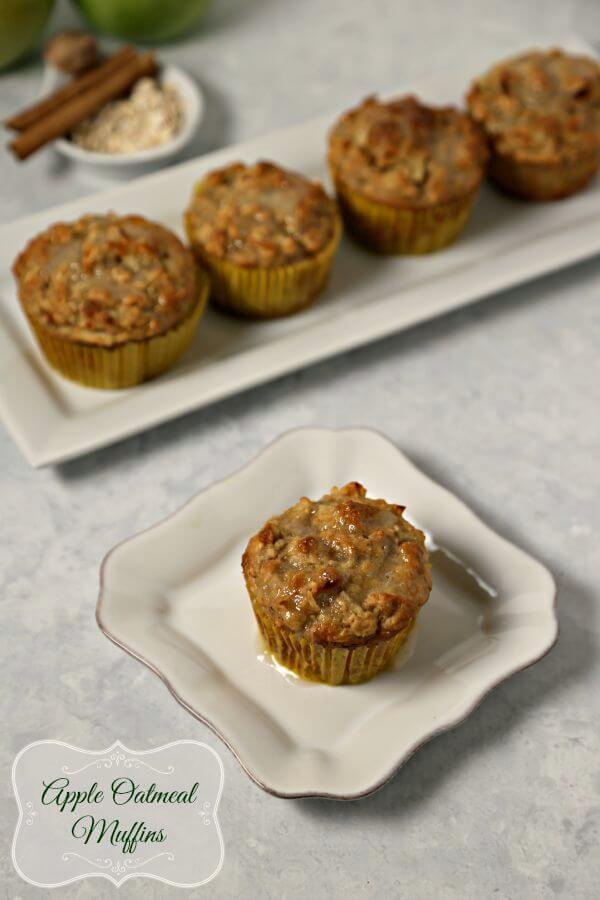 Ingredients
FOR THE MUFFINS:

1 1/4 cups of all purpose flour
1/4 cup of white sugar
2 teaspoons of baking powder
1/2 teaspoon of baking soda
1 teaspoon of salt
1/2 teaspoon of cinnamon
1/4 teaspoon of freshly grated nutmeg
1/4 cup of light brown sugar, packed
1 cup of old fashioned rolled oats
1/2 cup of Greek yogurt
3/4 cup of unsweetened applesauce
1 large egg
1 teaspoon of vanilla extract
2 medium Granny Smith apples, peeled and grated (about 1 1/2 cups)

FOR THE GLAZE

2 tablespoons of applesauce
1/2 cup of confectioners' sugar
1 teaspoon of water
Instructions
Heat the oven to 375 degrees F.
Line a 12 cup muffin pan with liners or spray with nonstick baking spray.
In a large bowl, sift the flour, sugar, baking powder, baking soda, salt and cinnamon.
Add the brown sugar and rolled oats and whisk again.
In another bowl, whisk together the Greek yogurt, applesauce, egg, and vanilla extract until everything is combined.
Add the grated apples to the yogurt mixture and stir until everything is well mixed.
Make a slight well in the dry mixture and add the wet mixture. Fold until everything is combined, taking care to not overmix.
Using a scoop, add batter to each of the muffin cups, filling almost to the top.
Bake for 22 – 24 minutes until the muffins are golden brown and a toothpick inserted into the center comes out clean.
Cool in the pan for about 5 minutes and then remove to a cooling rack to cool completely.
To make the glaze, whisk together the applesauce, confectioners' sugar and water in a small bowl until everything is mixed well. If the glaze is still too thick, add a touch more water.
Drizzle the glaze over the muffins and let the glaze set for about 15 to 20 minutes.
Enjoy!
7.8.1.2
140
https://cookinginstilettos.com/apple-oatmeal-muffins/
Let's see what my favorite Blogger C.L.U.E. peeps brought to the table: