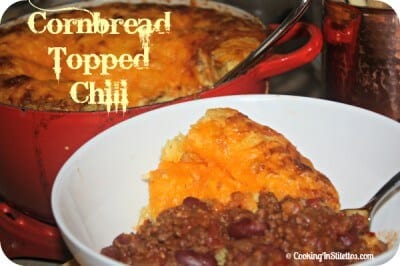 One of my favorite chili recipes is this cornbread topped chili from Nigella Lawson. However, when I make it, I often make it with cornbread from a box mix. I don't think Nigella would shoot me, necessarily, but when I decided that this chili was prime for a recipe redo, well, I figured I better go all in and make the cornbread from scratch. I also halved the chili recipe as I only had a 3 1/2 qt. Le Creuset Dutch Oven – not 6 ¾ Dutch Oven as they tend to use on her show. (Perhaps I should put that on the b'day list, huh? It's clearly needed for my kitchen  – you know – cost per use and all 😉 ). Also, as the reviews for the cornbread topping were not so pleasant, I went with playing with this buttermilk cornbread recipe from AllRecipes and, I have to say, this recipe is sheer chili perfection. You can always play with the spices and make it as spicy as you like and, I love to think that chili is like a painting – no two are exactly alike.
There is something that is perfect about one pot meals – right down to baking the cornbread on top of the chili. I did tend to go overboard a bit on the cheese factor but, then again, who would be upset – certainly not me. Also, I used Ground Beef from Trader Joe's and I was happy to hear that their ground beef is pink slime and additive free.  No funky stuff for this gal, especially in chili!  Plus, after the Genaurdi's Chili Incident a couple years ago, I made a promise to myself to try to make chili from scratch and it's really simple. Some tomatoes, some spices, some meat and/or beans, simmer for a spell and you are done. If there are leftovers, it freezes beautifully and there is nothing better than curling up on the couch with a nice bowl of chili while watching the fall tv premieres.
Speaking of fall tv – what are you looking forward to seeing premiere this week – NCIS – Big Bang Theory- Revenge – Once Upon A Time – Scandal?  Tell us in the comments!
On to the Recipe:
Gather the Ingredients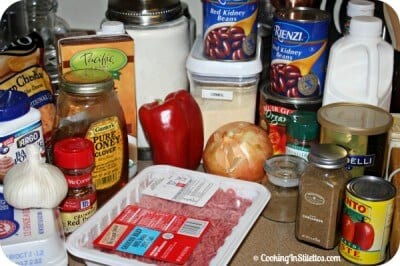 Time to bloom the spices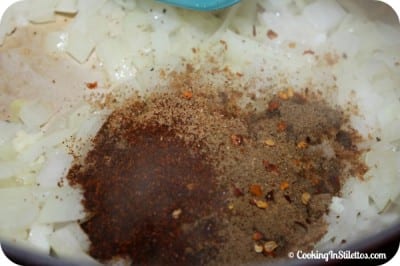 I adore Fire Roasted Tomatoes – such a great flavor for this dish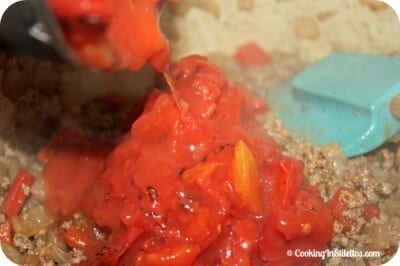 Don't Forget the Cocoa!  Trust me – chocolate works great in chili – remember the Short Rib Chili ?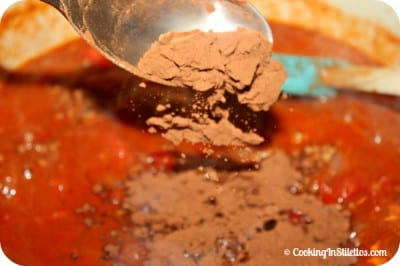 Time to marry the Cornbread and the Chili (and the cheese!)


Look at it in all its cheese puffed gloriousness (Sorry – had a Nigella moment)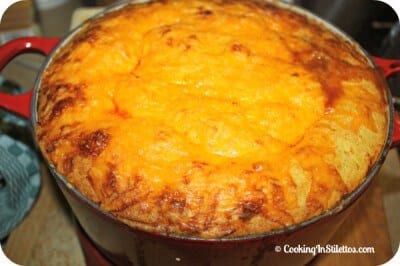 Nigella's Cornbread Topped Chili
---
Ingredients
For the Chili:

2 tablespoons olive oil
2 onions, finely chopped
2 cloves garlic, minced
1 teaspoon chili powder
1/2 teaspoon dried chili flakes
1 teaspoon ground coriander
1 teaspoon ground cumin
1 teaspoon smoked paprika
1 red pepper, seeded and diced
1 pound ground beef
1 28 oz. can of fire roasted chopped tomatoes
1/4 cup of ketchup
1/4 cup of tomato paste
1 1/2 cups beef stock
1 tablespoons cocoa
2 cans of red kidney beans, drained and rinsed well

For the Cornbread:

1 cup cornmeal
1 cup all-purpose flour
1 teaspoon baking powder
1/2 teaspoon baking soda
1/2 teaspoon salt
2 eggs
1 cup buttermilk
1/2 cup butter, melted and slightly cooled
1/3 - 1/2 cup of honey (depending on how sweet you like it.)
2 cups grated Cheddar Cheese
Directions
For the Chili:

Brown the ground beef over medium heat in a large Dutch oven. Drain off the fat and set aside.
Heat the oil and sauté the onion and garlic until soft.
To the onion mixture, add the chili, coriander, cumin, and paprika and stir, allowing the heat to develop the spices a bit.
Add the red pepper to the pot and sauté until slightly soft.
Return the ground beef to the pan, add the chopped tomatoes, ketchup, tomato paste, and beef stock and stir.
When the mixture comes to a slight boil, add the cocoa and stir until everything is incorporated.
Add the drained kidney beans and simmer partially covered for 1 1/2 hours.

For the Cornbread:

Preheat the oven to 425 degrees F.
In a large bowl, combine the cornmeal, flour, salt, baking powder and baking soda.
Whisk together the eggs, buttermilk, melted butter and honey. When everything is combined, stir into the dry ingredients to make a slightly lumpy batter.
Pour the cornmeal topping over the chili, spreading the cornbread topping over the top as evenly as possible.
Sprinkle the cheese over the top of the cornbread.
Bake in the oven for 30 - 40 minutes or until the cornbread topping is risen and golden and the chili is bubbling.
Let the chili stand for about 5 minutes once out of the oven before cutting the cornbread top to serve with a helping of the bubbling chili underneath.
Garnish with your fave toppings (i.e. more cheddar, sour cream or whatever your heart desires).
Enjoy!
Notes
Chili recipe adapted from Nigella Lawson Cornbread topping recipe adapted from AllRecipes
7.6.8
770
https://cookinginstilettos.com/cornbread-topped-chili/
All images and content are © Cooking In Stilettos. Please do not republish without contacting us first. Thank you.
[Note: The Recipe Redo Series is when I take one of my earlier posts here at Cooking In Stilettos, redo the recipe with new pictures and add any tips I've learned along the way. This Tried & True originally appeared back in January of 2010: One Pot Meal: Nigella Lawson's Cornbread Topped Chili Con Carne. Warning – horrid photo ahead so you might want to avert your eyes. ]
Did you enjoy this post?
| | |
| --- | --- |
| Share the love | Get free updates |