At many Philly cookouts, often you will see Amish salads on the tables – either homemade or store-bought. While I love my "Not So Amish" Macaroni Salad, I also adore the slightly sweet and savory Amish Potato Salad. However, I tend to find that the store-bought salad tends to have too much dressing, overly sweet, and not enough mustard to my liking.
When it comes to Amish Potato Salad, I have to caution you – there are two preparations for this dressing – some like the dressing cooked and others do not. I tend to be of the "do not cook the dressing" contingent – mostly because if I do not have to turn on my stove in the dead heat of summer, I will not. Some like their Amish Potato Salad super sweet and, again, I do not. I like the sweet and savory aspect but add a touch more mustard and cut the sugar. I also love using apple cider vinegar in salads in lieu of regular white vinegar giving it a bit of a mild tang. I also prefer using a light mayo in lieu of the "salad dressing" or full fat mayo. While there are a few steps with making this salad, I would advise that you make it the day before and let it sit in the fridge. The next day, it will be even more amazing as the flavors have time to meld and your family and friends will love it!
I served my "Not So" Amish Potato Salad with Hebrew National All-Beef Franks done Philly Cheesesteak Style – nestled in soft hoagie rolls with a bit of lightly griddled deli London Broil, sautéed peppers and onions and slathered with a sharp provolone cheese sauce. Needless to say, my guests adored their "Cheesesteak" Hot Dogs and the Not So Amish Potato Salad – people were bugging me for the recipe before the evening was over. I think this will be a tried and true for many a cookout, tailgate party, or weekend get-together.
On to the recipe:
Gather your ingredients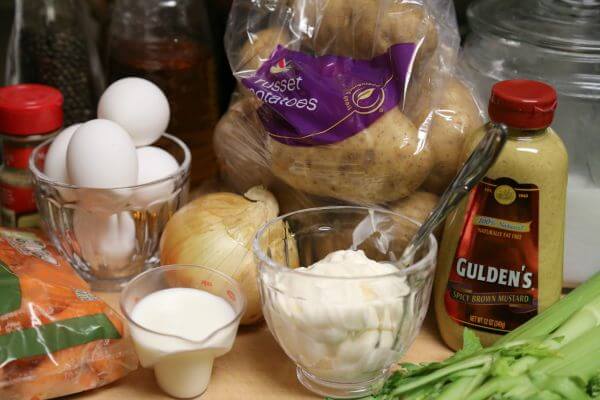 Just a few veggies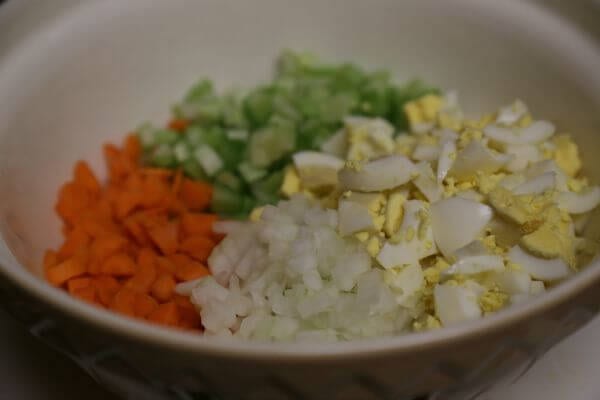 Let's whisk up the dressing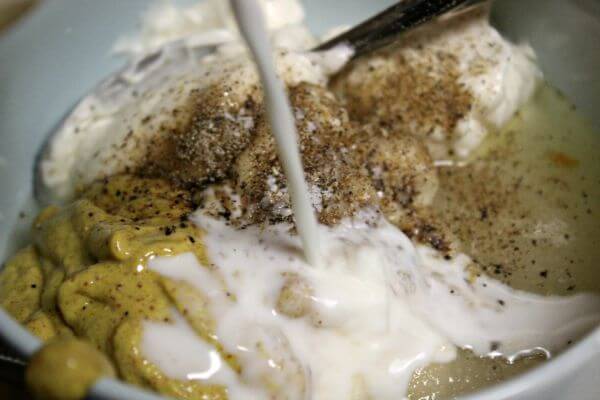 Use about a third of the dressing and then add as needed. Remember – less is more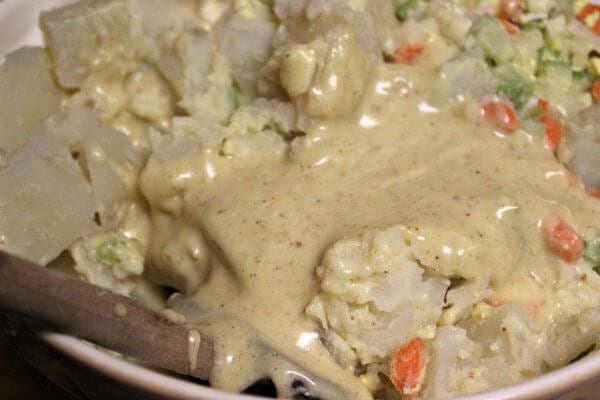 Making some Hebrew National Philly Cheesesteak Style All-Beef Franks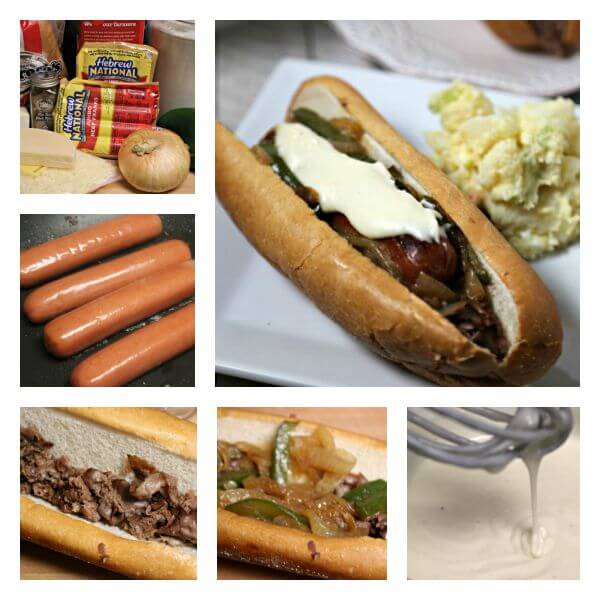 Now – doesn't this make you want to have a cookout?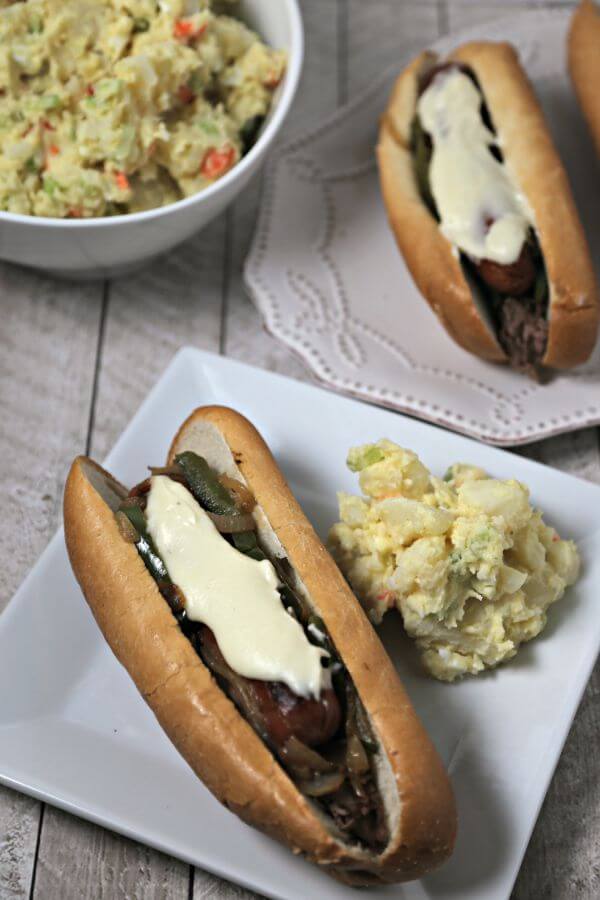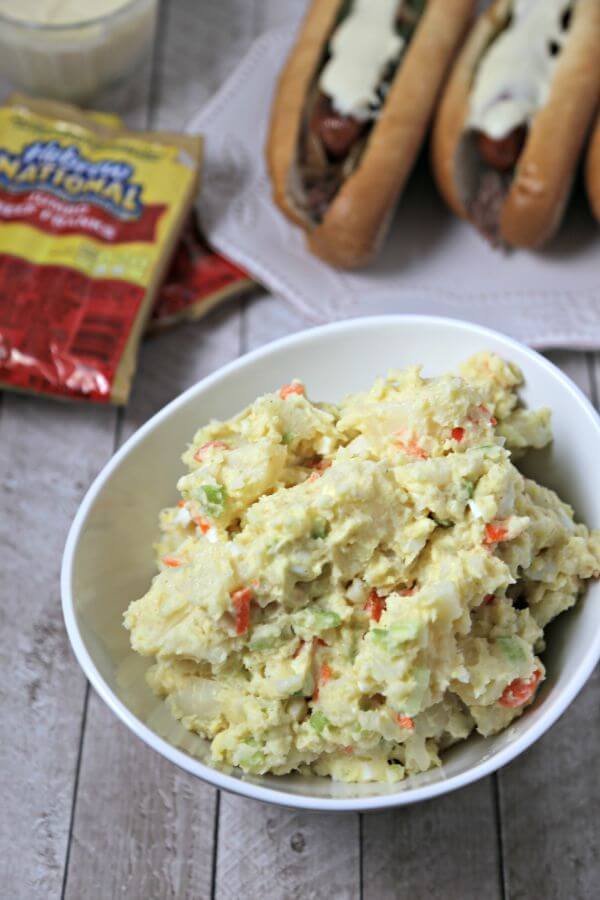 adopted from food.com
Yields 6
Amish Potato Salad
This "Not So" Amish is a fabulous adaptation of the Pennsylvania classic potato salad. Potatoes, crisp veggies and eggs are tossed in a tangy no-cook slightly sweet dressing. This is not your typical potato salad!
30 minPrep Time
30 minCook Time
1 hrTotal Time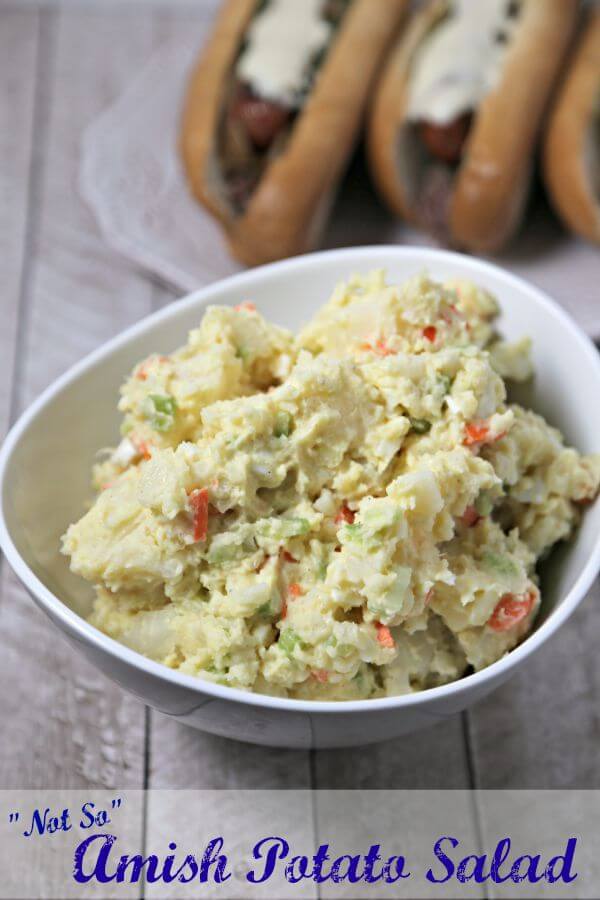 Ingredients
For the Potato Salad:

4 pounds of russet potatoes, peeled and cubed
1 tablespoon and 1 teaspoon of kosher salt, divided
4 eggs
4 stalks of celery (about 1 1/4 cups) finely diced
1 cup of baby carrots, finely diced
1 small Vidalia onion, finely diced

For the dressing:

3/4 cup of light mayonnaise
3 tablespoons of spicy brown mustard (I use Gulden's)
2 tablespoons of apple cider vinegar
1/2 cup of sugar
1/4 teaspoon of celery salt
1/2 teaspoon of kosher salt
1/4 teaspoon of freshly cracked black pepper

To serve with:

Hebrew National All-Beef Franks
Hot Dog Buns
Instructions
For the Salad:

In a large stockpot, add your cubed potatoes and cover with cold water. Add about a tablespoon of salt. Bring the water to a rolling boil and then reduce to a simmer, for about 15 – 20 minutes until the potatoes are fork tender. Drain, rinse thoroughly with cold water and set aside.
In a saucepan, add the eggs, 1 teaspoon of kosher salt, cover with water - about an inch or so, and bring to a rolling boil. Cover; remove from the heat and let sit for about 12 minutes. Rinse under cold water and then peel. Set aside.
In a large bowl, add the diced celery, diced carrots and diced onion.
Dice the cooled hard-boiled eggs and toss them with the carrots, onion and celery.
Add the cooled cubed potatoes and mix thoroughly.

For the dressing:

In a small bowl, whisk together the light mayonnaise, milk, spicy mustard, apple cider vinegar, celery salt, salt and pepper until everything is mixed well.
Drizzle some of the dressing over the potato and veggie mixture and combine. Add more dressing as needed.
When everything is to your liking, refrigerate the "Not So" Amish Potato Salad for at least 2 hours until everything melds together. I prefer to make this the night before.
Serve with your favorite Hebrew National All Beef Franks and enjoy!
Notes
The combination of franks and these toppings may not be Kosher.
7.8.1.2
152
https://cookinginstilettos.com/amish-potato-salad/