Growing up, Brussels Ssprouts were NOT an option. I don't even have a memory of my mother cooking them – ever.  Naturally, as I started on my culinary journey, I didn't even entertain the option – that is until now.  See, the best way to prepare them: ROAST THEM!  Seriously – a little "sauna" in the oven and they will be crispy and so full of flavor, your dinner guests wouldn't even entertain the thought of turning up their noses.
One thing with Brussels Sprouts is if you like cabbages and veggies that are roasted – then you are golden.  There's nothing like veggies caramelized by the heat of the oven.  Personally, if I have a choice with preparing vegetables lately, I roast them.  It's simple – toss them with a bit of mojo de ajoor olive oil, some salt and pepper and, occasionally, a dash of citrus.  SUPER simple right?  The first time I made this recipe, I went with something foolproof – namely the Barefoot Contessa's primer on all things Roasted Brussels Sprouts and you couldn't find a better base recipe, imo.
This is definitely one of the recipes for my holiday table.
Gather the Ingredients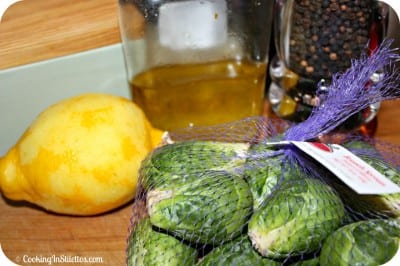 See – nothing to be afraid of – it's just little cabbages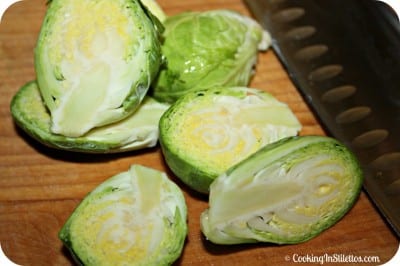 Now – doesn't this look divine?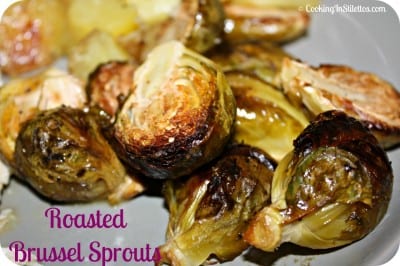 Tried and True: Roasted Brussels Sprouts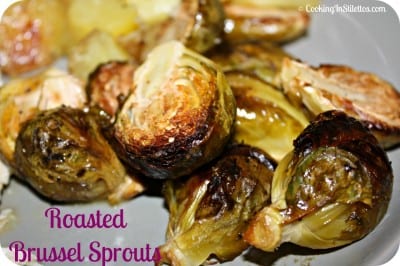 Ingredients
1 1/2 pounds Brussels sprouts
3 tablespoons Mojo de Ajo or olive oil
Juice from 1/2 a lemon
3/4 teaspoon kosher salt
1/2 teaspoon freshly ground black pepper
Instructions
Preheat oven to 400 degrees F.
Trim the Brussels sprouts, taking care to trim off the brown ends, remove any leaves that are yellow and slice each sprout in half, lengthwise.
In a bowl, toss the halved sprouts with the olive oil, lemon juice, salt and pepper.
Tumble them onto a sheet pan and roast for about 35 to 40 minutes. Halfway through, toss them around on the sheet pan to give the sprouts "equal opportunity" to caramelize.
After 35 to 40 minutes, the Brussels sprouts should be crisp and caramelized on the outer layers and tender on the inside.
Sprinkle with a bit more kosher salt and serve.
Enjoy!
7.8.1.2
354
https://cookinginstilettos.com/roasted-brussels-sprouts/