This Stovetop Green Bean Casserole is so easy to make from scratch and you don't need to share oven time with the turkey. No canned cream of mushroom soup needed!
This recipe originally appeared on Cooking In Stilettos in January of 2011. The recipe has been updated with new photos and any recipe changes that I have incorporated over the years.  This post may contain affiliate links to products I adore and use in my kitchen.  Thank you for supporting Cooking In Stilettos.
It wasn't until Thanksgiving 2010 that I tried that classic holiday mainstay, Green Bean Casserole.  It still baffles me that in over 30 years, I had never once tried it.  During the holiday season, Food Network's Chef Alex Guarnaschelli did a stovetop version and, after seeing this recipe put together, I decided to give it a shot and since then, I have not turned back from making this version for the holidays.
This Stovetop Green Bean Casserole is a tried and true for my holiday table. The only thing I took a shortcut on was the crispy shallots.  I used store-bought "fried onions" that I found at my local Whole Paychex and I may or may not have a couple extra should any snacking attacks happen.  However, the rest of the recipe was from scratch and couldn't be easier to make.  The mushroom gravy/soup comes together in a flash and packs so much flavor in every bite.  One additional thing i love is the added bonus of not needing oven time for this lovely and you know during the holiday season – oven time is precious!  I made everything in my favorite braiser and it was from stove to table – perfect presentation.
When you are planning your holiday menus, make sure to add Stovetop Green Bean Casserole to your favorite recipes!
On to the recipe:
 Gather the Ingredients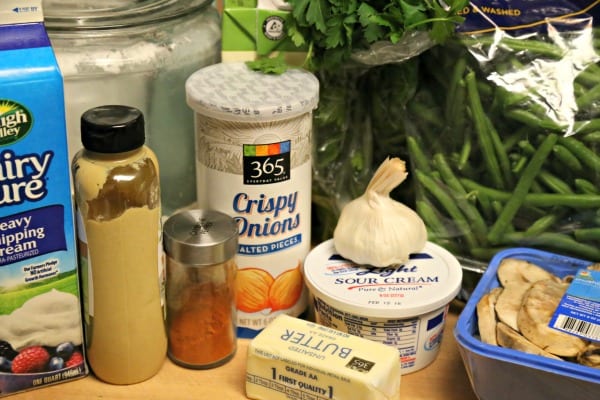 Getting the green beans ready for their sauna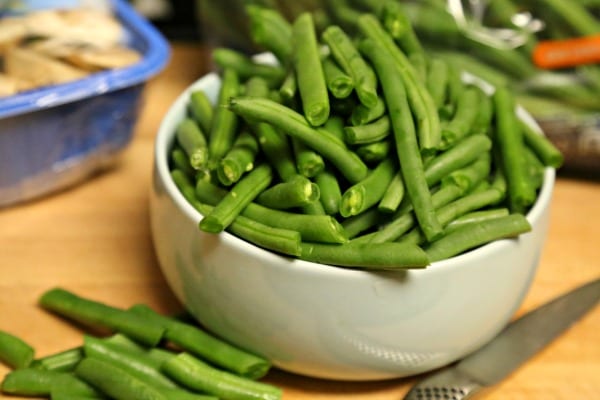 This colander trick – brilliant – sheer brilliance!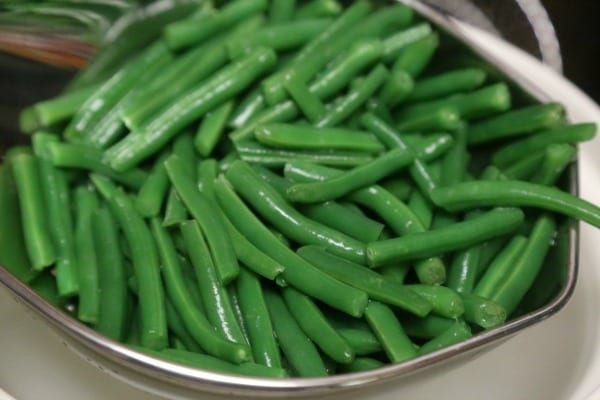 Making the mushroom base – forget the canned stuff!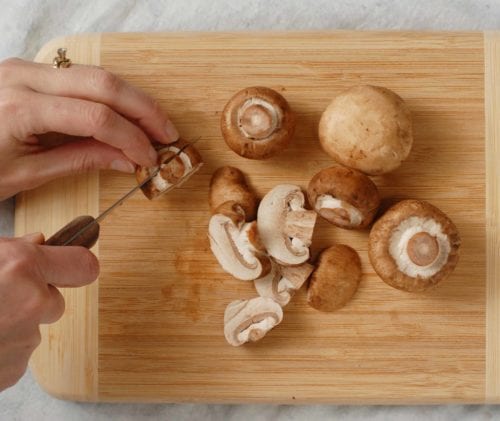 Folding in the green beans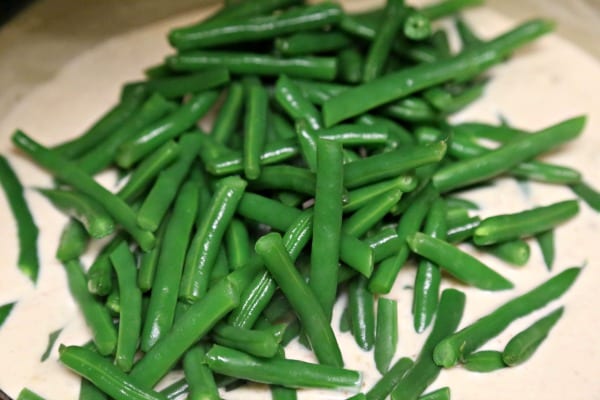 Should I make you a plate?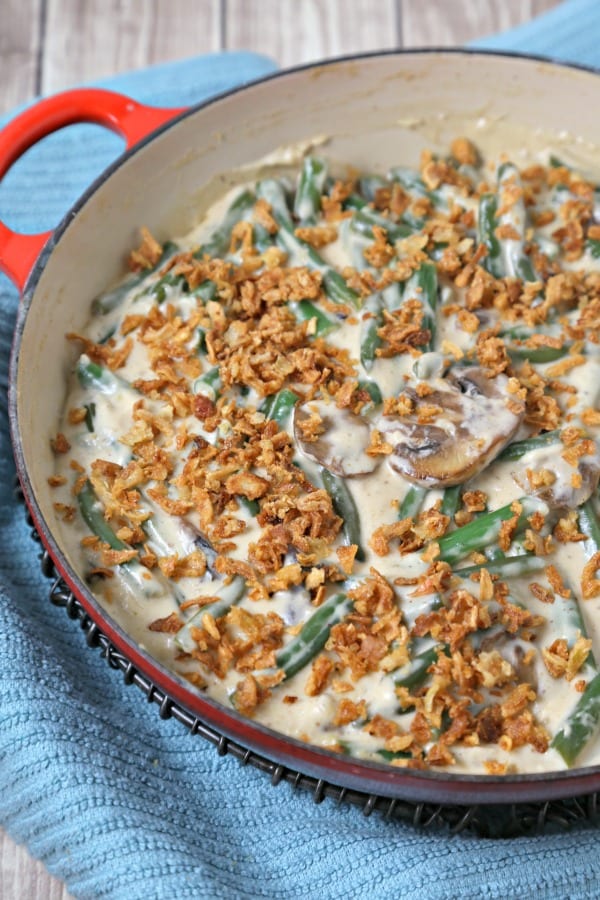 Slightly adapted from Alex Guarnaschelli
Yields 6-8
STOVETOP GREEN BEAN CASSEROLE
Forget that canned soup for the classic Green Bean Casserole - this Stovetop Green Bean Casserole is made from (mostly) scratch. This is a holiday classic made chic!
20 minPrep Time
40 minCook Time
1 hrTotal Time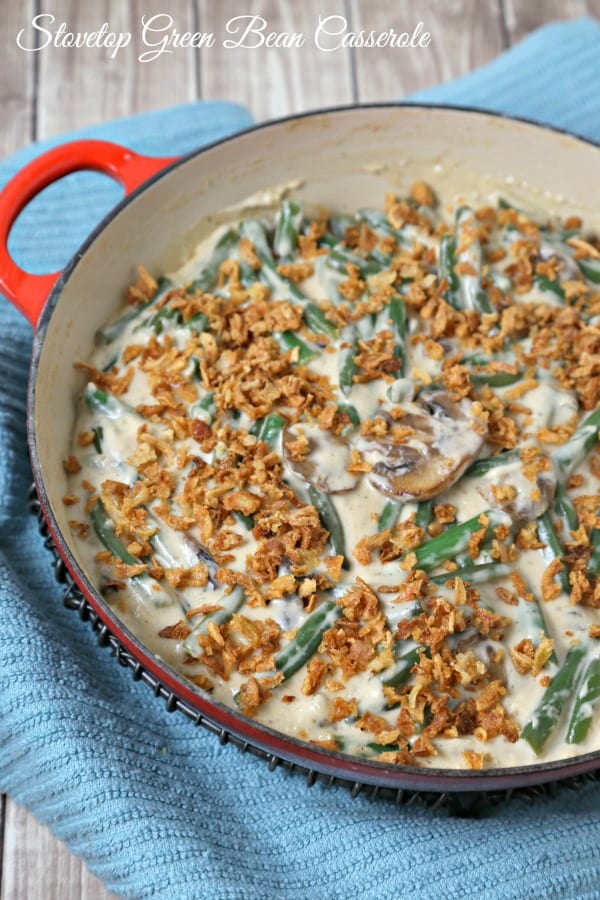 Ingredients
For the Green Beans:
2 tablespoons kosher salt
1 pound string beans, ends trimmed, beans cut in half
Ice cubes for the ice bath.
For the Mushrooms:
1 tablespoon of unsalted butter
12 ounces of baby bella mushrooms, sliced
1/2 teaspoon of cayenne pepper
1 teaspoon of Dijon mustard
3 cloves of garlic, peeled and minced
3 tablespoons of all-purpose flour
1 cup of low-sodium chicken stock
3/4 cup of heavy cream
1 cup of sour cream
For serving:
Crispy fried onions
Instructions
For the green beans:
Prepare an ice bath in a large bowl that a colander will fit in. Set aside.
In a large pot, bring water to a boil and add salt.
Add the green beans and boil for about 4 minutes.
Immediately remove the green beans from the boiling water and "shock" them in an ice bath. Tip from Chef Guarnaschelli, keep the beans in a colander for easy removal - just dip them in and then you'll have them at the ready.
Add salt to the boiling water and then add the green beans. Cook for 4 minutes.
Drain and set aside.
For the mushrooms:
Over medium heat, melt the butter in a large sauté pan.
Add the mushrooms to the melted butter, taking care to not crowd the pan and brown, about 5 - 8 minutes.
Season with salt and add the cayenne and mustard.
Whisk the garlic and flour into the mushrooms.
Cook the flour for a minute or two and then whisk in the chicken stock and bring to a simmer.
Stir in the cream and sour cream and gently reduce the heat so it's simmering.
Continue cooking over low heat until the mixture thickens, 12 to 15 minutes.
Season with salt to taste.
To assemble:
Stir the green beans into the mushrooms.
Simmer on the stove, over low heat until the green beans become tender when pierced with the tip of a knife, 10 to 15 minutes.
When ready to serve, top with crispy onions!
Enjoy!
7.8.1.2
56
https://cookinginstilettos.com/stovetop-green-bean-casserole/