Being that it's summer, you know it's the season of the burger.
One of my favorite spicy dishes is my favorite Queso Fundido but a full-on spicy chorizo burger fest, I don't think my wimpy behind could handle it.  When I came across this recipe, I knew I was on the right track.  As they say, if an idea keeps presenting itself, the universe is telling you something.  I headed off to the store to pick up the essentials for an epic Queso Fundido Burger – fresh made chorizo, melty Monterey Jack cheese and freshly ground marbled beef, guaranteeing a juicy burger.
To top this spicy burger deliciousness – one of my favorite condiments – Poblano Rajas.  Essentially, it's sauteed sweet onions and roasted poblano peppers, sauteed until golden and deliciousness.  It lends a nice smoky note in addition to the smokiness from the fresh chorizo and the chipotles.  The cheese adds that melty queso factor and extra cheese – even better.  There is no need for any other condiments on this burger – everything presents itself in perfect harmony – so if your guests reach for the ketchup or mustard, feel free to swat their hands away.
Trust me when I say that one bite of this Queso Fundido Burger with Poblano Rajas will make people swoon.
 On to the recipe:
Gather your ingredients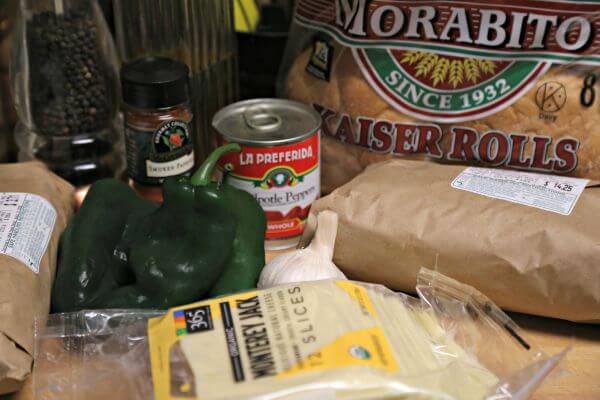 Let's roast the poblanos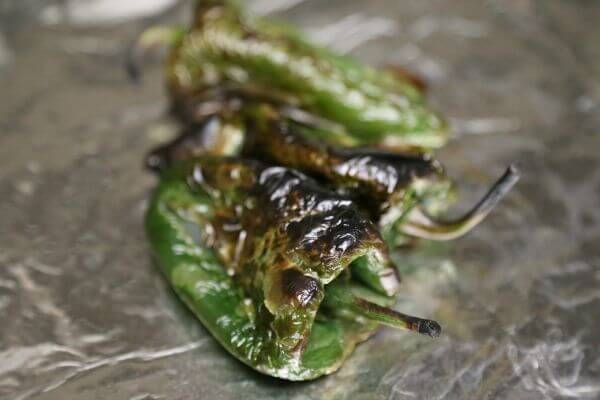 Nothing like fresh chorizo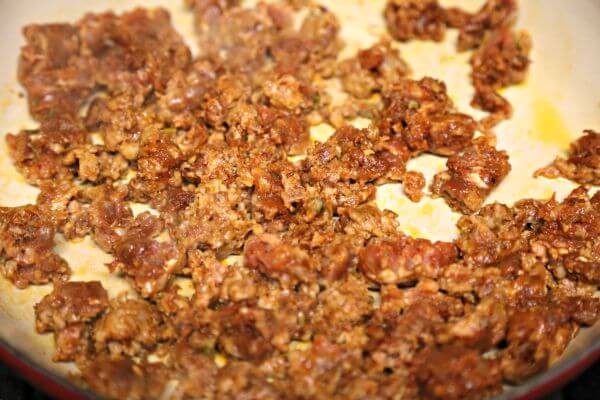 Making the Poblano Rajas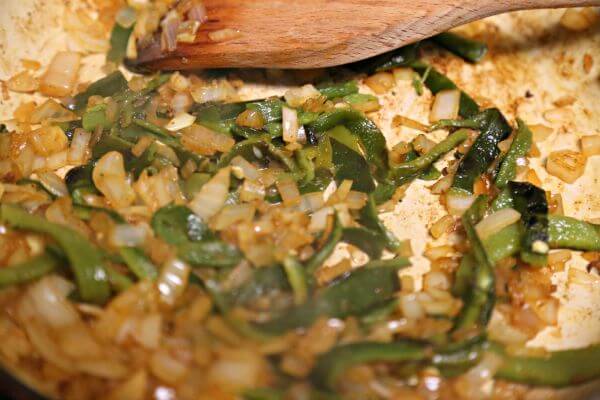 Let's assemble this lovely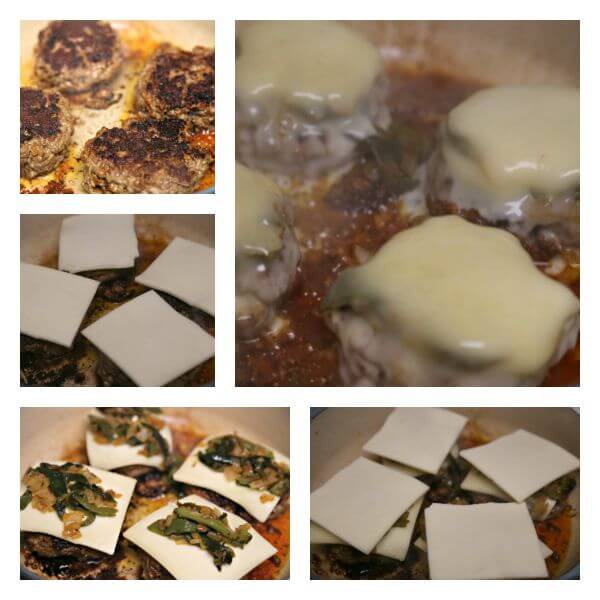 Now this, my friends, is the ultimate Queso Fundido Burger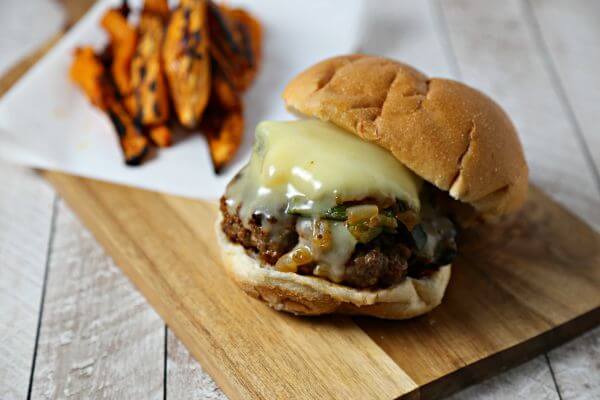 Adapted from Rick Bayless
Yields 4
Queso Fundido Burger
This Queso Fundido Burger with Poblano Rajas is the epic in burger deliciousness. Spicy chorizo melds with ground chuck and chipotles, layered with melty Monterey Jack cheese and smoky poblano rajas. This, my friends, is the ultimate burger.
20 minPrep Time
40 minCook Time
1 hrTotal Time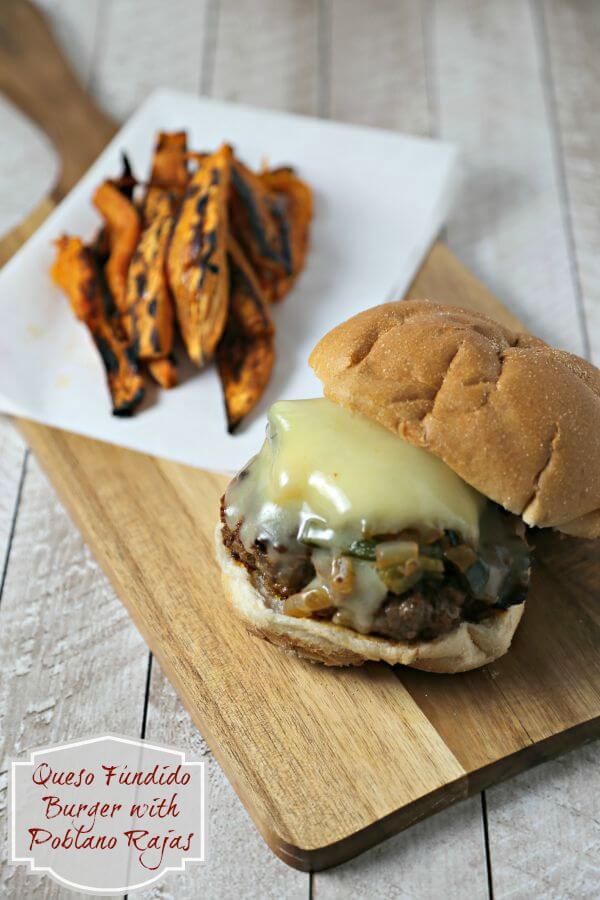 Ingredients
For the Queso Fundido Burger:

2 links of fresh chorizo sausage
1 tablespoon of canola oil
1 pound of ground chuck (I used 85/15)
1 chipotle chile, minced
1 - 2 teaspoons of the adobo sauce from the chipotles
1 teaspoon of smoked paprika
2 cloves of garlic, minced
1/2 teaspoon of kosher salt
1/4 teaspoons of freshly ground pepper
8 slices of Monterey Jack cheese
4 kaiser rolls, toasted

For the Poblano Rajas

3 poblano chiles
1 large vidalia onion, diced
Instructions
First, roast the poblano chiles. You can either roast them on the gas stovetop, turning until all sides are blackened or, what I did was place them on a foil lined baking sheet under the broiler (about 5 inches from the flame) and broiled for about 10 minutes, turning often until all sides are blackened.
Remove the blackened poblanos to a gallon sized plastic bag and seal so that they steam in there for about 10 minutes. (In the alternative, you can place them in a medium size bowl and cover with plastic wrap and set aside for 10 minutes to let them steam).
While the poblanos are steaming, remove the chorizo from their casing.
To a large saute pan, add the canola oil and heat over medium high heat until it starts to shimmer.
Add the chorizo sausage, using a wooden spoon to break it up. Saute until it starts to brown and then remove to a paper lined plate.
Using a paper towel, remove the blackened skin from the steamed poblanos. Cut into long strips and set aside.
Drain the saute pan of most of the fat from the chorizo, adding the onions.
Saute until the onions start to brown and then add the poblano strips. When everything is softened and golden, remove to a bowl and set aside.
In a large bowl, add the ground chuck, browned chorizo, minced chipotle chile, adobo sauce, smoked paprika, minced garlic, salt and pepper.
Mix everything, taking care to not overmix.
Form into 4 patties and brown in a large nonstick pan that can be covered (I used my deep saute pan for this).
Brown on both sides until cooked to your likeness. We liked ours medium so that was about 7 - 10 minutes total as the burgers are a bit thick.
Add a slice of cheese, followed by some of the poblano rajas and shingle another slice of cheese over everything.
Add a bit of water to the pan and cover quickly to trap the steam.
When the cheese is melted, remove from the heat and place the burgers on the toasted buns.
Enjoy!
7.8.1.2
150
https://cookinginstilettos.com/queso-fundido-burger-with-poblano-rajas/