For the past couple of years, I have been a bit more aware and actively reading the ingredient labels of various products. There are times I want to be an ostrich and stick my head in the sand but, frankly, with lawsuits and commercials touting "xyz is bad for you", I tend to get a bit more anxious. I learned a hard lesson with the SousPug – I still believe that not reading the ingredients on his kibble is partially responsible for his chronic pancreatitis and diabetes. Thanks to his new "clean" home-cooked diet, he has improved by leaps and bounds.
While eating healthy is good for you, the downside is often the cost. Sure, there are coupons for a myriad of grocery items, but if I am looking for healthy options, there often is not a coupon for that. My shoe budget has taken a whack lately as the grocery fund takes priority. However, the peace of mind for buying food without needing a dictionary or Sheldon Cooper to translate the ingredient list is worth the cost. There are still items I love that I play "ostrich" with but that list is slowly getting smaller.
I recently learned that Target has a new line of foods that are minimally processed and ingredient lists that do not make me twitch – Simply Balanced. Many items are organic and the price point is definitely reasonable. When I had the opportunity to try some of the Simply Balanced line, I knew this would be a tasty test. I have a tortilla chip that I have been buying for years, but lately the formula has changed and, at least to me, now tastes a bit "off" so I stopped buying that brand. However, I love having tortilla chips and a homemade salsa for an occasional evening snack or to keep on hand for entertaining or chilaquiles. I tried the Simply Balanced Organic Tortilla Chips (both the blue corn and the white) and they were delicious! I paired them with my tried and true fresh corn salsa and these will be a pantry staple in my house.
I could not just wax on about the tortilla chips without giving you all a little something and this fresh corn salsa is PERFECT for the summer months. I first fell in love with this salsa back when I lived in Orlando. SL and I used to go to a resto. called "Pancheros" for lunch and they had a to-die for corn salsa that I could have just had by itself. I went home, played with the ingredients, and put together my own corn salsa that would knock the pants off the Pancheros processed version. Of course, you can vary it up and make it your own but definitely let the ingredients "marry" for an hour or so in the fridge before you serve. I often make it with my Mojo de Ajo as that liquid gold goes with everything.
On to the recipe:
Gather the ingredients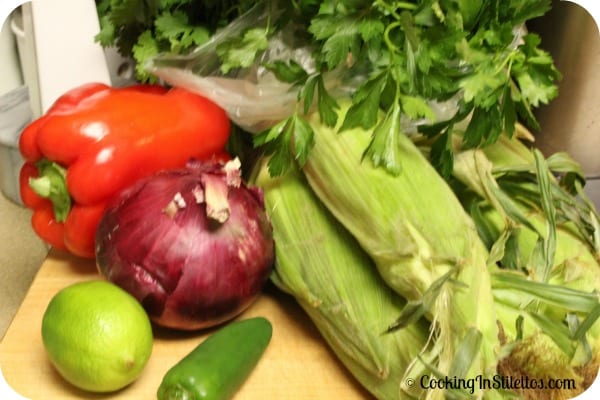 Nothing like a bit of fresh corn, right?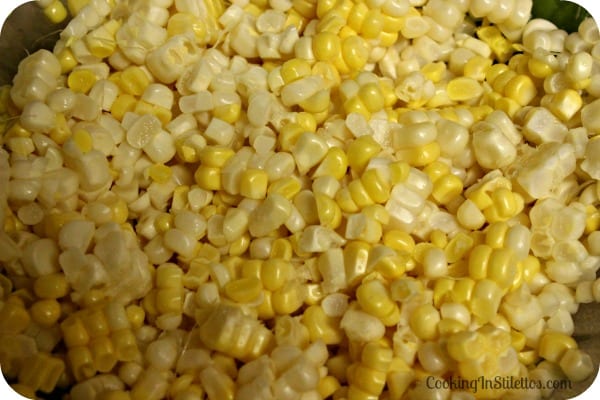 Everything ready for mixing.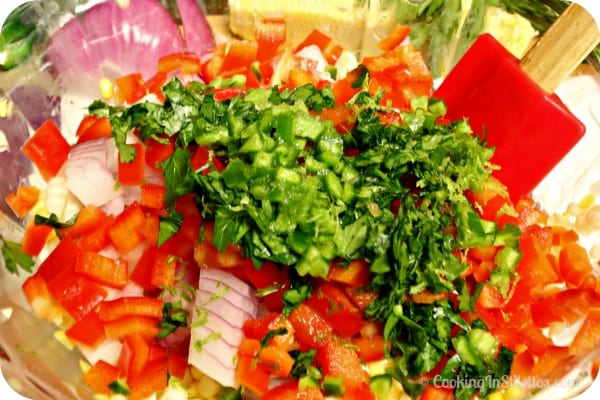 I can't pick a fave chip – they both are excellent!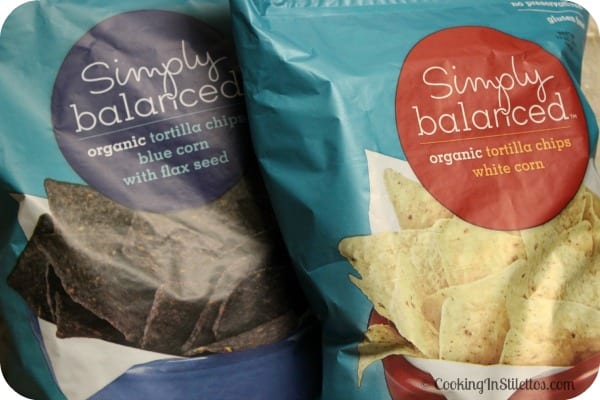 Don't you want a bite?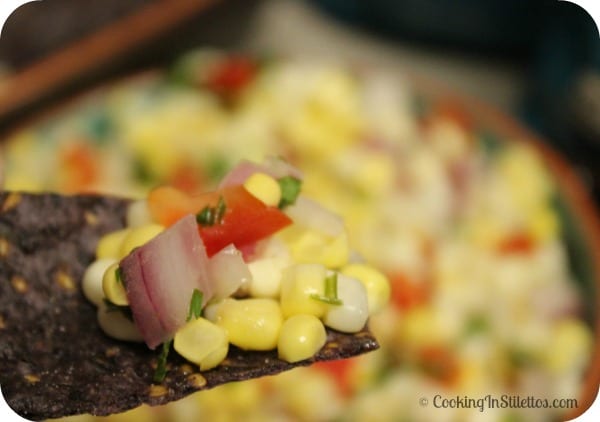 Yields 4
Snacks Get Simply Balanced and A Tried And True Fresh Corn Salsa Recipe
This Fresh Corn Salsa tastes better than any restaurant version with loads of fresh corn, veggies and a touch of citrus and spice.
10 minPrep Time
10 minTotal Time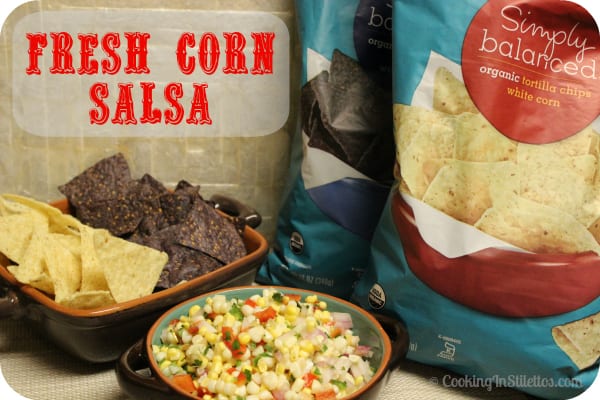 Ingredients
4 ears of fresh summer corn, shucked and silks removed
1/2 of a large red onion, finely diced
1 red pepper, diced
1 jalapeño, seeds and ribs removed (if you want it mild), finely diced
1 1/2 tablespoons of cilantro
2 tablespoons of parsley
Zest and juice of one lime
3 tablespoons of extra virgin olive oil (or mojo de ajo )
1 teaspoon of kosher salt (or to taste)
Instructions
Cut the kernels off the corn. The easiest way I have found is to put a small ramekin in the center of a large bowl, position the corncob on there and cut straight down – no mess and it all goes into the bowl.
Add the red onion, red pepper, jalapeño, cilantro, parsley, lime juice, lime zest, extra virgin olive oil and salt to the corn and mix thoroughly.
Put into the fridge to chill for at least an hour.
Serve with your favorite tortilla chips and enjoy!
7.8.1.2
326
https://cookinginstilettos.com/fresh-corn-salsa-recipe/