One of the things that is perfect for summer cookouts is a pasta salad. However, what I would like is one that is a tad bit healthier, heavier on the veggies and lighter on the sauce.
When Hodgson Mill put out a call for our best pasta salads, I thought it was time that I sassed up the typical tuna pasta salad with my new obsession – roasted veggies. When Hodgson Mill sent some of their new Whole Wheat pasta for me to play with, I immediately gravitated to the Whole Wheat Bowtie Pasta. The pasta has a fresh nutty flavor and holds the vinaigrette well. Simple is best when it comes to the vinaigrette and I used one of my favorite unfiltered extra virgin olive oils with a bit of lemon juice and lemon zest and a dash of salt and pepper. Tossed with the roasted veggies, crumbled ricotta salata and wild tuna and you have a dish that will have family and friends asking for seconds.
On to the recipe:
Gather the ingredients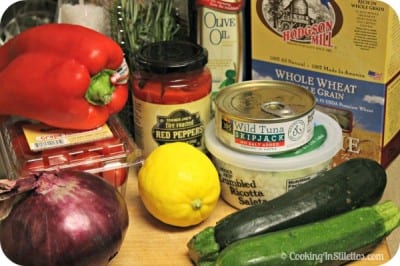 Which pasta to choose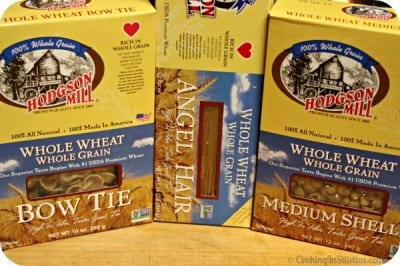 A tale of two peppers – roasted and raw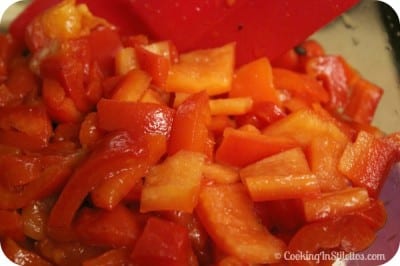 Nice and roasty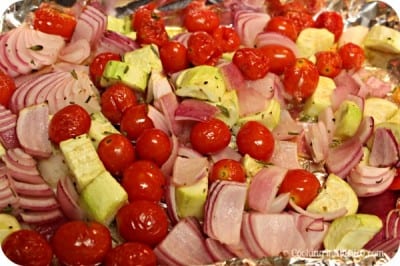 Lemon vinaigrette perfection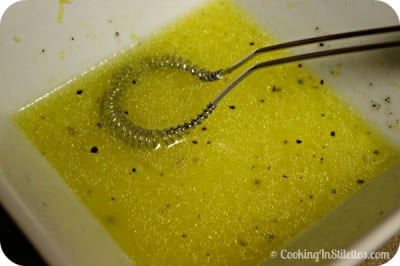 Summer Pastabilities With Tuna Pasta Salad with Roasted Tuscan Vegetables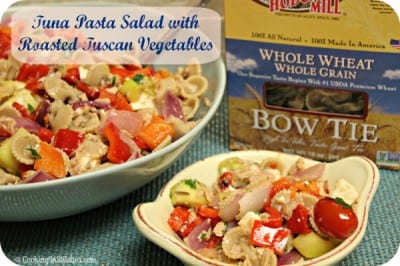 Ingredients
1 box of your favorite Hodgson Mill Whole Wheat Pasta
1 pint of cherry tomatoes
2 zucchini, peeled and chopped into 1" pieces
1 red onion, cut into small wedges
2 tablespoons of fresh rosemary finely chopped
2 tablespoons of olive oil
1 jar of roasted red peppers, drained and cut into 1" pieces
1 red bell pepper, cut into 1" pieces
2 cans of solid white tuna in water, drained
Salt and Pepper

For the vinaigrette:

3 tablespoons of extra virgin olive oil
zest of one lemon
Juice of half a lemon
Salt and freshly ground pepper to taste
Instructions
Preheat the oven to 400 degrees F.
Cook the pasta in a large pot of salted boiling water until al dente. Drain, rinse with cold water and set aside to cool.
In a large bowl add the cherry tomatoes, zucchini, rosemary and red onion and toss with the olive oil. Season with a bit of salt and pepper and toss everything together.
Pour the vegetables onto a baking sheet lined with foil and roast for about 40 minutes, until the tomatoes start to pop.
Pour into a large bowl.
Add the cooled pasta
Add the chopped red peppers, roasted red peppers and tuna and toss everything together.
To a small bowl, add the extra virgin olive oil, lemon zest, lemon juice and a bit of salt and pepper. Whisk everything together and pour over the pasta, tuna and vegetables.
Add the ricotta salata and chopped parsley and toss everything together fully.
Serve and enjoy!
7.8.1.2
322
https://cookinginstilettos.com/tuna-pasta-salad-with-roasted-tuscan-vegetables/