For a Latin twist, make this Chicken Mole Burger packed with smoky flavor and a touch of heat with a unexpected ingredient which gives the mole sauce so much flavor!  This is a burger recipe your friends and family will love!
One night, around 2am (when my best ideas sometimes hit me out of the blue), I jolted up, grabbed the notebook I always keep next to my bed (a habit from my publicist wench days) and scribbled down the words "Chicken Mole Burger".Chicken Mole is a dish that I love.  I have a slow cooker chicken mole recipe that I make from time to time but chicken mole in burger form?  The thought kept me up trying to think how I would incorporate the rich deep mole flavor in a chicken burger and it dawned on me – meld the sauce and the burger together – grill to perfection and then drizzle with even more mole sauce.  This mole sauce is so good and is ready in a flash – just blend it up, simmer for 10 – 15 minutes until it's thick and then *boom* it's ready to drizzle on grilled chicken, slather on burgers, etc.  As is typical with a delicious mole, for the chocolate lover, there's a hint of bittersweet chocolate along with some unsweetened cocoa in the mix and for the spice lover, there's fruity ancho chiles and smoky chipotle chiles.  You can add more if you like it super spicy.  As I'm a spice wuss, I tend to err on the side of caution.  Nestled in a rustic fluffy bun with melted Monterey Jack cheese, sharp red onion and peppery arugula, this Chicken Mole Burger will be a favorite!
On to the recipe:
Gather your ingredients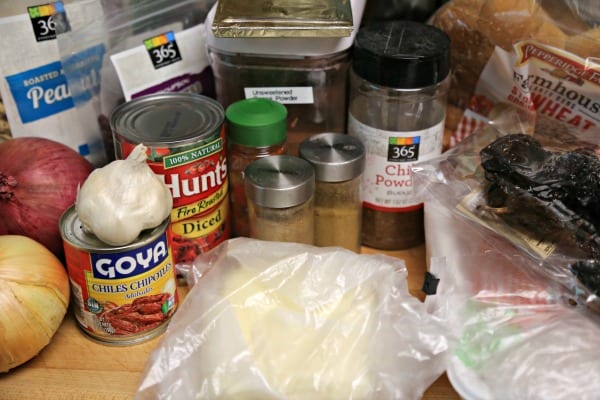 Just a few spices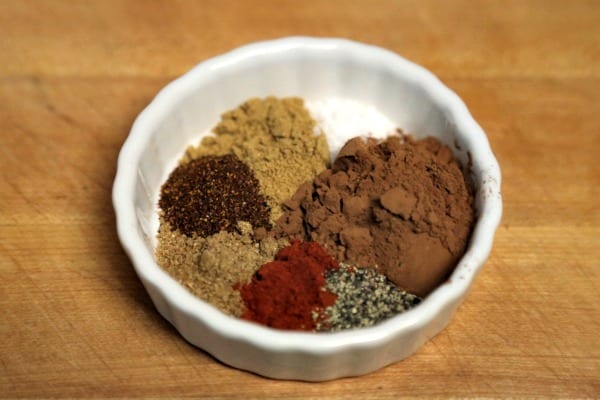 Soaking the ancho chile for a bit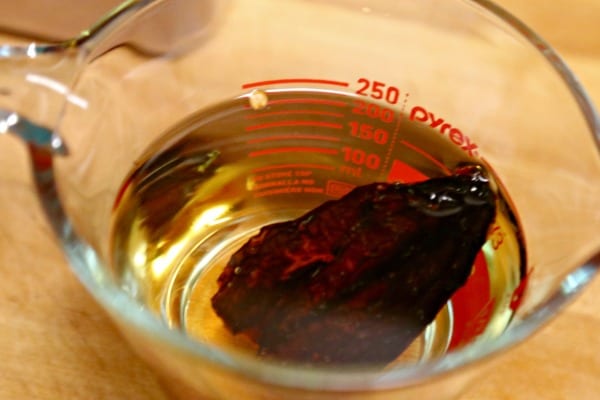 A key ingredient – bittersweet chocolate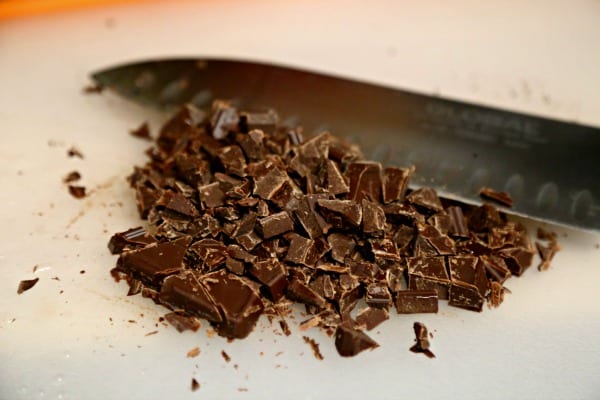 Ready to blend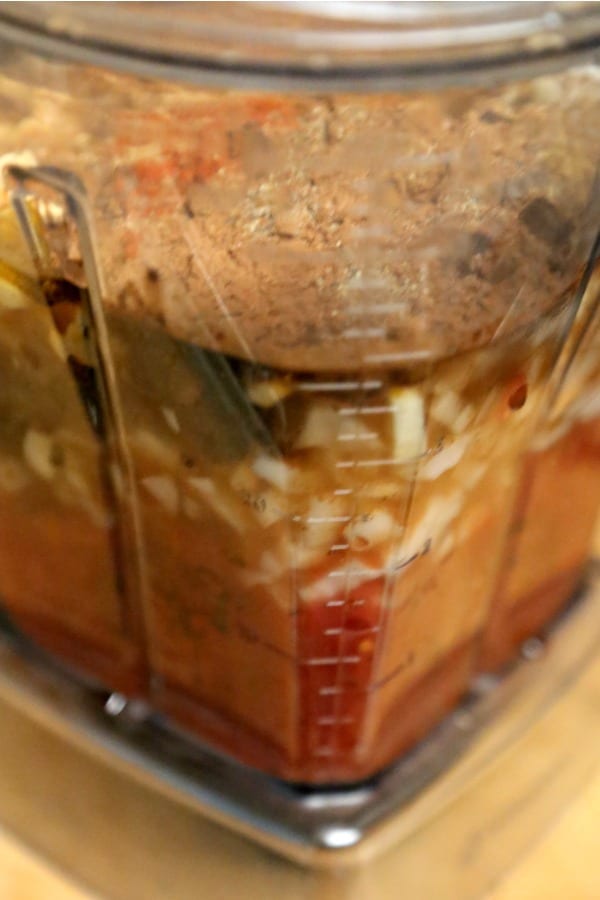 Now this, my friends is quite the burger!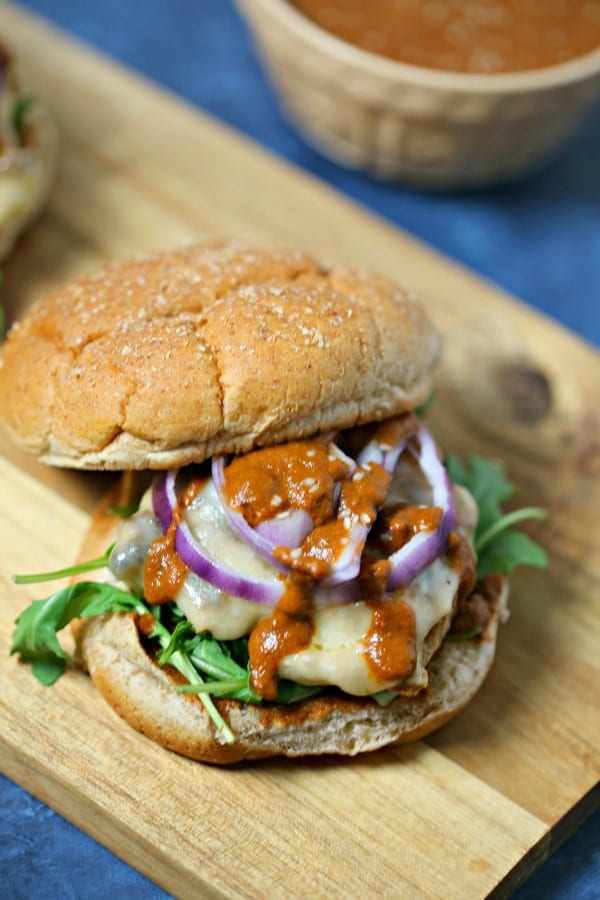 Aly M. Cleary | Mole Sauce Recipe Inspired by Ingrid Hoffmann
Yields 4
Celebrating #BurgerMonth with A Chicken Mole Burger and #GirlCarnivore
This Chicken Mole Burger is packed with flavor with a sweetly smoky and spicy quick mole sauce that tastes like you simmered it for hours. Make these burgers and watch your guests gobble them up!
45 minPrep Time
25 minCook Time
1 hr, 10 Total Time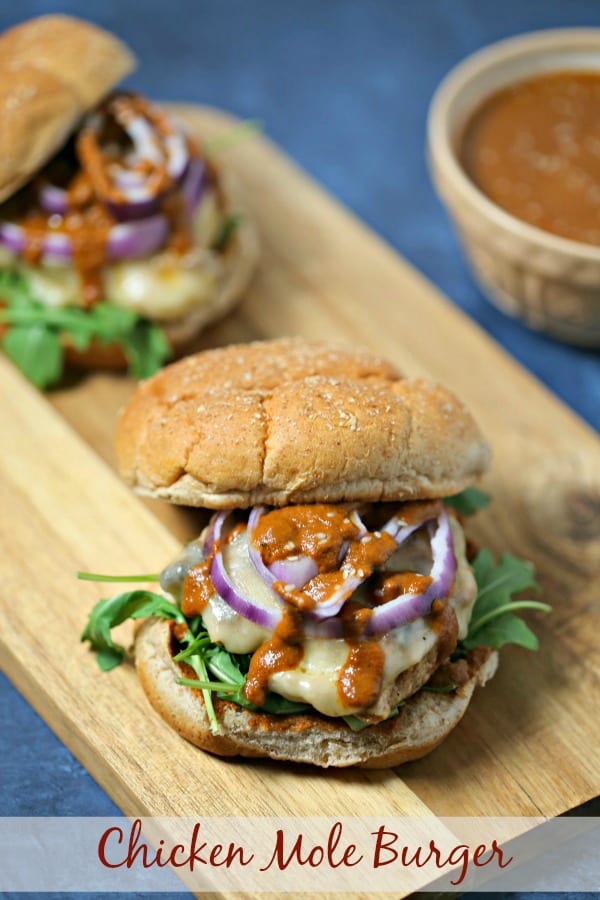 Ingredients
• For the Mole Sauce:
1 dried ancho chile, stem and seeds removed
1 can (15-ounces) of diced fire-roasted tomatoes
1 small yellow onion, diced
1 small chipotle chile in adobo sauce
2 tablespoons of peanuts, toasted
1 tablespoon of raisins
1 ounce of bittersweet chocolate, finely chopped
2 teaspoons of unsweetened cocoa powder (not dutch process)
2 garlic cloves, chopped
1 tablespoon extra-virgin olive oil
1/2 teaspoon of ground cumin
1/2 teaspoon of chili powder
1/2 teaspoon of ground cinnamon
1/4 teaspoon of smoked paprika
1/4 teaspoon of ground coriander
1/8 teaspoon of salt
1/8 teaspoon of freshly ground black pepper
•For the Chicken Mole Burgers:
1/3 cup of the Mole Sauce, plus more for serving
1 pound of ground chicken breast
1/8 teaspoon of salt
1/8 teaspoon of freshly ground black pepper
1 tablespoon of olive oil
4 Fluffy Hamburger Buns (I used a Rustic Wheat Bun), toasted
Thinly sliced red onion
4 slices of Monterey Jack cheese
Baby arugula
Sesame seeds
Instructions
///To make the mole sauce:
In a small bowl, soak the dried ancho chile in a cup of hot water for about 10 minutes to re-hydrate. Set aside.
In a container of a food processor or high speed blender, add the soaked ancho chile with hot water, fire roasted tomatoes, chopped onion, chipotle chile, peanuts, raisins, bittersweet chocolate, cocoa powder, garlic cloves, olive oil, cumin, chili powder, cinnamon, smoked paprika, coriander, salt and pepper.
Blend until the sauce is smooth.
Pour the sauce into a saucepan and simmer over low heat, stirring occasionally, until it has reduced and thickened – about 10 minutes. Let cool for about 15 minutes.
///To make the Chicken Mole Burgers:
Add a quarter to a third of a cup of the mole sauce to the ground chicken breast and form the meat into 4 burgers. Let them firm for a bit in the refrigerator – about 15 minutes to a half hour.
To a grill pan, add a tablespoon of olive oil and heat over medium high heat.
Grill the burgers on each side until the burger reaches a temp of about 165 degrees, F.
Add a slice of Monterey Jack cheese and cook for another minute or two more, until the cheese has melted.
Set aside.
///To assemble:
To a toasted bun, spread a bit of mole sauce on the base.
Add the burger draped with the sliced Monterey Jack cheese. Top with the sliced red onion, a bit of peppery arugula and a drizzle of mole sauce, peppered with a pinch of sesame seeds. Serve with extra mole sauce sprinkled with a bit of the sesame seeds and enjoy.
Enjoy!
Notes
The mole sauce can be stored in the fridge for a week or two (if it lasts that long) or you can freeze it for later.
7.8.1.2
20
https://cookinginstilettos.com/celebrating-burgermonth-with-a-chicken-mole-burger-and-girlcarnivore/