This Cuban Style Burger has the flavors of the familiar Cuban sandwich but in burger form. This epic burger will be a hit at your next cookout!

Where this epic burger creation is my own for #BurgerMonth 2016, I would love to thank Certified Angus Beef, Char-broil, KitchenIQ, Cabot Cheese, Grill Master Club, American Lamb Board, Cowboy Charcoal and CuttingBoard.com for the kick butt grill prize packages!
There are a few things I look forward to every year in the blogiverse and one of them is #BurgerMonth. My gal Kita of Girl Carnivore & Pass The Sushi hosts this epic burger love event every year and this year we have over 40 fabulous food bloggers sharing epic burgers all throughout the month of May. Not to mention you get to win some seriously great prizes – but we'll get to that in a second.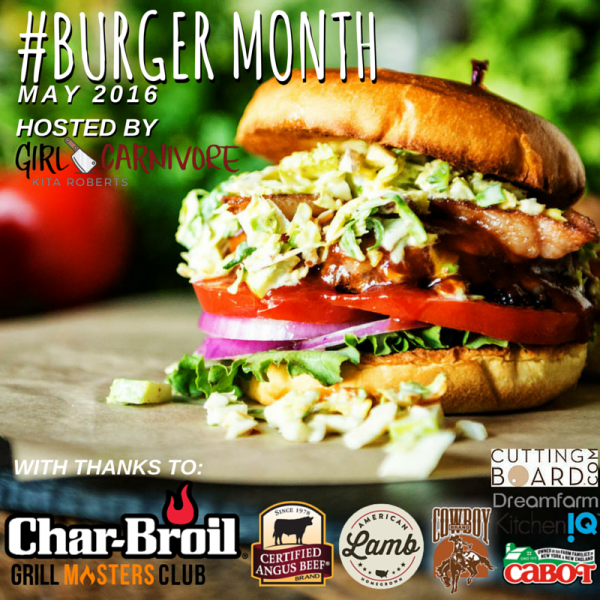 I always love to take familiar flavors and turn them up a notch, like with my Beef Short Ribs Burgers with Horseradish Cream Sauce and last year's Queso Fundido Burger with Poblano Rajas but this year – this year I had to do a bit of a Cuban spin, in honor of one of my favorite sammies – the Cuban Sandwich.
Having lived in Florida for years, a great Cuban sandwich is a must – much like a killer Philly Cheesesteak is here in Philly. There's something about the pillowy Cuban bread slathered with a mustardy spread, that crisp bite of the pickles and the cheese that encases the pork and ham, all pressed together for the perfect bite. When Kita put forth her call for burgers, all I could think of was how do I bring those Cuban sandwich flavors into a burger.
What I have is one of those burgers that is epic to say the least. I took Certified Angus Beef and nestled it into pillowy Portuguese rolls with swiss cheese, roast pork and ham. I used some of my beloved Mojo de Ajo in the mix because I love that roasted garlic flavor but you could always use a little garlic olive oil. A bit of lime in the mustardy spread added that right citrus note and this burger – let's just say it's going to be the star of the 4th of July cookout here – it's that good.
If you are looking for a burger that will wow your family and friends, make this Cuban Style Burger!
On to the recipe:
Gather your ingredients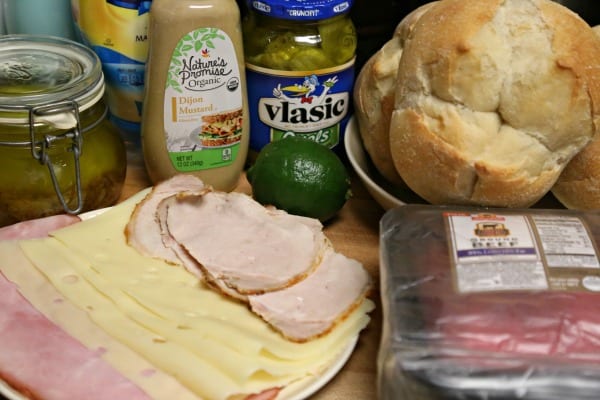 For a delicious beefy burger, you can never go wrong with Certified Angus Beef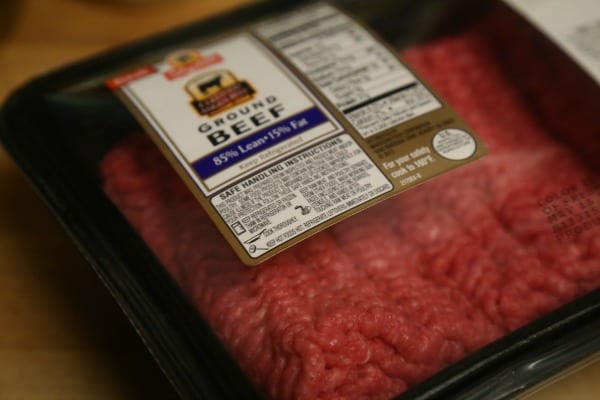 Whisking up the mustardy spread with a bit of roasted garlic from the Mojo de Ajo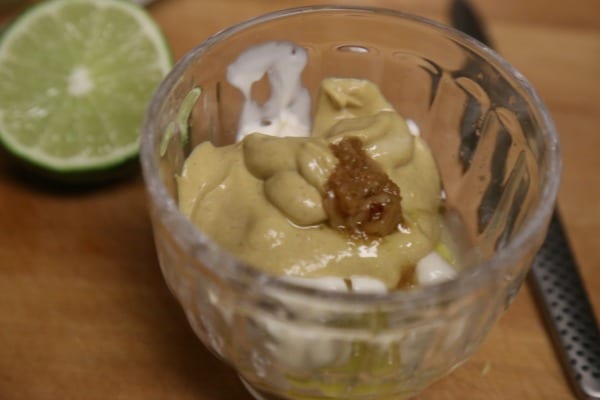 Time to assemble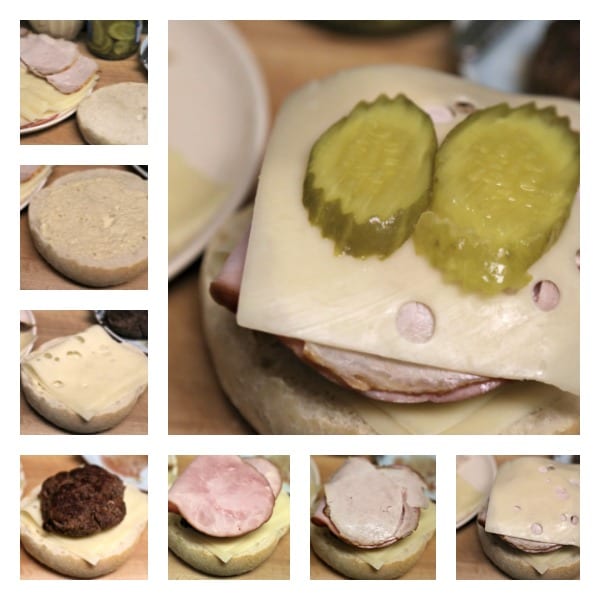 Now, doesn't this look like an epic burger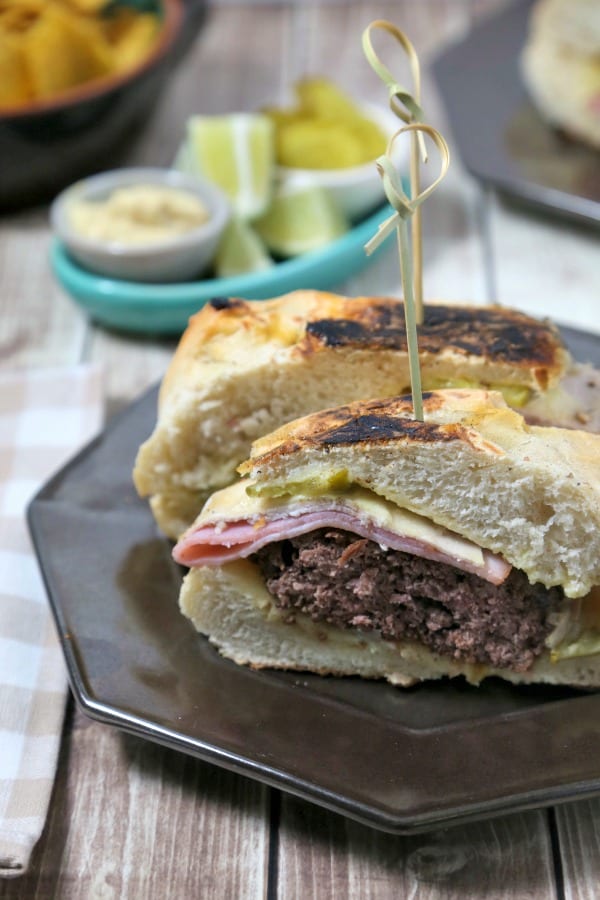 I mean, seriously – what's not to love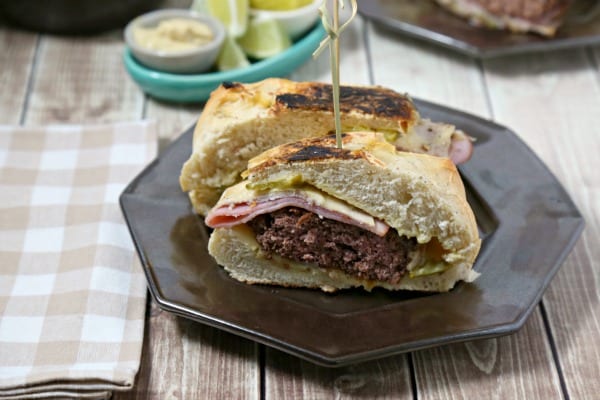 Cuban Style Burger
---
Aly M. Cleary
Yields 4
One bite of this Cuban Style Burger and you will be transported to all points Miami where the Cuban Sandwich reigns supreme. Thick sliced ham, pork and swiss are piled high on a pillowy bun spread with a garlicky mustard spread and pressed to perfection.
15 minPrep Time
14 minCook Time
29 minTotal Time
Ingredients
For the Burgers:

1 pound of Certified Angus Beef (I used 85%)
1/2 teaspoon of kosher salt
1/4 teaspoon of freshly cracked black pepper
1 teaspoon of mojo de ajo (optional) or garlic olive oil
1/2 teaspoon of roasted garlic, optional

For the spread:

1/4 cup of Dijon mustard
1/3 cup of light mayonnaise
1/2 teaspoon of roasted garlic, optional (I used the roasted garlic from my i][mojo de ajo [/i])
1/8 teaspoon of kosher salt
Pinch of freshly cracked black pepper
1 teaspoon of freshly squeezed lime juice

To Serve:

4 Portuguese rolls (or soft hamburger rolls)
8 slices of swiss cheese
4 slices of sliced tavern ham
4 slices of sliced roast pork
Dill pickle slices
Directions
Heat a cast iron skillet or heavy bottomed frying pan over medium high heat.
In a bowl, mix together the Certified Angus eef, kosher salt, black pepper, mojo de ajo (if using) or garlic olive oil and roasted garlic (if using).
Divide the mixture into 4 equal patties and, using yoru thumb, make an indentation in the center.
Add the patties to the pan and cook on both sides until you have the doneness that you like. Personally, we're a medium to a medium well household so I let mine cook for about 5 – 7 minutes a side.

To make the spread:

In a small bowl, whisk together the Dijon mustard, light mayonnaise, roasted garlic (if using), kosher salt, black pepper and lime juice, until everything comes together Set aside.

To assemble:

To the bottom of the bun, add a bit of the mustard spread. Follow that with a slice of Swiss cheese.
Nestle the burger on top of the cheese and add a slice of ham and a slice of roast pork. Add another slice of cheese and top with some dill pickle slices.
Spread the top bun with a bit more of the mustard mixture and cover the burger.
Put the burger either in a sandwich press or you can wrap the sandwich in foil and place in the pan, using a heavy bottomed pan to weigh the burger down and press it a little.
Cut in half and enjoy!
7.6.8
1091
https://cookinginstilettos.com/cuban-style-burger-recipe/
All images and content are © Cooking In Stilettos. Please do not republish without contacting us first. Thank you.
There's an awesome giveaway going on where you can enter one of these lovelies. Make sure to enter and win!
American Lamb – 5 lbs of ground lamb, an apron and a meat thermometer from ALB
Cabot 4 cheeseboxes
Cert Angus Beef
Charbroil 4 grills
Cowboy Charcoal Samplers
Cuttingboard.com 4 cutting boards
Dreamfarm swag
GrillMasters Club Boxes
Did you enjoy this post?
| | |
| --- | --- |
| Share the love | Get free updates |