When you are looking for that perfect simple breakfast that will wow your guests, it couldn't get any simpler than these Herb Baked Eggs. They are easy to make, only take a few ingredients and with a few minutes under the broiler in those ramekins that you don't use quite enough and *viola*!
I remember the first time I made them, I was shocked that I didn't massacre them. Broilers and I are far from BFFs.  Then again, I don't think that I've had a bad Barefoot Contessa recipe since I started cooking.  If you follow the instructions, I can pretty much promise that the dish will turn out perfect.  If you get distracted and get all Goldilocks with the oven the eggs will either come out not cooked enough or way too cooked and you really want them "just right".  Timing is everything – take it from one that has had one too many kitchen disasters.
Make these for your next weekend brunch and enjoy the accolades!
On to the recipe:
Gather your ingredients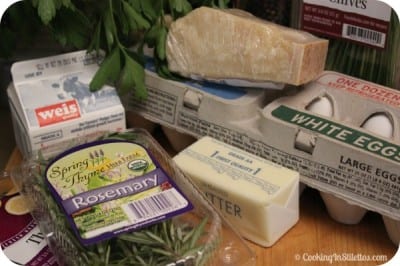 The first bake – the cream and butter gets all toasty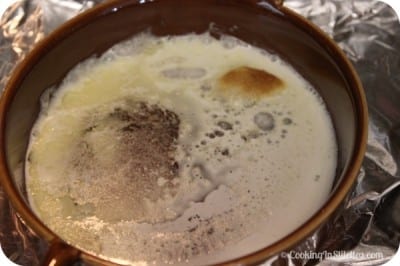 Quickly drop in the eggs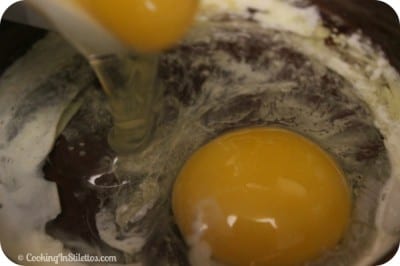 Top it with the herbs and parm and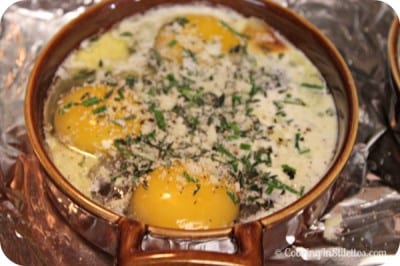 Viola!  Now – don't you want to make this?
Recipe Redo: Herb Baked Eggs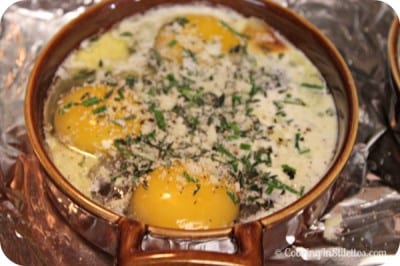 Ingredients
1/4 teaspoon minced fresh thyme
1/4 teaspoon minced fresh rosemary
1 tablespoon minced fresh parsley
1 tablespoon freshly grated Parmesan
6 large eggs
2 tablespoons heavy cream
1 tablespoon unsalted butter
Kosher salt and freshly ground black pepper
Instructions
Place the rack about 6 inches below the broiler and preheat for 5 minutes.
In a small bowl combine the thyme, parsley, rosemary and Parmesan. Set aside.
Into two small bowls, crack three eggs into each, making sure not to break the yolks.
In two small gratin dishes or oven safe baking dishes, add 1 tablespoon of cream and 1/2 tablespoon of butter.
Place on a baking sheet and place under the broiler for 3-4 minutes, until hot and bubbly.
Quickly pour 3 eggs into each gratin dish. Sprinkle the herb cheese mixture over each dish and then add a bit of salt and pepper.
Place the eggs under the broiler for about 5 minutes or so until the whites of the eggs are pretty much cooked.
Let set for about a minute or two and then serve.
Enjoy!
7.8.1.2
303
https://cookinginstilettos.com/herb-baked-eggs/