It's all about the bacon in this comforting Bacon and Egg Tater Tot Breakfast Casserole. This easy breakfast casserole comes togehter with just a few ingredients and can even be made ahead – perfect for weekend brunch!




This week's BaconMonth recipe is a comfort food classic but with a bit of a twist – Bacon and Egg Tater Tot Breakfast Casserole.
The first time I ever tried a tater tot casserole was at my friend's home in Orlando.  It was one of those comfort dishes that people just adored and always fed a crowd.  When I was brainstorming recipes for BaconMonth, I was flipping through a special edition of Taste of the South and they had a Bacon Tater Tot Casserole that looked amazing.  However, I don't always have a crowd of people on hand, I decided to scale it down a little bit and add my own spin to it with packing some veggies into the mix.  This Bacon and Egg Tater Tot Casserole comes together easily with just a few ingredients – no canned soup required.
I confess – there's something about tater tots that screams comfort.  I often keep some extra crispy tater tots in the freezer for the days when you just need a childhood flashback.  I often dust them with creole seasoning and serve with chipotle ketchup but I never thought to make a breakfast casserole with them until now.  This recipe was a huge hit and I have already been requested to keep it in the brunch menu line-up.  It's like your favorite egg bake with hash browns in one – easy peasy!
One tip – reserve some of the tater tots to nestle into the custard before it bakes.  The tater tots get crispy in the oven and if you sprinkle some of the thick cut bacon on top, those pieces are super crisp.  The mushrooms, peppers and onions add a bit of a "western omelet" feel to it and if you can't find smoked mozzarella, you can just substitute your favorite mozzarella cheese (or fontina if you really want to get crazy).  This easy breakfast casserole allows you to switch things up depending on your mood.
When you want to make a dish that will have your family and friends swooning at first bite, make this Bacon and Egg Tater Tot Breakfast Casserole.
Aly M. Cleary | Adapted from Taste of the South Magazine
Yields 6-8
Bacon and Egg Tater Tot Breakfast Casserole
Bacon and Egg Tater Tot Casserole is the ultimate brunch comfort dish. Studded with veggies and lots of crispy bacon, this easy breakfast casserole will be a hit with family and friends!
35 minPrep Time
1 hr, 37 Cook Time
2 hr, 12 Total Time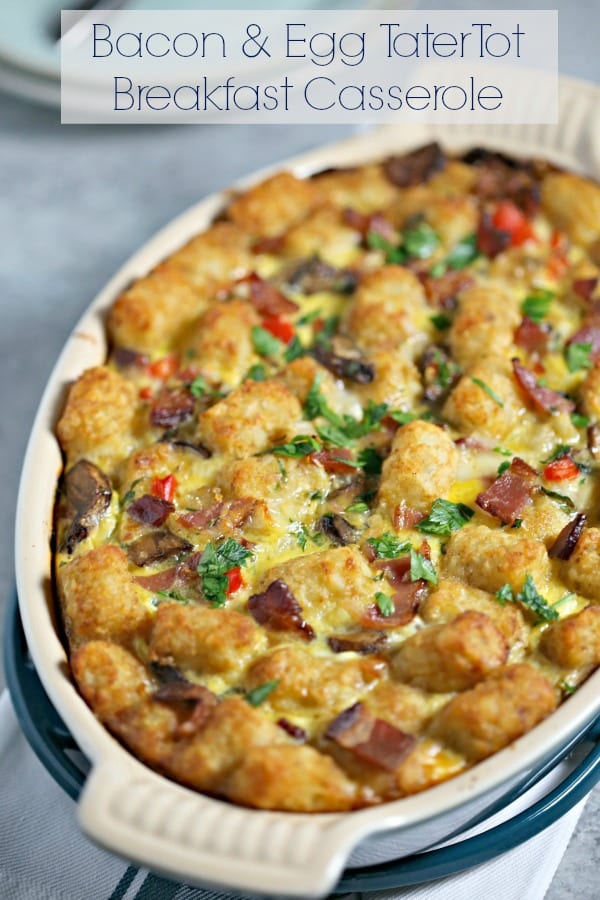 Ingredients
1 pound of thick cut bacon
3 teaspoons of olive oil, divided
1 small yellow onion, diced
1 red bell pepper, seeded and diced
2 cloves of garlic, minced
1 cup of baby bella mushrooms
1 28-ounce bag of frozen extra crispy tater tots
1 cup of shredded smoked mozzarella cheese
1/4 cup of flat leaf parsley, minced
6 large eggs
1 cup of milk
1/4 cup of Greek yogurt
3/4 teaspoon of salt
1/2 teaspoon of freshly cracked black pepper
1/2 teaspoon of hot sauce
Instructions
Line a baking sheet with foil and a rack and place the bacon on the rack.
Bake for about 20 – 25 minutes until crisp.
Remove from oven and let cool for a bit. Chop into bite size pieces and set aside.
In a large sauté pan, add a teaspoon of olive oil.
Add the onion and bell pepper. Sauté until the onion is slightly translucent, about 6 minutes. Add the garlic and sauté for another minute. Add the mixture to a large bowl.
Add the remaining olive oil to the pan and then the mushrooms. Sauté for another 5 minutes until the mushrooms are brown. Add the browned mushrooms to the bowl.
To the veggie mixture, add most of the frozen tater tots, reserving some for garnish along with the reserved chopped bacon.
Add the smoked mozzarella cheese and most of the parsley. Fold all of the ingredients together and add them to an 11″ gratin baking dish sprayed with nonstick spray.
In a bowl, whisk together the eggs, milk, Greek yogurt, salt, pepper and hot sauce.
Pour the custard over the tater tot mixture. Nestle the remaining tater tots in the top of the baking dish where you have room.
Heat the oven to 350 degrees F.
Bake for about 60 minutes, until the custard is set and the tater tots are browned.
Let rest for about 7 – 10 minutes, garnish with the remaining parsley and serve.
Enjoy!
Notes
If you wanted to prepare this ahead, you can do everything up to step 8, place in the fridge the night before. Whisk up the eggs in the morning and bake until golden.
7.8.1.2
10
https://cookinginstilettos.com/bacon-and-egg-tater-tot-breakfast-casserole-recipe/