For brunch or those days that you want breakfast for dinner, whip up this Southwestern Style Farro Breakfast Bowl. Cumin spiced farro is topped with eggs, black beans, crisp veggies, fiery roasted poblanos, creamy avocado and drizzled with a cumin lime vinaigrette.
I wanted to lean towards the savory for a bit.  Now my Spinach, Artichoke and Asparagus Strata is excellent but I wanted to share a recipe that has options, not just for brunch but can be easily adapted to other meals.  This Southwestern Style Farro Breakfast Bowl hits all levels of flavor and is perfect for breakfast, brunch or even when you want breakfast for dinner. 
You have a smoky cumin spiced toasted farro that is the perfect canvas for protein packed black beans, sweet corn, fiery roasted poblano peppers, crisp radishes and bell pepper and finished with creamy avocado and a hard boiled egg. For the piece de resistance, you can drizzle a hint of cumin lime vinaigrette that has a hint of honey which just takes this breakfast grain bowl over the top. Seriously – it is that good.
I have been marinating on making more grain bowls in the morning.  I've read that the grains help fill you up longer and if it can keep me away from snacking midday – even better.  The first time I made it, I was a bit miffy because it took a little bit of time.  The roasting of the poblanos along with boiling the eggs and the farro – it's all a bit time consuming. Then it hit me – you could make a batch of farro ahead of time along with boiling of some eggs. The poblanos are roasted in about 15 minutes and you could do that in the broiler while the farro is cooking. After that it's a quick saute of the farro with the spices and assembly.  Keep the components in the fridge and pantry and *boom* this savory grain bowl is ready when you want it! Why this didn't occur to me earlier (along with making a double batch of farro – love that stuff), I don't know.
Every time I make this there are no leftovers. You could make this for lunch and then just drizzle the vinaigrette when you mix it all together.  Or, you could serve it family style like a cobb salad with a base of farro and rows of veggies, beans and eggs.  The options are endless. If you want things hotter, you can spice up the vinaigrette or use serrano chiles in place of poblanos – it's all up to you.  To cool it off, you can dollop with a bit of Greek yogurt.  So many options!
When you are looking for a flavorful dish that  will have your guests singing your praises, make this Southwestern Style Farro Breakfast Bowl!
On to the recipe:
Gather your ingredients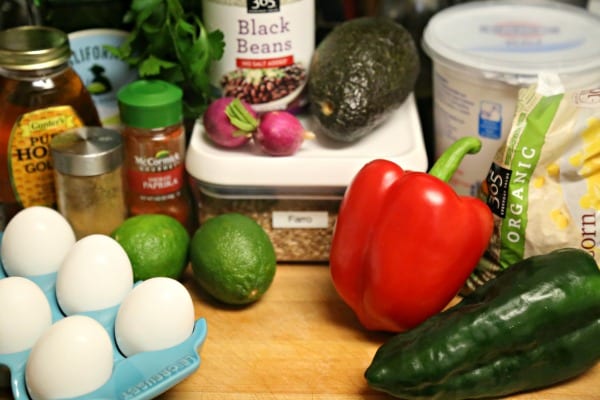 This poblano is packed with fiery flavor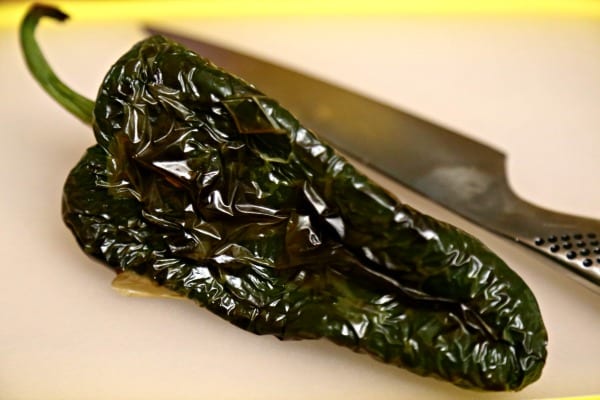 I absolutely love cooking with farro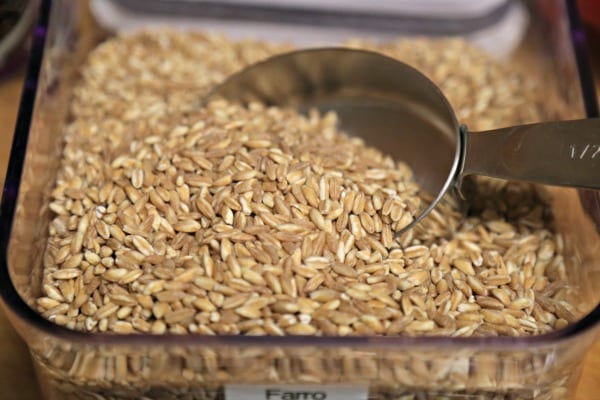 A quick saute to toast it with some cumin and smoked paprika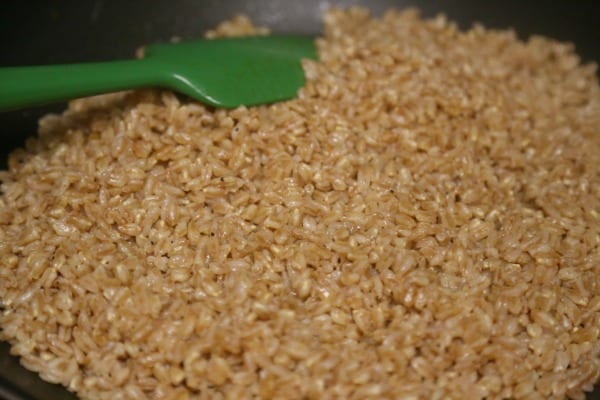 Nestle with some crisp veggies and various southwestern flavors and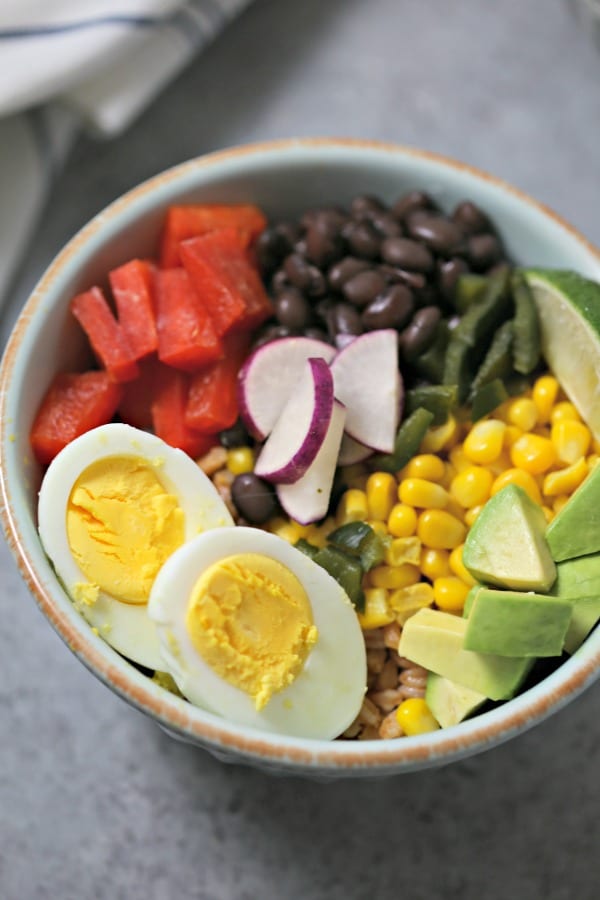 Southwestern Style Farro Breakfast Bowl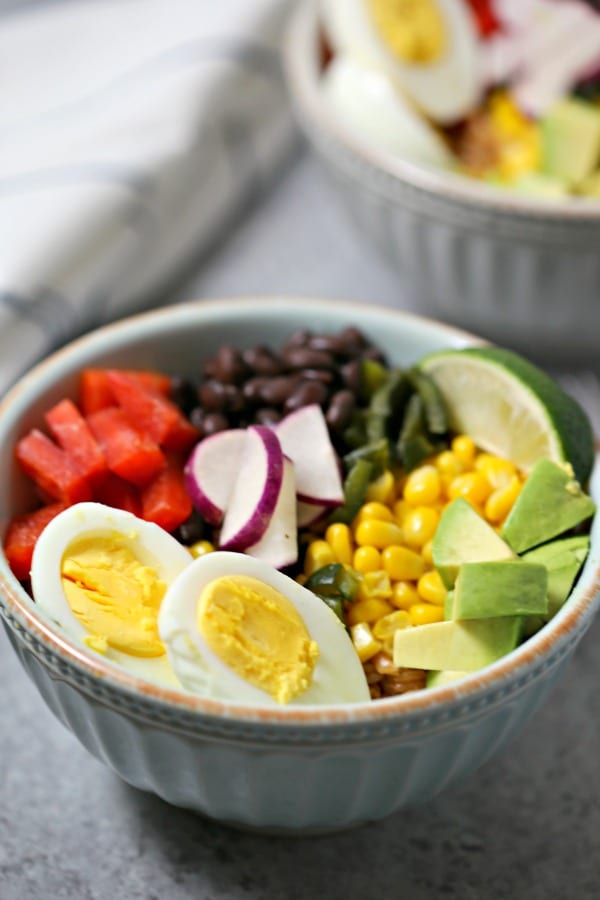 Easy peasy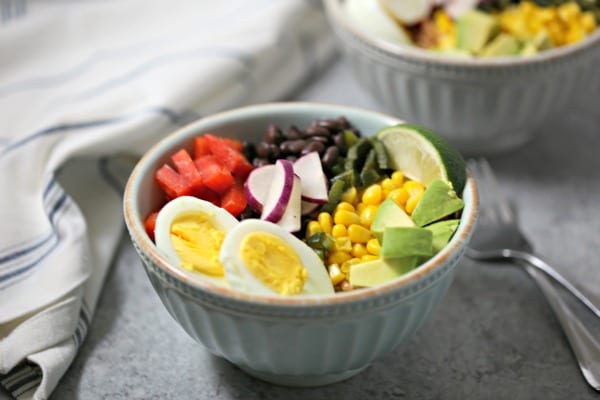 Aly M. Cleary | Inspired by Cooking Light
Yields 4
Southwestern Style Farro Breakfast Bowl
Savory spiced farro topped with protein rich black beans, sweet corn, crisp veggies, creamy avocado and drizzled with a cumin lime vinaigrette. This delicious grain bowl is perfect for breakfast, brunch or when you want breakfast for dinner!
20 minPrep Time
45 minCook Time
1 hr, 5 Total Time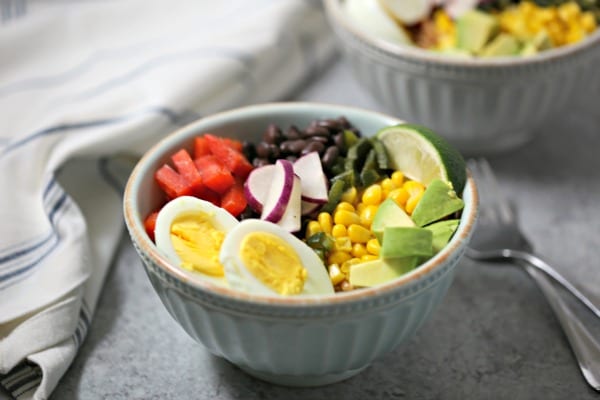 Ingredients
For the Cumin Lime Vinaigrette:

Zest and juice of 1 lime
1/3 cup of extra virgin olive oil
2 teaspoons of honey
1 tablespoon of finely diced cilantro (or parsley if you aren't a cilantro fan)
1/2 teaspoon of cumin
Pinch of cayenne pepper (for spice wusses like moi), more if you like it spicy
Salt and freshly ground pepper to taste
For the Southwestern Style Farro Breakfast Bowl:
1 cup uncooked farro
4 large eggs
1 small poblano pepper
2 teaspoons olive oil
1/2 teaspoon of ground cumin
1/4 teaspoon of smoked paprika
1/4 teaspoon kosher salt,
1/4 teaspoon freshly cracked black pepper
1 14-ounce can of black beans, drained and rinsed
1 cup of frozen corn, thawed
1 red pepper, seeds removed and diced
1 medium ripe avocado, halved, pitted and diced
2 radishes, thinly sliced
Lime Wedges
Greek Yogurt (Optional)
Instructions
To make the Vinaigrette:

In a small bowl, whisk together the lime zest, lime juice, olive oil, honey, chopped cilantro (or parsley), cumin, and cayenne pepper (or hot sauce) until everything is mixed well. Taste for seasoning and add salt and pepper as needed. Set aside.

To make the Southwestern Style Farro Breakfast Bowls:

Heat the broiler. Place the poblano pepper on a foil lined baking sheet and place the poblano under the broiler, turning occasionally until the pepper is blackened on all sides.
Remove the poblano to a plastic bag and let it steam in the plastic bag for about 10 minutes. Remove the blackened skin from the poblano and discard the seeds, stem and ribs. Dice the poblanos and set aside.
Bring a medium saucepan filled with water to a boil. Add the farro to the boiling water and reduce the heat to medium. Simmer for about 20 – 25 minutes until the farro is cooked to al dente and still is slightly chewy. Drain and set aside.
Add eggs to a small saucepan filled with cold water. Bring the water to a boil and when it's at a rolling boil, turn off the heat, cover, take the pan off the heat and let sit for about 10 – 12 minutes. Rinse under cold water and peel the eggs. Set aside.
Heat the olive oil in a small skillet, add a teaspoon of olive oil and add the cumin, smoked paprika, salt and pepper. Bloom the spices for about a minute or so and then add the cooked farro, sautéing until lightly toasted.
Place some of the spiced toasted farro in each bowl.
To each bowl add some of the black beans, corn, diced poblano pepper, diced red pepper, radishes and avocado. Slice each hardboiled egg into halves and place in the bowl.
Drizzle some of the Cumin Lime Vinaigrette over the bowls, serving extra on the side.
If you want to cool it off a bit, add a dollop of Greek yogurt.
Serve with a lime wedge and enjoy!
7.8.1.2
18
https://cookinginstilettos.com/southwestern-style-farro-breakfast-bowl-recipe/