I have the perfect holiday appetizer for you today that are so easy to make and are packed with flavor – French Onion Bites.
The holidays are upon us and I am in full-on planning mode, testing recipes, planning menus, making shopping lists and just trying to, as Tim Gunn would say, "Make It Work!"  Thanksgiving will be here before you know it and then comes the onslaught of holiday parties, family dinners and kitchen chaos. I am all for easy entertaining and I have a few tried and true recipes that I rely on. However, there is one recipe that has been haunting me for years – the French Onion Soup Dumpling.
Yes, you heard me right – a French Onion Soup dumpling. I saw it mentioned on a show and the process seemed so daunting – between making and freezing the soup, the dumplings, the frying, and the cheese – sounds delicious but, quite frankly, I don't have the time. There has to be a way to make things easier. I was picking up some holiday supplies at my local ACME and noticed that they had a plethora of Pillsbury™ Crescent Rolls and it hit me – I could make mini muffin size "bites" reminiscent of the classic soup but intense in flavor and, of course, with lots of bubbling cheese.
ACME was packed with tons of recipe inspiration and I wound up not only stocking up on supplies for Thanksgiving (I may or may not have stocked up on Turkey Stock for not only Thanksgiving but Christmas as well), but also wandered the aisles getting ideas for the holiday season. With my cart packed, I headed home to make these French Onion Bites.
I relied on my favorite onion soup recipe that I have made for years, taking the same flavor profiles but making it with a rich vegetable stock for my vegetarian friends. I wanted to see if it had the same savory flavor that you can get from beef stock and it really worked. I added a dash of Worcestershire sauce to the mix for an umami flavor but you can feel free to use a vegan Worcestershire sauce or omit entirely – it's all up to you. Of course, caramelized onions are the main star. I confess that I did speed up the onion process with just a touch of brown sugar. Like the soup recipe, fresh thyme was added to the onions and, instead of Gruyere, I used fontina cheese to top everything for the perfect cheesy bite.
One key takeaway for this recipe – prebake the dough so it starts to puff before you nestle the onions in. My reasoning is that the rich buttery crescent roll dough forms a solid base during the initial bake and doesn't get all soggy from the onions. You can always nestle the onions in and if you over fill a bit – don't worry, just do what I do – call it rustic!
These French Onion Bites will be a hit at your table this holiday season. I just advise you might want to hide a couple for yourself because they will be gone in a flash!
On to the recipe:
Gather your ingredients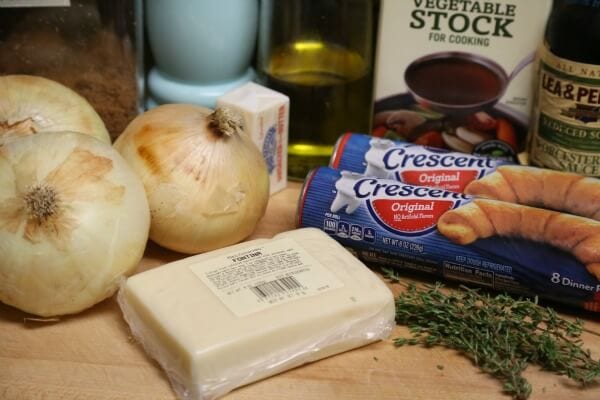 The stages of caramelized onions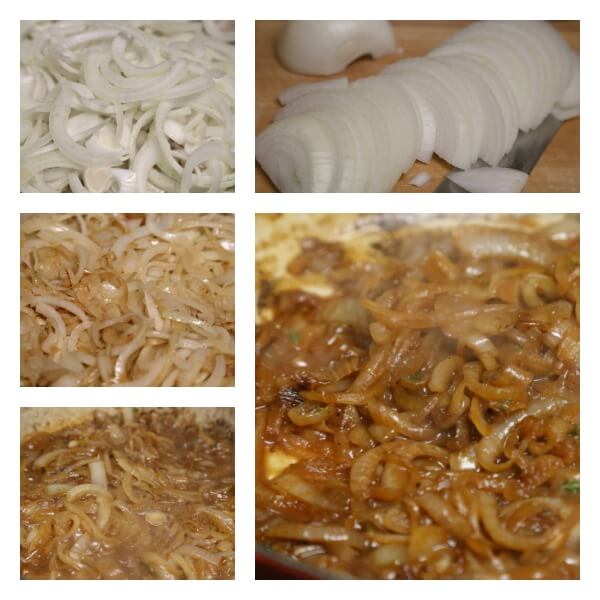 Time to roll out the Pillsbury Crescent Dough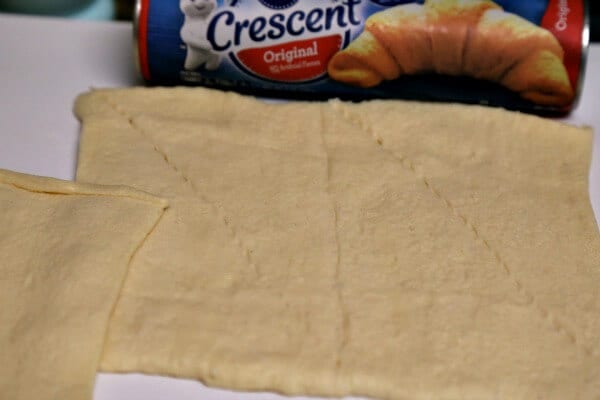 Nestle the dough and filling into the mini muffin cups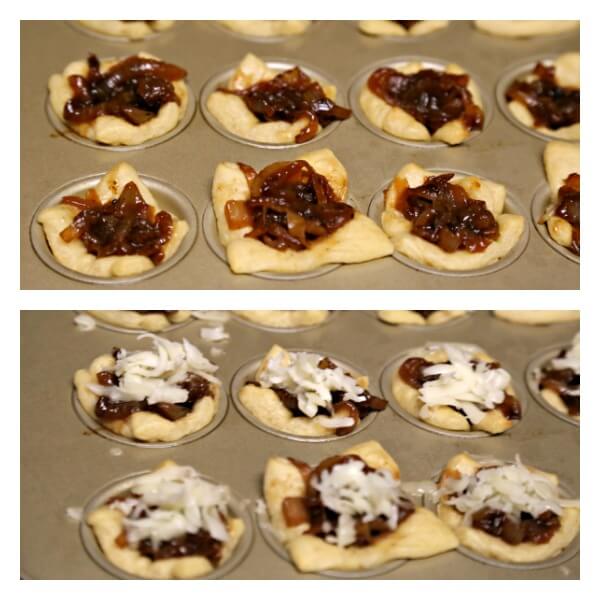 French onion flavors nestled in a chic little bite
Want one?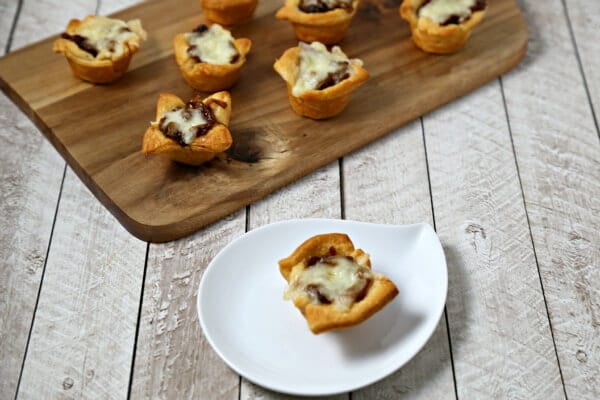 Aly M. Cleary
Yields 36-48
Holiday Entertaining with French Onion Bites and #Pillsbury
The flavors of French Onion Soup woven into a chic little bite perfect for entertaining. Richly caramelized onions are nestled in crescent dough cups and topped with fontina cheese. Try to have just one!
15 minPrep Time
40 minCook Time
55 minTotal Time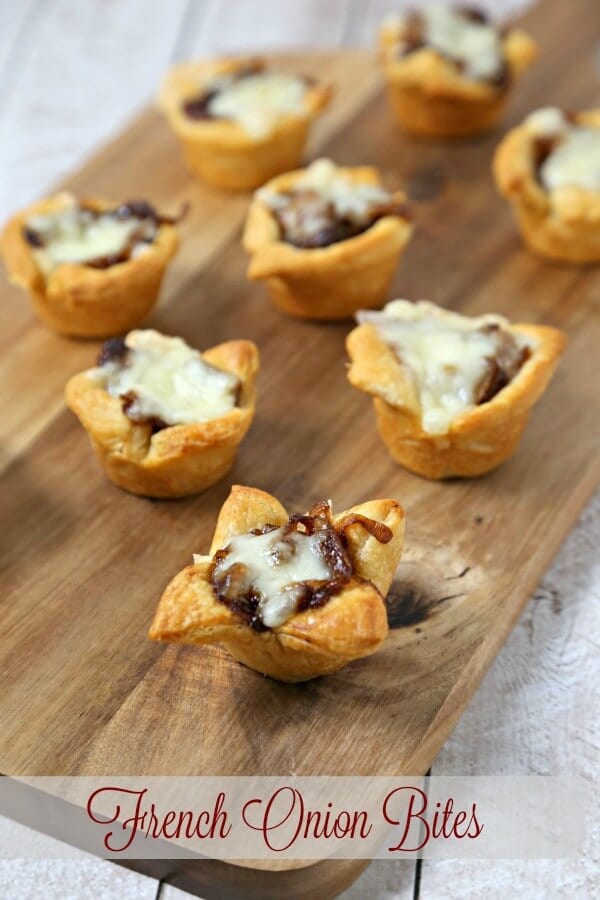 Ingredients
1 tablespoon of butter
1 tablespoon of olive oil
3 large sweet onions, thinly sliced
1 teaspoon of fresh thyme, chopped
1/2 teaspoon of kosher salt
1/2 teaspoon of freshly cracked black pepper
1 tablespoon of brown sugar
1/3 cup of vegetable stock
1 teaspoon of Worcestershire sauce
2 packages of Pillsbury™ Crescent Rolls
1 cup of shredded fontina cheese
Instructions
Heat the oven to 350 degrees F. Lightly spray two mini muffin tins and set aside.
In a large saute pan, add the butter and olive oil (I use a touch of oil so that the butter doesn't burn) and melt over medium high heat.
Add the thinly sliced onions to the butter/oil mixture and saute for about 7-10 minutes, until they start to pick up a nicely warm caramelized color.
Add the thyme, salt, pepper and brown sugar and saute for a few minutes more until the color starts to deepen.
Deglaze the pan with the vegetable stock, taking care to scrape up any brown bits on the bottom of the pan. Add the Worcestershire sauce and simmer the onions until they are richly caramelized and most of the liquid has evaporated from the pan..
Remove from heat and let cool.
Roll out the Pillsbury Crescent Roll dough. With a rolling pin, roll out the dough so that there are no seams visible and the dough is about a 12x8 rectangle. Cut into 24 squares.
Press the dough into each muffin cup and up the sides of the cup.
Bake for about 5 minutes until they start to puff.
Remove from the oven and fill each cup with about a 1/2 teaspoon to a teaspoon of the caramelized onions.
Top with some shredded fontina cheese and bake for about 8-10 minutes more, until the cheese is melted and the edges are toasty and brown.
Remove the French Onion Bites from the pan and let them cool slightly.
Enjoy!
7.8.1.2
46
https://cookinginstilettos.com/french-onion-bites/