It's hard to believe that summer is almost over and that Labor Day is this weekend.  One thing that is required in Casa Stiletto – to fire up the grill and enjoy time with family and friends before Fall starts and I start breaking out the stiletto boots and put away the sandals.   This has been an amazing summer working with Hebrew National – a brand that I swear by and I've come out of my "culinary shell", learning how to make my own 
hot dog relish
, 
chipotle ketchup
 and my absolute favorite 
Firecracker Slaw
.  This weekend, I will hosting  a Labor Day soiree and on  the menu – these tried and true Slow Cooked Maple Baked Beans that I adapted from a 
Barefoot Contessa recipe
.  These slow cooked maple baked beans are the perfect compliment to my favorite hot dogs.
These slow cooked maple baked beans are a bit of a time investment but much of that is passive time and with some planning, you can whip these up and your friends and family will tell you they are the best they ever had – sweet and spicy with a bit of a kick – these maple baked beans are beyond amazing.  The easiest part is the simmering away in the slow cooker – they come out tender and so full of flavor that I can pretty much guarantee that there won't be any leftovers.
On to the recipe:
A bit of Labor Day Prep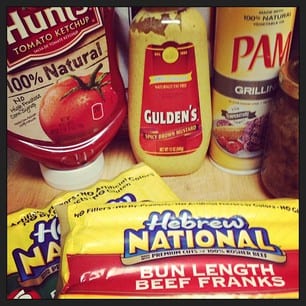 Gather the ingredients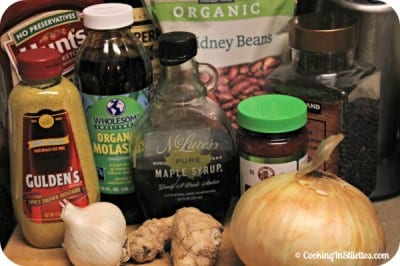 Time to soak overnight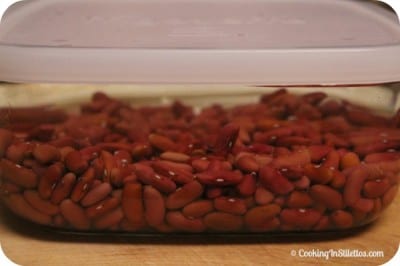 Simmering away on the stove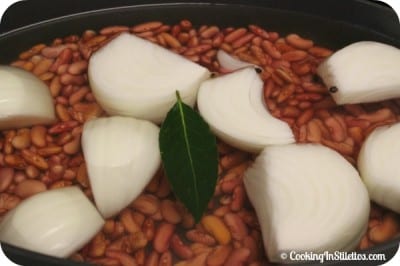 Preparing the maple chili sauce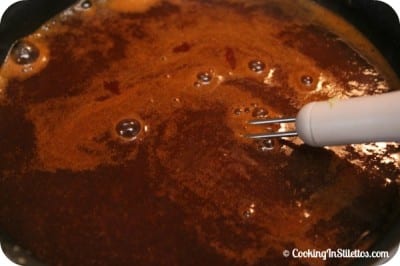 Now – don't you want a bite?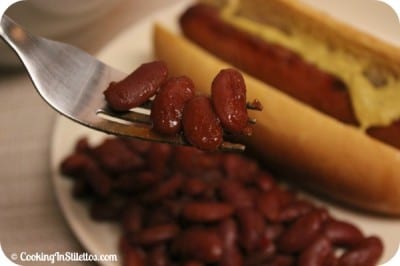 Slow Cooked Maple Baked Beans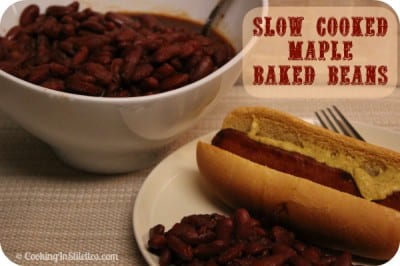 Ingredients
1 pound of dry red kidney beans
2 quarts water (aka 8 cups)
1 large yellow onion, cut in eighths
1 bay leaf
6 whole black peppercorns
3/4 cup of medium amber pure maple syrup
1/2 cup of light brown sugar, lightly packed
1/2 cup of ketchup
1 tablespoon of Chinese chili paste
1 tablespoon of spicy brown mustard
1 tablespoon of molasses
1 teaspoon of Worcestershire sauce
1 tablespoon of grated fresh ginger
1 teaspoon kosher salt
1/2 teaspoon of freshly ground black pepper
Instructions
In a large bowl, pour the kidney beans and then cover with cold water by 1 inch. Cover with plastic wrap and refrigerate overnight.
In the morning, drain and rinse the beans and drain again. Make sure that there are no stones.
In a large pot, pour in the beans and 2 quarts (8 cups) of water. Add the onions, bay leaf and peppercorns and bring to a boil over medium heat.
When the beans start to boil, reduce the heat and let them simmer for 50 - 60 minutes.
Test the beans for tenderness by seeing if their skins will start to peel by either lightly rubbing on them or blowing on them. Drain the beans and reserve the cooking liquid.
Add the beans to the slow cooker with the bay leaf and discard the onions.
In a small saucepan, add 1 1/2 cups of the reserved cooking liquid, maple syrup, brown sugar, ketchup, chili paste, mustard, molasses, Worcestershire sauce, ginger, salt and black pepper. Bring to a simmer and cook for about 6 minutes.
Pour the maple chili sauce over the beans in the slow cooker, cover the beans with a bit of foil over the top of the mixture, cover and set to high for 6 - 8 hours or low for 12 - 14 hours.
Check the beans from time to time and, to thicken the sauce, you can remove the lid and foil for the last 30 minutes or so.
Enjoy!
7.8.1.2
317
https://cookinginstilettos.com/slow-cooked-maple-baked-beans/