Today's recipe that I'm bringing to the table is the perfect marriage of salty and sweet with a boozy kick.  Y'all know I love my boozy bites and this Bacon Bourbon Caramel Popcorn is epic.  The spicy black pepper bacon candies in the amber bourbon caramel and it's like an adult version of cracker jack – sans the peanuts.
I found this recipe in my favorite bacon cookbook of all time, Southern Living Bourbon & Bacon Cookbook, and can I tell you the recipes I have made from that cookbook are epic.  Bourbon and bacon are two musts in my household – I love the smoky flavor that each imparts and if you are going to add caramel to the mix – count me in.
I tested this recipe until it came out just right.  I decided to make homemade popcorn for this using my 8 qt. pasta pot and if I told you how easy it was, you might never reach for that whatever pop or a micro version again.  Just 1 1/2 cups of popcorn kernels filled that huge pot to the top – so good and fluffy!  One tip I have to stress – have your ingredients pre-measured and ready to go so that things move smoothly – especially with the caramel.  Also – while the bacon was baking, I was making the popcorn so multi-tasking on some of the steps is possible.
When it came to making the caramel, the light corn syrup I used kept the mixture a pale gold, not the rich amber like I thought it would be.  Perhaps it was from the milk solids in the butter and I kept second guessing myself.  When it went from a pale white to the pale gold, instinct told me it was time to take it off the heat and add the bourbon, vanilla, etc. to the bubbling molten caramel and *boom* there it was –  rich amber caramel.  A slow bake in the oven and patience while it cooled resulted in the BEST caramel popcorn I have ever had.  I had so much of this that The Junior Sous Pug delivered some to his favorite girls at the vet hospital and it went like wildfire.  Friends and family have already asked for it on repeat – I'm just wondering if I can use it as a negotiating tactic – hmmmmmm.
When you want to make a salty sweet treat with a boozy kick – make this Bacon Bourbon Caramel Popcorn and watch it disappear like magic!
On to the recipe:
Gather your ingredients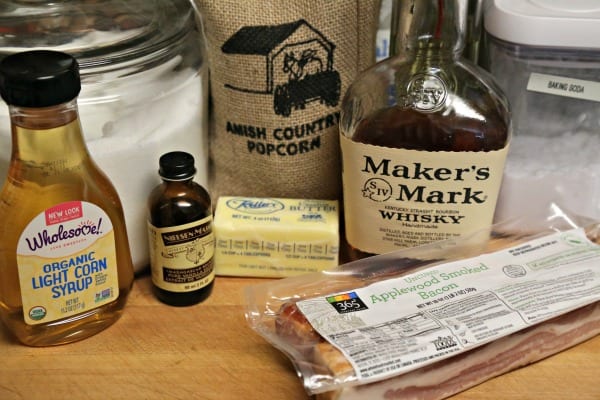 Coat thick cut bacon with black pepper and bake until it's just about crisp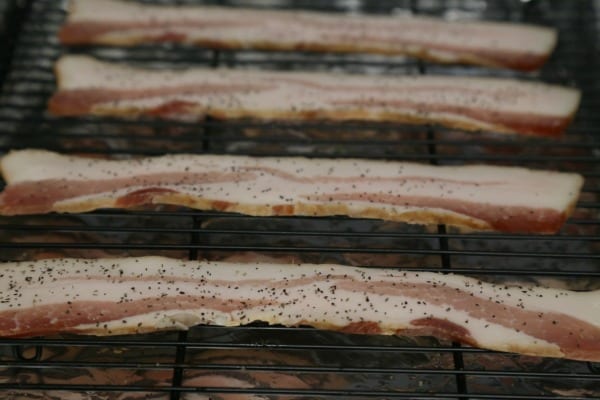 Just  a little bit of popcorn pops into a large pot of fluffy popcorn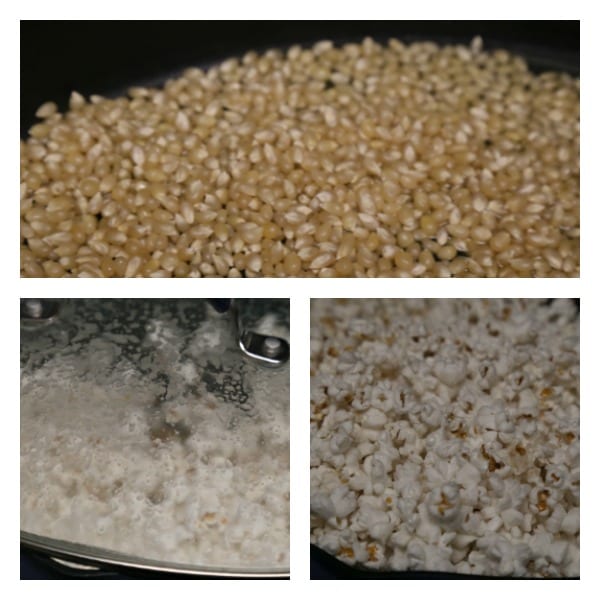 Off to the oven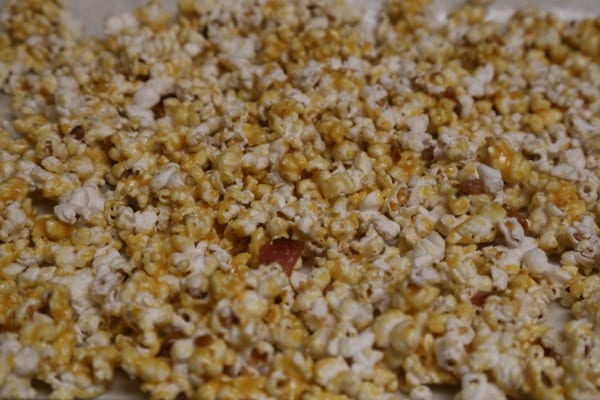 This Bacon Bourbon Caramel Popcorn is perfection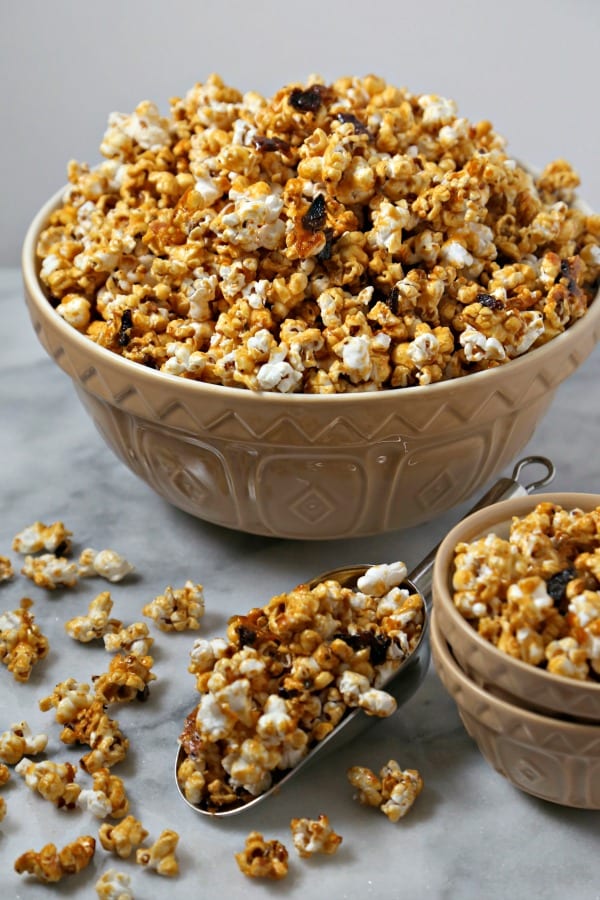 Adapted from Southern Living Bourbon & Bacon Cookbook
Yields 12
Bacon Bourbon Caramel Popcorn
Bacon Bourbon Caramel Popcorn is the ultimate salty sweet treat with a bit of a boozy kick. Crisp black pepper bacon is tossed with fluffy popcorn in a buttery rich bourbon caramel and baked to perfection!
1 hr, 15 Prep Time
1 hr, 45 Cook Time
3 hrTotal Time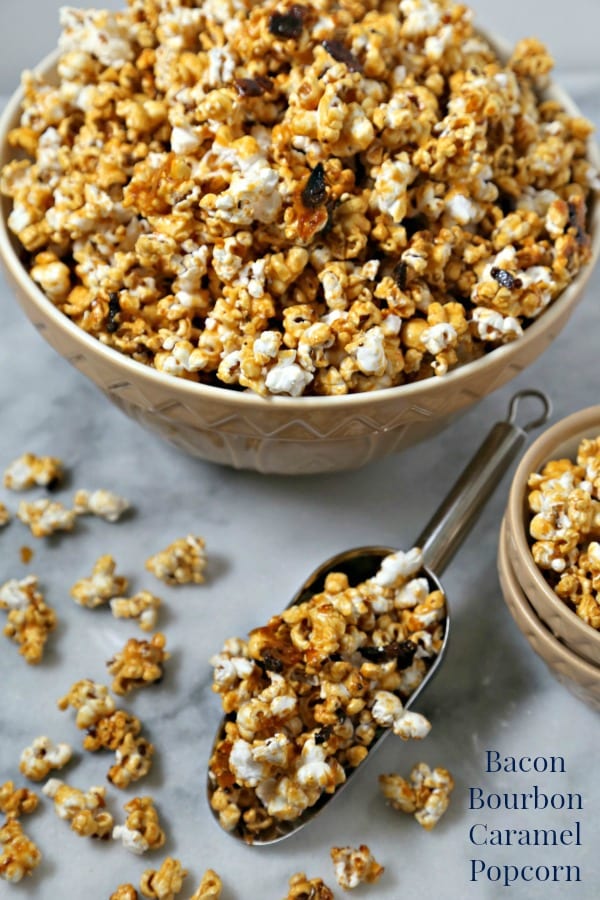 Ingredients
For the Black Pepper Bacon

4 – 5 slices of thick cut bacon
1/4 teaspoon of freshly cracked black pepper

For the Popcorn:

1/3 cup of vegetable oil
1 1/2 cups of unpopped popcorn kernels
For the Bourbon Caramel Sauce:
1 cup of granulated sugar
3/4 cup of butter
1/2 cup of light corn syrup
2 tablespoons of bourbon
1 1/2 teaspoons of vanilla extract
1 teaspoon of salt
1/2 teaspoon of baking soda

To Finish:

1/2 teaspoon of flaky sea salt
Instructions
To make the Black Pepper Bacon:

Heat the oven to 400 degrees F.
Line a baking sheet with aluminum foil and place a baking rack on top.
Place the bacon on the rack and sprinkle each piece of bacon with some of the black pepper.
Bake for 15 – 20 minutes, until crisp.
Drain on a paper lined plate and set aside.

To make the Popcorn

In a large heavy 6-quart pot with a cover, over medium-high heat, heat the vegetable oil until it has a slight shimmer.
Add the unpopped popcorn kernels to the oil and cover with a lid.
Lightly shake the pot and you will hear the kernels start to pop.
Keep shaking the pot until the kernels are all popped.
When the popping slows to a minute or so between kernels, remove from the heat.
Discard any unpopped kernels and set aside.

To make the Bourbon Caramel Sauce & Popcorn:

Reduce the oven heat to 250 degrees F. and line two baking sheets with parchment paper lightly sprayed with nonstick spray and set aside.
Before you start the caramel sauce, make sure to have your ingredients measured and ready to go because it does move fast.
In a heavy bottomed saucepan, add the sugar, butter and corn syrup.
Bring the mixture to a boil, stirring constantly with a silicone whisk.
When it's boiling and turns a slight light beige, remove from the heat.
Add the bourbon and vanilla extract and whisk until combined. The mixture is going to rise a bit – don't worry.
Add the salt and the baking soda and the mixture will bubble up and become frothy. Keep whisking until it turns a gorgeous amber color.
Dice the bacon and toss with the popped popcorn.
Pour the amber caramel over the popcorn and bacon and toss until the kernels are coated.
Tumble the caramel coated popcorn and bacon on the two prepared sheet pans and flatten into a single layer.
Bake at 250 degrees F. for an hour and stir the mixture every 15 minutes. I also suggest rotating the pans between the racks to make sure the popcorn is evenly baked.
When the popcorn is golden brown, let cool on the baking sheets for another hour or so.
Sprinkle each pan with 1/4 teaspoon of flaky sea salt.
Break up the mixture and serve.
Enjoy!
Notes
Prep time accounts for an hour of resting/cooling time when the popcorn comes out of the oven.
7.8.1.2
75
https://cookinginstilettos.com/bacon-bourbon-caramel-popcorn-baconmonth/