This Philly Steak Style RITZwich is a hearty bite. Classic Philly flavors of London broil, provolone and caramelized onions are nestled on a rich buttery RITZ cracker for the perfect snack!
This conversation is sponsored by ACME Markets. My opinion is all my own.
Then looking for an easy appetizer or snack, this Philly Steak Style RITZwich is perfect every single time.  Being that I'm a Philly gal, I'm a bit partial to the flavors of a good Philly steak and, of course, we all have our favorite places to get that iconic sandwich.  However, what if you don't want a huge sub layered with steak, provolone and, if you are like me, want that steak "wit" with caramelized onions, these Philly Steak Style RITZwiches are a chic twist on a classic.
On a recent grocery trip to my local ACME Market, I picked up my favorite buttery RITZ crackers which are always a fabulous addition to any party.  I keep some on hand for last minute guests and I can always whip up a great party bite with them as a must have ingredient.  I also use them for a myriad of recipes from using them as a delicious breading for entrees, serving with a steaming bowl of sour or just because.  Who can't resist these delicious crackers, right?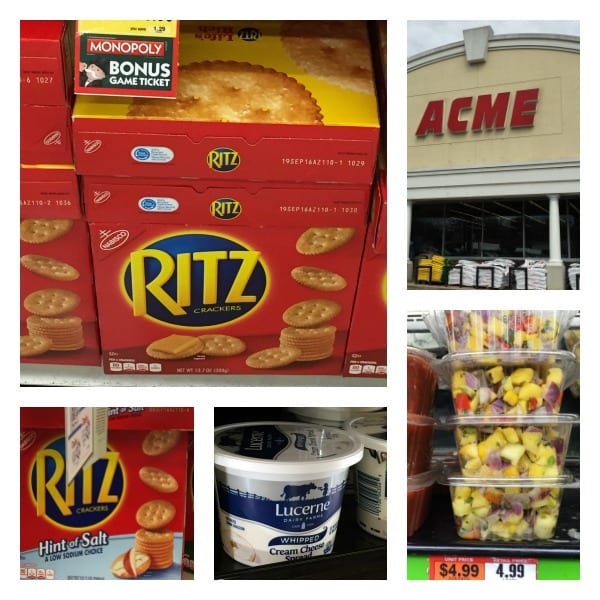 I couldn't resist picking up a couple packages with not only the buttery original RITZ crackers but also their whole wheat crackers.  I have some friends coming to town next week so I figured I would try out some recipes ahead of time and I found some winning party bites. With entertaining, I find that sometimes it's the simple flavorful dishes that get the most raves.  A few quality ingredients and you can have a fabulous bite in no time.   In addition to making a Philly Steak Style Ritzwich,  I love my options so I decided to whip up a sweet and savory Blue Cheese and Apple RITZwich that paired well with the whole wheat RITZ crackers as well as a Cream Cheese and Mango Salsa RITZwich that paired well with the original RITZ crackers.  These bites couldn't be easier to make with just a couple ingredients.  I made a batch of my favorite caramelized onions but you can always brown some onions to go with – just a touch of butter and sweet onions and patience will turn into a flavorful spread that is perfect with the crackers and is just the right balance of sweet and savory.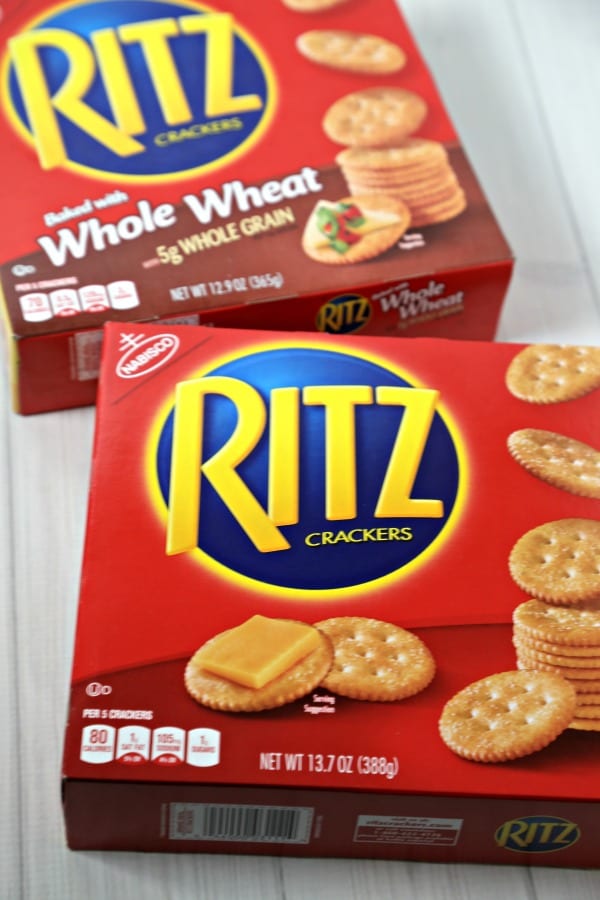 What I love about ACME is the quality ingredients they have on hand.  In lieu of freezing a steak to shave it thin or getting something frozen from a box (which is a no-no here in Philly), I opted to head to their awesome deli department for some London broil and provolone cheese.  I was able to pick up not only onions for the caramelized onions but also their signature fresh made mango salsa and some crisp apples in their well stocked produce department. They were having a fabulous deal on RITZ crackers but they were sold out of their new Limited Edition RITZ Ultimate Butter Crackers.  If you see them – you must try them!
RITZwiches are normally your favorite fillings nestled between two RITZ crackers.  However, when entertaining, I tend to do them open face style so that my guests can see all of the deliciousness in each bite.  However you want to make yours – either open faced or nestled together, it's up to you. That's the beauty of being your own executive chef.
When you are looking for the perfect snack or an easy party bite, make some RITZwiches – whether it's the dreamy Cream Cheese and Mango Salsa RITZwich, a tart and savory Blue Cheese and Apple RITZwich or my ultimate favorite – a Philly Steak Style RITZwich.  Your friends and family will love them!
On to the recipe:
First – let's make the Cream Cheese & Mango Salsa RITZwich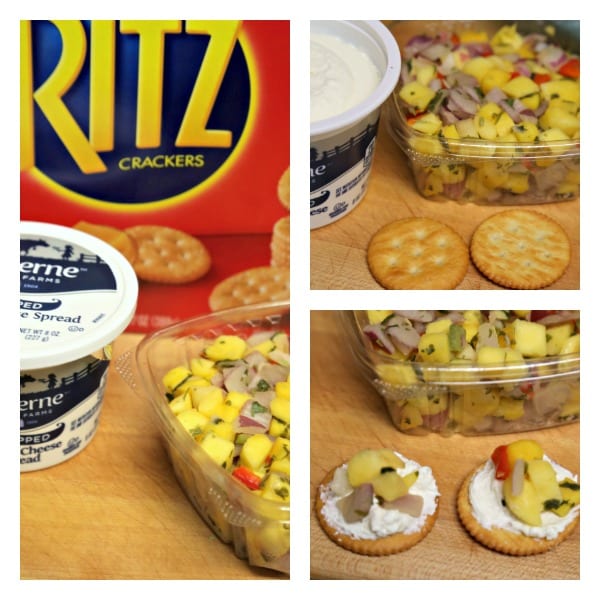 Followed by the Blue Cheese and Apple RITZwich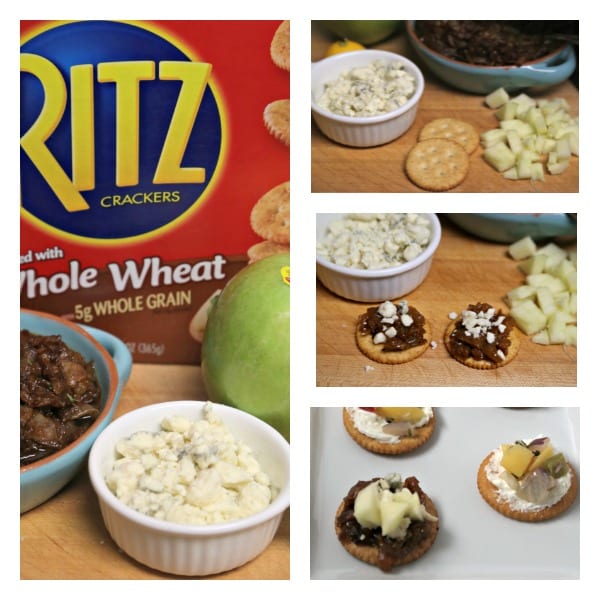 Time to bring some Philly flavor to this party menu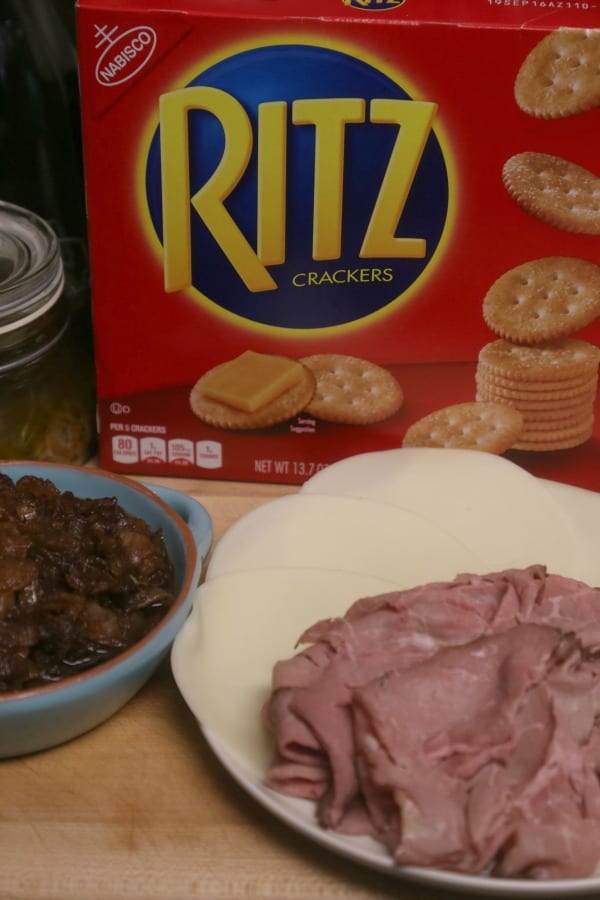 Browning the London Broil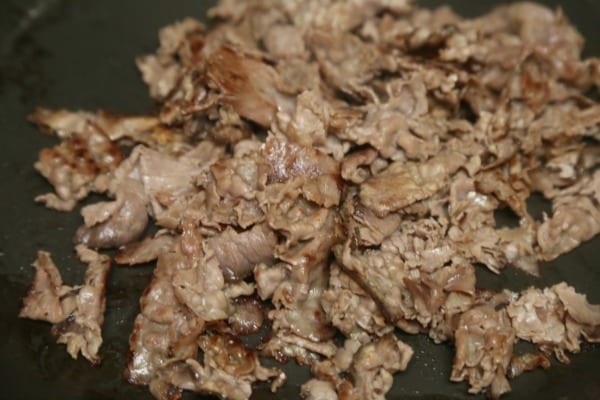 A bit of provolone love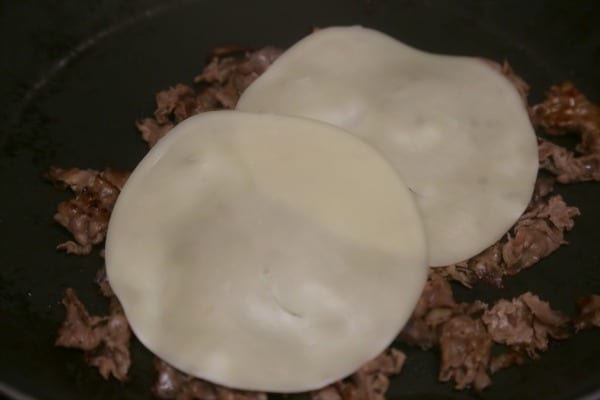 Time to assemble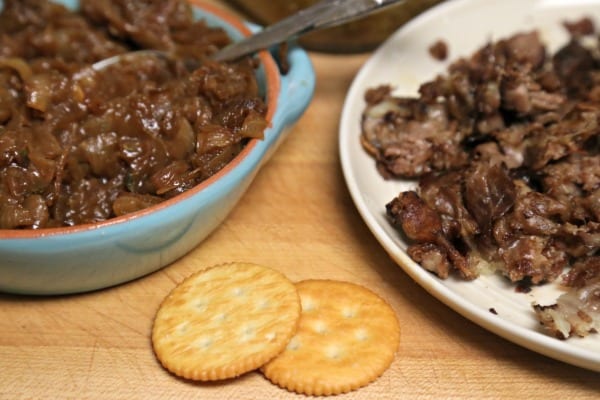 Now this is a Philly Steak Style RITZwich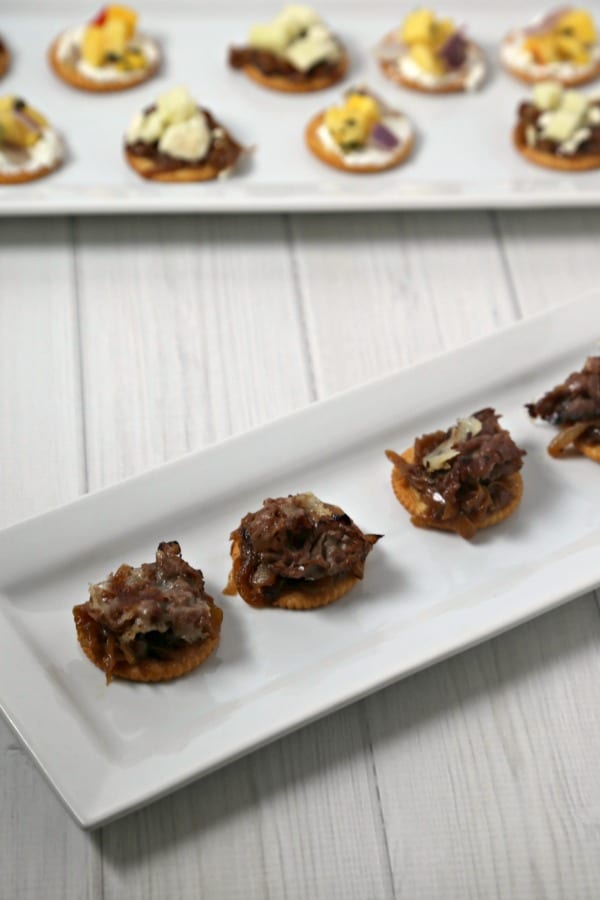 Which RITZwich do you want?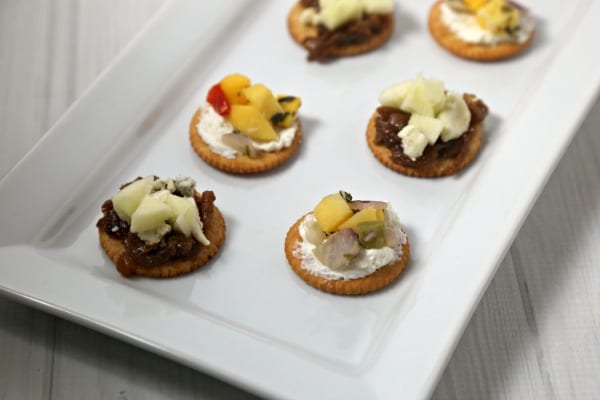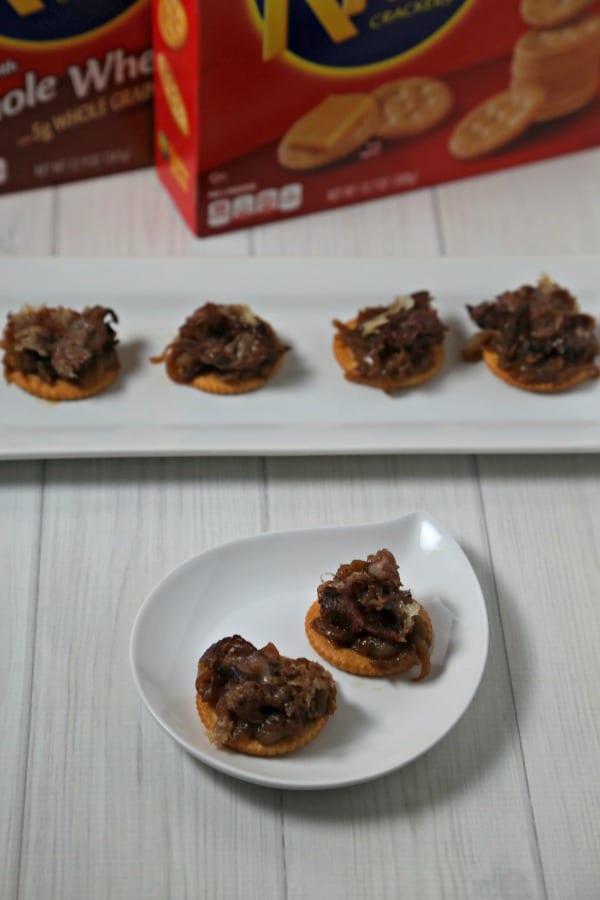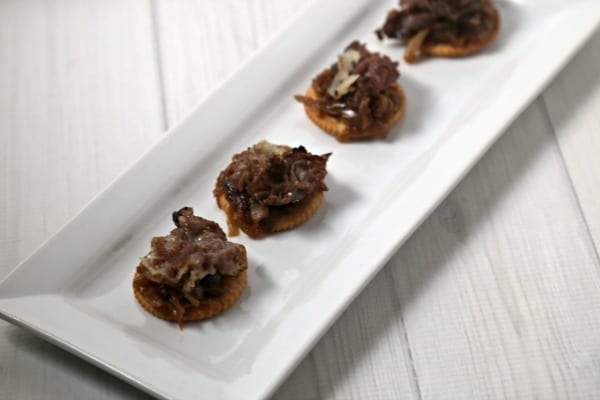 Aly M. Cleary
Yields 6
Philly Steak Style RITZwich
This Philly Steak Style RITZwich is a hearty bite. London broil, melted provolone and caramelized onions are nestled on a rich buttery RITZ cracker for the perfect snack!
10 minPrep Time
10 minCook Time
20 minTotal Time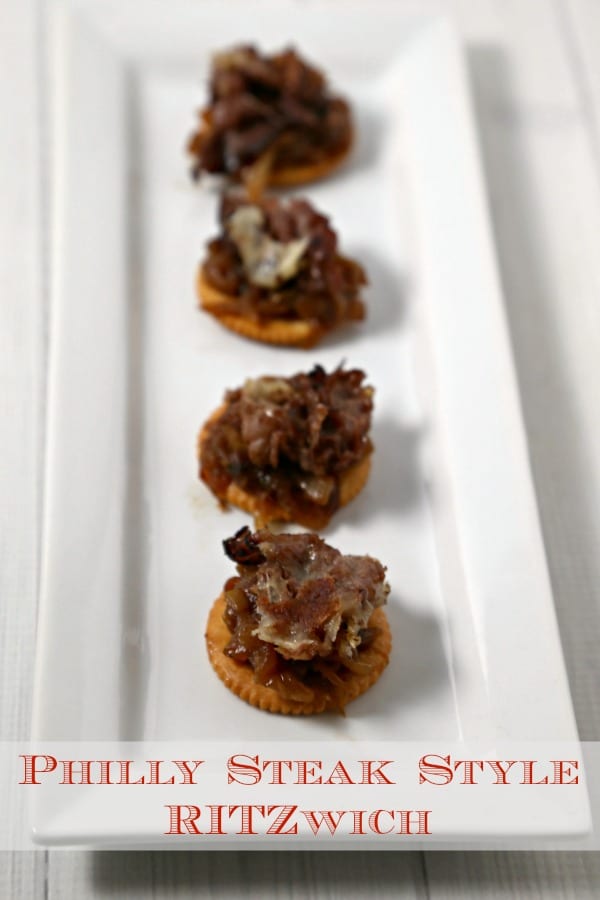 Ingredients
1 teaspoon of olive oil (I used Mojo de Ajo for a garlic punch)
5 thin slices of deli London Broil
2 slices of mild Provolone Cheese
Caramelized Onions (optional)
12 RITZ Crackers (if doing them opened faced, or 24 if you are nestling the filling between two RITZ crackers)
Instructions
In a large nonstick saute pan, add the olive oil.
Heat over medium high heat and add the sliced London Broil.
Saute until browned. Use a spatula to essentially "chop" it up Philly style.
When the beef is browned well, add the Provolone Cheese and as the cheese melts, saute it together.
Remove to a plate and assemble the RiITZwiches.

To Assemble:

To the bottom of a RITZ cracker, a layer of caramelized onions.
Follow that with some of the Philly cheesesteak mixture.
Add another RITZ cracker if you are not serving them open faced.
Enjoy!
7.8.1.2
100
https://cookinginstilettos.com/philly-steak-style-ritzwich/
Check out this fun video about some other RITZwich ideas!