I finally decided to break out the slow cooker and give BBQ Beef Sangies recipe a whirl.
I made very few changes to the recipe. I subbed some Kaiser rolls that caught my eye and added a bit of smoked paprika to the BBQ sauce. I had a pretty interesting conversation with the butcher about the quality of the meat. The butcher gave me a very valuable tip – beef only keeps for 2-3 days – at the most – in the fridge and, if you do buy early, put it in the back of the fridge and you should have no problem. I told him my issue of buying beef from one of the bigger grocery stores and it pretty much goes bad within 24 hours. Call me paranoid but I do not want to do the food poisoning tango ever again. He also told me to maximize my freezer and, if I see some great cuts of meat on sale, make sure to freeze them and defrost in the fridge for 24 hours.
Gather Your Ingredients
Ahhh – perfectly browned
Time to make the sauce
A sprig (or three) of thyme
BBQ Sandwiches Made Easy!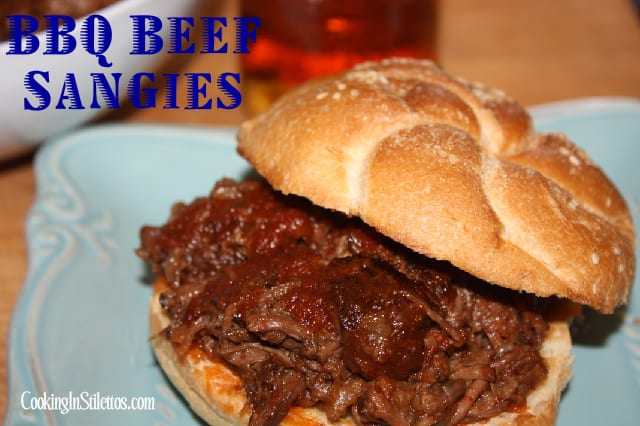 Ingredients
1 tablespoon canola oil
2 - 3 lbs. lean boneless chuck roast
1 tablespoon Kosher salt
1 tablespoon freshly cracked pepper
1 cup ketchup
2 tablespoons Dijon mustard
4 tablespoons brown sugar
3 cloves minced garlic
2-3 sprigs of thyme
1 teaspoon chili powder
1 teaspoon smoked paprika
1/4 teaspoon cayenne pepper
1 tablespoon Worcestershire sauce
3 tablespoons red wine vinegar
3/4 teaspoon liquid smoke flavoring
Kaiser rolls for serving
Instructions
Heat up a large skillet (or if you have a slow cooker with a stovetop safe insert) over medium high heat. Add the canola oil.
Season the beef with the kosher salt and freshly cracked black pepper.
Add the seasoned beef to the skillet or insert and brown on all sides.
When the beef is browned on all sides, add to the slow cooker.
In a large bowl, combine the ketchup, mustard, brown sugar, chili powder, cayenne pepper, smoked paprika, Worcestershire sauce, red wine vinegar, and liquid smoke in a bowl. Mix well and then add the garlic and thyme.
Pour over the beef, cover and cook on low for 8 to 9 hours (or on high for 4 to 5 hours).
When the cooking time is done, remove the beef from the slow cooker, shred and set aside.
Quickly blend the remaining sauce in the pot with either an immersion blender and coat some of the shredded beef with it.
Add to freshly toasted Kaiser rolls and enjoy!
7.8.1.2
394
https://cookinginstilettos.com/bbq-beef-sangies/