One of my favorite things to do is make biscotti. Years ago, when I first started cooking in stilettos, I decided to attempt baking this delicious cookie and learned that it is not as difficult as I originally thought. Want to take it to the next level? Add some chocolate to biscotti and you have yourself quite the holiday treat.
These Deck The Halls Biscotti are so simple to make – some of your favorite biscotti, either store bought or homemade, some deep, dark Dove chocolate and a bit of whimsy with a bit of M&M's and your friends and family will adore. This is one that you can even have your little kitchen helpers take part in – sprinkling the chocolate with the bright M&Ms, adding their own artistic flair.
I used my favorite Cherry Vanilla Biscotti (I promise to share the recipe tomorrow) and the flavors of the plump dried cherries against the dark chocolate was divine! I also had a bit of fun with the M&M flavors to get into the holiday spirit – using both the traditional M&Ms and some of the White Chocolate Peppermint M&Ms. Plus – you know what they say – dark chocolate is good for you, right? These Deck The Halls Biscotti are a recipe that has on the "Holiday Gift Menu" and is SO simple to make.
A couple words of advice – it takes a bit to set so if you want to speed up the process, get thee to a fridge, stat! Also, you can spread the chocolate any way that you please. I chose to immerse the lower half of the biscotti in the chocolate, taking care to also frost the sides. When it comes to melting the chocolate, I used my double-boiler, but you can also do a bowl set over simmering water. Just make sure that the simmering water NEVER touches the bowl – that would turn into a chocolate disaster.
These chocolately treats are PERFECT with a cup of coffee. Now, if you nibble one for a treat or even for breakfast – I won't tell. Just tell everyone that it was "quality control."
Gather the Ingredients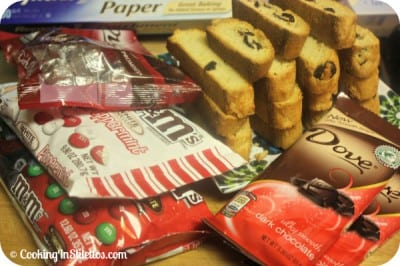 Melting the chocolate.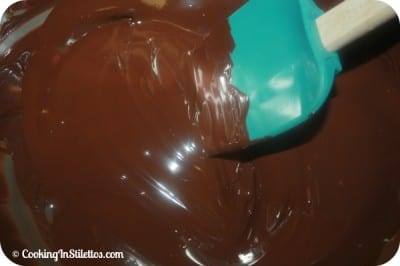 Time to cool.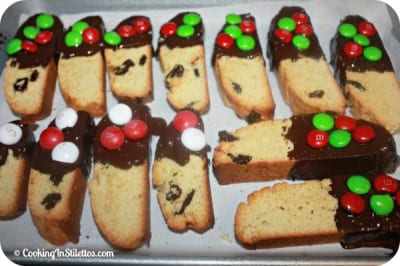 Now THIS is my favorite part of the day.
Deck the Halls Biscotti – The Perfect Holiday Treat
30 minPrep Time
30 minTotal Time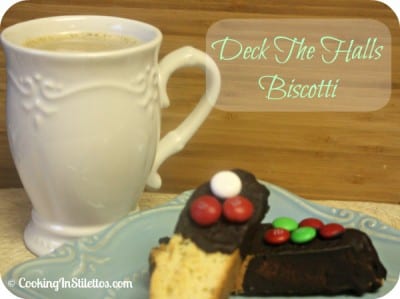 Ingredients
1 3/4 cups DOVE® Brand Milk or Dark Chocolate
16 of your favorite biscotti
¾ cup M&M;'S® Brand Chocolate Candies
2 baking sheets
Reynolds® Parchment Paper
Instructions
Melt the chocolate in a bowl set over a saucepan of simmering water. Stir until chocolate is 3/4 melted. Remove from water and continue stirring until all the chocolate has melted.
Using a table knife, spread half the biscotti with the DOVE® Brand Milk or Dark Chocolate and set it on the baking sheet lined with Reynolds® Parchment Paper.
Sprinkle with M&M;'S® Brand Chocolate Candies and set aside until the chocolate hardens.

For a gift:

Wrap 2 to 4 biscotti in a piece of cellophane, and tie it closed with a piece of curling ribbon.
7.8.1.2
352
https://cookinginstilettos.com/deck-the-halls-biscotti-the-perfect-holiday-treat/