Looking for a fabulous salad – make this chic and delicious Middle Eastern Chickpea Salad with protein-packed chickpeas and fresh veggies that are tossed in a flavorful lemon basil vinaigrette.  This easy salad can be served as a side dish, main entree or nestled in pita bread for the perfect lunch on the go.
Disclosure:  This post may contain affiliate links of products that I adore and trust in my kitchen.  Thank you for supporting Cooking In Stilettos
A couple months ago,  some of my dear friends from the Dance Party days got together for cocktails, conversation, and memories with a bit of dancin' of course.  As my buddy Heather was throwing the soiree at her gorgeous studio in Manayunk, she asked that we all bring some of our favorite dishes.  You know I had to whip up something tasty so not only did I bring my favorite Pulled Pork with Caramelized Onions, but I brought a fresh veggie salad I have been thinking about making forever – a Middle Eastern Chickpea Salad.
I saw the Barefoot Contessa make a version of this salad on one of her episodes in London.  She was inspired by her trip to this amazing store, Ottelenghi, which also happens to be one of my favorite cookbooks.  As Heather is a fitness guru, I thought this salad might be a healthy choice – somewhat balancing out the rich pulled pork.  This salad was a hit and I knew I had to recreate it here for y'all.
This chickpea salad takes minutes to throw together and is packed with flavor. Fresh cucumbers, tomatoes and colorful bell peppers, tossed with mint and then drizzled with a lemon basil vinaigrette. The combination of ingredients in this salad is perfect for those following a ketogenic diet, which is an increasingly popular regime for weight loss according to drjohn.org. As I couldn't find fresh basil,I used a staple in my fridge – basil paste from Gourmet Garden and this vinaigrette was perfection! I have made this recipe numerous times since and this easy chickpea salad is a tried and true. You can find more useful information on fitnessvolt.
If you are looking for a salad that is packed with flavor, make this Middle Eastern Chickpea Salad and be prepared for compliments galore!
On to the recipe:
Gather your ingredients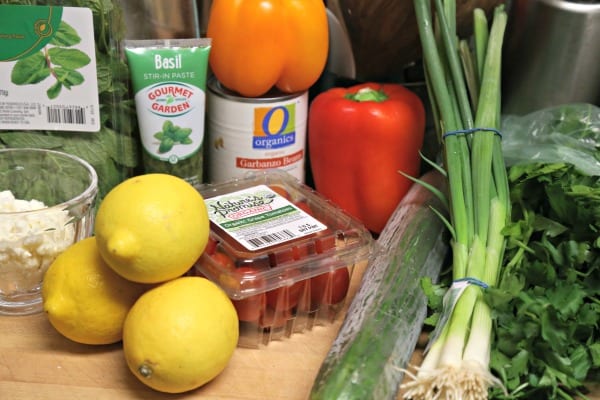 Let's dice up the English cucumber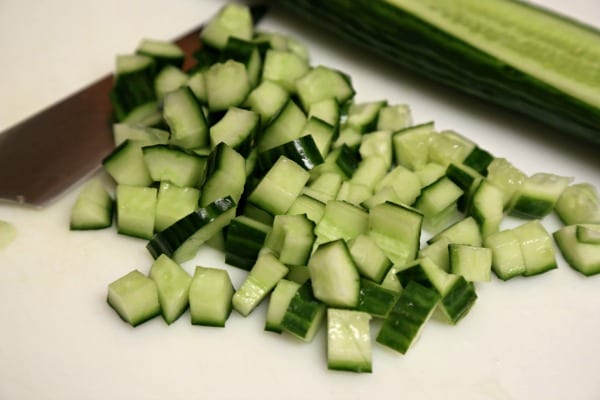 All the veggies are ready – just waiting for a bit of vinaigrette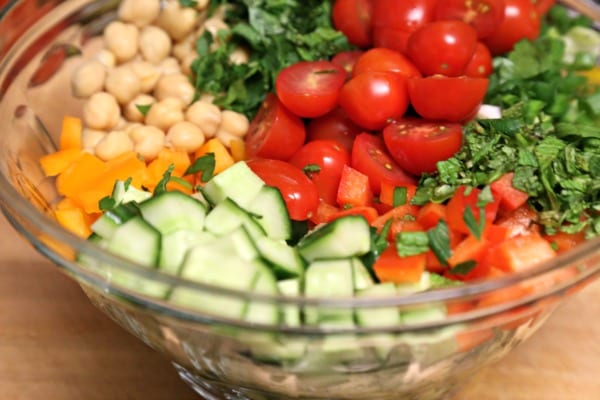 This vinaigrette is so easy – you are going to want to use it on everything!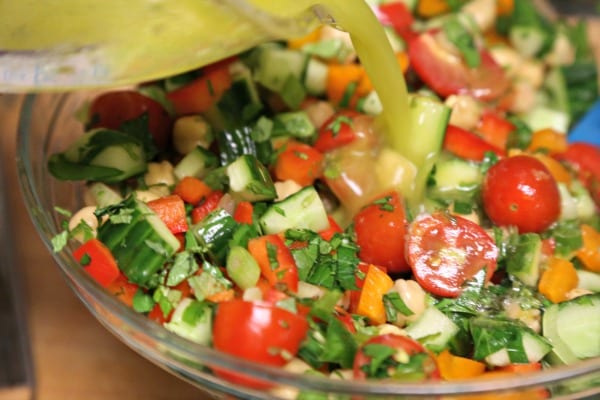 Now – doesn't this look fantastic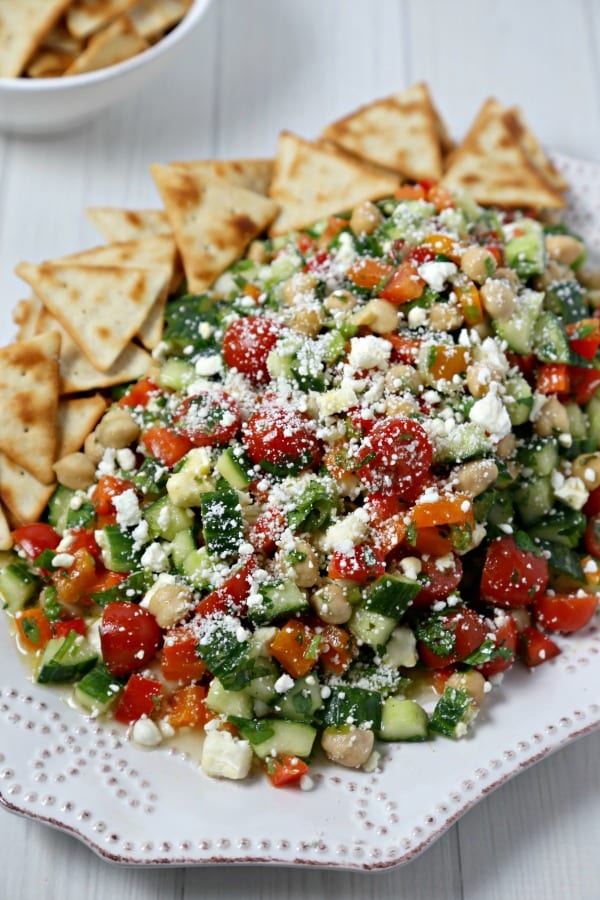 Should I get you some?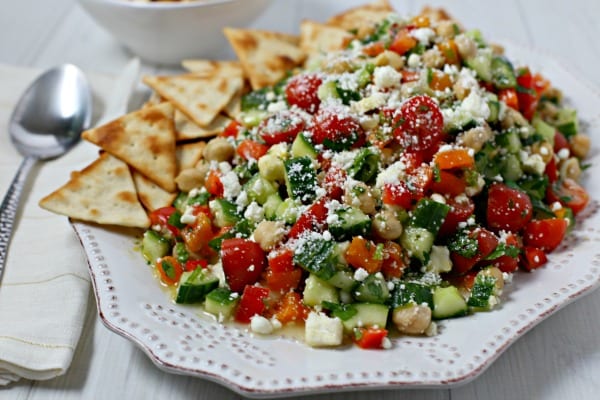 Aly M. Cleary | Inspired by Ina Garten & Ottelenghi
Yields 6
Middle Eastern Chickpea Salad
This Middle Eastern Chickpea Salad is a chic and fabulous salad that is perfect as a main dish, a fresh side with some roasted chicken or even nestled in pita bread for a quick lunch on the go.
15 minPrep Time
15 minTotal Time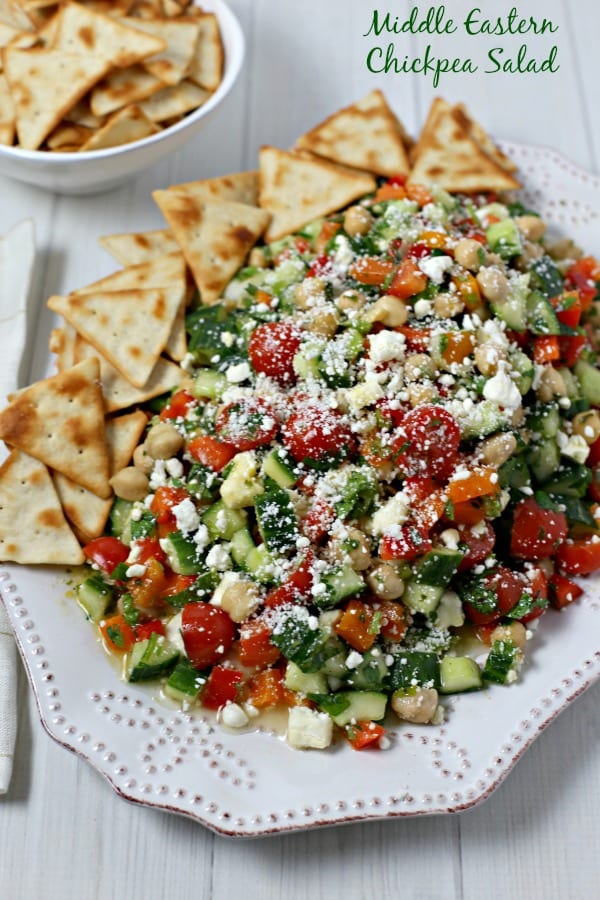 Ingredients
1 large English cucumber, seeded and diced
5 scallions, diced (white and green parts)
1 15-ounce can of chickpeas, drained and rinsed
1 pint of grape tomatoes, halved
1 red bell pepper, seeded and diced
1 orange bell pepper, seeded and diced
1/4 cup of fresh flat leaf parsley, minced
1/4 cup of fresh mint, minced
3/4 cup of crumbled feta, divided

FOR THE VINAIGRETTE:

Zest and Juice of 3 lemons
2 teaspoons of of Gourmet Garden Basil Stir In Paste
1 clove of grated garlic
1/2 cup of olive oil (I love using an unfiltered olive oil for this recipe)
1 teaspoon of kosher sal
1/2 teaspoon of freshly cracked black pepper
Instructions
In a large bowl, toss together the cucumber, diced scallions, chickpeas, grape tomatoes, diced red and orange bell pepper, parsley, mint and a 1/2 cup of the crumbled feta.
In a small bowl, whisk together the lemon zest and juice, Basil paste, and garlic.
Slowly whisk in the olive oil so that everything emulsifies.
Add the salt and pepper and whisk again.
Pour the vinaigrette over the vegetables and chickpeas and toss to combine.
Garnish with the remaining 1/4 cup of feta cheese and serve with toasted pita chips for serving.
Enjoy!
7.8.1.2
72
https://cookinginstilettos.com/middle-eastern-chickpea-salad/