Have you heard about the Secret Recipe Club? They are a group of seriously fabulous foodies who take on a monthly challenge of testing a fellow food blogger's recipe and letting their readers know all about it. I have to confess, I have heard so much buzz about the SRC that when I got that email that I finally made the cut and could join in on the fun, I mentally did a little happy dance.
For my first assignment, I discovered a new blog that immediately made my "must read daily" list ~ NYCityEats. Lacy is a culinary school grad living and eating her way through NYC. She recently spotlighted a recipe for Blueberry Crumb Cups that I HAD to try. I don't know if I talked about it before here but I get a tad over the moon for blueberries. It started when I was a child and fell immediately for the blueberries on the blueberry cheesecake at Sage Allen in the Westfarms Mall. I could care less about the cheesecake – it was those blueberries I was after. To this day, if there is something blueberry on the menu, I must try it.
These are so amazing I will be making them again. They didn't last long in my home. I also did an experiment – I used one mini-muffin pan and I did one regular muffin pan. While the regular muffin pan was a bit cumbersome, I really feel these have to be in a mini-muffin pan to get the perfect effect. I also used my new Williams Sonoma gold mini-muffin pan and their non-stick spray which runs circles around that big name brand cooking spray. Let's just say not an ounce of blueberry crumb cup stuck to anything.
Her recipe was spot on and I loved the use of cream cheese in it and the reduction of butter. All of the ingredients were already in my kitchen and I added a bit more lemon as I love the flavor of lemons and blueberries. Give this recipe a spin and thank Lacy. This recipe hit tried and true status and I'm already craving them here in Florida. I wouldn't be surprised if these found their way into my baking planning for the next week too.
Ingredients
3/4 cup sugar, divided
1/2 cup light brown sugar
1 teaspoon baking powder
1 cup cake flour
2 cups all purpose flour
1 stick of salted butter
4 ounces 1/3 less fat cream cheese
1 egg
zest & juice of 1 lemon
1/2 teaspoon salt
4 cups fresh blueberries
2 tablespoons pure maple syrup
4 teaspoons cornstarch
Directions
Preheat the oven to 375.
Spray 2 mini muffin pans with nonstick cooking spray.
Mix 1/2 cup of sugar, 1/2 cup of brown sugar, AP flour, cake flour and baking powder. Add in salt and lemon zest and mix.
With either a fork or pastry cutter, mix the dry mixture with the butter, egg and cream cheese.
With the crumbly mixture, fill the mini muffin tins 1/3 of the way, tapping the mixture down to form a crust. Reserve the leftover for the topping.
In another bowl, mix the remaining 1/4 cup of sugar, maple syrup, lemon juice and cornstarch.
Mix in the blueberries, taking extra care to not try to break them.
Add the blueberry mixture tot he mini-muffin tins.
Add the remaining crumb topping mixture to the berries, allowing them to peek through a bit.
Bake for 35 to 40 minutes until the tops are golden.
Cool on a wire rack.
Enjoy.
Notes
Lacy - NYCityEats (adapted from Smitten Kitchen)
7.6.8
776
https://cookinginstilettos.com/blueberry-crumb-cups/
All images and content are © Cooking In Stilettos. Please do not republish without contacting us first. Thank you.
Gather Your Ingredients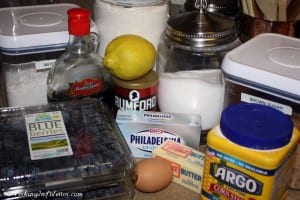 So thankful I purchased this pastry cutter eons ago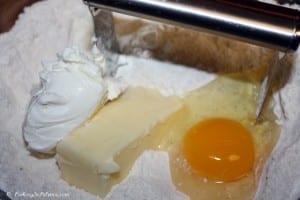 I went a bit crazy with the blueberries – less is not more in this case.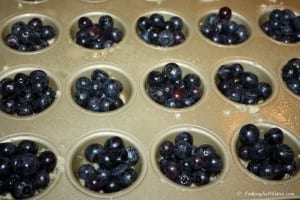 The end result – the perfect bite-size blueberry treat.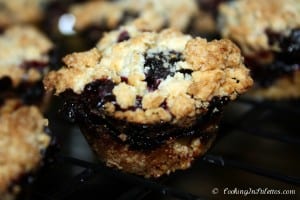 Did you enjoy this post?
| | |
| --- | --- |
| Share the love | Get free updates |