A recipe for Blueberry Crumb Cups it's A MUST to try. I don't know if I talked about it before here but I get a tad over the moon for blueberries. It started when I was a child and fell immediately for the blueberries on the blueberry cheesecake. I could care less about the cheesecake – it was those blueberries I was after. To this day, if there is something blueberry on the menu, I must try it.
These are so amazing I will be making them again. They didn't last long in my home. I also did an experiment – I used one mini-muffin pan and I did one regular muffin pan. While the regular muffin pan was a bit cumbersome, I really feel these have to be in a mini-muffin pan to get the perfect effect. Let's just say not an ounce of blueberry crumb cup stuck to anything.
Gather Your Ingredients
So thankful I purchased this pastry cutter eons ago
I went a bit crazy with the blueberries – less is not more in this case.
The end result – the perfect bite-size blueberry treat.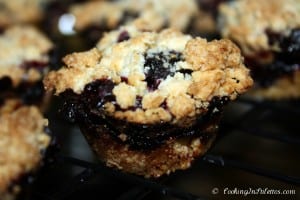 Ingredients
3/4 cup sugar, divided
1/2 cup light brown sugar
1 teaspoon baking powder
1 cup cake flour
2 cups all purpose flour
1 stick of salted butter
4 ounces 1/3 less fat cream cheese
1 egg
zest & juice of 1 lemon
1/2 teaspoon salt
4 cups fresh blueberries
2 tablespoons pure maple syrup
4 teaspoons cornstarch
Instructions
Preheat the oven to 375.
Spray 2 mini muffin pans with nonstick cooking spray.
Mix 1/2 cup of sugar, 1/2 cup of brown sugar, AP flour, cake flour and baking powder. Add in salt and lemon zest and mix.
With either a fork or pastry cutter, mix the dry mixture with the butter, egg and cream cheese.
With the crumbly mixture, fill the mini muffin tins 1/3 of the way, tapping the mixture down to form a crust. Reserve the leftover for the topping.
In another bowl, mix the remaining 1/4 cup of sugar, maple syrup, lemon juice and cornstarch.
Mix in the blueberries, taking extra care to not try to break them.
Add the blueberry mixture tot he mini-muffin tins.
Add the remaining crumb topping mixture to the berries, allowing them to peek through a bit.
Bake for 35 to 40 minutes until the tops are golden.
Cool on a wire rack.
Enjoy.
7.8.1.2
397
https://cookinginstilettos.com/blueberry-crumb-cups/