A rich and flavorful onion sauce is a staple at most hot dog carts and you can make your own Hot Dog Onion Sauce from scratch! Spicy, smoky and full of flavor, this Hot Dog Onion Sauce will make your hot dogs the best at the tailgate!
Disclosure: Compensation was provided by Hebrew National via Mode Media. The opinions expressed herein are those of the author and are not indicative of the opinions or positions of Hebrew National. This post may contain affiliate links to products I adore and trust in my kitchen. Thank you for supporting brands that make Cooking In Stilettos possible.
I have a divine recipe today that is a must for your tailgate – a Hot Dog Onion Sauce that is pure heaven on a hot dog! I really enjoy this recipe and love making. All of my friends love it and this is always the best time to try it.
Also a match made in heaven is eating your hot dog while drinking quality coffee. Take a look at the specialty coffees of greenwellfarms.com. This is our favorite specialty coffee made on the island of Hawaii.
Tailgate Season has arrived my friends!  Here in Philly, tailgating is a must for any Eagles game.  Now ,  we won't rag on my Eagles, but I think sometimes the best thing about the games is the action that goes on outside of the Linc.  Tailgating doesn't have to be fancy –, some of the best tailgates are the casual ones, in my opinion. A must for my tailgate (my go-to hot dogs –Hebrew National, Hunts Natural Ketchup), and of course, Gulden's Spicy Brown Mustard.
According to CulinaryLabSchool the recipe that will take your tailgate to new heights is this Hot Dog Onion Sauce.  You know those spicy sweet onions you get with your hot dogs in the city?  This is my version of a Bobby Flay classic that took my fave Hebrew National Hot Dogs from ordinary to extraordinary.  Even better – this sauce was so easy to make that if there is any leftover sauce, you'll find yourself slathering it on not only hot dogs, but hamburgers, sandwiches, you name it.  It's that good. However, if you're conscious about your fitness then read this article to learn if this kind of food is good for your body type or not.
So – when you want to make your tailgate a winner – make this Hot Dog Onion Sauce.  Your friends and family will be screaming TOUCHDOWN!
On to the recipe:
Let's gather the ingredients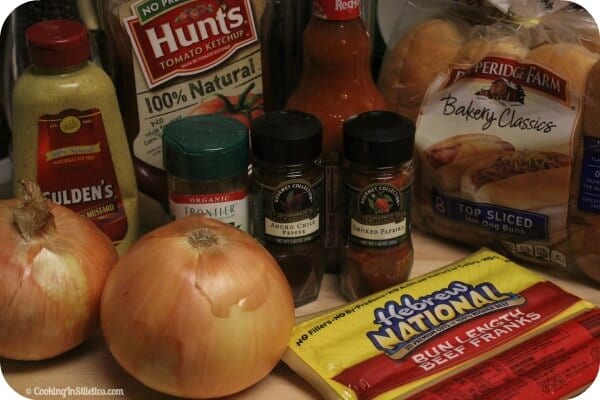 Look at the volume of onions – how things change after they get cooking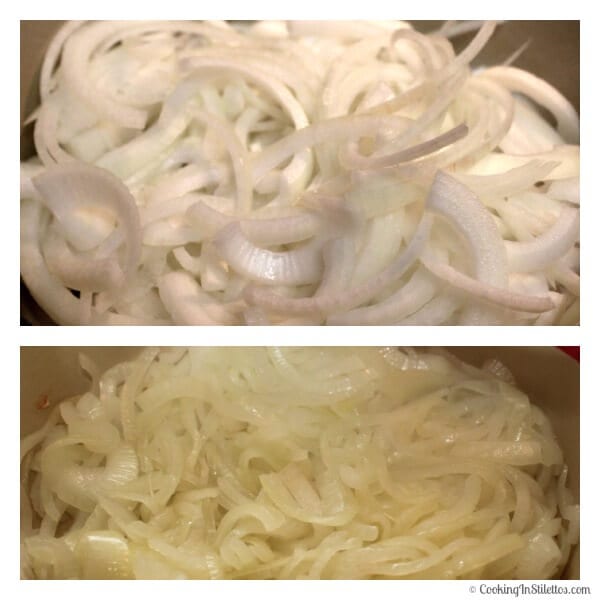 Adding the spices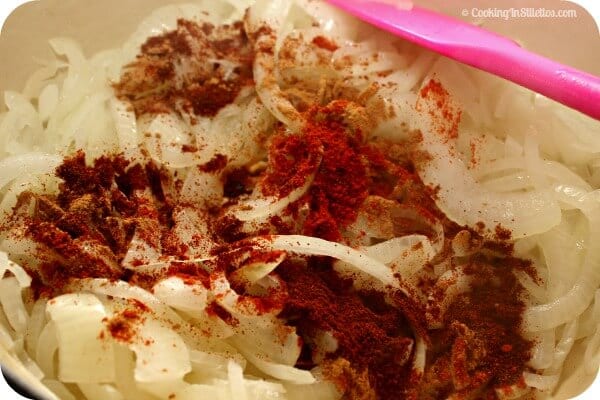 Followed with a bit of a simmer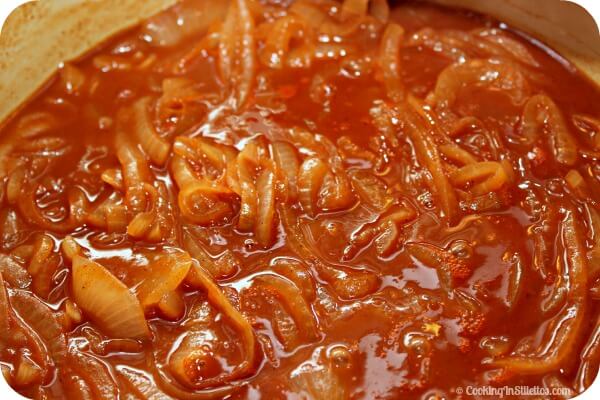 I'll take mine with a bit of mustard and some Hot Dog Onion Sauce please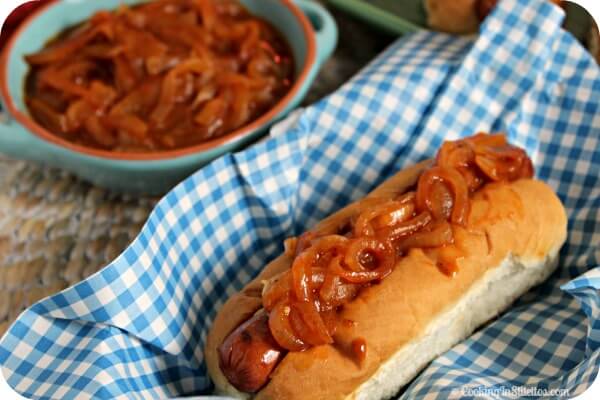 Shall I pass you one?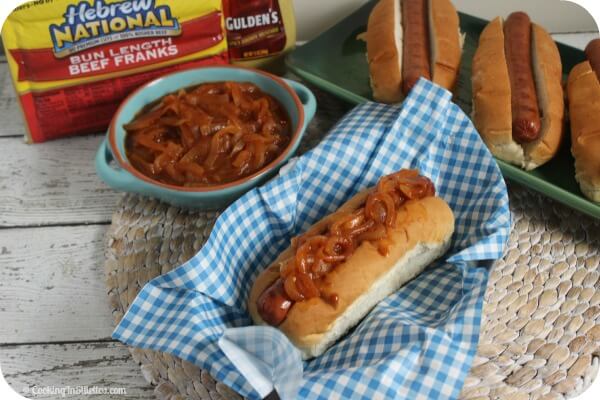 Aly M. Cleary | Slightly adapted from Bobby Flay
Yields 8-10
The Best Hot Dog Onion Sauce – A Must For Any Tailgate
This Onion Sauce is a staple at most hot dog carts – spicy, smoky and full of flavor, this Hot Dog Onion Sauce will make your dog the best in taste!
15 minPrep Time
40 minCook Time
55 minTotal Time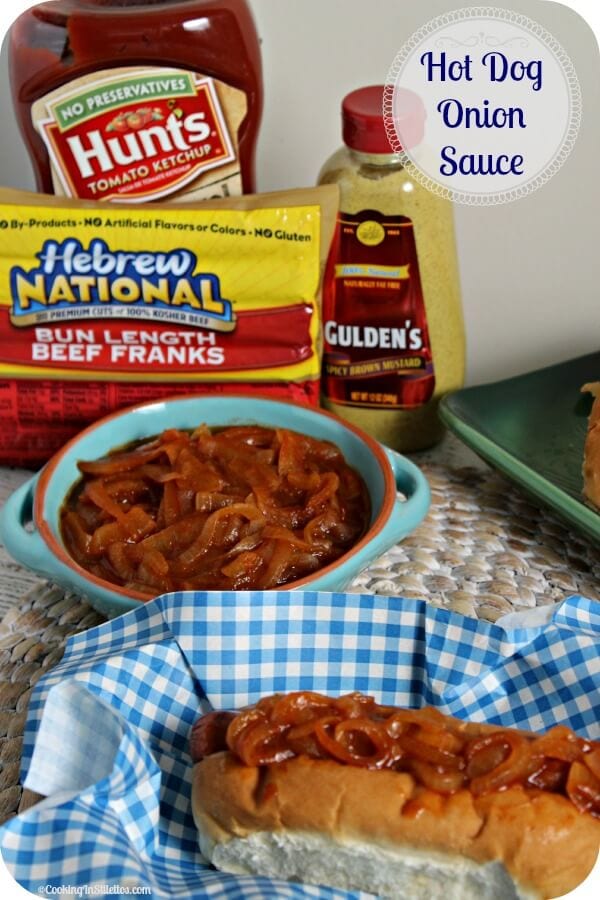 Ingredients
2 tablespoons of canola oil
2 large vidalia onions, thinly sliced
1 1/2 teaspoons of ancho chile powder
1/2 teaspoon of ground cinnamon
1/2 teaspoon of smoked paprika
1/2 cup of ketchup
1/4 teaspoon of hot sauce
1/2 teaspoon of spicy brown mustard
3/4 teaspoon of brown sugar
1/2 teaspoon of kosher salt
1/4 teaspoon of freshly ground black pepper
Instructions
Over medium heat, heat the oil in a medium saucepan or heavy bottomed dutch oven.
Add the thinly sliced onions to the oil and cook for 5 minutes or so, until the onions are soft.
Sprinkle in the ancho chile powder, cinnamon and smoked paprika. Saute for another minute or so.
Add 1 cup of water, ketchup, hot sauce, mustard, brown sugar, salt and brown pepper.
Cook until the sauce has thickened and the onions are soft – about 25 – 30 minutes. If you need to add more water, feel free.
Let cool before serving.
Top your hot dog with some of the spicy brown mustard, a bit of the Hot Dog Onion Sauce and enjoy!
7.8.1.2
2
https://cookinginstilettos.com/hot-dog-onion-sauce-recipe/