Blueberry Studded Boo Berry Cereal Treats are whimsical sweet cereal bars drizzled with vanilla glaze and a bit of sparkle!
This post may contain affiliate links to products I adore and trust in my kitchen.  Thank you for supporting the brands that make Cooking In Stilettos possible.
Since I was a child, I had a thing for blueberry anything and Boo Berry Cereal from my childhood has always been a favorite.  I buy a box or two once a year when it's out around Halloween as a bit of a birthday guilty pleasure.  I happened to spot boxes of this childhood favorite at my local grocery store and, like a lightbulb moment, I thought "CEREAL TREATS".  A couple boxes went into the grocery cart for "research purposes" and it was time to whip up some Blueberry Studded Boo Berry Cereal Treats.
I haven't had cereal treats in forever but, much like riding a bike, the recipe isn't hard at all.  I added dried blueberries for more blueberry flavor and, to add even more fun to the mix, I drizzled these cereal bars with a vanilla glaze and then sprinkled the bars with colorful sparkling sugars.  These cereal treats were fun, festive and a nostalgic hit with my friends and family.
If you have a box or two of this Boo Berry Cereal in the pantry, make these Blueberry Studded Boo Berry Treats and watch them disappear!
On to the recipe:
Gather your ingredients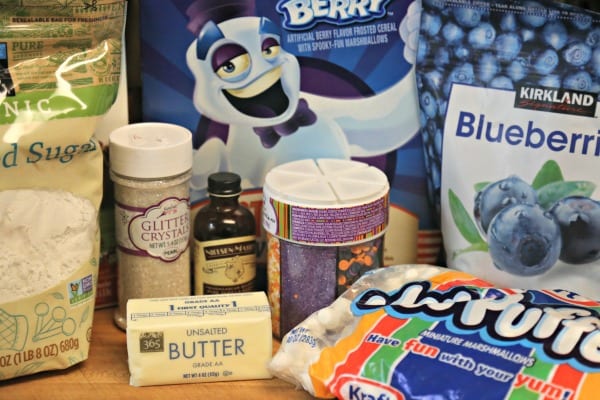 Look at this molten marshmallow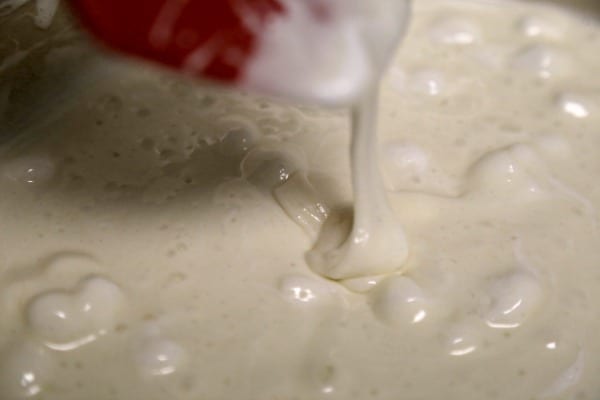 Time to mix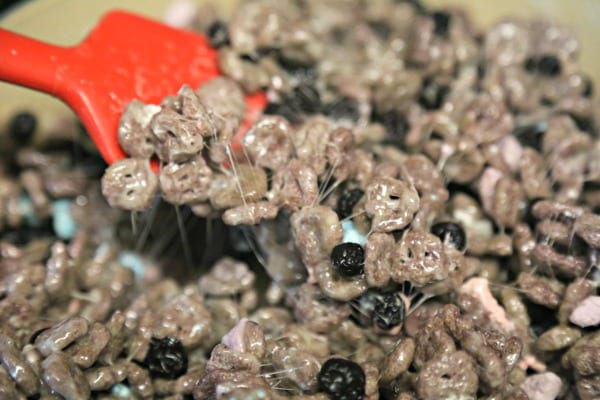 Drizzling the glaze (I love this drizzling scoop)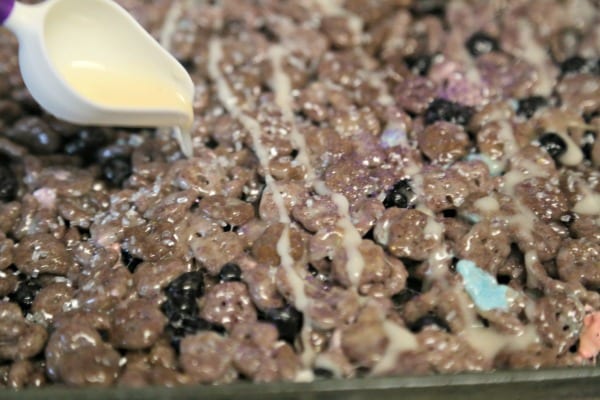 Don't these cereal treats look scrumptious?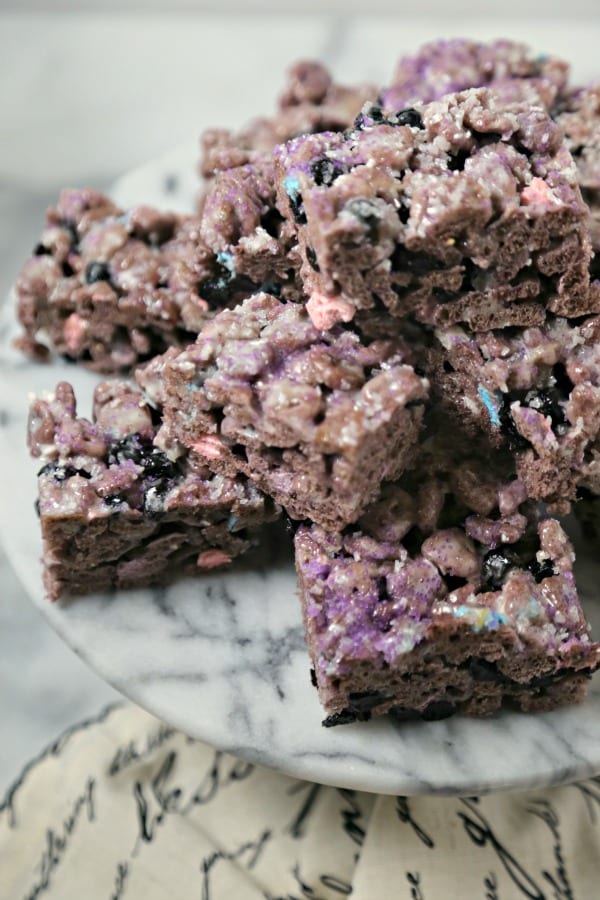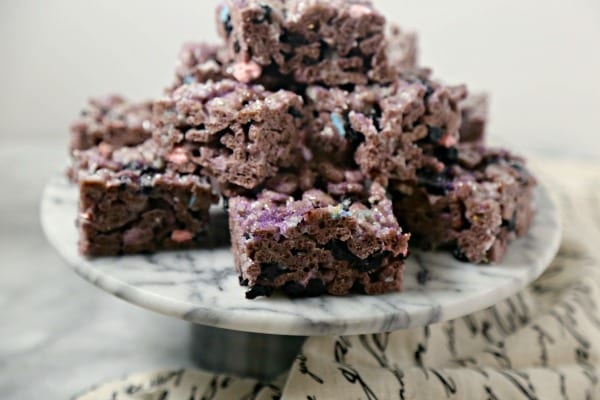 Aly M. Cleary
Yields 12
Blueberry Studded Boo Berry Cereal Treats
These whimsical Blueberry Studded Boo Berry Cereal Treats are a nostalgic treat. These cereal bars are packed with dried blueberries, drizzled with a vanilla glaze and a bit of sparkle.
1 hr, 15 Prep Time
10 minCook Time
1 hr, 25 Total Time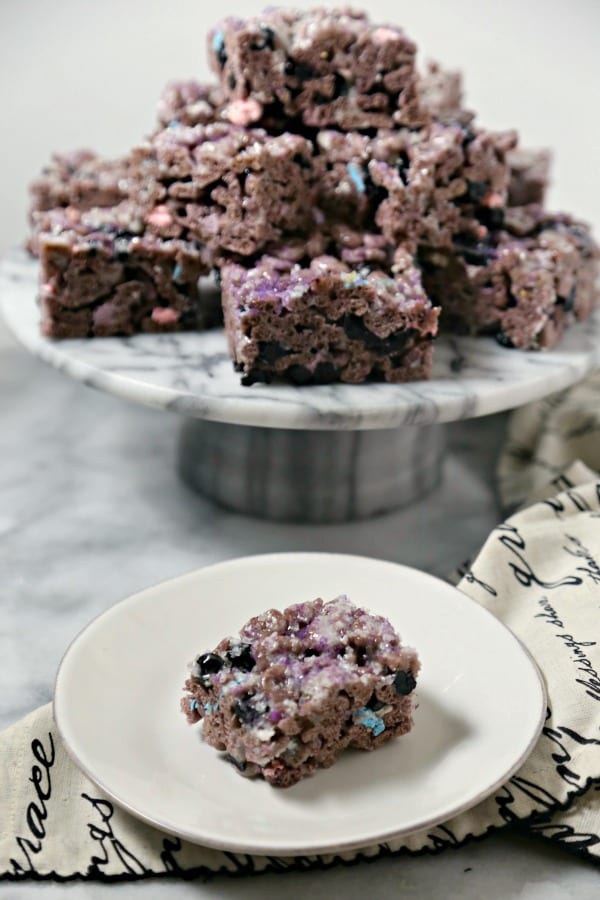 Ingredients
For the Cereal Treats:
3 tablespoons of unsalted butter
1 16-ounce bag of mini marshmallows
6 cups of Boo Berry Cereal (about 1 box)
1 cup of dried blueberries
For the glaze:
1 cup of powdered sugar
1 - 2 tablespoons of water
1/2 teaspoon of vanilla extract
Sanding sugars (I used purple & white)
Instructions
Spray a 9x13 pan with nonstick spray and set aside.
In a heavy bottomed saucepan, melt the butter. Add the marshmallows and stir with a non-stick spatula until everything is combined and melted. Remove from the heat.
Pour the melted marshmallow mixture over the cereal and dried blueberries, folding to combine.
Pour into the prepared pan and flatten using a spatula. The mixture will be sticky - you might want to also spray your hands with a bit of the nonstick spray.
To make the glaze:
In a small bowl, add the powdered sugar, one tablespoon of the glaze and the vanilla extract.
Whisk to combine. Add more water as needed to get to the perfect drizzling consistency.
Drizzle the glaze over the bars and sprinkle with sanding sugar.
Let set for about an hour or two.
Cut into bars and serve.
Enjoy!
7.8.1.2
58
https://cookinginstilettos.com/blueberry-studded-boo-berry-cereal-treats/