Cinnamon Spiced Slow Cooker Short Ribs are the ultimate autumn dish. Rich beef short ribs are simmered for hours in a silky cinnamon spiced broth with a secret ingredient that adds even more flavor!
Some people look forward to the spring or summer – for me, it's all about autumn. The fashion, the foliage and, of course, the familiar fall flavors. I love anything that is warming like cinnamon and pumpkin and with this recipe, we are going to take that flavor profile on a savory note with one of my favorite slow cooker dishes – Cinnamon Spiced Slow Cooker Short Ribs.
There is nothing like short ribs that have been simmering for hours in a slow cooker. A few minutes prep and then the slow cooker does all of the work while you can go about your day. There's a secret ingredient in this recipe that gives a rounded flavor to the sauce – pumpkin. Yes – you read that right – there is pumpkin in this recipe. It provides the perfect balance for the tomatoes and adds a silky texture to the sauce. In the fall, I often have pumpkin in the fridge from various recipes I'm playing with and if I can use what I have on hand, even better! I detest wasting food so this recipe is a wallet saver.
While we are on the subject of food waste, another ingredient that tends to drive me mad when it comes to this is tomato paste. In many of my recipes I tend to only use a couple tablespoons of tomato paste and I find that when I use the tube tomato paste, it's like that toothpaste roll that you can never measure just right. If you use tomato paste in a can, there's the strong likelihood that either the remainder will wind up in the back of the fridge and forgotten, in the freezer lost for eternity or possibly freezer burnt, or it's just wasted. So when I heard that Hunt's had Recipe Ready "Pre-Measure 2 TBS" Tomato Paste Pouches, I immediately added them to my pantry must haves. I picked up a couple boxes at my local Walmart and my pantry is ready for fall!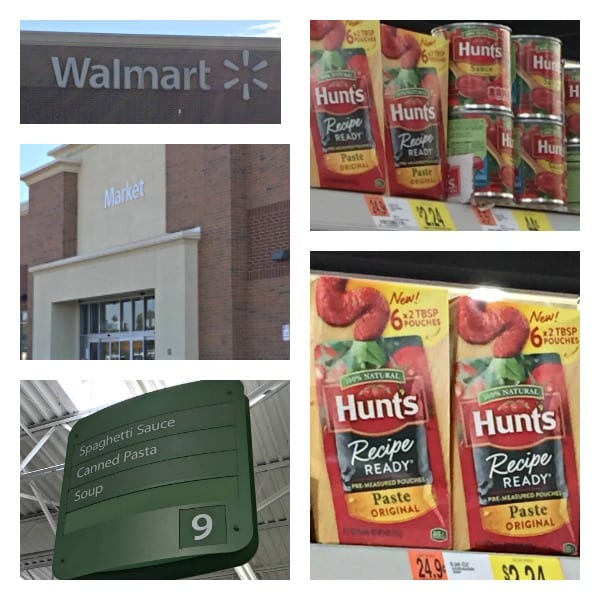 I love using Hunt's tomatoes in my cooking as I find that it adds great flavor and it's all-natural. These Recipe Ready pouches are a wallet saver and the paste is just the right amount – no wasted tomato paste. I also love using Hunt's Fire Roasted Tomatoes in my short ribs as they add that smoky flavor that compliments the beef short ribs so well.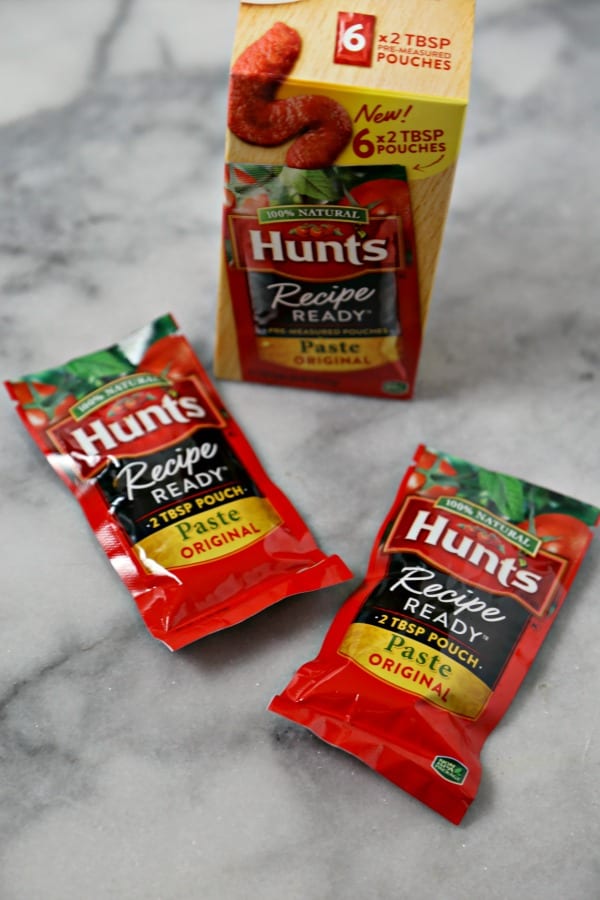 This recipe comes together in a flash. My slow cooker has a stove-top safe insert which is always a plus when it comes to searing the short ribs and blooming the tomato paste and onions. Speaking of blooming the tomato paste, one of the top tips I learned over the years is to sauté the tomato paste with the onions for a minute or two so that it turns from the bright red to a deep brick red. It develops even more flavor that way. Trust me on this. I had everything seared and ready in about 20 minutes and then the slow cooker did all of the work. So easy!
To serve, you can easily whisk up some instant polenta with a bit of Parmesan cheese and serve these gorgeous short ribs over the polenta with that silky cinnamon spiced sauce. Your family and friends will love every bite of these scrumptious Cinnamon Spiced Slow Cooker Short Ribs. They just don't have to know how easy (and economical) it is.
On to the recipe:
Gather your ingredients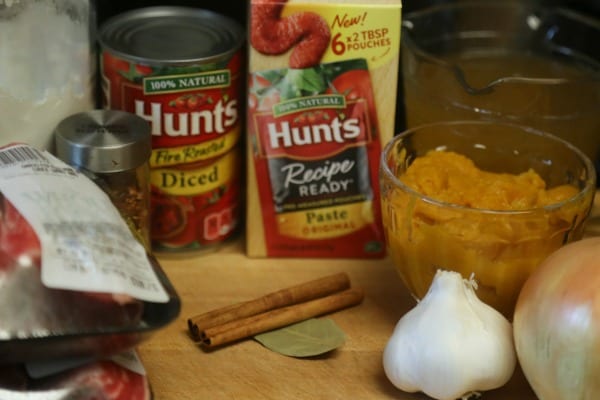 Look at the sear on these beef short ribs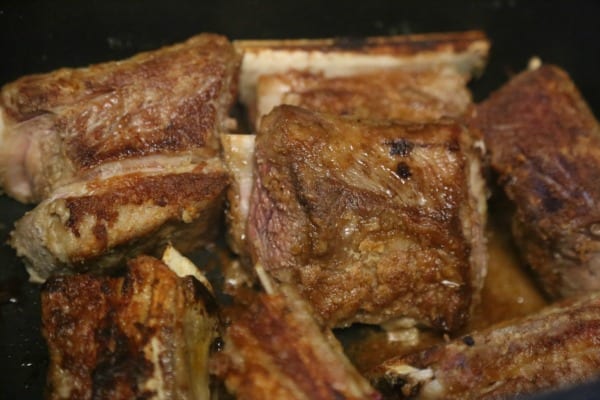 Adding the perfect 2 tablespoon measure of Hunt's Recipe Ready Tomato Paste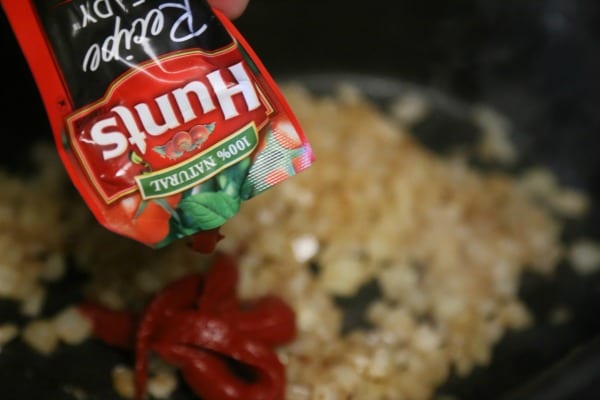 Cooking the Hunt's tomato paste for a minute until it turns that perfect brick red adds so much flavor!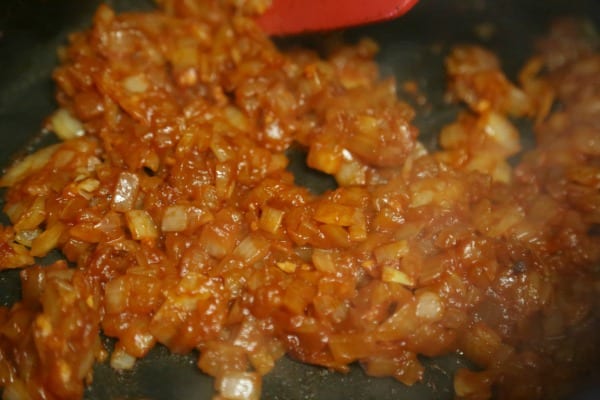 Time to add the Hunt's fire-roasted tomatoes to the pumpkin and onion mixture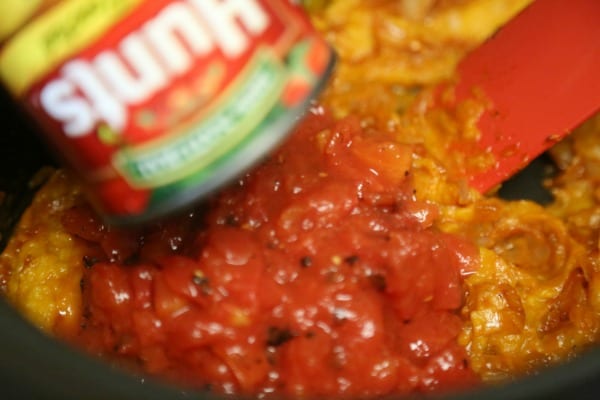 Nestle the short ribs in for their slow simmer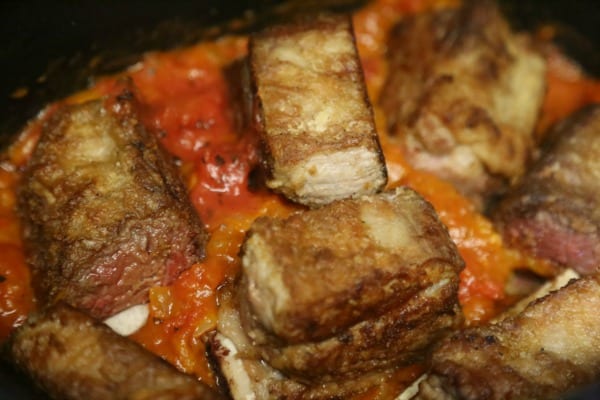 Finally, the cinnamon sticks, red pepper flakes and bay leaf add the flavor punch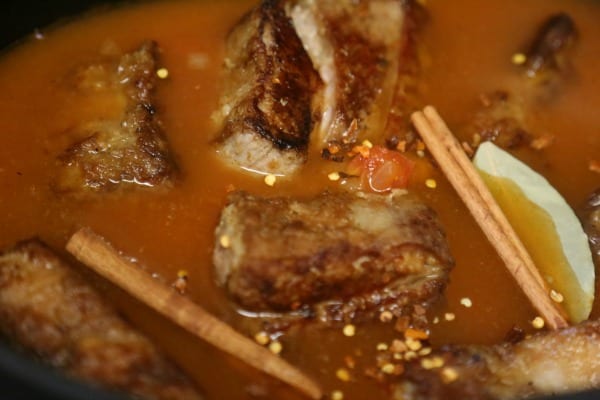 Dinner is served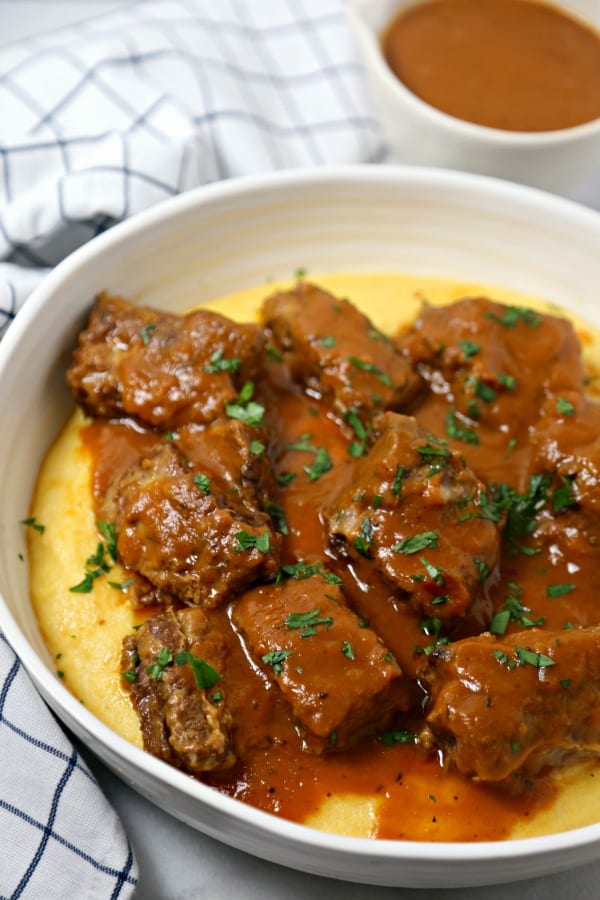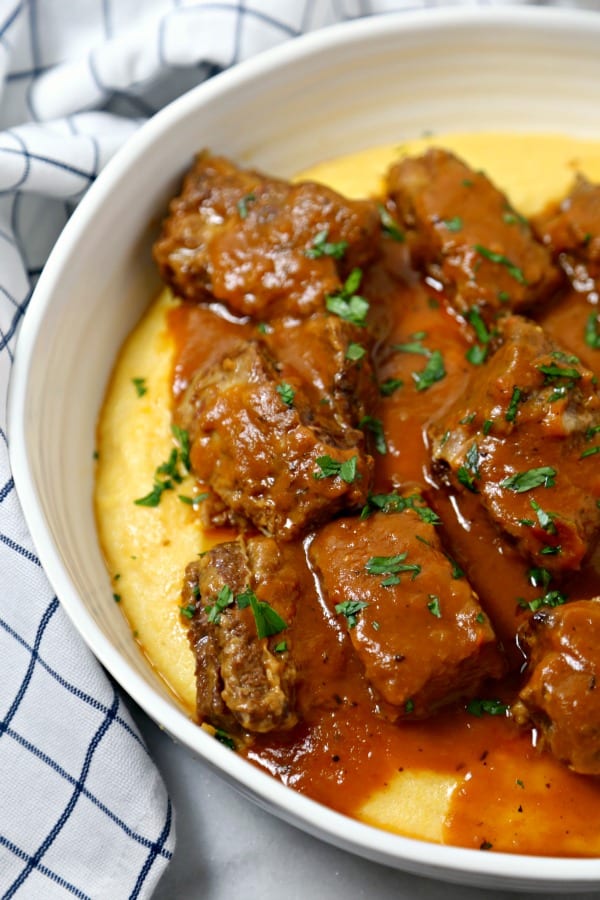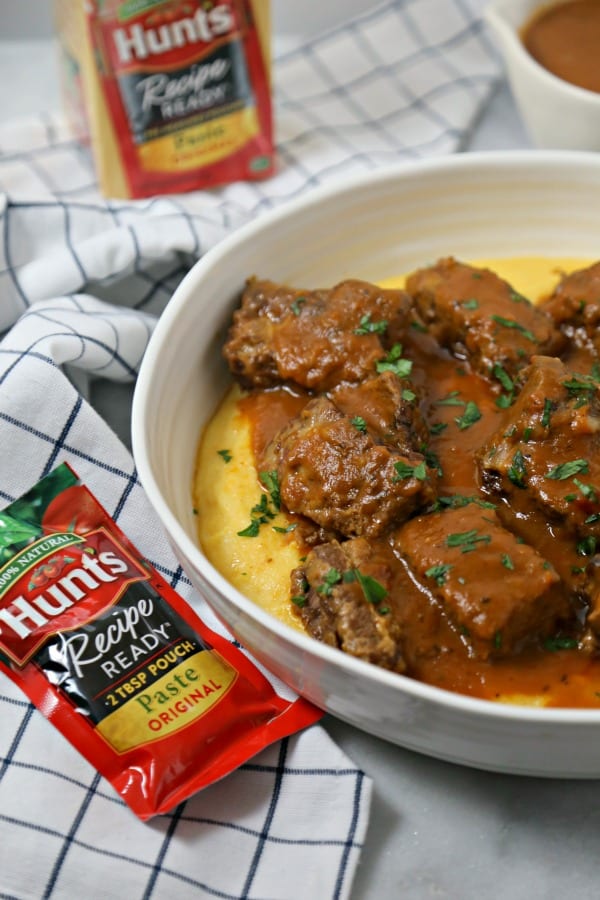 Aly M. Cleary
Yields 6
Cinnamon Spiced Slow Cooker Short Ribs
Cinnamon and pumpkin add autumn spice to these slow cooker short ribs. Rich beefy short ribs are simmered for hours in a cinnamon spiced sauce for the perfect chic comfort dish!
5 minPrep Time
8 hr, 20 Cook Time
8 hr, 25 Total Time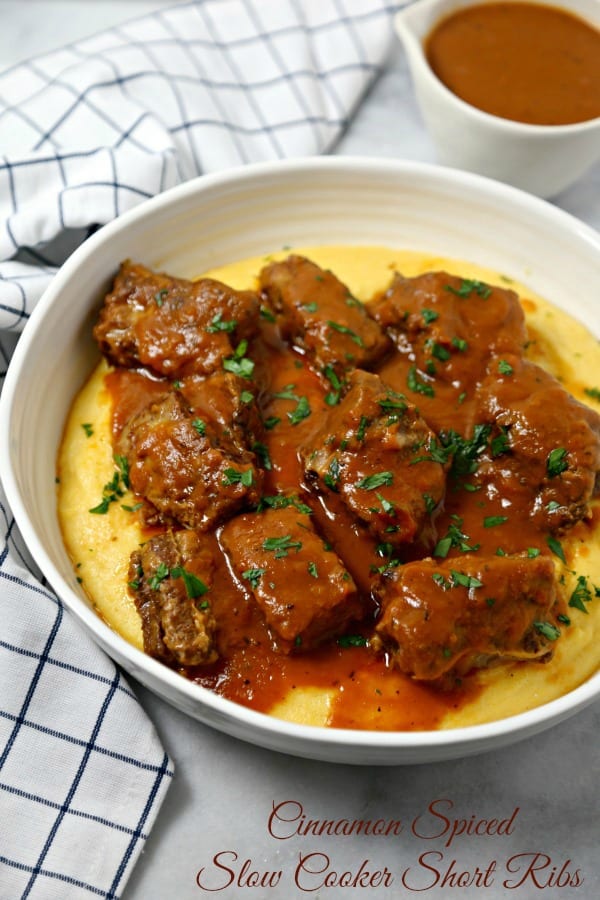 Ingredients
1 cup of all-purpose flour
1 teaspoon of kosher salt
1 teaspoon of freshly cracked black pepper
1/2 teaspoon of smoked paprika
4 pounds of beef short ribs, bone-in
2 tablespoons of olive oil
1 large onion, diced
2 cloves of garlic, minced
2 tablespoons of Hunt's Recipe Ready Tomato Paste
2 1/4 cups of beef stock (preferably low-sodium), divided
1 15-ounce can of Hunt's fire-roasted tomatoes
3/4 cup of pure pumpkin puree
1/8 teaspoon of red pepper flakes
1 bay leaf
2 cinnamon sticks
Instructions
In a large zip bag, add the flour, kosher salt, black pepper and smoked paprika. Shake to combine. Add the short ribs to the flour mixture and toss so that the short ribs are coated in the flour mixture.
In a large skillet or stovetop-safe slow cooker insert, heat 1 tablespoon of the olive oil over medium high heat.
Add the flour dusted short ribs in batches to the oil and brown on all sides. Remove the seared short ribs to a plate and set aside.
If you need more olive oil, add a bit and follow that with the diced onions. Saute the onions for about 5 minutes until they start to become translucent. Add the garlic and sauté for another minute. To the onion mixture, add the Hunt's tomato paste and sauté for another minute. You want to see the tomato paste turn from its brilliant red to a more of a brick red color.
Deglaze the pan with 1/4 cup of the beef stock, taking care to scrape up any brown bits off of the pan.
Remove the onion mixture to the slow cooker insert (if you are using a large skillet) and add the fire roasted tomatoes and pumpkin puree. Stir to combine.
Nestle the seared short ribs in the onion mixture and add the beef stock. The short ribs should not be fully submerged in the stock.
Add the red pepper flakes, bay leaf and the cinnamon sticks.
Set the slow cooker to low and cook for about 8 hours, until the meat falls off the bone.
Discard the cinnamon sticks and bay leaf.
Remove the short ribs to a plate and skim the fat off of the sauce mixture.
Using an immersion blender, blitz the sauce until smooth.
Serve the short ribs over polenta and drizzle with the silky cinnamon spiced sauce.
7.8.1.2
59
https://cookinginstilettos.com/cinnamon-spiced-slow-cooker-short-ribs/