I have a habit of thinking some recipes are overcomplicated and tend to think "I can never make that" even though it might be somewhat simple. Risotto is one of those recipes. I have seen it made time and time again on various shows and never had the urge to try it until I saw this Pumpkin Goat Cheese Risotto.
For the record, the most effort is stirring the rice constantly. I have a habit of making "crispy toasty rice" and not in a good way. I loved how the flavors came together and decided to make it in one pot, using some of the bacon fat to caramelize the onions and it really did add some great flavor. Plus – everything is better with bacon, right? When I went to gather the ingredients, I noticed that I was out of thyme and parsley but didn't let that stop me. Another point – I rarely drink white wine in my house. White wine might lead to someone dancin' on tables – I'm just sayin'… However, when I do cook with it, I tend to keep the little bottles of Pinot Grigio in the wine fridge just in case for those moments when I don't want to open a bottle of white and have it go to waste. Don't judge ?
This pumpkin goat cheese risotto is a tried and true recipe in this household. Plus, I am happy to report that I have conquered my fear of risotto – beef wellington, however – well that will take some time.
Gather the ingredients
The bottle may be small but it packs a punch!
Toasting the rice with the onions

Add the broth a bit at a time
Time to finish with a bit of butter. Back off Ms. Paula!
The end result – savory pumpkin and goat cheese risotto
Tried and True: Pumpkin Goat Cheese Risotto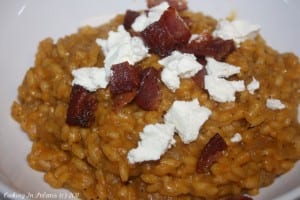 Ingredients
4 cups low-sodium organic chicken broth
1 cup canned pure pumpkin
4 slices thickly sliced bacon, chopped
2 tablespoons butter
1 small onion, diced
2 teaspoons kosher salt
1 1/2 cups Arborio rice
2/3 cup dry white wine, such as pinot grigio
1/2 cup freshly grated Parmesan
1/4 teaspoon freshly ground black pepper
1/4 teaspoon freshly grated nutmeg
1 1/2 cups crumbled soft fresh goat cheese
Instructions
In a medium saucepan, whisk the chicken broth and pumpkin together and simmer over medium heat.
Cover and reduce heat to low and keep warm.
In a dutch oven, cook the bacon over medium heat until brown and crisp. Transfer to a paper towel with a slotted spoon to drain.
Retain some of the bacon fat to fry the onions in. Add one tablespoon of butter and add the onions and 1 tablespoon of salt. Cook until tender.
Add the rice and toast for one minute.
Add the wine and simmer, stirring constantly, until completely absorbed, 1 to 2 minutes. Add 1/2 cup of pumpkin broth and stir until almost completely absorbed, 1 to 2 minutes.
Continue cooking the rice, adding the broth 1/2 cup at a time, stirring constantly and allowing each addition to absorb before adding the next.
Cook until the rice is tender but still firm to the bite, and the mixture is creamy, 20 to 25 minutes, adding additional warm broth by 1/4 cupfuls if risotto is dry.
Add the remaining tablespoon of butter and stir.
Mix in the Parmesan, remaining salt, pepper and nutmeg.
Remove from the heat.
Serve the risotto topped with the crisp bacon and crumbled goat cheese and enjoy!
7.8.1.2
403
https://cookinginstilettos.com/pumpkin-goat-cheese-risotto/