It's the first of July and you know what that means – it's grilling season!
Ever have this happen – a few friends suggest a casual get-together after work and next thing you know you are supposed to whip up a soiree on a moment's notice?  While I love casual summer entertaining, the panic attack and chaotic flurry before the guests arrive is not my fave.  So – when my friends suggest a quick get together, rest assured that nothing fancy will be on the menu but these sassy chili hot dogs might be.  Don't be afraid to hand over the tongs to friends, break out some Hebrew National hot dogs and whip up these super easy chili hot dogs!
This hot dog chili recipe couldn't be easier to make.  While the chili simmers for about 30 minutes or so, you can set the table, whip up some sangria, break out the hot dog rolls and tell your friends to bring their fave sides.  Potluck style is perfect for casual summer soirees and in no time you will be laughing hysterically and unwinding with some of your favorite people.  It's so easy you could even throw this soiree on a weeknight!
OK – enough jabbering from me – let's give you what you really are going to want – the recipe for the perfect Hot Dog Chili!
On to the recipe:
  Gather your ingredients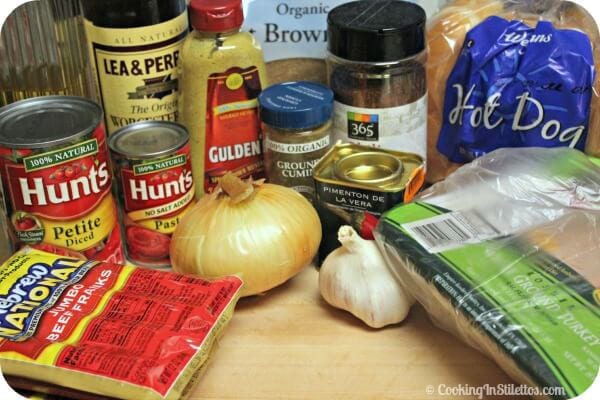 Bloom the spices (one of the most important steps imo)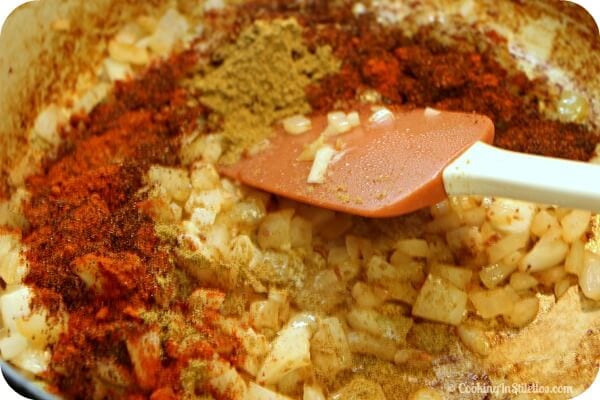 Time to simmer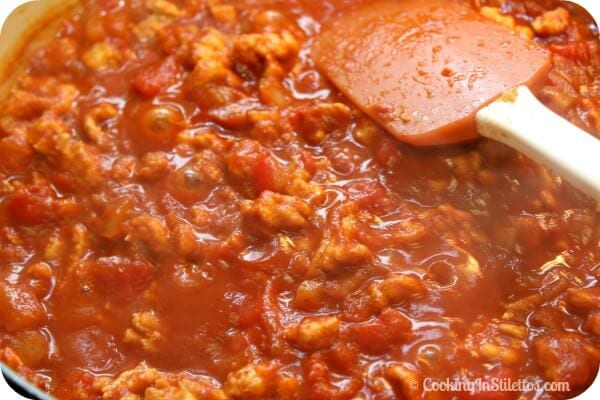 My pantry must haves for a perfect casual soiree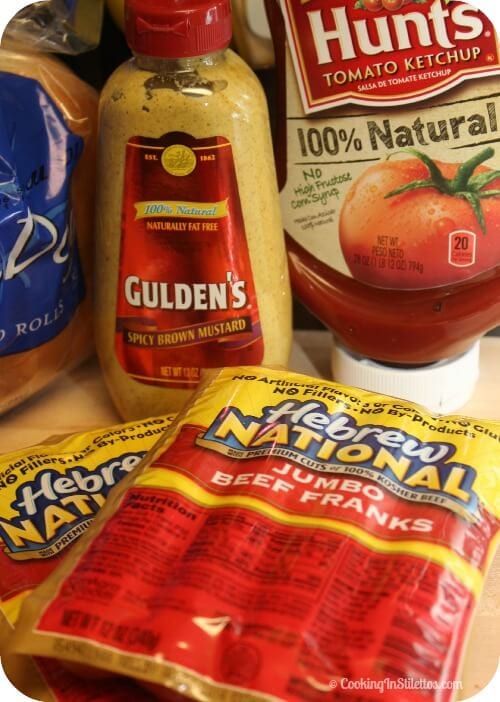 Setting up the essential hot dog toppings – spicy mustard, ketchup, red onion & homemade chili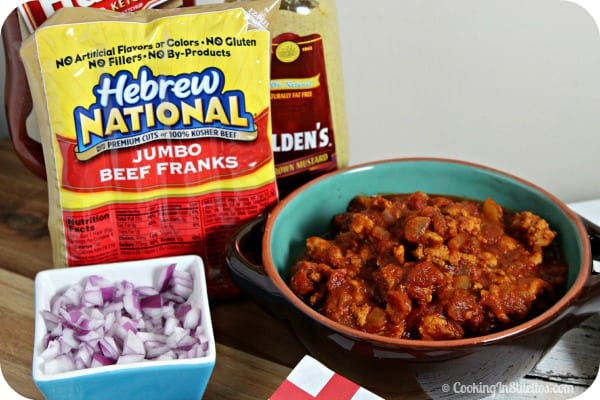 Who knew that making hot dog chili from scratch could be this easy?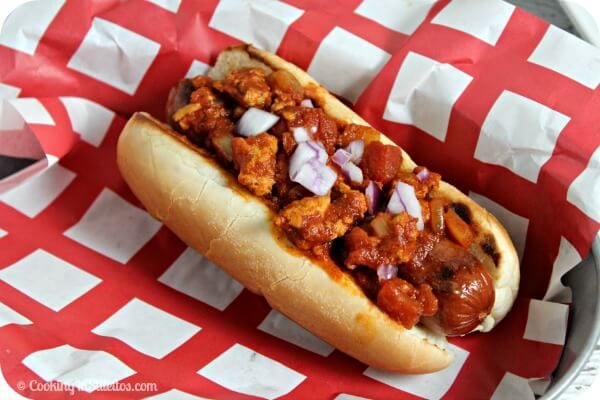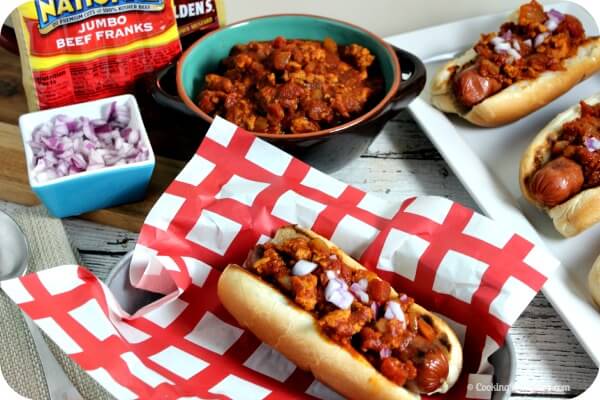 Aly M. ClearY
Yields 6-8
Easy Hot Dog Chili Recipe
Who doesn't love a good chili dog, right? Here's how to make the best hot dog chili to top your favorite hot dogs, brauts & more (cheese optional).
10 minPrep Time
30 minCook Time
40 minTotal Time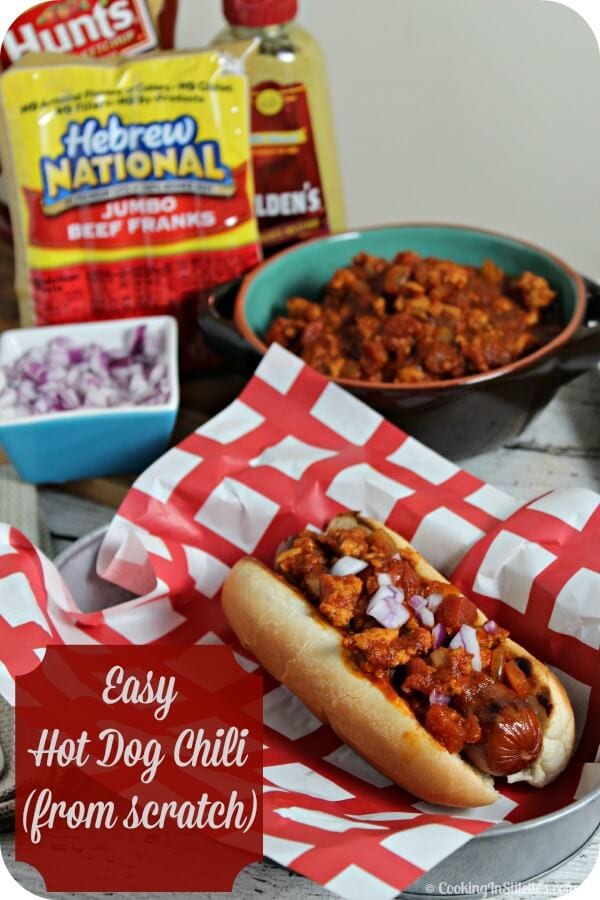 Ingredients
2 packages of Hebrew National Hot Dogs
8 hot dog buns, split
2 tablespoons of canola oil, divided
1 pound of lean ground turkey
1/4 teaspoon of freshly ground pepper
1/2 teaspoon of kosher salt
1 large onion, finely diced
1 - 2 cloves of garlic, finely diced or grated
1 tablespoon + 1 teaspoon of chili powder
1 tablespoon of ground cumin
1 teaspoon of smoked paprika
1/8 teaspoon of cayenne pepper (depending on how hot you want it)
2 teaspoons of light brown sugar
1 tablespoon of Worcestershire sauce
1 tablespoon of spicy brown mustard
1 6 ounce can of tomato paste
1 15 ounce can of petite diced tomatoes (in juice)
1 cup of water
Chopped red onion for garnish
Instructions
In a heavy dutch oven over medium high heat, heat 1 tablespoon of oil. When the oil is shimmering, add the ground turkey and break apart with a wooden spoon. Season with the salt and freshly ground black pepper.
Lightly brown the turkey and, when browned, remove to a bowl.
Add the remaining oil and add the diced onion and saute for about 4 - 5 minutes or until translucent.
Add the finely diced or grated garlic and saute for another minute, reducing the heat to medium.
Add the chili powder, cumin, smoked paprika, cayenne pepper and saute for another minute or so until fragrant.
Add the brown sugar, Worcestershire sauce, mustard, and tomato paste. Saute for another minute or so until the tomato paste turns a darker shade of rust.
Tumble in the diced tomatoes and their juice. Using a wooden spoon, scrape the bottom of the pan, making sure to get that flavor. Add the water and stir.
Return the turkey to the pot, stir again and reduce the heat to medium low.
Let simmer for 20 - 30 minutes or so until the sauce has thickened and the flavors come together.
While the chili is simmering, grill the hot dogs and toast the buns.
Serve the hot dog with a bit of the chili and garnish with some chopped red onion.
Enjoy!
7.8.1.2
238
https://cookinginstilettos.com/hot-dog-chili-recipe/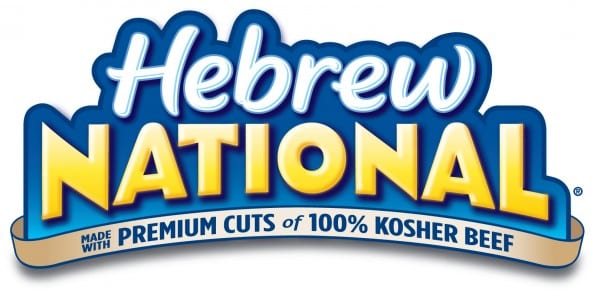 This summer, I'm thrilled to be partnering with my favorite hot dogs again – Hebrew National – and bringing you some of my favorite tried and true summer recipes.
With grilling season upon us, everyone is craving an all-American hot dog. What makes a kosher hot dog different? It's all about what makes the cut (and what doesn't). Hebrew National is choosy about what goes into their franks – only 100% pure kosher beef so you know what you're getting and they taste great.
Disclosure: Compensation was provided by Hebrew National via Mode Media. The opinions expressed herein are those of the author and are not indicative of the opinions or positions of Hebrew National.