Disclosure: This shop has been compensated by Collective Bias, Inc. and its advertiser. All opinions expressed in this article are mine. #SimplySpecialMeals #CollectiveBias
When I'm getting home late from the 9to9, I love having delicious dinner ideas on hand and one of my go-tos has been Barber Foods Stuffed Chicken Breasts.  I have trusted their products since the beginning of my "learning to cook" days and every time I make these, it's success.  If you open my freezer, you will see a few varieties scattered throughout because, like my stilettos, I love options.  Some days I adore their Breaded Stuffed Cordon Bleu Chicken.  Some nights I crave their Broccoli & Cheese Breaded Stuffed Chicken Breasts and let me tell you about their Creme Brie and Apple flavor – DIVINE.  They have a number of delicious flavors so really, it's up to you to choose.
I heard through the grapevine that Barber Foods was switching things up a bit and when I recently went to my local supermarket, this greeted me…
New Packaging and Multi-Pack options!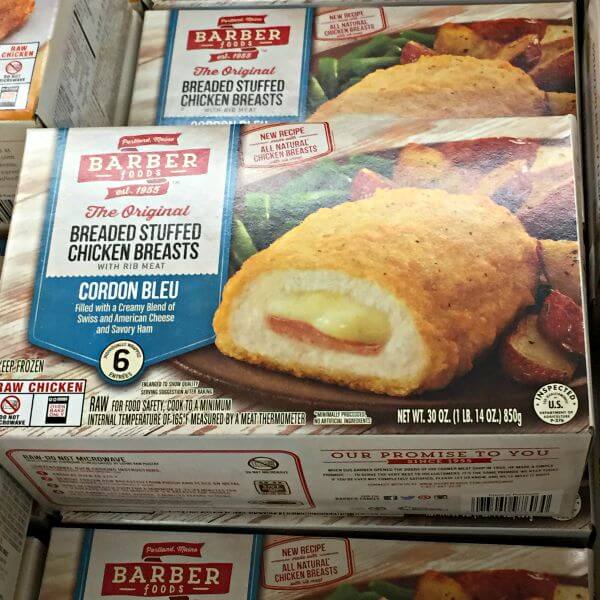 My quandary – which flavor to choose….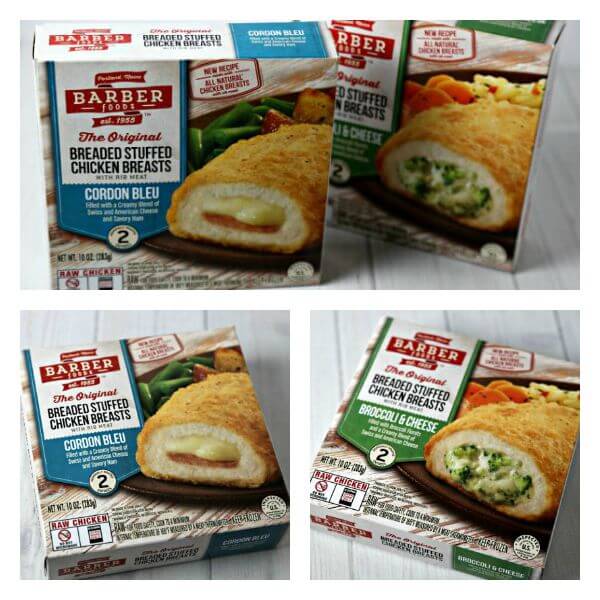 So, in true Aly fashion, I couldn't decide so both into the cart they went with the caveat that I would let  my pantry speak to me when it came to whipping up an easy side dish to go with.
On the drive home, it was decided that it would be a Chicken Cordon Bleu evening and I thought – why not pair this chic chicken with a side that was worthy of it – an Autumn Quinoa Pilaf studded with the flavors of fall – tart Granny Smith apples, almonds, dried cranberries and cherries with some fresh thyme to add a bit of fresh herb flavor.
While the chicken was baking to a toasty 165 degrees in the oven, I had more than enough time to whip up the quinoa pilaf.   I tried a new technique that I learned – I toasted the quinoa first to add a bit of nutty flavor and that, along with reducing the liquid a bit made all of the difference.
This Autumn Quinoa Pilaf was fluffy flavorful perfection and dinner was on the table in about 30 minutes.  Also – I have to tell you, in addition to the new look of Barber Foods Chicken, their chefs made some tweaks to their tried and true recipe.  While their chicken was great before, the flavor of the new Chicken Cordon Bleu is excellent and a must try.  Compared to the prior version, the delicious flavor combination of the savory ham and melted Swiss and American cheese inside a cooked to perfection chicken breast reminds me of a dish from an upscale restaurant and worthy of a coveted blue ribbon.  It was so good that a request was made that it be added to the menu more often.
All in all, between the Autumn Quinoa Pilaf and the Breaded Stuffed Chicken Cordon Bleu, I have to tell you, this weeknight dinner was an absolute success!
On to the recipe:
Gather your ingredients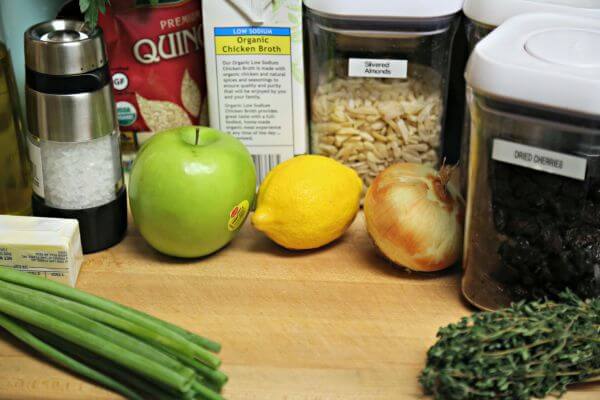 Let's put the chicken in the oven first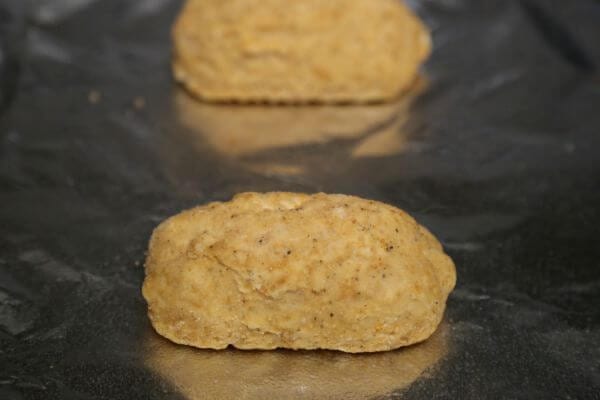 While the chicken is baking, let's start the quinoa.  Toasting it adds so much flavor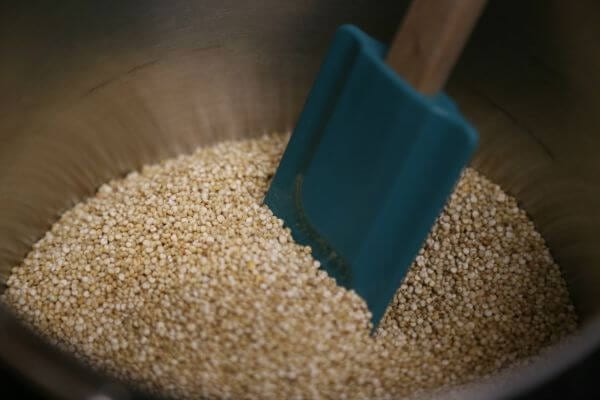 Adding some fall inspired flavors with apples, dried cranberries, cherries and thyme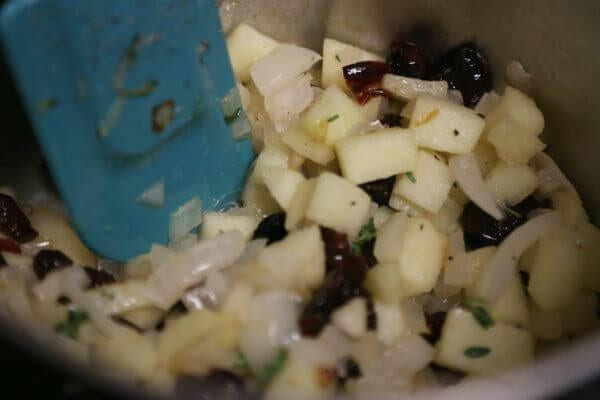 Look at that glorious cheese in the Chicken Cordon Bleu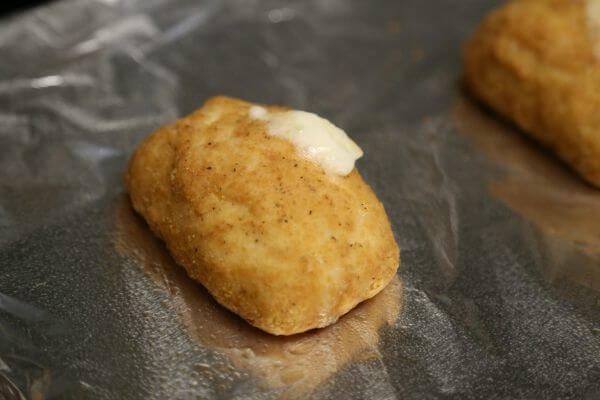 Now this is a fabulous weeknight dinner option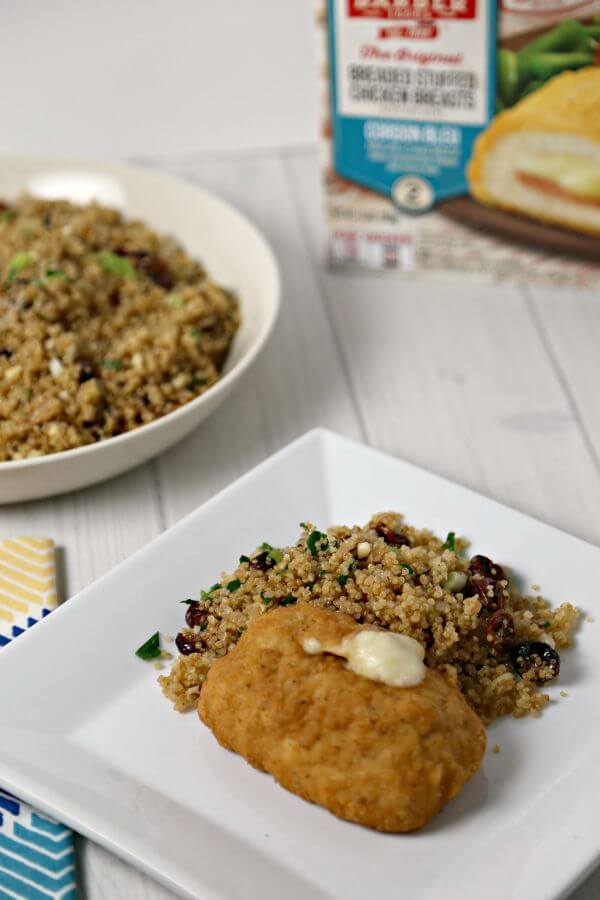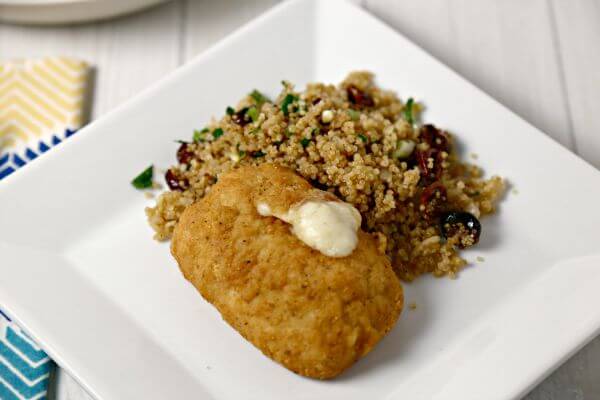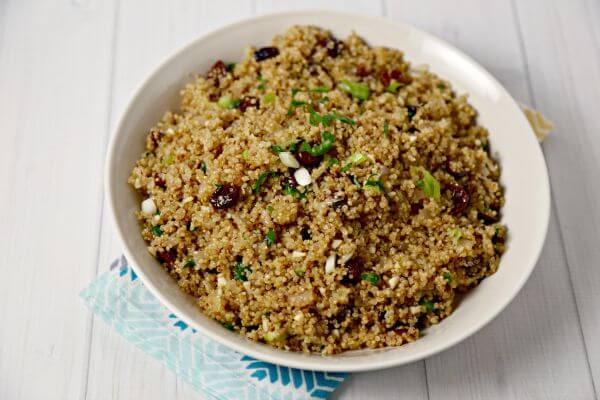 Aly M. Cleary
Yields 4
Quinoa Pilaf Create
Autumn Quinoa Pilaf is studded with favorite fall flavors including tart Granny Smith apples, dried cranberries and cherries and fresh thyme making it the perfect quick side dish.
10 minPrep Time
20 minCook Time
30 minTotal Time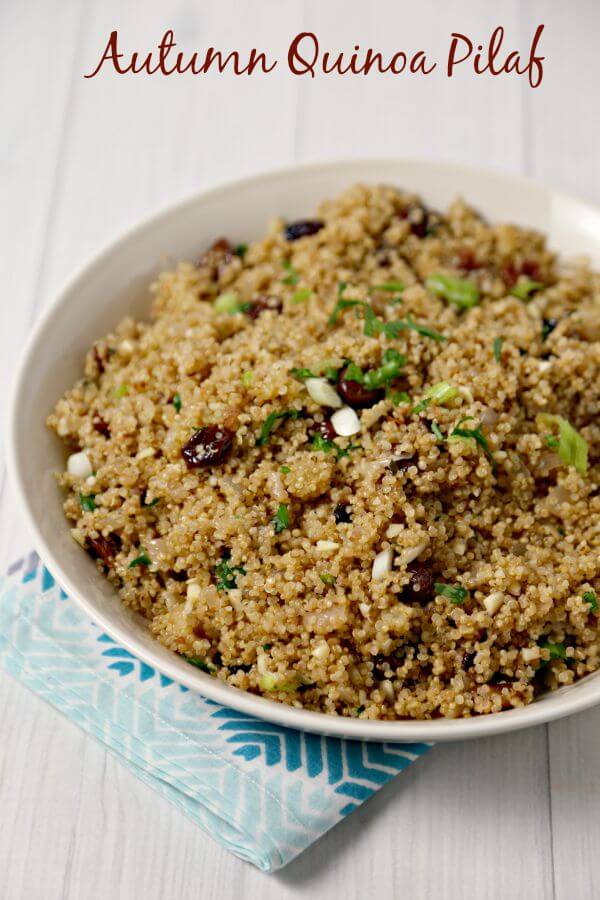 Ingredients
1 cup of quinoa, rinsed and dried
1 tablespoon of olive oil
1 medium Granny Smith apple, peeled and diced
1/2 of a medium sweet onion, peeled and diced
1/4 cup of dried cherries
1/4 cup of dried cranberries
1 teaspoon of fresh thyme, minced
1 1/2 cups of chicken stock
1 tablespoon of chopped slivered almonds
1 tablespoon of flat leaf parsley, minced
1 green onion, white and green parts only, sliced thin
Instructions
In a medium saucepan, add the quinoa and toast for a few minutes over medium high heat.
Add the olive oil, diced apple and diced onion and sauté for about 5 minutes, until the onions are translucent and the apple is softened.
Add the dried cherries, cranberries and fresh thyme to the mixture and sauté for another minute.
To the quinoa mixture, add the chicken stock and stir to combine.
Bring the mixture to a boil and then cover the pan and reduce the heat to a simmer.
Simmer for about 15 minutes, until all of the liquid is absorbed.
Remove from the heat and let sit for another 7 – 10 minutes.
Fluff the quinoa with a fork and add the almonds, parsley, and stir.
Garnish with thinly sliced green onions and enjoy!
7.8.1.2
137
https://cookinginstilettos.com/autumn-quinoa-pilaf/
There are 12 varieties of Barber Foods Breaded Stuffed Chicken Breasts that you can find in your grocer's freezer case.  To find out more including recipe ideas and where to find them in a store near you, follow Barber Foods on Facebook, Twitter and Pinterest.
My question to you is – what is YOUR favorite flavor?  Tell me in the comments (along with your favorite recipe to pair with!)