Tomato soup and I have had a rough patch since my childhood. Growing up, I hated – stress HATED – tomato soup (and, also, tomato juice) and would not touch a bowl of tomato soup with a ten foot spoon. My mother adored the stuff – me, notsomuch. As I got older, I still refused to have anything to do with tomato soup until one time in Florida, a friend was visiting and she made grilled cheese and tomato soup. I begrudgingly admitted that, perhaps, I showed tomato soup the boot too soon but I rationalized that, perhaps, maybe it was just the grilled cheese. I mean how could anything suck with grilled cheese, right?
Y'all know this has been the year of facing my culinary fears so I figured that it was time for me and the tomato soup to have a come to Jesus.  This recipe was the perfect recipe for whipping up a bowl of comfort. The fire roasted tomatoes, thyme and smoked paprika did a wonderful flavor dance with the onion and cream. The red pepper flakes added a dash of heat and the grilled cheese croutons took it over the top! To add to everything, I reduced the stock amount a bit and blended everything with the immersion blender and it was thick and luscious, accented by the perfectly cooked orzo.
This Fire Roasted Tomato Soup with Grilled Cheese Croutons is a tried and true, perfect for those chilly days where you want to curl up with a steaming mug of soup on the couch.
Gather the ingredients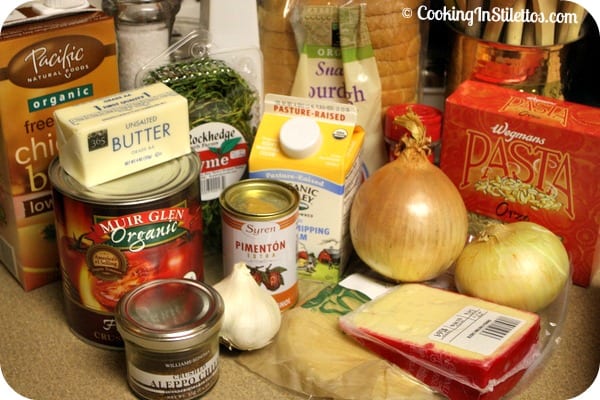 Look at the golden hue on the onion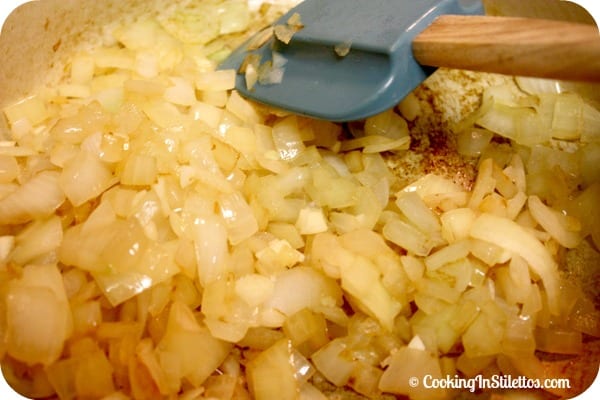 Time to break out the immersion blender.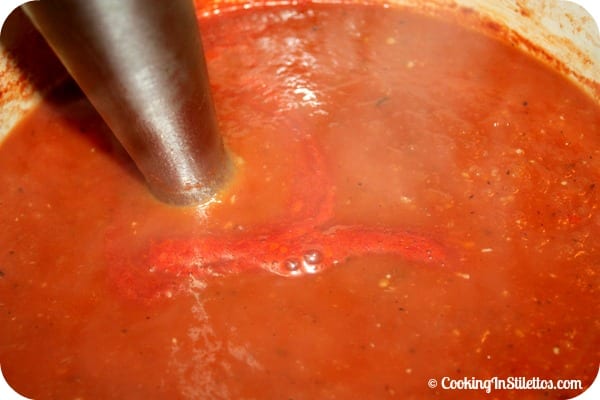 And add a bit of cream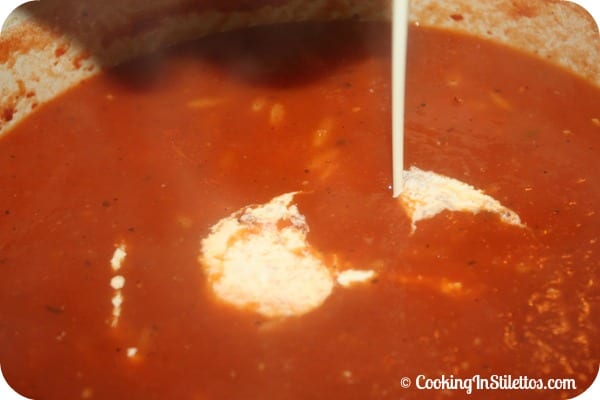 Showing the Panini press some love with these Grilled Cheese Croutons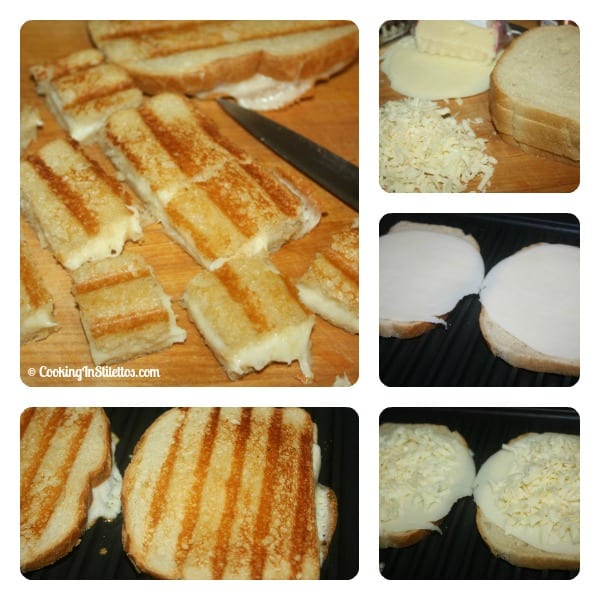 Now tell me you wouldn't love a bowl of this!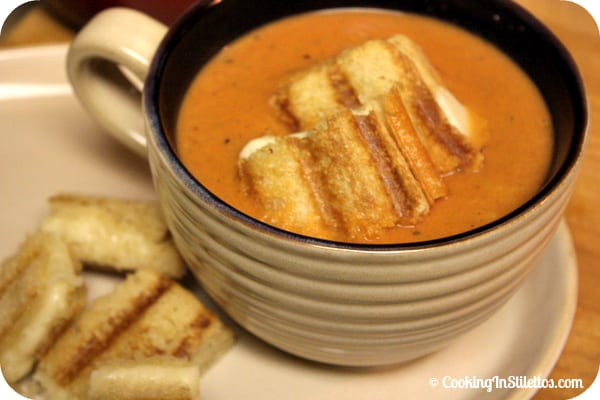 Yields 4
Fire Roasted Tomato Soup with Grilled Cheese Croutons
Rich and comforting Fire Roasted Tomato Soup with Grilled Cheese Croutons
20 minPrep Time
30 minCook Time
50 minTotal Time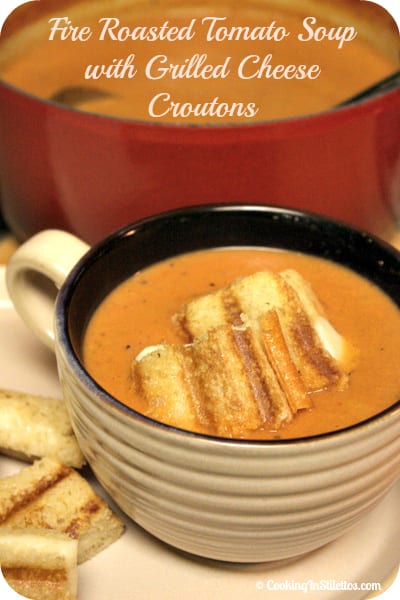 Ingredients
For the Tomato Soup:

2 tablespoons olive oil
1 large onion, diced
2 cloves of garlic, minced
1/2 teaspoon smoked paprika
1/4 teaspoon Aleppo pepper
Pinch of red pepper flakes (depending on how spicy you like it)
3-4 cups of chicken stock (depending on how thick you want your soup)
1 28 oz. can of fire roasted crushed tomatoes (I adore Muir Glen)
1/2 teaspoon of fresh thyme (1 – 2 sprigs)
1 teaspoon of kosher salt
1/2 teaspoon of freshly cracked black pepper
1/2 cup orzo
1/3 cup heavy cream

For the Grilled Cheese Croutons:

4 slices of your favorite bread (I used sourdough)
2 tablespoons of unsalted butter, melted
4 slices of sharp provolone
4 ounces of fontina cheese, grated
Instructions
For the Tomato Soup:

Over medium heat, heat the olive oil in a heavy bottomed stock pot or dutch oven.
Add the onions and sauté for about 10 minutes until they turn a nice golden hue.
Add the minced garlic and sauté for another minute or so.
Add the thyme, smoked paprika, Aleppo pepper and red pepper flakes to the onion garlic mixture and sauté for another minute to bloom the spices.
To the onion mixture, add a bit of chicken stock to deglaze the pan. Add the crushed tomatoes, chicken stock, thyme, salt and pepper and stir to combine.
Let the tomato mixture come to a boil and then immediately reduce the heat so that it simmers for about 15 minutes.
While the tomato mixture is simmering, to a medium saucepan of boiling water, add a bit of kosher salt and the orzo. Let the orzo cook for 7 minutes, drain and set aside.
At the end of 15 minutes, blend the tomato mixture with an immersion blender, food processor or blender and return to the pan.
Add the cooked orzo and the heavy cream, stir and let simmer for another 10 minutes.

For the Grilled Cheese Croutons:

Preheat your Panini press or grill pan.
Lay out the bread on a cutting board and brush the sides with the melted butter.
Flip over two pieces and to the unbuttered sides, layer a slice of sharp provolone, a bit of grated fontina and finish with another piece of sharp provolone.
Place the remaining two slices on top of the cheese, buttered side up and place on the Panini press or grill pan.
Grill until golden, remove and set on a cutting board for a minute to cool.
Slice into "croutons".

Assembly:

Ladle the thick soup into bowls and top with a couple grilled cheese croutons and enjoy!
7.8.1.2
356
https://cookinginstilettos.com/fire-roasted-tomato-soup-with-grilled-cheese-croutons/