Whenever I am having "one of those days" where only comfort food can really fit the bill, I often make Arroz Con Pollo – well, my version at least. This month has not been an easy one, to say the least and, after finding out that what I thought was the flu was actually whooping cough (long story), I pretty much was in dire need of a bit of comfort and was itchin' to get back in the kitchen. Soup, grilled cheese and take-out can only last a sick gal so far, ya know. After having a come to Jesus session with my new doc, I am trying to make over my pantry and make a few substitutions to make things a bit healthier. It's amazing what a few small changes can do.
One of my changes is to swap out the white rice for brown rice. Brown rice has often been touted as the healthier of the two but making it – well, let's just say I heard horror stories and I was a bit fearful.  Minute® Rice sent me some brown rice to play with and, well,  I must confess – I. Was. Wrong. Sure it takes a bit longer but the end result was well worth it. The brown rice was filling, had a nice nutty flavor and, to be honest, I'd be hard pressed to tell the difference from my normal way of making Arroz Con Pollo.
This Arroz Con Pollo with Brown Rice is a tried and true in my household.   Here's my spin in a nutshell – I marinate the chicken first in a bit of lime juice, lime zest, olive oil, minced garlic and adobo seasoning (I make my own – so easy) while I prep the veggies. I have found that chicken thighs have a ton of flavor and don't get as dry as chicken breast might with the longer cooking time. Add to that some spice, some crushed fire-roasted tomatoes and Minute® Rice Brown Rice, and you have yourself a one pot wonder.
Onto the recipe:
Gathering the ingredients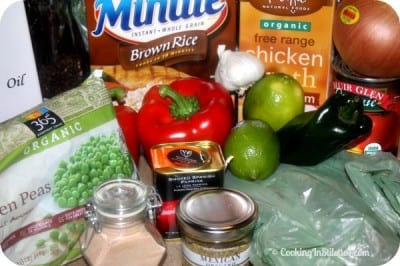 Marinating, prepping and simmering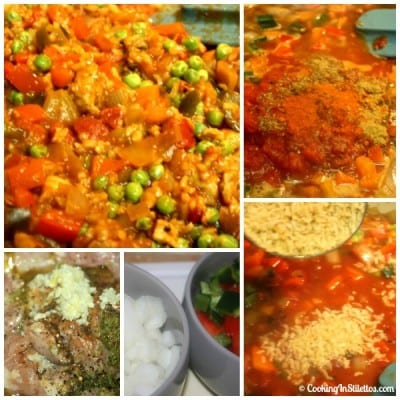 Now – tell me – doesn't this look comforting
Arroz Con Pollo with Brown Rice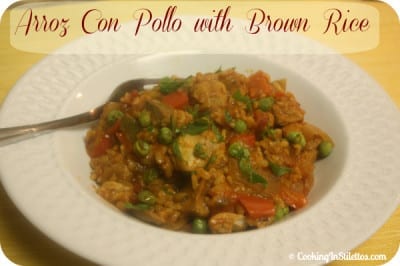 Ingredients
1 lb. boneless skinless chicken thighs, cut into 1" pieces.
2 limes
1/4 cup olive oil, divided
2 cloves of garlic, minced
1 teaspoon adobo seasoning, divided
1 medium sweet onion, diced
2 red peppers, diced
1 poblano pepper, ribs and seeds removed, diced
2 cups of low sodium chicken stock
1 15 oz. can of fire roasted crushed tomatoes, drained
1/2 teaspoon dried oregano (I used Mexican oregano)
1/2 teaspoon smoked paprika
1 teaspoon of ground cumin
Pinch of cayenne pepper
3/4 cup of Minute Rice brown rice
3/4 cup of frozen peas
1/2 cup of chopped parsley or cilantro
Instructions
In a bowl, marinate the chicken with 3 tablespoons of olive oil, the minced garlic, 1/2 teaspoon of adobo seasoning and the zest and juice of two limes. Set aside for 10-15 minutes.
Preheat a dutch oven or braiser, over medium high heat and add one tablespoon of olive oil.
Sauté the chicken in batches until browned on all sides and set aside.
Add another tablespoon of olive oil to the pan (if needed) and add the onions. Sauté for about 5 minutes or so until soft.
Add the diced red peppers and poblano pepper and sauté for a couple minutes.
Deglaze the pan with a bit of chicken stock, taking care to scrape up the bottom with a wooden spoon.
Add the remaining chicken stock, tomatoes, oregano, paprika, cumin, and the cayenne pepper and simmer for a couple minutes.
Add the Minute Rice brown rice.
When everything starts to come to a boil, return the browned chicken to the pan, mix thoroughly, reduce the heat to a simmer and cover.
Let simmer on the stovetop for about 40 minutes or so until the rice has absorbed the liquid.
After 40 minutes, add the frozen peas and let cook for another 5 – 7 minutes.
Remove from heat, stir in the chopped parsley or cilantro and enjoy!
7.8.1.2
349
https://cookinginstilettos.com/arroz-con-pollo-with-brown-rice-loveeveryminute/