Recently, if you looked out my back window you would have seen a sheet of white – snow wrapped Philadelphia in a heavy white blanket and showed very little chance of slowing down.  The weather crews were baffled as two storms hit the region, providing the northeast with a "one-two punch."  Many elected to take a snow-day and stay off the roads, including myself.  See, when I lived in New Hampshire, 2 or 4 feet of snow didn't phase me. Apparently, living in Florida for 7 years turned me into a wuss.  Couple that with living in the hilliest section of Philadelphia, this gal decided to "hunker down" and enjoy a much needed day at home.
Thankfully, I had thought ahead to pick up some fabulous pork the evening prior to make a recipe from an issue of Eating Well magazine.  Eating Well was spotlighting slow cooker recipes that have their own "one-two" punch effects, namely – one ingredients, two different dinners and this recipe for Pulled Pork with Caramelized Onions was perfect.
The spicy chipotle married well with the chili sauce and apple cider vinegar and the caramelized onions added the perfect note of sweetness. It was a simple recipe with just a few pantry ingredients and you know I'll look for any excuse to break out my favorite slow cooker!  This pulled pork recipe hits the tried & true file and I can't wait to make the Round 2 recipe – a pulled pork torta.  However, that's another post for another day.  For now, I'll just look out the back porch window and relish the winter wonderland for a spell.
When you are looking for a pulled pork that your friends and family will adore, this Pulled Pork with Caramelized Onions will be a winner!
On to the recipe:
Gather Your Ingredients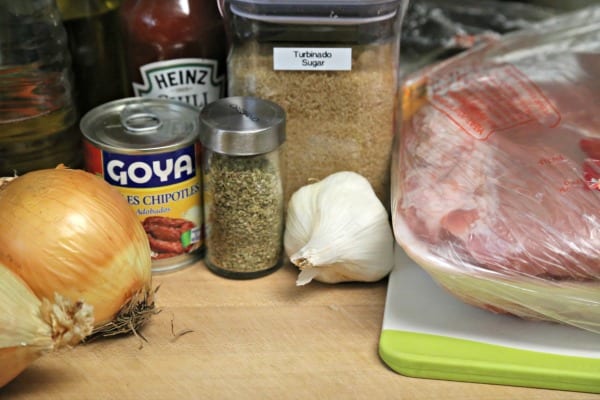 Grab the tissues before you chop – it's a LOT of onions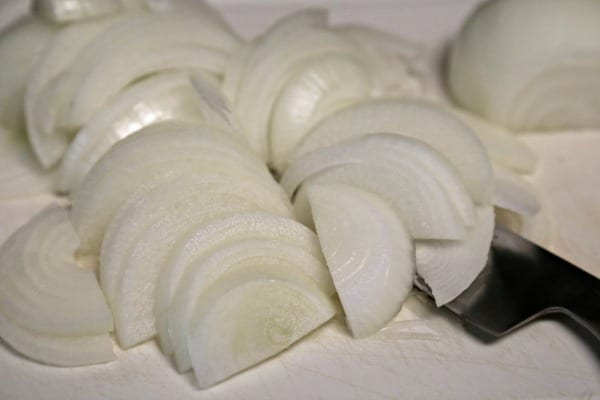 Time to add the turbinado sugar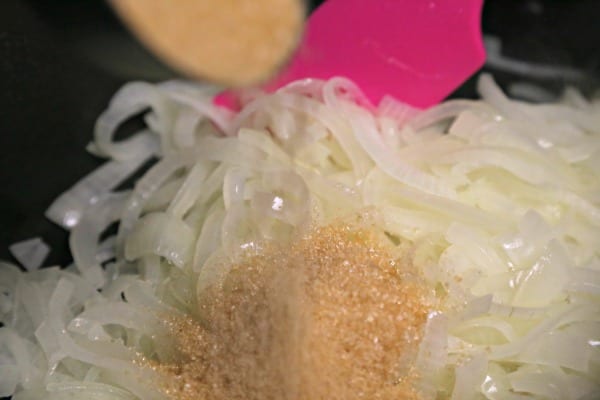 Ahhh – caramelized goodness.  Is there anything better?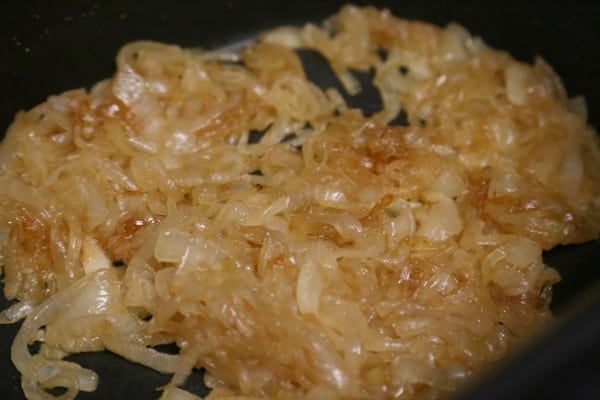 Prepping the Pork For Its "Sauna"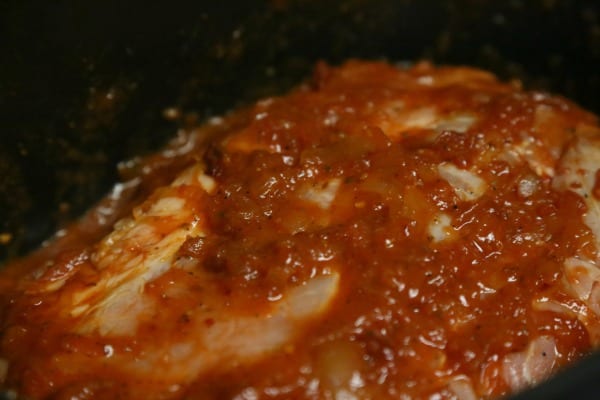 The end result – no need for takeout from your local BBQ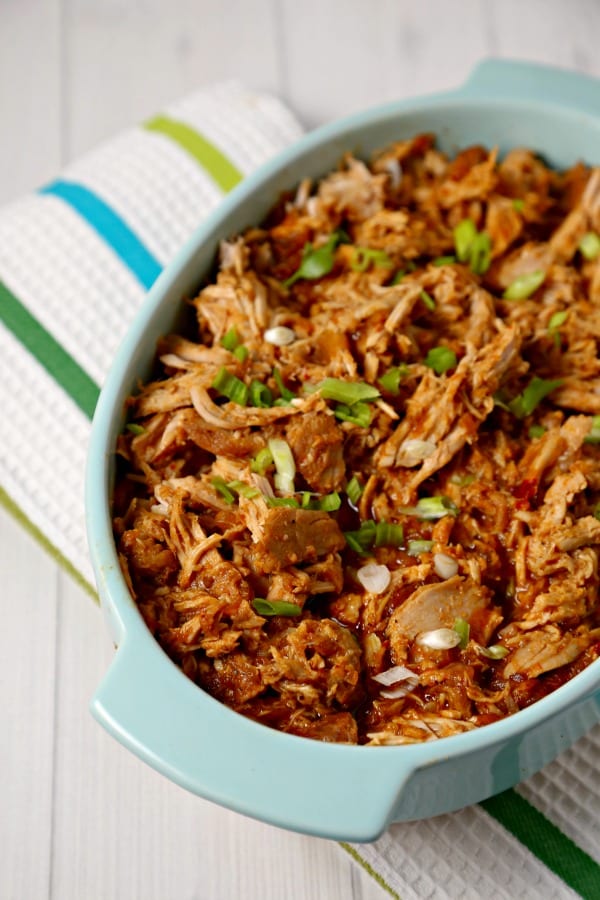 Should I make you a plate?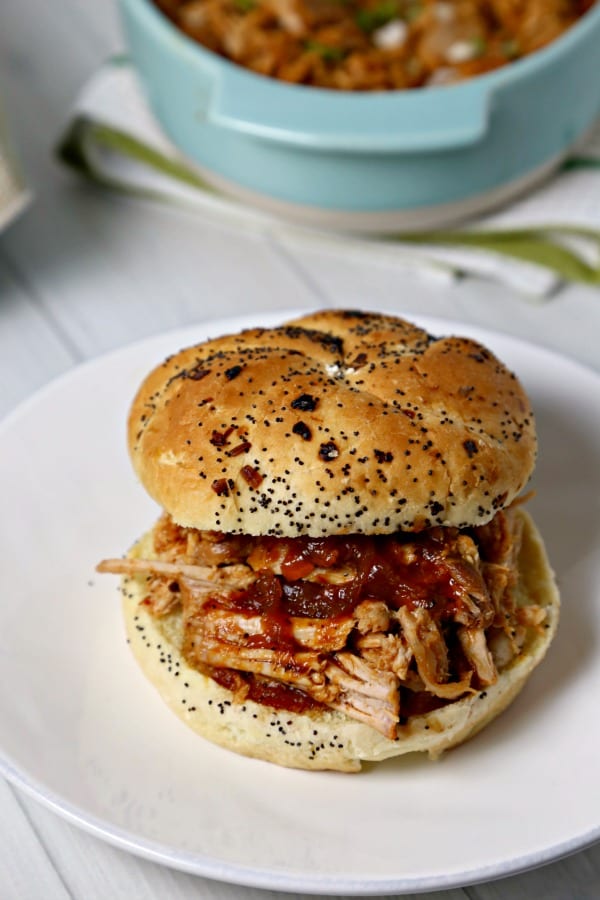 Adapted from Eating Well Magazine
Yields 6
Tried and True: Pulled Pork with Caramelized Onions
This Pulled Pork with Caramelized Onions is a tried and true favorite. Richly caramelized onions and tender pork are simmered for hours in a flavorful sauce and the slow cooker does all of the work. What's not to love?
10 minPrep Time
8 hr, 30 Cook Time
8 hr, 40 Total Time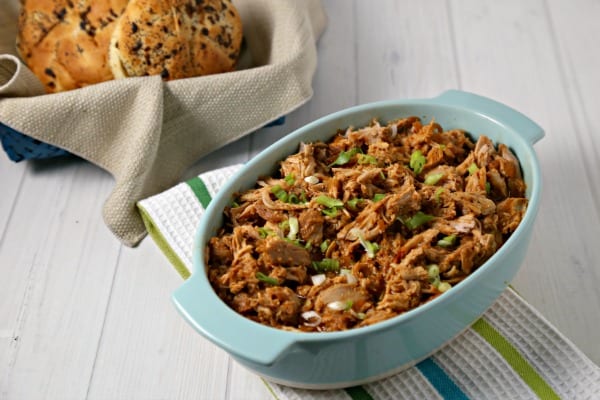 Ingredients
2 tablespoons of extra virgin olive oil, divided
3 pounds of boneless pork shoulder
3 large vidalia onions, thinly sliced
1/3 cup turbinado sugar (aka sugar in the raw)
4 cloves of garlic, minced
1 teaspoon of dried oregano (I used Mexican oregano )
1 teaspoon of freshly ground pepper
1/2 teaspoon of salt
1/3 cup apple cider vinegar
1 cup of chili sauce
1 1/2 teaspoons of minced chipotle chili in adobo (I'm a wuss – I couldn't go hotter)
Instructions
Heat 1 tablespoon of olive oil in either a large skillet or, if possible, the insert of the slow cooker, over medium high heat.
Brown the pork shoulder on all sides and set aside.
Add another tablespoon of olive oil if necessary.
Add onions and cook, stirring occasionally, for 3 – 6 minutes until they begin to soften. At that point, add the raw sugar and continue to cook until the onions are a rich golden brown, stirring continuously for 6 to 8 minutes.
Add the garlic, oregano, salt and pepper to the onion mixture and cook for another minute.
Add the vinegar and bring to a boil. Cook until the vinegar is mostly evaporated which should take another minute.
Remove from the heat and stir in the chili sauce and chipotle chilies.
Place pork in the slow cooker and cover with the sauce. Cover and cook until the pork is almost falling apart (4 hours on high; 8 hours on low).
Transfer the pork to a cutting board and shred using two forks. Stir back into the sauce and serve.
Notes
If you plan on making the Pulled Pork Torta with the leftovers, you will need to reserve about 3 cups of the pork and sauce.
7.8.1.2
12
https://cookinginstilettos.com/tried-and-true-pulled-pork-with-caramelized-onions/