Recently I came upon a Bourbon Molasses Mustard to play with and I came up with this super simple baked chicken recipe that will have everyone smacking their lips and begging for more. The key is to let the chicken marinate for at least 2 hours or overnight. I decided to play on the flavors in the mustard, adding a bit more bourbon to the marinade and then making a slight variation of the marinade to glaze the chicken towards the end of baking.  The key to the glaze was the cayenne pepper which added a slight bit of heat, melding perfectly with the smokiness of the molasses in the mustard and the sweetness of the honey.
This will be a recipe that I will be making time and time again.
Gather the ingredients
Bourbon & Mustard – heaven
Time to marinate
The honey in the glaze caramelized nicely
A Tried and True Classic
Bourbon Molasses Baked Chicken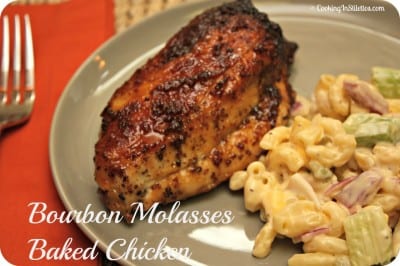 Ingredients
1 half of a large red onion, cut into wedges
1/2 cup of olive oil
1/4 cup of Bourbon Molasses Mustard
2 tablespoons of Bourbon
1 tablespoon of Worcestershire sauce
2 cloves of garlic, crushed
Half of a lemon
1 chicken, cut into 8-10 pieces
3-4 sprigs of fresh thyme
Kosher Salt
Freshly cracked pepper

For the Glaze:

1/4 cup of Bourbon Molasses Mustard
2 tablespoons of Bourbon
2 tablespoons of honey
1/8 teaspoon of cayenne pepper
Instructions
In a large plastic bag, combine the onion, olive oil, Bourbon Molasses Mustard, Bourbon, Worcestershire sauce, garlic, and lemon. Add the chicken pieces and the thyme and mix it thoroughly.
Seal the bag, place the bag in a large bowl and place in the refrigerator.
Let the mixture marinate for at least 2 hours, no longer than overnight.
When you are ready to bake the chicken, remove the marinated chicken from the fridge and let it come to room temperature.
Preheat the oven to 425 degrees F.
To a foil lined baking dish, add only the marinated chicken pieces and bake for an hour. Discard the remaining marinade mixture.
Prepare the glaze by adding the Bourbon Molasses Mustard, Bourbon, honey, and cayenne pepper to a small heavy bottom saucepan. Mix well and turn on the heat.
Let the mixture come to a boil, reduce the heat to a simmer and let the glaze reduce.
When the glaze is reduced, keep the mixture warm until ready to use.
After an hour of baking, brush the chicken liberally with the glaze mixture and bake for an additional 15-20 minutes.
Remove from the oven and let cool for 5-10 minutes before serving.
Enjoy!
7.8.1.2
393
https://cookinginstilettos.com/bourbon-molasses-baked-chicken/