When I first started cooking, I thought French cooking was stuffy and wouldn't be something I would ever attempt, let alone enjoy. Boy was I wrong. A few weeks ago, I saw mention online about this fab cookbook, The Bonne Femme Cookbook: Simple, Splendid Food That French Women Cook Every Day
by Wini Moranville, and, after reading the reviews, I headed to my local Barnes & Noble to check it out. The recipes in there were so good that I refused to leave the store without it. What was the recipe that made me want to purchase it immediately – this Roast Pork with Honey Apple Cider Vinegar Sauce a l'Ancienne.
I visited Whole Paychex and talked to the butchers about this recipe and they were kind enough to give another tried and true tip. When buying meats – not only should you keep it in the back, but only use the 1st or 3rd shelf – never the middle. It stays fresher that way. I had to do a bit of rearranging in my fridge because I always stored the meat on the second shelf. Also, I'm officially obsessed with this Honey Apple Cider Vinegar that I found at Crate & Barrel and, if I can use it, I do. I love the flavor it imparts and, combined with the other ingredients in this dish, it was the perfect compliment.  I served it with some roasted apples and dinner was an absolute success.
There are some other recipes that are bookmarked to try like Lemony Mustard Roast Chicken, Slightly Honeyed Couscous, Any Night Baked Rice, French Apple Crumble and let me shush before I just totally type out the recipe index.  When you are in the bookstore, check this book out and give it a shot.  These are solid recipes that are perfect for entertaining and for weeknights.
Roast Pork with Honey Apple Cider Vinegar Sauce
---
Ingredients
1 2-3 lb. boneless pork loin
Kosher salt
Freshly cracked black pepper
1 medium onion, sliced
2 medium carrots, diced
3 garlic cloves, crushed
1 tablespoon of honey
1/4 cup of honey apple cider vinegar (plus more to taste if needed)
1/2 cup low-sodium chicken broth
1/4 cup of heavy cream
Directions
Preheat the oven to 400 degrees F.
To a large dutch oven, add the onions, carrots and garlic to form a sort of raft.
Season the pork with the salt and pepper and place the seasoned pork on top of the vegetables.
Roast the pork for about 50 minutes or so, until the pork reaches 145 degrees F.
Remove the pork to a cutting board and tent with foil. Allow to rest for 10 minutes or so while you make the sauce.
Take the dutch oven with the vegetables and put over medium heat.
Brown slightly for a few minutes.
Deglaze the pan with the honey apple cider vinegar, making sure to remove any brown bits from the bottom of the pan.
Add the chicken broth.
Strain the mixture through a fine mesh sieve into a clean saucepan and discard the vegetables.
Bring the sauce mixture to a boil and let reduce slightly - about 3-4 minutes.
Taste the sauce and add more vinegar if you wish.
Add the cream and simmer for a moment until it reaches the thickness you are looking for.
Remove from the heat and keep warm while you slice the pork.
Slice the pork and serve with the sauce.
Enjoy!
Notes
Slightly Adapted From Wini Moranville, The Bonne Femme Cookbook
7.6.7
800
https://cookinginstilettos.com/roast-pork-with-honey-apple-cider-vinegar-sauce/
All images and content are © Cooking In Stilettos. Please do not republish without contacting us first. Thank you.
Gather the ingredients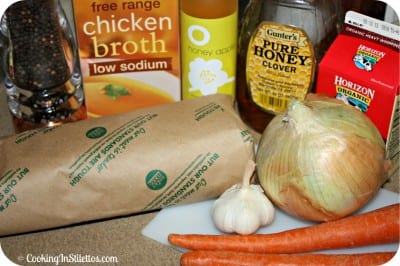 Let the veggies support the pork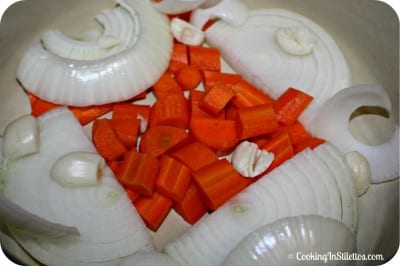 Such a beautiful cut of pork, no?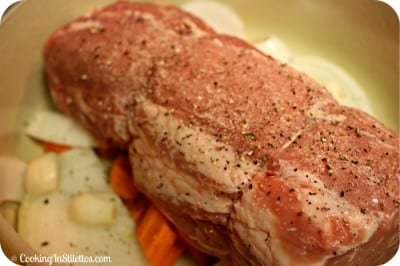 French Food Made Simple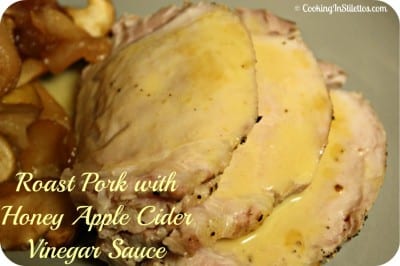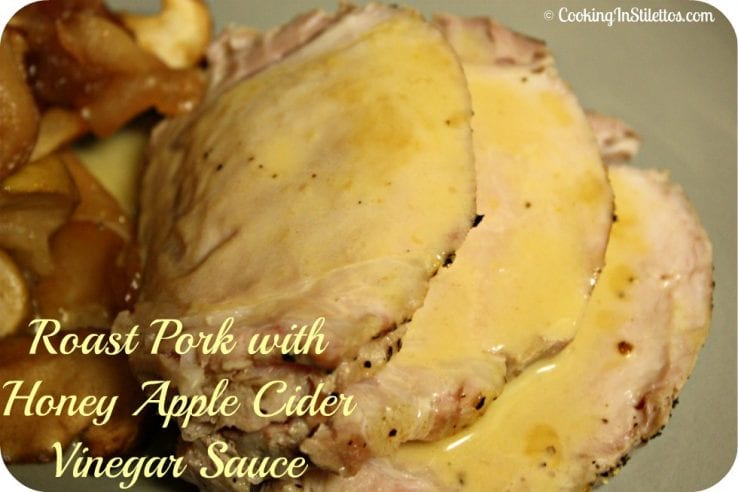 [Disclaimer:  This post contains affiliate links – my opinions, as always, are 100% my own]
Did you enjoy this post?
| | |
| --- | --- |
| Share the love | Get free updates |