This is a sponsored post – my opinions are my own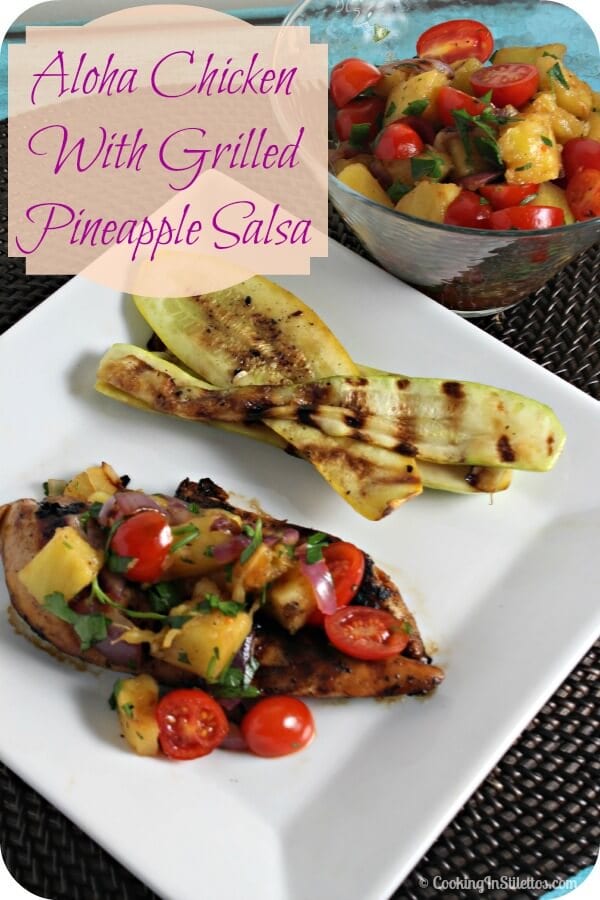 Winter returned with a roar last night and the only thing I can think of is a Polynesian escape complete with gorgeous beaches and warm breezes with a tasty cocktail in a hollowed-out pineapple.  While I won't be putting away the winter wardrobe just yet, I could bring a bit of sunshine in thanks to this Aloha Chicken with Grilled Pineapple Salsa.
One of my fave gals , Nat, recently got married and while life would not let me escape to see her tie the knot (as well as try to figure out her mom's infamous Polynesian chicken recipe), I decided to whip up a dish that she can make for her new husband that they can enjoy when they get back from Hawaii.  This dish is so easy to prepare and the key is the marinade.  Everything is grilled and that caramelized crusty flavor adds so much depth to not only the chicken, but also the salsa.  If you want to add a bit of heat to the salsa, feel free to char up a bit of jalapeno to bring a bit of heat.
I love grilling chicken with a light brush of Mazola corn oil – it doesn't take alot to get that divine flavor that only a grill can impart and I won't necessarily smoke up the apartment – which makes not only the Junior Sous Pug thrilled that the alarm will stay silent, but also my neighbors.  The next day, any leftovers are going on a nice crusty roll with a bit more salsa on top.
When you want to enjoy a taste of summer, make this dish and Nat – make this for your beloved and tell him it's just something you whipped up on the fly!
On to the recipe:
Gather your ingredients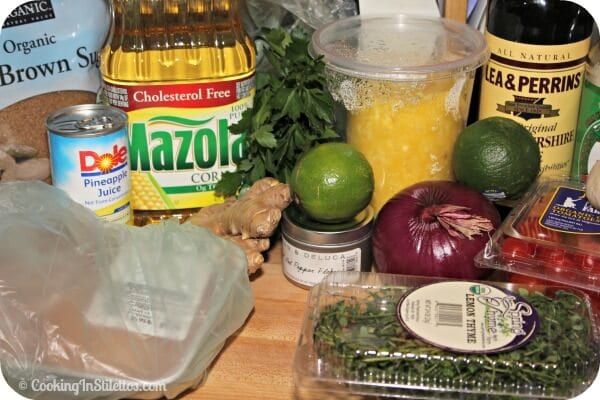 Time to make the marinade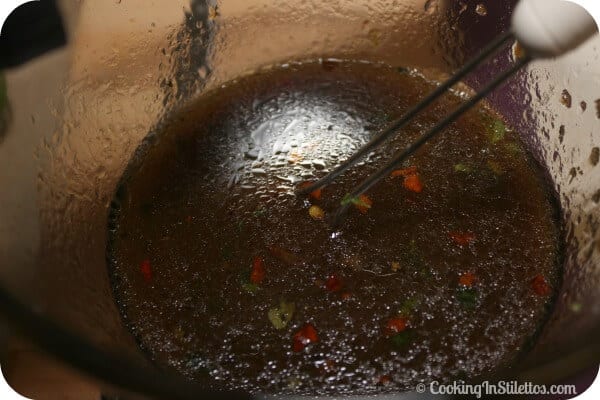 Butterfly the chicken breast and pound it out between two pieces of cling wrap – nice and thin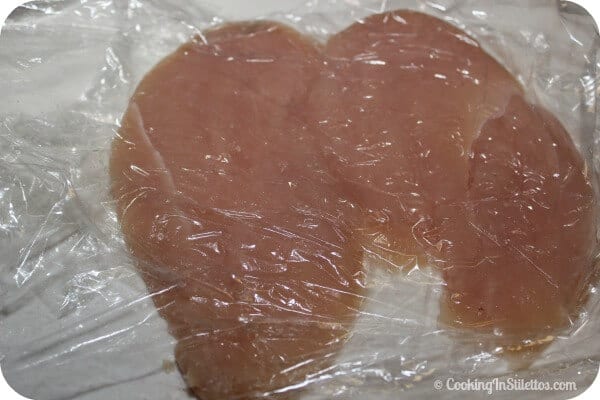 It's all about the grill pan – first up prepping some zucchini squash and summer squash to serve with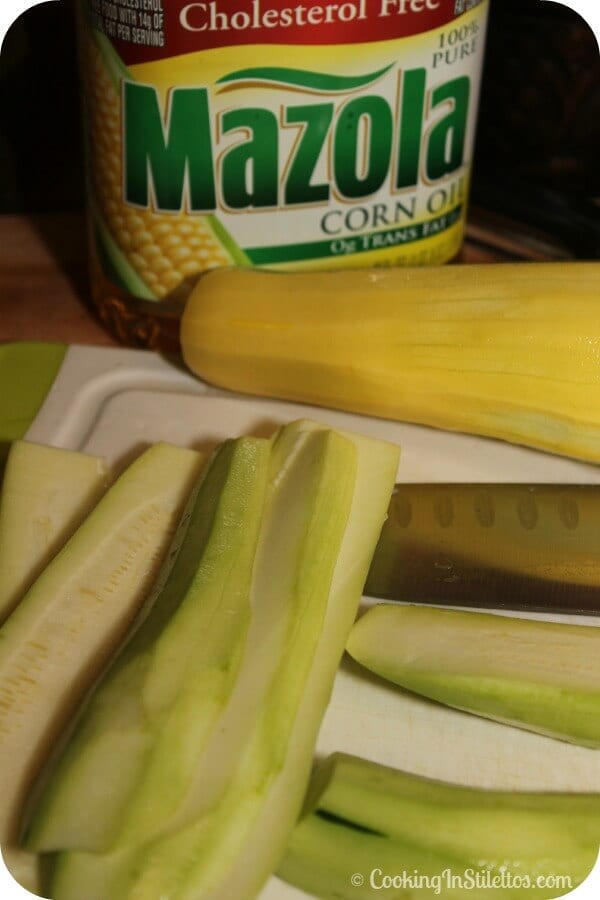 Followed by grilling the pineapple and the red onion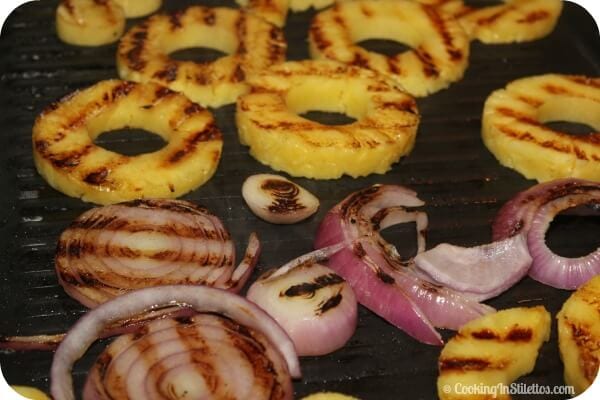 Let's make the salsa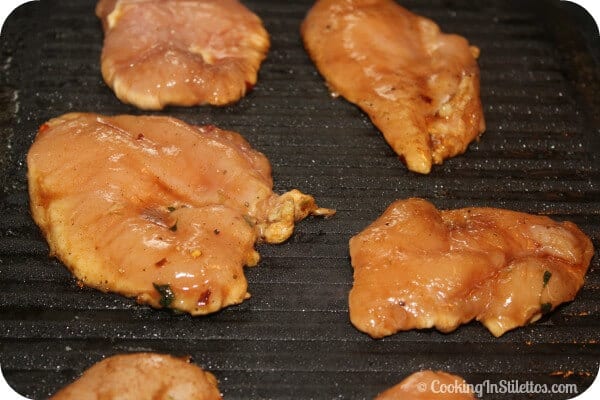 Time to make the Grilled Pineapple Salsa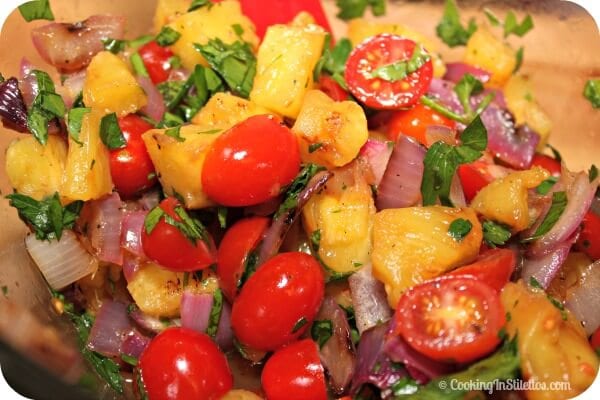 Viola – this is not your typical chicken – it's a heart healthy chicken dish with Polynesian flavors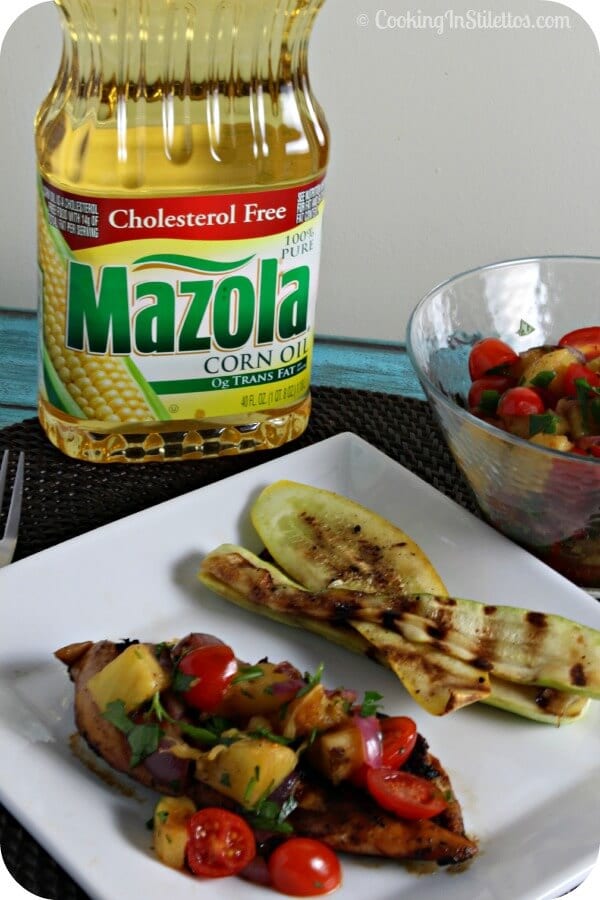 Now – don't you want a bite?
Aloha Chicken With Grilled Pineapple Salsa
---
Ingredients
For the Chicken:

2 tablespoons of Mazola corn oil
1/4 cup of pineapple juice
1/4 cup of soy sauce
1/2 teaspoon of Worcestershire sauce
1/4 cup of brown sugar
2 garlic cloves, minced
1/2 teaspoon of fresh ginger, minced or grated using a microplane
1/2 teaspoon of freshly ground black pepper
1/8 teaspoon of red pepper flakes
Zest and Juice of 1/2 a lime
1/2 teaspoon of fresh thyme
1/4 teaspoon of fresh oregano (optional)
1 1/2 pounds of boneless skinless chicken breast

For the Salsa:

2 tablespoons of Mazola corn oil
2 cups of fresh pineapple rings
1 large red onion, sliced into large rings
2 tablespoons of flat leaf Italian parsley, minced
3/4 cup of grape tomatoes, sliced in half
1 - 2 tablespoons of pineapple juice
Juice of 1/2 a lime
1/2 teaspoon of kosher salt (or to taste)
1/4 teaspoon of freshly ground black pepper (or to taste)
Directions
To make the marinade:

In a small bowl, mix together the Mazola corn oil, pineapple juice, soy sauce, brown sugar, Worcestershire sauce, garlic, ginger, black pepper and red pepper flakes. Mince the thyme and oregano and add to the mixture. Whisk until the brown sugar has fully dissolved into the marinade. Set aside.
On a cutting board, slice the chicken breast almost in half.
Place the flattened chicken breast between two slices of cling wrap and, using a meat tenderizer or heavy pan, pound until the chicken breast is flatter - about 1/2 " thick or so. Slice in half and continue with the remaining chicken breasts.
Place the chicken breasts into a plastic bag and pour the marinade over the chicken.
Seal the plastic bag, squish a bit, making sure to get the marinade to cover the chicken.
Place on a plate and let marinate for about 30 minutes to an hour.
While the chicken is marinating, make the salsa.

For the salsa:

On a grill pan, brush lightly with a bit of the Mazola corn oil.
Place the pineapple rings and sliced onion rings on the grill. Lightly salt and let caramelize - about 2 - 3 minutes.
Flip and grill the other side.
Remove to a cutting board and let cool for a moment.
Slice the grilled pineapple and onion into small pieces and add to a large bowl.
To the pineapple mixture, add the Italian parsley, halved grape tomatoes, pineapple juice, lime juice and season with a bit of salt and freshly ground black pepper.
Let the flavors marry while you grill the chicken.

For the chicken:

Remove the chicken from the marinade and place on the grill pan.
Grill over medium heat about 5 minutes or so and then flip to grill the other side, making sure it is cooked all the way through.
Remove to a plate and cover with foil - let rest for about 10 minutes or so.
Top the chicken with a bit of the grilled pineapple salsa and enjoy!
7.6.8
845
https://cookinginstilettos.com/aloha-chicken-with-grilled-pineapple-salsa/
All images and content are © Cooking In Stilettos. Please do not republish without contacting us first. Thank you.
A new study shows Mazola Corn Oil lowers cholesterol more than extra virgin olive oil. Try it today for sautéing, stir frying and baking. Go to Mazola.com to learn more. Also – make sure to check up some of their amazing recipes, including some by one of my fave chefs, Ingrid Hoffmann like this Feel Good Stuffed Zucchini or these Pineapple Chicken Skewers with Passion Fruit Glaze.

Disclosure: Compensation was provided by Mazola via Glam Media. The opinions expressed herein are those of the author and are not indicative of the opinions or positions of Mazola.
Did you enjoy this post?
| | |
| --- | --- |
| Share the love | Get free updates |